During my stint as Cosmo's beauty editor, I heard many theories about how you should take care of your scalp. A Kérastase expert once told me that you should wash it daily (think of it as an extension of your skin, he said). Meanwhile, other professional hairstylists told me that washing it every two to three days should be enough if you're not a daily commuter and don't apply a lot of products. Personally, I think it's best to base it on your lifestyle + current hair and scalp condition.
For my specific hair type (thick, colored, dry, and slightly frizzy) and scalp condition (normal to dry), the best gap for me is usually every other day. But recently, I noticed that my scalp was starting to feel a bit more itchy and that tiny little flake-dots were beginning to form near my roots. Since I'm currently abroad, I chalked it up to the colder weather and hard water. Maybe my scalp just needed time to adjust?
ADVERTISEMENT - CONTINUE READING BELOW
But after another week or two of zero improvement, I knew I had to take action before it turned into a more serious dandruff condition. And since I couldn't go to my usual stylist for a scalp treatment, I decided to try a DIY solution I saw Jonathan Van Ness recommend on Queer Eye: apple cider vinegar.
In the Baby On Board episode, Van Ness says that a mix of 1-part water and 1-part apple cider vinegar (ACV) is a great natural solution for dandruff since it can help reset the pH level of your scalp. He suggested that you apply it to the scalp post-shampoo and that you should also leave it on for 10 minutes before rinsing it off. Since ACV can get stinky, Van Ness also said that you should condition your strands afterwards for better-smelling hair.
Since I used ACV on my skin before (click here for the video!) and didn't get a reaction when I did a patch test (more on that later), I was ready to give this itchy scalp and dandruff-fighting solution a try. Here's the lowdown on what happened:
WEEK 1
I grabbed a funnel and poured 1/3 cup of water and 1/3 cup of vinegar into an empty squeeze bottle (Van Ness actually recommended a spray bottle, but I didn't have one that was big enough). After shampooing, I shook the solution, popped the container open…and almost chickened out. The smell of vinegar was overwhelmingly strong, so I decided to add a little more water to the solution to dilute it—just in case my scalp freaked out. Once I was happier with the ratio, I parted my hair in random sections, poured and massaged the ACV solution over it, and waited for 10 minutes for it to settle. After that, I applied my usual conditioner to help rinse the vinegar smell off.
BEAUTY WIN:
The husband didn't even notice that my hair smelled like vinegar post-shower, so the conditioner tip works! Since my hair and scalp felt so refreshed after using the ACV mix, I decided it was safe to use it three to four times a week after every shampoo.
ADVERTISEMENT - CONTINUE READING BELOW
BEAUTY FAIL:
Waiting an extra 10 minutes in the shower can get boring. After the first go, I got impatient and ended up rinsing off the solution after five minutes.
Here's what I used for my DIY Beauty!
WEEK 2
My scalp was feeling much better and the flakes were less noticeable. There was still a bit of itching, but it wasn't a big deal anymore. Since I was reacting pretty well to the treatment, I decided to follow Van Ness' original reco about the amount of ACV I should use (to recap, it's equal parts of water and ACV). The bad news: I began to notice that I had more hair fall whenever I'd use conditioner, so I decided to start skipping it. My hair was feeling much softer with the ACV rinse anyway, so I thought I'd be okay.
ADVERTISEMENT - CONTINUE READING BELOW
BEAUTY WIN:
This week, I really waited a full 10 minutes before rinsing it off and I think that's why it was also more effective. My strategy to avoid shower boredom: I did a light body scrub while my scalp "marinated," I played a cool podcast to keep myself entertained, and I even set a timer to avoid cheating.
BEAUTY FAIL:
You really need to use a conditioner post-shampoo to mask the vinegar smell. I honestly don't mind it because it's not as strong after you dry your hair, but for the first time ever, my husband finally realized that I was using a kitchen condiment in my hair. "Umm…Why do you smell like a salad?" he asked. LOL, so much for hoping he wouldn't notice!
WEEK 3
I started using a leave-in conditioner from Ouai after my shower to help mask the smell. I actually liked it because it protected my hair from heat damage and made it easier to comb through my strands. It even made my hair less frizzy, too. But of course, the best part was that I didn't smell like a vinaigrette anymore.
ADVERTISEMENT - CONTINUE READING BELOW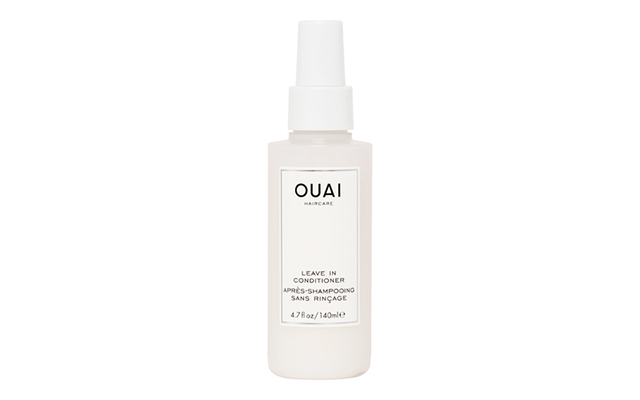 OUAI Leave-In Conditioner, P1515, Sephora.ph
BEAUTY WIN:
My scalp condition was definitely improving! It wasn't as itchy, I had less hair fall, and the tiny flakes were practically non-existent. This DIY beauty solution is definitely worth a try and I'm so glad that I didn't have to spend on expensive salon treatments!
ADVERTISEMENT - CONTINUE READING BELOW
P.S. By this time, I was also very relieved that Jonathan Van Ness' tips are legit because #fangirl and he's so good vibes!
BEAUTY FAIL:
None this week!
WEEK 4
I feel like my scalp is finally back to normal. It's no longer uncomfortably itchy and I'm happy to report there are no more visible flakes either. I think I'll continue to do my ACV routine for another month. After that, I'll probably just do it once a week for maintenance.
BEAUTY WIN:
I'm super grateful that the at-home treatment worked and that my scalp is a lot healthier. According to the husband, my hair also feel a lot softer. He kept complimenting me about it this week, but TBH, I think that's more because of the leave-in conditioner than the ACV.
BEAUTY FAIL:
None! My only regret is that I should've added this ACV wash to my hair routine earlier. I'm just hoping that it won't affect my hair color in the long run. A quick Google search said that it shouldn't, but you never know. Keeping my fingers crossed that my highlights won't turn brassy on me!
ADVERTISEMENT - CONTINUE READING BELOW
Thinking of trying this DIY anti-dandruff solution? Here are a few more of my tips:
Not all ACVs are the same. One of the most trusted brands is Bragg's, but if you don't have access to it, just go for a brand that's unpasteurized and says "with the mother" on the label to get the most nutrients and health benefits.
ADVERTISEMENT - CONTINUE READING BELOW
Always do a patch test before you apply the ACV solution to make sure you don't have a bad reaction. A few days before I really tried it, I did a test-run by applying a few drops of the ACV solution behind my ears and on a small part of my scalp (closest to the nape area). I left it on overnight to make sure that I wasn't allergic or too sensitive for it.
If you prefer to use a spray bottle like Van Ness suggested, I recommend investing in a continuous mist spray to make it easier for you in the shower (using a one-pump spray can get challenging with wet, slippery hands—especially if it jams). If you don't want to spend extra, an empty shampoo bottle should work, too. Just clean it well and be extra careful when pouring—you don't want the solution to get in your eyes!
ADVERTISEMENT - CONTINUE READING BELOW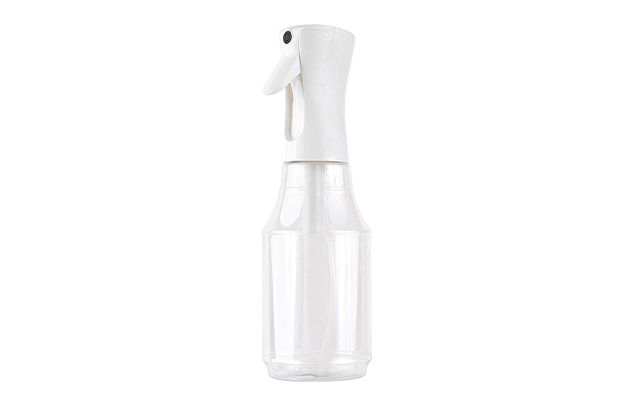 Continuous Water Spray, $10.99, Amazon.com
If your dandruff situation is a little more extreme or keeps recurring, consult with a derma or a trichologist about it. Since they're licensed pros, they might be able to offer better solutions and will be able to check if there are any underlying health conditions that may be causing it.
ADVERTISEMENT - CONTINUE READING BELOW
For more beauty tips, visit Nicole's blog and follow her on Instagram.
Related Stories from Preview.ph
Hey, Preview readers! Follow us on Facebook, Instagram, YouTube, Tiktok, and Twitter to stay up to speed on all things trendy and creative. We'll curate the most stylish feed for you!