Twinning with your mom will never look tacky. Especially not when you're all decked out in couture. Below, we've got proof just how fun dressing up with mommy can be!
1. Cary Santiago
Dismiss the definite—Cary has, after all, established himself as the expert manipulator of filigree and fold. Instead, think of the difficult feat of capturing light—gemstone style. Cary did it in polished, pleated, embossed weavework, with ornamental windows of delicate metalwork and hand-crafted basketweave panels, all on an ultra-feminine hourglass silhouette. It was, as expected, a precise and sculptural collection, but it avoided falling into a monotonous design trap. The black and white openers of minimal black shifts texturized with folded, paper-like, surreal exaggerations of peacocks, geckos and volumized whorls was certainly new enough to create a fashion coup, but it was in the array of jeweled confections in sapphire, amethyst, amber, and emerald where he outdid himself. Through sinuous curves, Cary's signature fabric manipulation was translated from flat to 3D—jewel dresses that came to life. With controlled fluidity and precise symmetry, this collection embodied Cary couture in every sense of the word.
ADVERTISEMENT - CONTINUE READING BELOW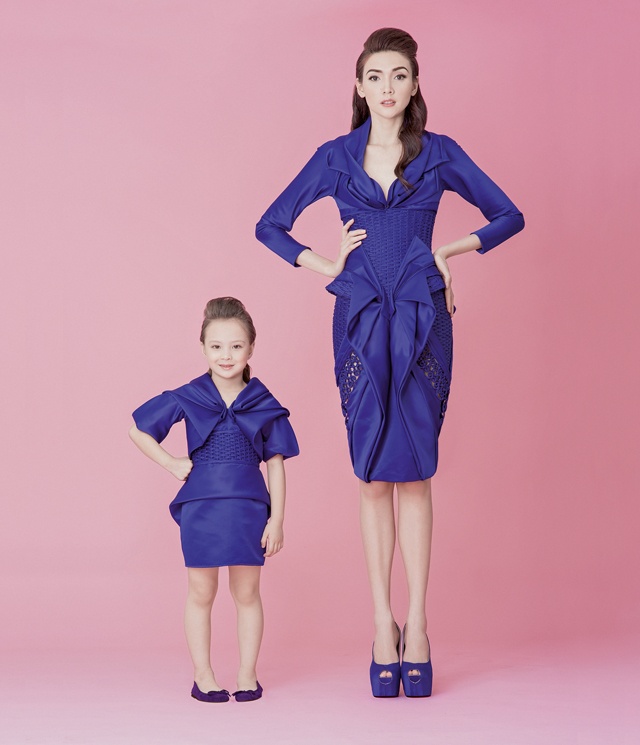 CONTINUE READING BELOW
Recommended Videos
IMAGE Preview Archive
2. Lesley Mobo
That Lesley Mobo's presentation coincided with his homecoming was symbolic. Trained first as a scientist (he was a biology major and prospective med student), the Panay-born designer has been based in London for the greater part of a decade, having graduated from Central Saint Martins and eventually designing for British special-occasion brand Jasmine Di Milo. Perhaps it was here, at a fashion house named for Venus—Greek goddess of love and beauty—that he first cultivated an affinity towards traditionally acknowledged "pretty" materials such as lace, tulle, and sequins. This was a return to that delicate sphere, to be honest, but in no way was it a recap. Where Di Milo's mythology erred on the side of ethereal, Lesley's muse was real—dressed in frocks of patched plastic and what seemed like lace trim, rather than whole bolts of the material, all pieced together through a heavily repeated shirring technique that itself gave the impression of table-skirting. Cloud-like gowns of tulle in peach and sky blue broke the mostly black and white palette, and so did some runaway tailored pieces, like a sequined bouclé cocoon coat. It all gave the idea of scrap-and-trim, strung together—evening wear for the devil-may-care.
ADVERTISEMENT - CONTINUE READING BELOW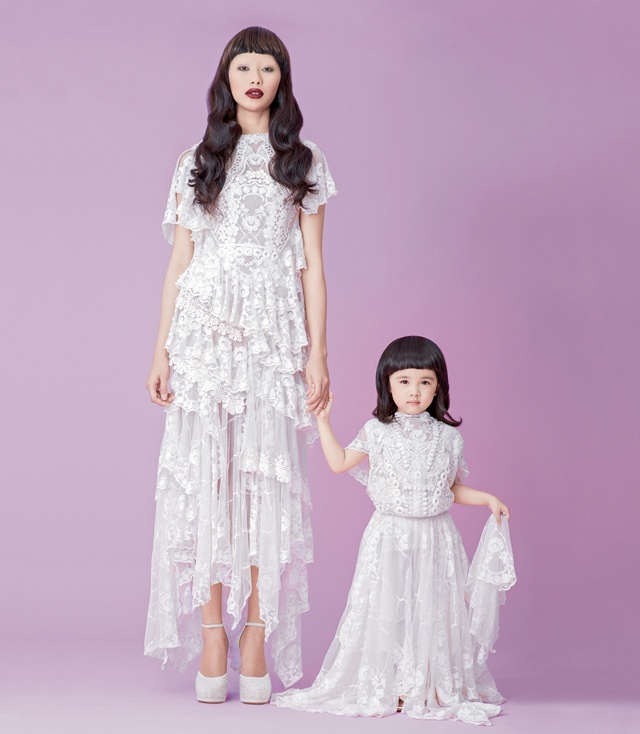 IMAGE Preview Archive
3. Renee Salud
If the first piece out—a beautiful diaphanous tent of frosted latticework and florals—was any indication, it was a collection that was bound to revolve around vintage preciousness. The designer explains, "Everything was [crafted with] hand-guided embroidery to create one of a kind lace and fabric. I wanted romance on a very feminine woman." And by romance, he meant delicate fabric alchemy, a framework of needlepoint mosaic, crawling arabesque, embossed floriated, and foliated forms all interconnected in a light overlay of ornamental intricacy. It is in fact anchored in old-world artisanship, evidenced in the miniature version: all curves and pattern scaled down to exact proportion. But by no means does he make the old-world look dated: diamond trellis quilts are juxtaposed on geometric grids in high-necked, full-sleeved, modern silhouettes, which makes his pieces ultimately more contemporary than the otherwise demure, handcrafted first impression.
ADVERTISEMENT - CONTINUE READING BELOW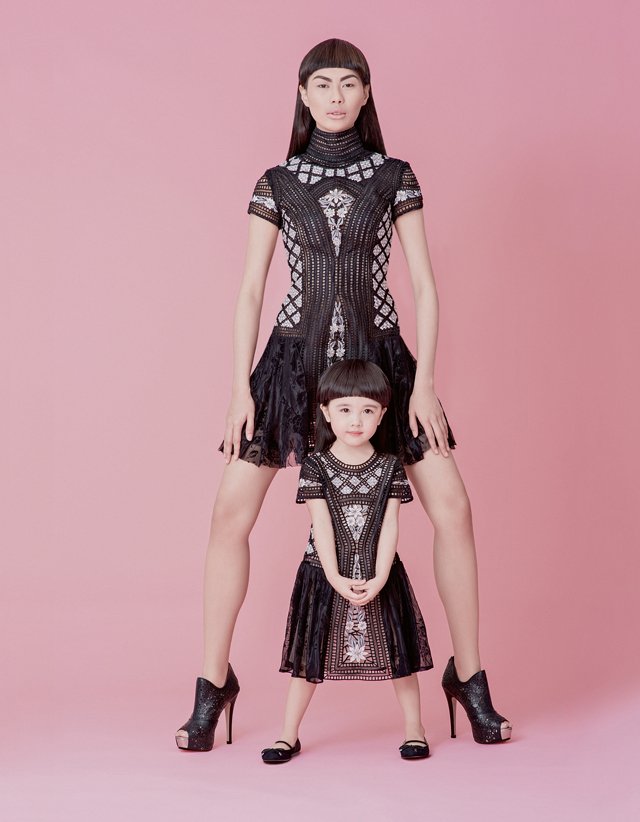 IMAGE Preview Archive
4. Roland Lirio
You think you've seen it all when it comes to sportswear-inspired fashion. After all, it was the dominant trend for the past two seasons, not to mention the theme for last year's Preview Best Dressed Ball. Roland Lirio's take on the tried-and-tested trend is as refreshing as the color palette he presented: bright orange, clean white, and cool blues interspersed with graphic geometric prints. What made us stand up and notice, however, is his unexpected use of two materials: mesh and sequins. The almost conservative dresses sporting mullet hems and fluted skirts were tempered by slices of skin via mesh cutouts—even a whole skater skirt made use of the brightly hued material. The party girl-favored sequins saw a makeover by way of floor-sweeping dresses in color-blocked geometrical sportif accents. For a trend that has been seen many times over, reinvention is the goal, and if fashion were a sport, Roland Lirio would be one of the Most Valuable Players this season.
ADVERTISEMENT - CONTINUE READING BELOW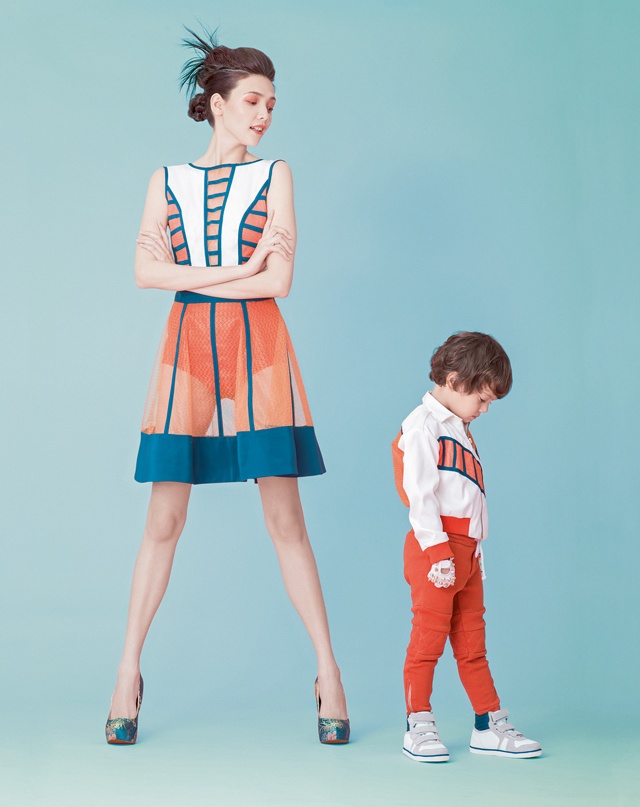 IMAGE Preview Archive
5. Jerome Salaya Ang
This is, by far, the most abbreviated collection that Jerome Salaya Ang has done—restrained in its treatment of surface, appropriately shrunken in proportion. But even in its most abridged (literally and figuratively), Jerome's conceptual brilliance still manifests in the edited planes of treated fabrication. exoskeleton vests in liquid patent mimic armadillo skin and give a hard-edged contrast against soft skater skirts, while stitched detailing hold together hollowed-out framework—molded, armor-like, to skin. The designer says that the inspiration is Persephone, the goddess of the underworld, and in myths, the catalyst for climate schizophrenia. Quite apt, really, as these directional summerready pieces make the transition from holiday to summer so much more packed with formidable drama.
ADVERTISEMENT - CONTINUE READING BELOW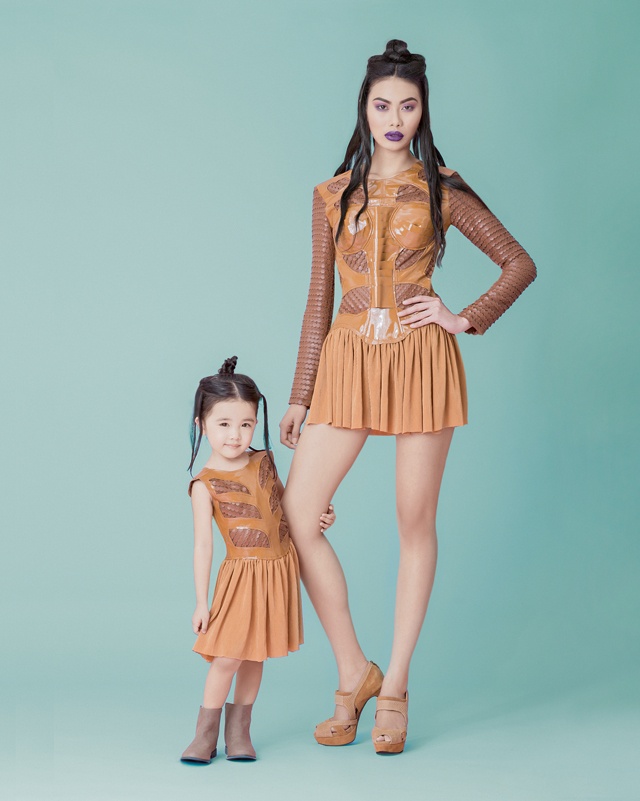 IMAGE Preview Archive
6. Xernan Orticio
For his Spring/Summer collection, Xernan Orticio stayed true to form through sleek, architectural, close-to-the-body numbers, but in a considerably austere palette (black and white)—a complete departure from last season's traffic-stopping red collection. inspired by the severe aesthetic of clinical uniforms and a religious touch, he punctuated pieces with clerical collars and acrylic crosses made by fellow PeFta alumnus Yekky Balingit. Overall, the collection was sharp, succinct and graphically arresting. Pristine vertical bands were interrupted by diagonal sheer panels—spliced and hiked all the way up to the hip or racing through anti-cling separates that give volume—in cropped or boxy geometry. One wonders if Xernan was being deliberate when he christened his latest collection Asylum, a heteronym that leaves us wondering if he means to invoke the feeling of sanctuary or the confusion of a madhouse. either way, because of its union of rigor and seduction, it's a collection worthy of praise.
ADVERTISEMENT - CONTINUE READING BELOW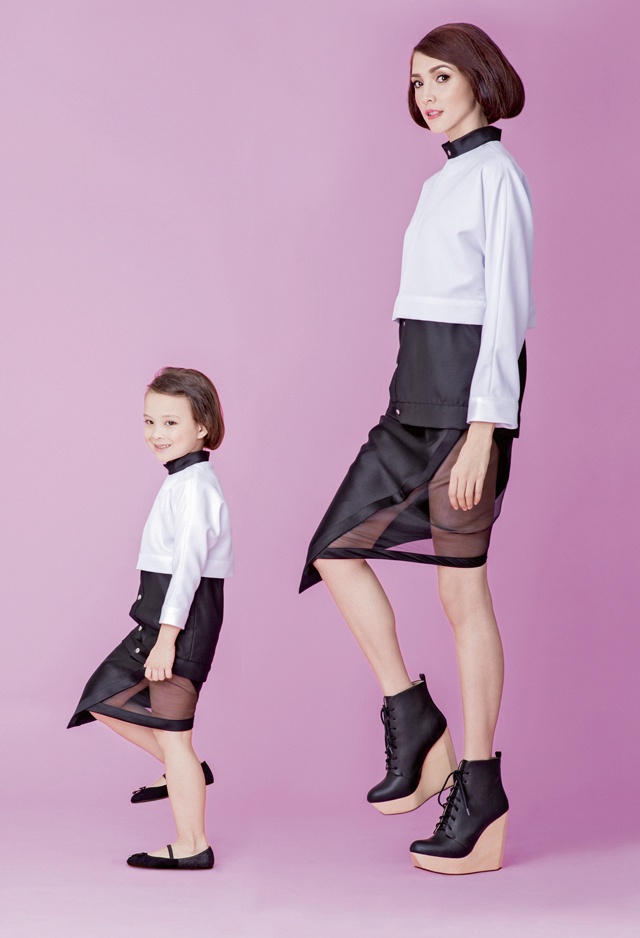 IMAGE Preview Archive
7. Enrico Carado
Perhaps as a departure from last season's avian influences, Enrico has transitioned from Holiday's fauna to Spring/Summer's flora, relegating blooms as the focal point of his horticultural collection. There were the more subdued interpretations, such as patchwork techniques applied to more streamlined silhouettes, and then there were more ostentatious ones—baseball caps with actual flowers, and ruching to redefine the peplum shape. Red leather panels became every look's seed, and growing from them were patches full of abbreviated hems and peek-a-boos, from the slight stomach exposure to the more suggestive chest cutout. His collection's real success, however, lies in Enrico's ability to restrict his clothes to a wearable standard—a notch above pragmatic as much as they are conversation pieces. This was proven by his last look, where a handbag transformed to a vest before our very eyes. Form, function— and dare we say it—fun.
ADVERTISEMENT - CONTINUE READING BELOW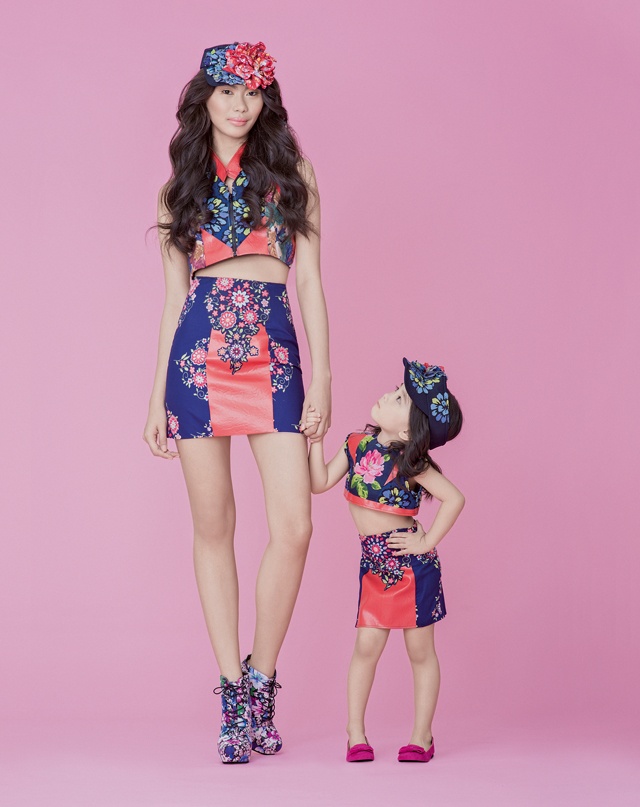 IMAGE Preview Archive
8. Veejay Floresca
At first glance, Veejay Floresca's latest collection looks like your typical borrowed from-the boys presentation, but upon closer inspection, it becomes apparent that it's a juxtaposition between gamine and girly, naughty and nice. It is a seesaw of opposites, as seen in geometrically feminine tone-on-tone beading against gray masculine tailoring. There are pencil skirts with thigh-high slits paired with collared sweaters; a blazer and trouser combo is offset by a minimal bra top. It's menswear without being too... manly. And if the sands, grays and blacks are too much of a somber palette, the unpredictable quirkiness of "trouser-shorts" (straight-cut trousers on one leg, and on the other, leg-baring shorts) injects a bit of length play. It's a collection that celebrates the fashion aesthetic of both sexes while at the same time blurring the lines between the two. Who says men and women can't get along?
ADVERTISEMENT - CONTINUE READING BELOW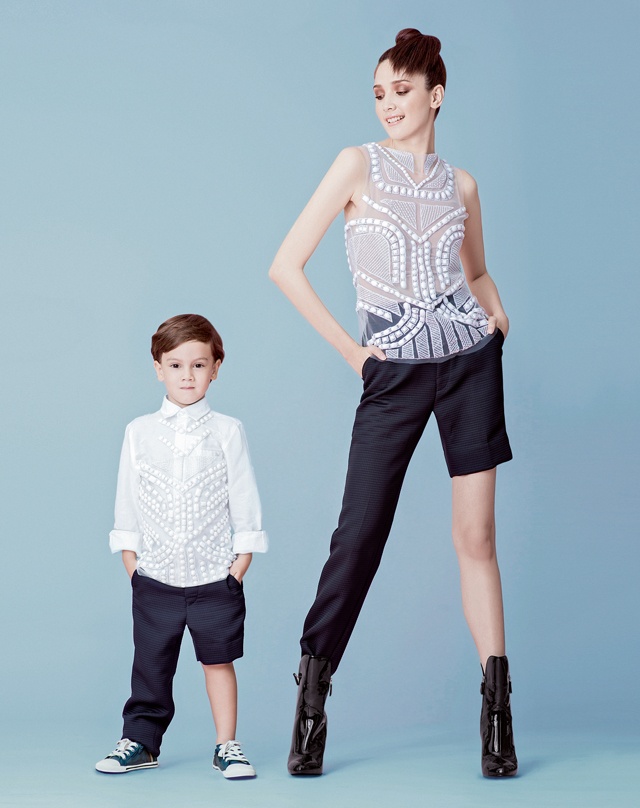 IMAGE Preview Archive
9. Vania Romoff
Vania Romoff declared the concept herself—a rehearsed spontaneity, studied carelessness and well-practiced naturalness embodied in one word: sprezzatura. It's difficult enough to interpret this in a 10-piece collection, what more in a 32-piece one—but Vania had an arresting command of the language, and consequently, of her collection. One by one, sprezzatura's meaning heightened in minimal pieces cloaked in champagne, navy blue and the occasional emerald green; vocabulary interpreted and deconstructed in off-shoulder cuts and bell sleeves, crisp white shirts tucked into taffeta maxi skirts, and jersey evening gowns that draw power from a woman's stride. Vania's thematic tendencies, however accurate, still manage to be consistent with last season's collection. The focus on construction and volume, and the doing away with any further embellishment is a recognized restraint that comes off ever polished, and ever, well, Vania.
ADVERTISEMENT - CONTINUE READING BELOW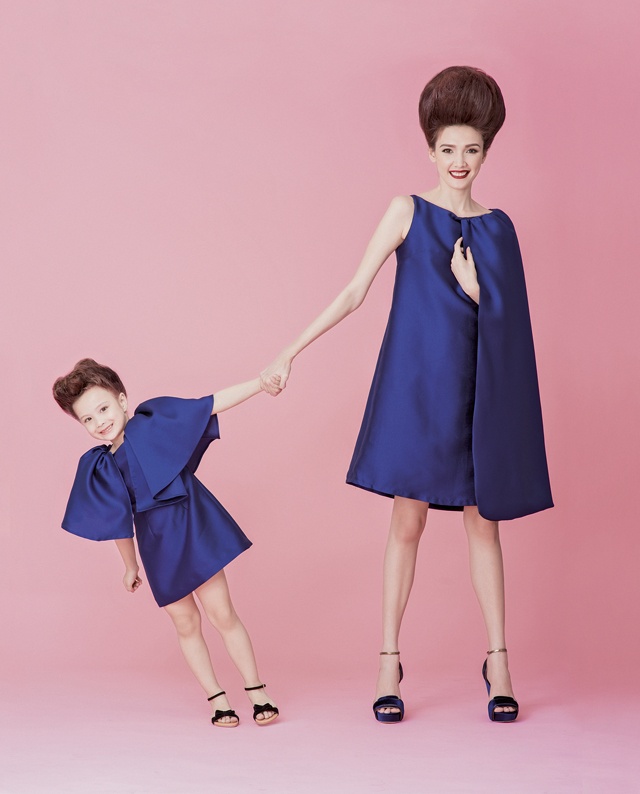 IMAGE Preview Archive
10. Jot losa
There were several things that were in Jot Losa's show—whites, sheer, tailoring and floral appliqués—that didn't capitalize on skin. Instead, every knee-high pencil skirt and collared button-down that went down the runway were exercises in feminine modesty, executed with the occasional flounced hem, peplum or a brush of powdery pink. It's this audacity, the refusal to go bare when you can (it's Spring/Summer, after all), that makes Jot's latest collection an ode to a woman's countenance. His mastery of a woman's suit—from the perfectly stiff way it accentuates the waist, to the hem-to-ankle precision of the pants—that informs us that Jot, post-PEFTA, has laid his foundation as a designer. This was him solidifying the aesthetic of a Jot Losa girl—confident, smooth and with a subtle sense of sensuality.
ADVERTISEMENT - CONTINUE READING BELOW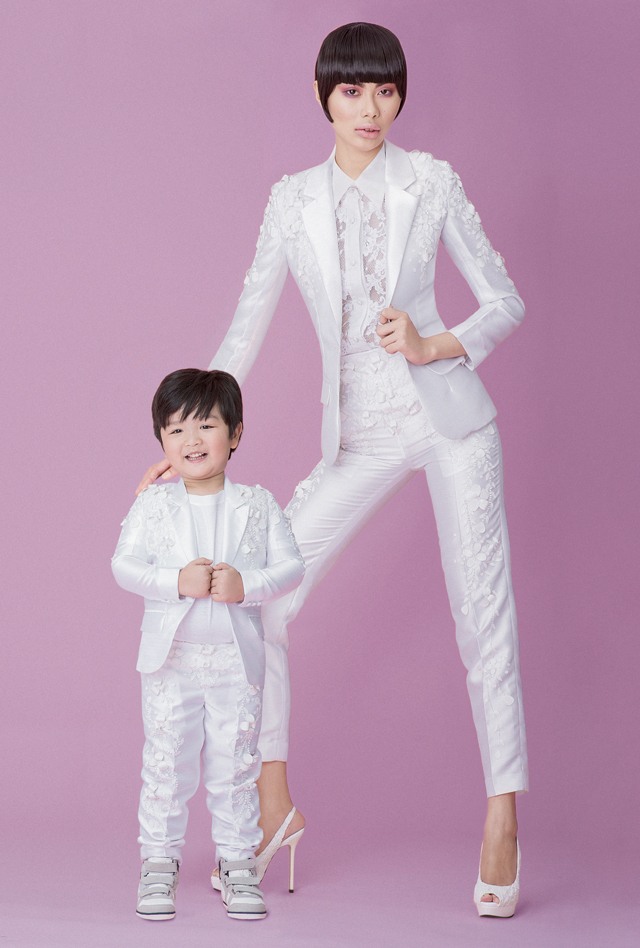 IMAGE Preview Archive
*This article originally appeared in Preview Magazine February 2013 issue.
Related Stories from Preview.ph
Hey, Preview readers! Follow us on Facebook, Instagram, YouTube, Tiktok, and Twitter to stay up to speed on all things trendy and creative. We'll curate the most stylish feed for you!