The anticipation has killed us for months but now, the iPhone 6 is within our reach! Smart VIPs were exceptionally lucky, as society's who's who witnessed the unveiling of the Smart Infinity iPhone 6 plans, launched at the stroke of midnight last November 13 at The Peninsula Manila's Salon de Ning.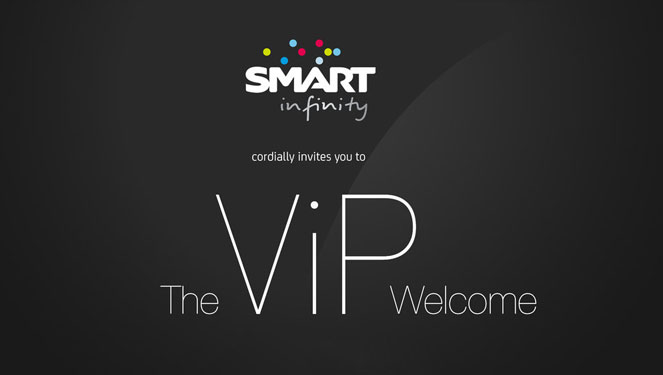 Among those who attended were Donnie and Crickette Tantoco, DJ Andi Manzano and husband GP Reyes of Century Properties, Cory Quirino, model and executive Mika Lagdameo, Dolly Anne Carvajal of Inquirer, DJ duo The Zombettes (Sanya Smith and Ornussa Cadness), Rica de Jesus, lifestyle bloggers Christine Dychiao, Janice Villanueva, Alyssa Lapid, Angela Nepomuceno, Lee Shen Gee Cala-or, Brian Ong, Hannah Villasis, and Paul Chuapoco.
Thinking of getting your hands on a Smart Infinity iPhone 6 plan? Let these reasons excite you even more:
1. No need to scrimp on your shopping money
Smart Infinity's Aspire Plan 3500 allows you to take home your own iPhone 6 16GB with a 30-month contract; or if your budget's heftier, you can avail of an iPhone 6 or iPhone 6 Plus with any storage capacity for free with the Smart Infinity Prestige Plan 5000 or Premium Plan 8000.
2. Indulge in VIP treatment with a slew of free GCs and price slashes
Every girl loves a treat. With the Smart Infinity Prestige 5000 plan for the iPhone 6 16GB and each one of its Premium Plan 8000 offers, you may choose free GCs or monthly service fee deductions to go with your phone plan. Score!
ADVERTISEMENT - CONTINUE READING BELOW
3. Increase your tech savvy mileage—your iPhone 6 comes with a MacBook Air
You heard it right. As if bagging the hottest smartphone isn't enough, you get to extend your digital experience with a MacBook Air too, perfect for surfing your favorite blogs in one hand while updating your social media profiles on the other. This plan is available with the Smart Infinity Premium Plan 8000 for iPhone 6 16GB.
Interested in seeing the complete list of Smart Infinity for iPhone 6 packages? Learn more about the Smart Infinity plans. Go to: http://www.smart.com.ph/infinity/iphone
Meanwhile, click on the photo gallery to see who partied with Smart at the iPhone 6 launch.