Dressed in Prada, Sam Pinto becomes a work of art on the cover and in the pages of this month's issue of Preview Magazine. She shows a different side of her, beyond the hot bod that launched her to fame. The cover also features the work of artist Daryl Ferel, which comes alive in two of our Instagram posts. These were some of the topics of conversation during an intimate lunch that Preview hosted for some of today's most in-demand bloggers.
Kim Jones, Laureen Uy, Camille Co, Nicole Andersson, Joanna Ladrido, and Dominique Tiu bond with us over a sumptuous 5-course meal at the Piazza Privato of the newly opened Privato Hotel on Shaw Boulevard. The girls talked about their recent trips, latest endeavors, upcoming getaways, and of course, Preview's recent makeover.
"I love that it's so much cleaner, which really makes the audience focus on the art, the fashion, more than anything else," Nicole says of the April 2014 issue.
ADVERTISEMENT - CONTINUE READING BELOW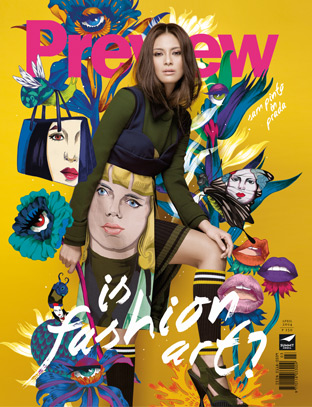 Preview April 2014
"It's easy on the eyes. I personally love the cover girl choices—I think they're more fashionably relevant and interesting. For the April issue, I particularly love the color and the art infused in the cover. I like the one-liner phrase on the front, as well, that best describe the entirety of the issue," Dominique adds.
ADVERTISEMENT - CONTINUE READING BELOW
Joanna, on the other hand, has praises for the inside pages. "The new look is so different from anything you see in fashion magazines, which is exactly what makes Preview the country's Style Bible. I am loving the layout and the new font is refreshing making it easy and more fun to read. I love how it presents the trends in scrapbook manner, which makes it more personal and relatable rather than the stiff and too put-together style. I am all head over heels with this new Peview. Definitely two thumbs up!"
It was last March when Preview surprised its readers with a new look. "I'm personally enjoying the reading experience of the new Preview–between the clean layout and the creative, well-written stories; it's a joy to really go through it from cover to cover," Executive Editor Isha Andaya-Vallés shares.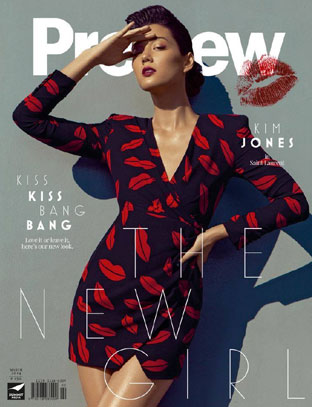 ADVERTISEMENT - CONTINUE READING BELOW
Preview March 2014
Do tell us what you think of Preview's redesign by tweeting us @stylebibleph and @previewmag! We promise you, there's a lot to look forward to in the coming issues.
Click on the photo gallery to see what our lovely guests wore to the lunch.