Katrina Razon on deck
It was a first for Malasimbo to hold a second weekend, and surely a first for everyone else to have experienced partying and jumping to the beats of EDM in a Mindoro mountain. Mount Malasimbo took a complete 360 turn as the Malasimbo: Lights and Dance Festival brought a whole new meaning to the event's magic we've come to know for five years now.
Last weekend we listened to:
1. Sick beats from killer DJs
ADVERTISEMENT - CONTINUE READING BELOW
DJ Justin de Guzman took us underground with his hip-hop and R&B mash-ups.
DJs Katsu, Emel Rowe, Swindle, and Justin de Guzman took the spotlight, but we had to also give it up to Hana ACBD, Sinyma, DJ Kentaro, Curtismith, Similar Objects, Assembly Generals, Lyrically Deranged Poets (special shoutout to Abra) and Hifana (our top favorite who produced raw music and beats out of his numerous turntables).
CONTINUE READING BELOW
Recommended Videos
We saw:
2. Rad Light Shows
ADVERTISEMENT - CONTINUE READING BELOW
Rays of light
Aside from the stage lights and palm trees on-high that we saw in almost all #Malasimbo posts on Instagram, swings and plays of lights were everywhere too! Sabers of neon lights and fire streaks playfully caught the attention of the attendees. The neon poi was a challenge to our muscles, but we had fun as we felt like pros circling it round and round, making fancy light streaks (yes, just like kids).
3. Silent Disco
ADVERTISEMENT - CONTINUE READING BELOW
Kinda reminded us of Lost Stars
Silent is the new loud! For us, this is one of the highlights of Malasimbo: Lights and Dance Festival! The Mangyan Village transformed into an open club of ravers with their wireless headphones on – listening to live music produced by the DJs onstage. Those without the headphones heard no music (kroo! kroo!) and saw people dancing to what appeared to be nothing. We were all isolated from each other, but connected by the same rhythm and lyrics. Now that's pretty cool.
4. Dance Crews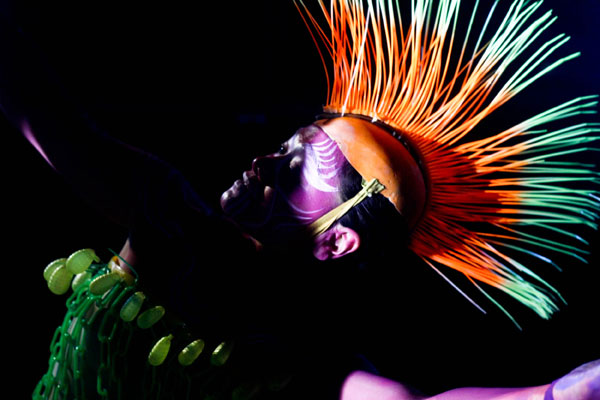 The beauty of light and dance rolled into one
ADVERTISEMENT - CONTINUE READING BELOW
It was the various dance groups that raised the bar of dancing to a higher level. There were Pandanggo sa Ilaw performers who kept the native feel, the Malasimbo dance competition winner, Autonomicass Dance Crew, and a contemporary pas de deux performance by Rhosam Prudenciado and Mia Cabalfin. Another day brought life to Planet Zip Luminaries with their LED-lit props that really wowed the crowd, and the highly respected Philippine All Stars with a groundbreaking routine that kept the ravers awake and kicking. On the final day, Daloy Dance Company X Aliens of Manila showcased a very interactive and interpretative piece that amused the crowd, followed by the World Hip Hop Dance Championships 2014 champion, A Team, who performed a strong take of a Conga mix that kept the crowd asking for an encore performance.
5. Pirates!
ADVERTISEMENT - CONTINUE READING BELOW
Aye aye, captain!
No one can judge you for what you choose to wear up in the mountains. But we were definitely there to document it. Click on the gallery to see who else we spotted.
See you next year?
Photos by Karlo Torio