A tasteful pair, this is. One glance at Mari Jasmine and Cit-Cit Sioson is all it takes to find that these girls definitely know how to spin timelessness their way: Think a simple A-line midi skirt, but done up in faux python, or tailored black trousers cuffed to flaunt a sculptural heel. They're a duo of classicists who're simultaneously schooled in subtlety and trained for turning heads—understated yet statement-making, quiet yet never ignored.
"Cit's style is really simple, but then there's always something that makes it interesting, like a big bow or a backless detail," Mari says of her friend's signature look. In return, Cit-Cit shares, "Mari has an effortless way of dressing. She looks just as comfortable in a fancy frock as she does in a shirt and jeans." Sartorially speaking, their Venn diagram's center reads dainty and sophisticated with a touch of fun tossed in. Just how we like it.
This is modern evergreen. Here, Mari and Cit-Cit talk about redefining cool and crisp, and the harmonious coexistence of polish and drama in nailing updated elegance.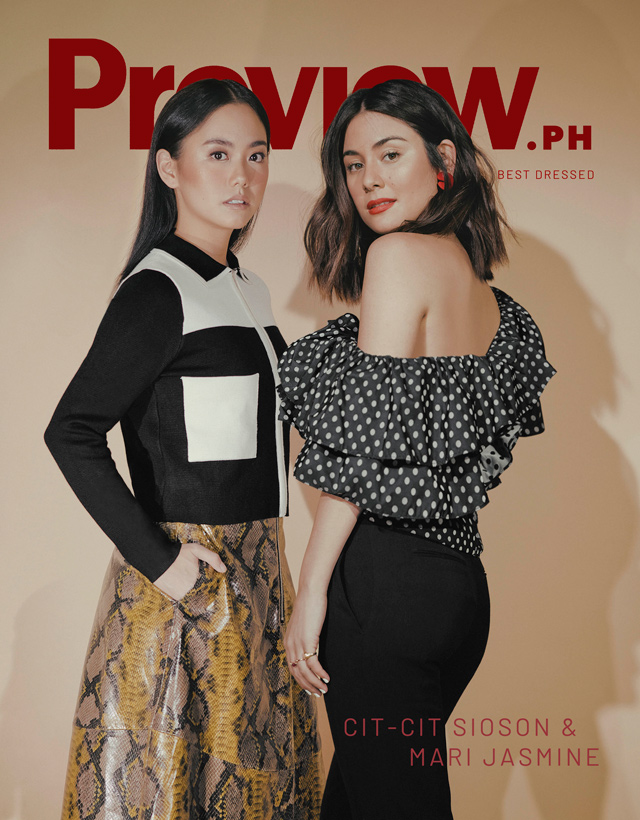 How long have you guys known each other?
Mari: "I think we've probably known each other for about four years. I would say four years now."
ADVERTISEMENT - CONTINUE READING BELOW
How did you guys meet?
M: "We met at a music festival in Manila. I'm very curious to know what she's gonna say! [Laughs] But I'm pretty sure the first time we met was at 7107. The Red Hot Chili Peppers came to play.
"But that wasn't really when we started hanging out. I think we started hanging out with a mutual friend of mine, so it's funny how things come back around."
Why do you think she's part of the Best Dressed list?
Cit-cit: "Mari has an effortless way of dressing. She looks just as comfortable in a fancy frock as she does in a shirt and jeans."
M: "'Cause she's super fashionable! She looks great all the time. I love Citcit's style because she's very classic. She wears simple pieces but with really interesting details, and since I came to the Philippines I always thought she was one of the most stylish girls here."
What do you like the most about how she dresses?
M: "I like her clothes because they're not super in-your-face, or extravagant, or flamboyant. They're very classy, and she wears simple pieces with a twist, so I noticed that she likes to wear a lot of backless things! I feel like backless things are a really sexy way to show off your feminine side. She'll show up with a really interesting cuff detail, for example. It's the kind of style I like too—classic with a twist."
C: "What I like most about the way she dresses is that she doesn't try too hard; she dresses for herself and not for others, which shows in how she carries herself in each and every outfit."
ADVERTISEMENT - CONTINUE READING BELOW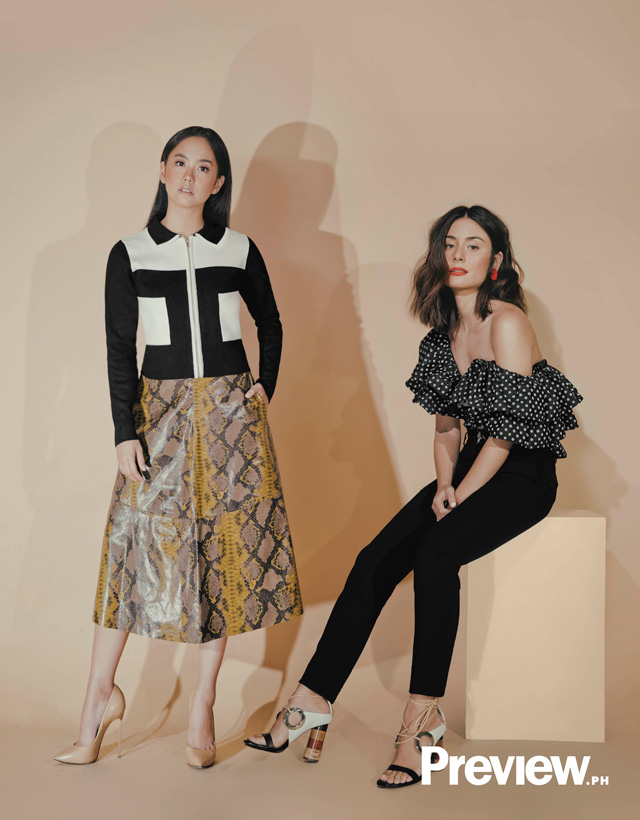 On Cit-cit: Zara zippered knit top and faux snakeskin skirt and Casadei pumps. On Mari: Vania Romoff off-shoulder top, Celine trousers, and Proenza Schouler lace-up heels.
What style tips would you take or share from her Instagram feed?
C: "You can never go wrong with the perfect white shirt. You can still exude femininity in a tailored ensemble or a borrowed-from-the-boys look; and sometimes, all you need is some sun and a swimsuit that fits you to a T."
M: "Let's look at her Instagram, shall we? [Laughs] So I would say, like, if you're wearing block colors or something simple, style it with an accent piece. I think Cit does that really well, so sometimes she's got this simple top and jeans, but then she'll pair it with Matthew and Melka earrings to spruce it up. Cit's style is really simple, but then there's always something that makes it interesting, like a big bow or a backless detail."
What's her signature look and what would it tell somebody about her?
M: "That she's a classy gal! [Laughs] She wears a lot of heels in her photos, I don't know if she wears them in everyday life…well, when I see her and we go out, I suppose. But yeah, you would definitely look at her and say she's classy because she doesn't need clothes that scream out 'look at me' to be noticed. She definitely goes for classic pieces that are still very feminine, I would say."
C: "She's easy-going and fun. She's a go-getter who clearly knows what she wants. More than her outfits though, she exudes a quiet elegance and she leads a healthy lifestyle that most would admire. She's actually my go-to when I need that extra push to prioritize my health over work!"
ADVERTISEMENT - CONTINUE READING BELOW
If you could steal one thing from her closet, what would it be and why?
C: "Her white swimsuit because I'd rather be at the beach soaking up the sun, and white is my favorite color."
M: "This cool leather jacket that she has. So nice! I don't know where it's from but I love the cuff detail and the colors. I also feel like Cit wears quite a neutral palette, and then puts a pop of color in sometimes."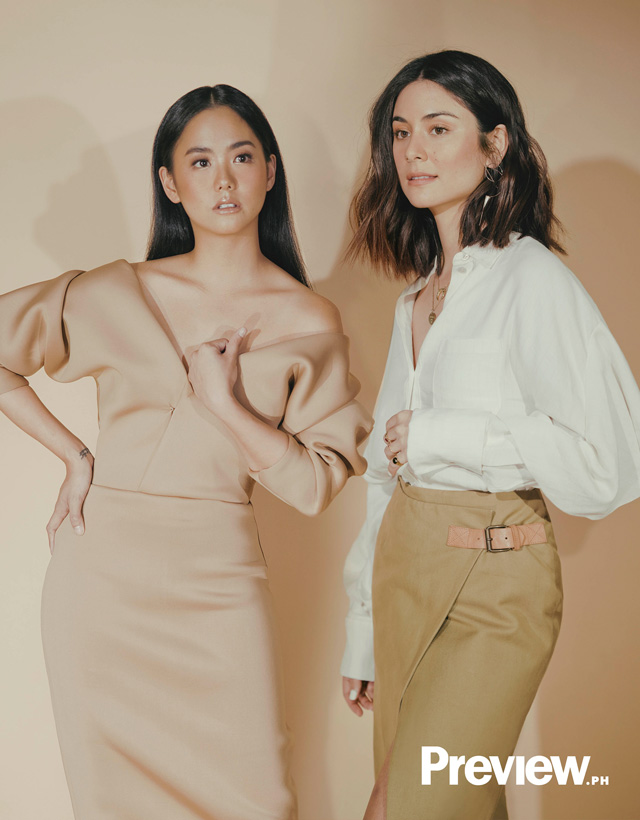 In what way are your styles different? In what ways are they the same?
C: "Our styles are different in the sense that I prefer to go for polished pieces and at times, more feminine outfits with a bit of drama. Occasionally though, like her, I go for that undone look that consists of a roomy shirt and my trusty pair of jeans."
M: "I wouldn't say they're that different? I'm not the sort of person to wear too many patterns or brights…maybe Cit experiments with color a bit more. But I definitely like simple colors, while she tends to venture out more. I might say we both kind of like pairing casual things with dressy things—she might pair a T-shirt with a really nice skirt, and that's my go-to, too! We're similar in that sense. I don't know, though! [Laughs] I get impostor syndrome when I'm talking about fashion 'cause I feel like I don't really know anything about it. So I could take a page out of Cit's book and learn from her.
ADVERTISEMENT - CONTINUE READING BELOW
Do you guys shop for each other? What's the most memorable thing she's given you and vice versa?
M: "Nah, we don't shop for each other. But I feel like she's styled me for a couple of shoots! I can't remember if she styled me on Et Cetera by ETC or if she styled Kim (Jones) back then. But I know that we've worked on shoots together around the same time we started hanging out."
C: "We don't shop for each other but I'd like to think that I'd get her seal of approval if I were given the chance to pick out clothes for her. The most memorable gift I got from her was a set of inspiring quote cards. We both love to read books so we appreciate things like that. My favorite quote card, which is on my desk, is actually the first thing I look at when I get to work."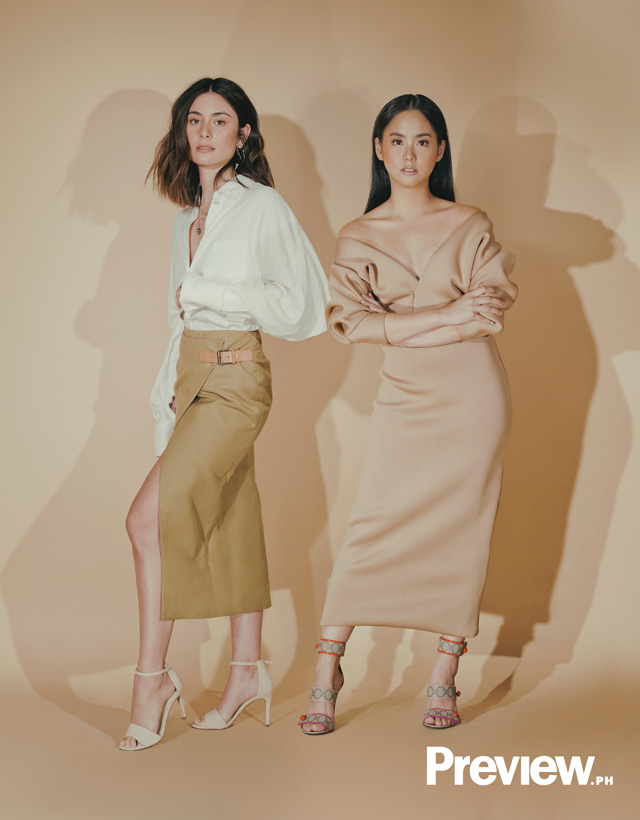 On Mari: Sies Marjan puff-sleeve shirt and Alexander McQueen buckled pencil skirt. On Cit-cit: Vania Romoff dress and Gucci heels.
If she could wear only one thing/outfit for the rest of her life, what would it be?
M: "That's a tough question. For the rest of her life?! Well, I'd wanna put her in something comfortable, 'cause it's not fair to tell her to wear heels forever. I would say a nice pair of denim jeans and…a backless top. [Laughs] I don't think she'd mind!"
ADVERTISEMENT - CONTINUE READING BELOW
C: "She would be in a swimsuit at the beach with her SORA towel."
What is the one piece of fashion advice you'd like to give her?
C: "You can be more experimental—only because I think she can pull off even the most outrageous outfit!"
M: "I don't feel like I'm in the position to give her fashion advice! I think she's way more fashionable than I am. I love her sense of style and the palette that she wears, but I would say that she knows what she's doing more than I do."
Is there something that you'd want her to try, though?
M: "Yes! And that would be to stop working so hard so she can go out more. She dresses really nicely for work, but I'd like to see her take a break and enjoy herself. And see me more often, so that I can get more style tips from her."
What do you enjoy most about fashion?
M: "I love the confidence I feel when I like what I'm wearing and I feel well-presented and well put-together, just because I think it's important that when you're showing up, you put in the effort. It's nice for people to think also that you're committed to being here."
C: "The idea that fashion is a form of self-expression excites me because it allows you to easily give others a glimpse of the things you value and how you've evolved as a person."
Produced by The Preview Team
Art Direction by Mark Buenaobra

Photographed by Charisma Lico
Makeup by Anthea Bueno (Mari) and Mikka Marcaida for NARS Cosmetics (Cit-cit)
Hair by Jan Edrosolan (Mari) and Mong Amado (Cit-cit)