I just discovered that I have the photography skills of a yaya.
Yesterday, PlayWorks (Where Learning is Fun!) held a workshop called "Yayarazzi" where yayas learned how to take nicer photos of their amos and alagas. Style Bible dropped in - a yay-on-the-wall - to see them in action.
At 11 AM, in a small dim room with a projection screen, 18 yayas with nametags on their shirts sat quietly on monobloc chairs. The facilitator, Sheila Catilo, got the ball rolling.
"Like, if you want to take a picture of... what's the name of your alaga?" she asked.
"Annika!" said one right away, bouncing up in her chair.
"So you can take nice pictures of Annika!" said Catilo. (She would henceforth refer to any alaga as "Annika.")
She told her trainees that the reason they were there was because their employers wanted them to take nice pictures of their families eating or hanging on the beach - mom or dad could now be in the shot, t00 - or their kids playing. "Candid!" she said.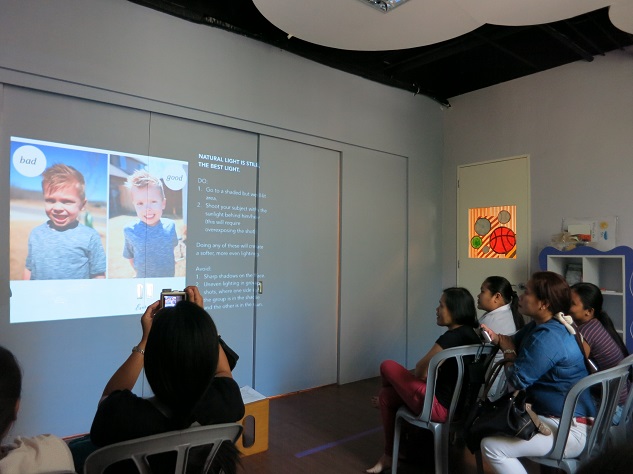 Yaya, yayarazzi. (Maia Puyat)
While targeted toward yayas, it honestly could have been any other beginner photography class. I myself am a noob and found it very educational. It began with the different kinds of cameras, their parts, and how to properly hold it (always support the base, and keep your fingers at the side, not by the lens - always an error of mine). She then dove into the importance of focus and composition, the right kind of light – apparently, wearing white shirts helps with better lighting (I totally didn't know that).
ADVERTISEMENT - CONTINUE READING BELOW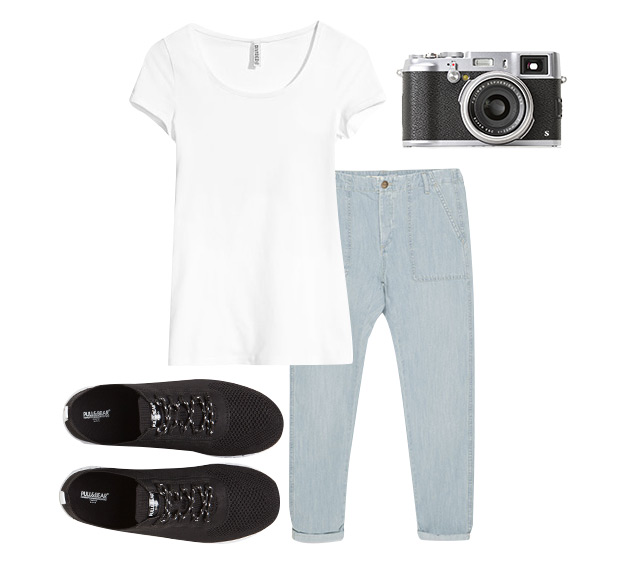 My new 'Kodakan' uniform.
White Jersey Top from H&M (299 Php), Relaxed Fit Jeans from Zara (2,995 Php), Black Gym Sneakers from Pull & Bear (2,995 Php)
She ended with basic strategies of composition – rule of thirds, finding perspective, but most importantly, given the height of their wards: getting down to the subject's level.
At this, she flashed a photo of a little girl playing in a garden. It was from a worm's eye view - little blades of grass in the foreground kind of framed the child. I could totally see myself using this trick to take pictures of my beagle, Kahlua.
Many of the yayas began applying the rules as they learned them, taking different kinds of photos of the screen and the other yayas around them. It was a cute scene, and I could really see that they were excited to get home and take candid photos of "Annika."
Hey, Preview readers! Follow us on Facebook, Instagram, YouTube, Tiktok, and Twitter to stay up to speed on all things trendy and creative. We'll curate the most stylish feed for you!