She started experimenting with scent formulations in, well, her kitchen when she was just 23 years old; now Zen Zest has more than a hundred outlets in major malls nationwide. We think that makes up a true success story.
Michelle Fontelera, founder and CEO of Zen Zest Asia Inc., began her love for scents as a child while living with her uncle who collected fragrances. She sought the help of a chemist to teach her how to formulate the different scents and months after, she was selling them in bazaars. But she didn't stop there. Passionate and entrepreneurial, she worked hard day and night until she was able to open her very first cart in SM Megamall.
"The best thing about being in the beauty business is I get to try out new products. I also 'need' to read magazines and blogs about new product innovations, which i really like," she shares.
ADVERTISEMENT - CONTINUE READING BELOW
As a natural progression, she explored the distribution of skin care lines that she had discovered from her frequent travels—Skin B5 from Australia, New Peptin from USA, and Skeyndor from Spain—as well as a custom-made service for fragrances called All Occasions.
With her hectic schedule, it's amazing how this mother of two makes jugglng business and family look so easy. The same can be said about her style—no fuss, effortless, but always chic.
CONTINUE READING BELOW
Recommended Videos
Read on to know more about Michelle Fontelera's style.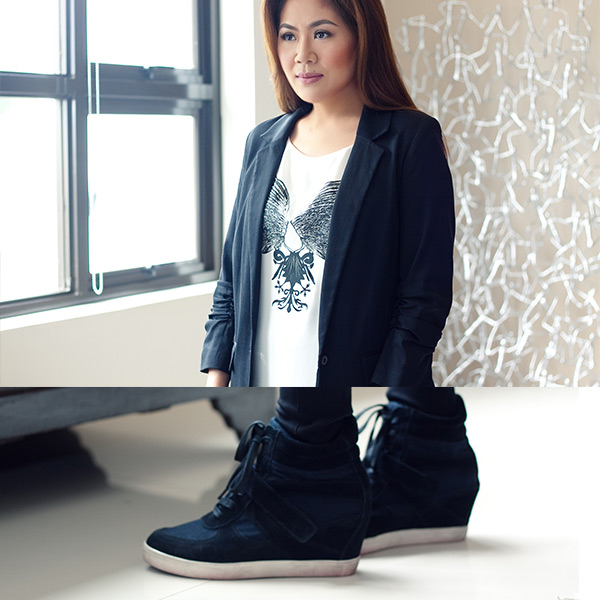 ADVERTISEMENT - CONTINUE READING BELOW
WHAT STYLES OR TRENDS ARE YOU GRAVITATING TOWARDS NOW?
I'm not really into trends. I just wear clothes that look good on me and those that are very comfortable since I work at least nine hours a day.
IS THERE A FASHION ITEM THAT YOU COLLECT?
My first love is collecting scents, of course. I also the love bags—the ones my husband gives me.
WHAT'S YOUR FAVORITE ITEM IN YOUR CLOSET?
I love black leggings. They are so comfortable and they make my legs look thinner. They're my go-to and emergency staple when I feel lazy or bloated.
WHERE DO YOU SHOP FOR CLOTHES?
I shop in Zara, H&M, Rustan's, and flea markets abroad. I also love going to outlet stores whenever I'm in the States.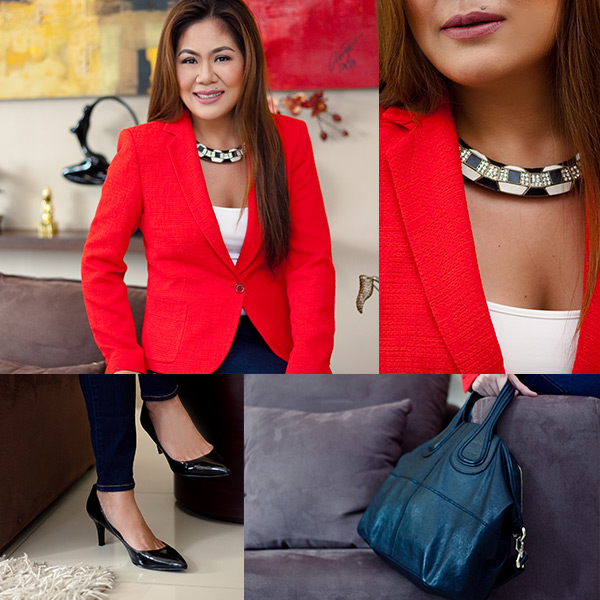 ADVERTISEMENT - CONTINUE READING BELOW
HOW LONG DOES IT TAKE FOR YOU TO GET READY FOR WORK?
I'm not a very fussy person. 30 minutes to an hour is good enough for me since I rarely put on makeup when I go to work.
HOW DO YOU CHOOSE AN OUTFIT? DO HAVE ANY PARTICULAR DRESSING PHILOSOPHY OR STRATEGY?
Sometimes, when I am in the mood, I choose my outfits the night before—from the top, pants, accessories, bag, and shoes. But on a regular day, I just pick out what I like at the moment. Anything that I think will make me look good.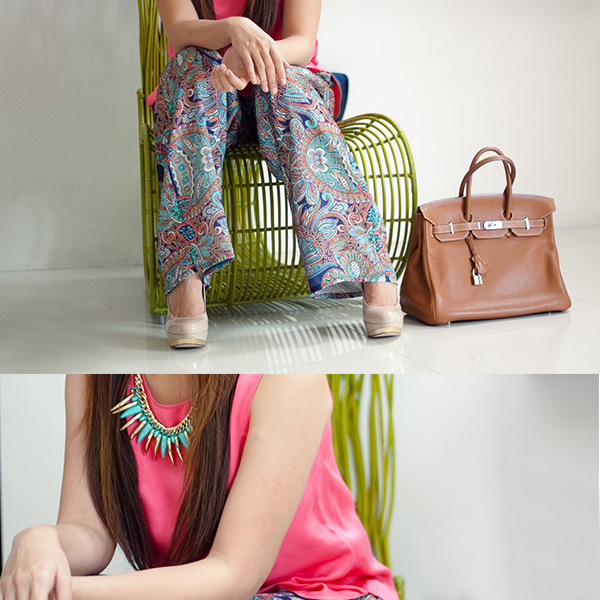 ADVERTISEMENT - CONTINUE READING BELOW
WHAT'S YOUR RULE FOR REPEATING CLOTHES?
Of course I repeat clothes. I repeat tops and bottoms but I make sure that I rarely repeat an outfit. I repeat only if I super love the outfit. I either wear a different pair of pants to match a top or wear accessories to jazz up an old outfit so that it will look different. If you see my closet, I am more gravitated to solid colors especially black and white. White looks so clean and crisp while black makes me look slimmer. I also like printed pants—they give my outfit character.
HOW MANY PAIRS OF SHOES DO YOU WEAR IN A WEEK?
I am very comfortable in both flats and heels but when it comes to shoes, sometimes i have favorites or "flavor of the week." I just wear around two to three pairs a week. It is also hard for me to shop for shoes because I wear a size 10 or 11. Yes, I have big feet.
ADVERTISEMENT - CONTINUE READING BELOW
HOW OFTEN DO YOU CHANGE BAGS?
I change bags at least twice a week. With bags, I do have favorites. One of which is my Givenchy Nightingale because it's a fuss free bag, not stiff.
WHAT'S THE ACCESSORY THAT YOU CAN'T LIVE WITHOUT?
There are three accessories that I wear everyday: my wedding ring, my engagement ring, and a watch. I need a watch because I am always looking at the time to see if I am following my schedule.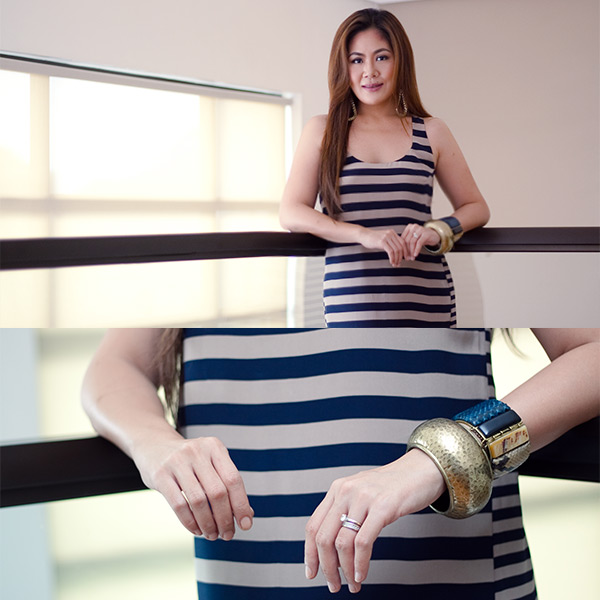 ADVERTISEMENT - CONTINUE READING BELOW
WHAT ARE THE FIVE WARDROBE PIECES THAT YOU WEAR CONSTANTLY?
A black blazer, black comfortable pumps, skinny jeans, white tailored top, and a nice bag.
WHAT WOULDN'T YOU BE CAUGHT DEAD WEARING?
Anything too flashy and anything that will make me look fat. Also, one brand from head to toe. That's a big no-no for me.
FROM A FASHION PERSPECTIVE, DO YOU FIND ANYONE INSPIRING?
Ever since I was a child, I've always admired Tina Maristela Ocampo's style. She always looks polished and elegant. I also like Olivia Palermo's style. She wears trendy and comfortable clothes that are so chic. I find her very stylish.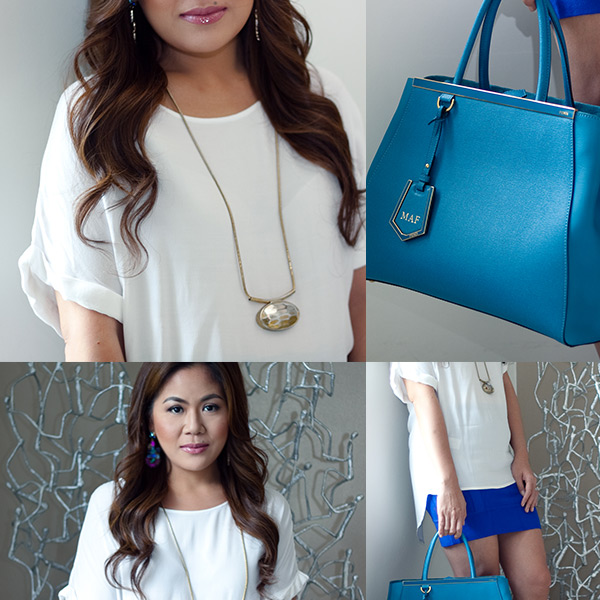 ADVERTISEMENT - CONTINUE READING BELOW
OFFICE WARDOBE TIP:
Just wear something comfortable and stylish in the office. Never wear anything too tight or too flashy. Since you're in the office, you need to work and not being comfortable in what you're wearing can be very distracting and can make you lose focus on what you need to do.
Click on the photo gallery to see some of her full outfits.