She's feisty, she's cool, and she's a force to reckon with. The woman behind the "G" in G-Force has certainly made her mark in the entertainment scene, spearheading the most sought-after dance group who brought the art of movement to the next level. "I started dancing when I was 10, professionally dancing at 14, and choreographing when I was 16. I guess this is really my destiny—I'm destined to do this," she shares. With eight solid years (and counting!) of producing major dance numbers—from Sunday's ASAP to larger-than-life concerts and corporate shows—Georcelle's career is now on an all-time high, and there's definitely no stopping this mother of three from achieving more than we can ever imagine.
So how does one dress up for work when you're in the biz? (Clue: definitely not corporate!) Being the true-blue performer she is, Georcelle sees the world as her dance floor and fashion as her music. Gracefully moving her way through work, home, and mom duties 24/7, her sartorial choices are perfect mismatches made in dance heaven: loud yet steady, masculine yet feminine, part-tomboy, part-sexy. Call it total contradiction but really, she's the only person we know who can pull it off.
ADVERTISEMENT - CONTINUE READING BELOW
CONTINUE READING BELOW
Recommended Videos
Read on to know more about Georcelle Dapat and click on the photo gallery to see more of her style.
Describe your personal style.
I'm such a tomboy, I like wearing men's clothes then I accessorize and pair them with heels to give things an oomph. Sporty, rocker—that's my kind of style.
Who are your style icons?
Performers. As performers we don't have limits; we basically wear anything, and we like it loud. So I like Rihanna, Jessie J, and Rita Ora.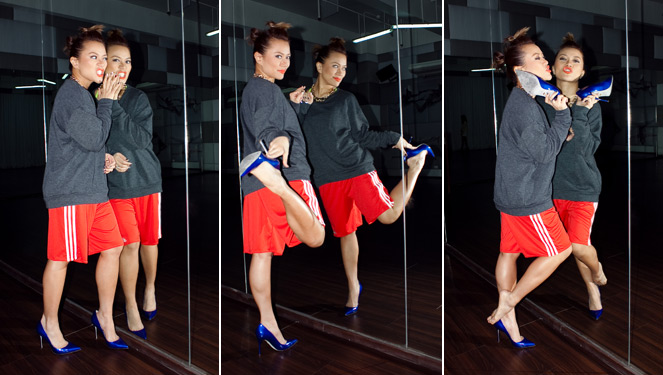 ADVERTISEMENT - CONTINUE READING BELOW
Take us to your daily routine. What's your schedule like?
Every day is a different agenda. Mondays are usually all-day meetings with clients, and weekends are mostly our shows. So on weekends I have to be geared for rehearsal, something that I can move around with and then on Mondays or days in between, I go for something more dressed up. I wear heels most of the time. Heels give me power and confidence; I become creative with my heels on.
How many pairs of shoes do you currently own?
I cannot count anymore. (laughs)
How often do you buy shoes?
Whenever I go abroad, I see to it that I bring home a collection of some sort. Shoes, for me, are like art. I really go to these off-the-wall places just to find the perfect pair. I research, look for the pair, and then when I see it, I try them on, and from there I decide if I'll make the purchase. I'm not the type who buys whatever's on trend; I'm more of the rarity, because these things are quite pricey! So I have to be really wise and practical about purchasing an art piece.
ADVERTISEMENT - CONTINUE READING BELOW
Where are your favorite shopping destinations?
Hong Kong. I fell in love with London also, but I'm a Topshop girl. All silhouettes and personalities are in Topshop! I'm a fast-fashion kind of girl—H&M, Zara, sometimes Forever 21. But mostly Topshop.
What's your latest fashion splurge?
My husband is in the States now and he does the hunting for me. I've been crushing on these Tom Ford gladiators for a while now. I actually already have a pair of black Givenchy gladiators, the one I used before when I had a segment in ASAP where I teach artists a dance routine live on-cam. That pair really made a statement, so now, I want a silver one. (laughs) Too bad it's still in transit so I can't wear it to the Preview Ball.
ADVERTISEMENT - CONTINUE READING BELOW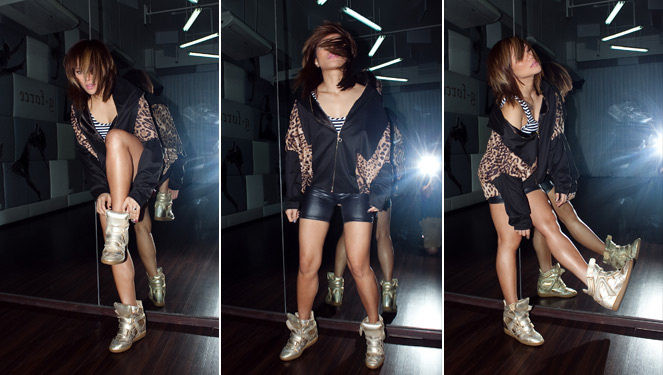 What specific wardrobe pieces do you constantly wear?
T-shirts and heels. I change shoes multiple times in a day. Like on Sundays, our call time in ASAP is 7 a.m. That means rehearsal time, so I'll wear my Marants or my regular sneakers so I can move around. And then as soon as the show starts I'll change into heels, and then after that, I go home and I give my kids time. So I change into another pair of heels where I can manage to run after my kids when we're out and about.
ADVERTISEMENT - CONTINUE READING BELOW
How long does it take you to get ready?
It depends. If Judy, my makeup artist, is available, I can whip up an outfit in 10-15 minutes. If I'm on my own, 30 minutes to an hour. That includes drying my hair.
What's your beauty regimen?
I'm at the age when you need to combat gravity so I have maintenance. I go to the dermatologist once a month. And then I also changed my diet, actually I think that's the most important—water therapy and eating right. I love junk food, but now I try my best to avoid it.
ADVERTISEMENT - CONTINUE READING BELOW
What's your rule on repeating clothes?
I'm a T-shirt girl so you'll always see me wearing a white shirt and then I just layer it with a jacket. I'm okay with repeating clothes; I don't see anything wrong with it as long as it's not something really distinct that I wore on TV.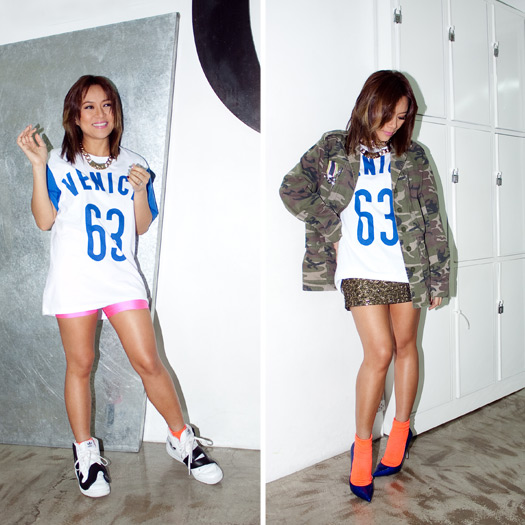 ADVERTISEMENT - CONTINUE READING BELOW
What woudn't you be caught dead wearing?
I call it the "Madam outfit." Something overcooked, too stiff, or too put-together. Although I don't see anything wrong with it, it's just not my style.
Wardrobe tips:
Wear heels only when you know you can work and move with them. If you can't, don't.
ADVERTISEMENT - CONTINUE READING BELOW
You have to be really comfortable with what you're wearing and don't overdress.
Always have a back-up. Since I'm always running around from one event/meeting to another, I keep an extra pair of heels and sneakers in the car along with a jacket and a blazer so I can easily change up my look anytime.
Click on the gallery to know the story behind her outfits.
Shot on location at G-Force Dance Studio, Units 104 and 105, G/F Corporate 101 Building, 101 Mother Ignacia St., Q.C.