We're used to seeing lists of young achievers accomplishing impressive feats at such a young age. There are lists upon lists of 25 under 25, 30 under 30, celebrating these accomplishments. But what about the storied lives of women who have gone through and conquered challenges later in life? Those who have made mistakes, discovered their passion, and flourished even more when they've gone past a certain age. Who writes about them?
This December, we gather women in their 40s and beyond and asked them what advice they'd give to their 20-year-old self. For the first in the series, we talk about what words of advice they would give about fashion and shopping.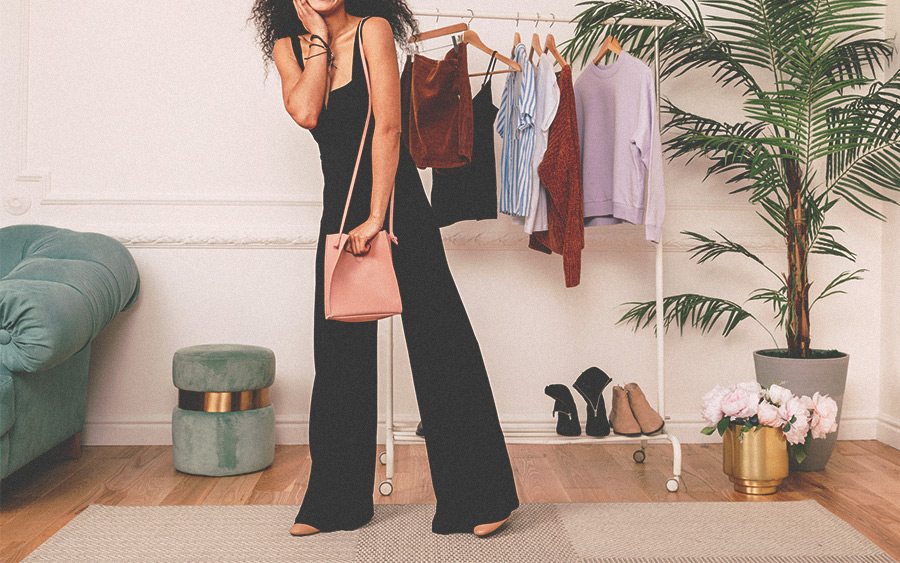 ADVERTISEMENT - CONTINUE READING BELOW
Jo Ann Bitagcol, 41, Entrepreneur, photographer, model
"I was loyal to my style, androgynous in the '90s till now. I would say I got lucky that androgyny was never out of fashion. Therefore, at this point, guess I will just give myself a pat on the back! [laughs]"
Marga Nograles, owner of Kaayo Modern Mindanao
"I would tell my 20-year-old self the same thing I would tell my daughter—when she is 20: comfort over fashion always. When you are comfortable, you are confident. And I think that is most important. Be aware of the trends but don't ever feel the need to follow them. Pick up what you feel suits you and mix and match with your favorites, no matter how old they are. Invest in timeless pieces. Then mix and match with finds from travels, markets, etc. Buy pieces that tell a story, but you can buy random pieces just for fun, too. You can use clothes again and again—just reinvented and styled differently. There are no rules really. Just have fun and express yourself. Don't be boring. Life is too short."
Mel Lozano-Alcaraz, 41, Launchpad Coworking co-founder, software project manager, and host of the Endslate Podcast
"Yes, buy that crisp white button down. Yes, go for that comfy white tee. Yes, stock up on those black sleeveless tees you love so much. But that bandeau and elephant pants? Stop. Just stop!"
Lucille Dizon, turning 40, Gemologist GIA graduate, designer of Jul B. Dizon Jewellery
"Never shop for fast fashion. Always think twice when buying something. Ask yourself first if it's a piece you'll be wearing for five years or so. I always buy separate pieces so that you can mix and match. Detailed and unusual pieces are a plus that can be matched with classic pieces."
Agoo Bengzon, 43, Unilever beauty expert and Ultherapy brand ambassador
"Try not to get too carried away with the trends and invest in more classic pieces that you'll be able to wear well into your 40s. I bought a lot of bargain buys that just ended up in garage sales because they weren't made of quality material. I think I was more obsessed with quantity then over quality. These days, I don't shop as much because I really try to think about the purchase first. Do I really need it? Will I really use it? So, I guess I would tell my younger self to be a smarter shopper."
ADVERTISEMENT - CONTINUE READING BELOW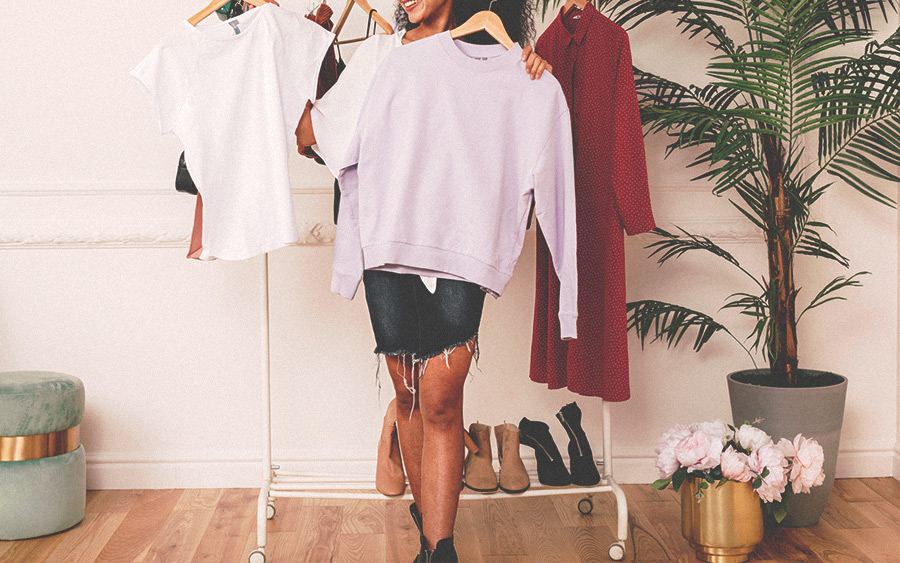 Donna Cuna-Pita, 43, Writer, speaker, consultant
"Don't go crazy and buy five items of whatever's trendy now. Save your money for quality pieces that you can wear for years to come. But, yes, continue having fun with fashion and experiment with different looks. Now's the time to try anything and everything!"
ADVERTISEMENT - CONTINUE READING BELOW
Ruby Gan, 58, Entrepreneur
"I would advise my 2-year-old self that fashion is a cycle, therefore, what you buy now will be relevant again some 20, 30 years after—so choose with care. Go for basics and wardrobe staples. Definitely, classic cuts will never go out of style so you can use and reuse, mix and match."
Marcie Linao, 42, Publicity and events director
"Find what style makes you feel beautiful and keep wearing it. Know your assets and highlight it. It's all about celebrating your own kind of beauty, your own body shape, your own style and personality. When I was young I wanted to be cool and my perception of cool is almost every style that is not my style. If I liked girly skirts and dresses at that time, I would force myself to wear boyish, shapeless clothes like gaucho pants, boyfriend jeans, and loose shirts that totally drown out my petite figure. I didn't like myself that much and would always want to be someone else that I began to idolize people who were totally different from me. I'd ask my cool friends to style me in their own style—that was completely opposite from mine—and I'd end up buying clothes that I never wore because I wasn't comfortable in them and I didn't feel pretty or stylish in them.
ADVERTISEMENT - CONTINUE READING BELOW
"Beauty is in the eye of the beholder and the most important beholder is you! If you don't like what you see in the mirror, no stylist or expensive clothes can make you feel good about what you're wearing. I remember wearing an oversized peach blouse, floral balloon skirt, and pink high-tops with my crazy curly hair for a soiree. At that time, that look was all the rage and I felt so pretty, cool, and confident strutting into the party. I cringe when I look at the photos now. But at that moment, I felt beautiful and that gave me so much confidence that I was the life of the party!
"Just because it's on sale, doesn't mean it's a good buy. I have been lured into buying a lot of clothes that either didn't really fit me well, was not really my style or was not even of good quality just because it was on sale. I went to a sample sale of a famous designer and saw a lot of gowns and dresses that were used at a fashion show slashed to almost one-third of the price. I didn't have any occasion in mind to wear them and some didn't even fit me well because they were model sizes but I thought that I might need it for some event in the future, or I can still lose weight and fit in the clothes. Those clothes ended up gathering dust in my closet. Getting them repaired would have cost more than the amount I paid to buy it.
ADVERTISEMENT - CONTINUE READING BELOW
"Buy what you need and what you really want. Avoid buying too many trendy items that you would get tired of easily. Invest in good quality, classic pieces that would never go out of style. You can just update them with unique accessories to make them look new or on-trend. At the end of the day, getting dressed should be all about celebrating you and showing your best self to the world."
Myrza Sison, 52, Consultant
"At 20, have fun with fashion! Take advantage of your youth, experiment and enjoy the trends, but since they come and go, don't spend too much on them. And don't wear them all at once as that's the quickest route to becoming a fashion victim. Just dabble in small doses to keep current, but don't overdo it.
"Also, it's such a cliché but it's been proven true in my experience: Invest in the classics because you'll wear them forever. Get the most well-made, well-cut, and the best-fitting and most flattering versions that you can afford for the following: a black blazer, a white blazer, black pants, white pants, a LBD, and a LWD. I used to be so frugal, but I was practicing false economy—compute the cost per use instead, since the more times you wear a garment, the cheaper it gets in the long run. I have wasted so much money on cheap clothes that fell apart after just a few uses and that I ended up giving away anyway. Essentially, treat the trends as just degustacion, but style classics as the mains.
ADVERTISEMENT - CONTINUE READING BELOW
"Figure out early on which styles flatter your body type and more or less use these as a shopping guide, but also be aware that you could get stuck in a style rut by always sticking to the same silhouettes. The fastest way to get dated is to closing your mind and just sticking to the tried-and-tested automatically. Keep opening your mind to new possibilities by keeping abreast of fashion. Know who you are, and yet be flexible and never stop experimenting and trying new things, in fashion as in life!
"I've come to realize that fashion is really cyclical, so I don't toss these out because they keep coming back: leopard, zebra, and snake prints; camouflage and military-inspired pieces; checks, plaids, houndstooth; stripes; bold botanicals and florals. I love '70s-inspired pieces—the jumpsuits, the flared jeans and skater skirts, the groovy eyewear—so much that they've become a part of my style identity, so I consider these my classics!"
ADVERTISEMENT - CONTINUE READING BELOW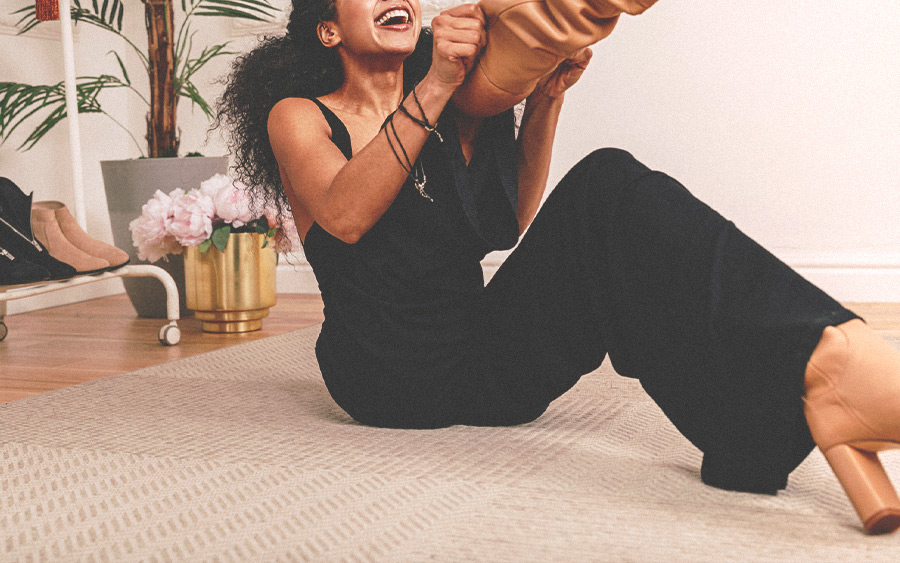 Barbi Chan, 45 years old, Makeup and microblading artist
"We all went through that stage in our lives wherein we try to please everybody around us. You were with a guy before whose family was so conservative that you literally had to dress down and plan your wardrobe and buy stuff that you thought they would approve of. STOP! Be your own person and stop pleasing others because it's your money and body anyway. You need to be comfortable and happy with yourself before you can give happiness to others. Your authentic self is more important than any other opinion. Look at me now, I am 45 and with blue hair!"
ADVERTISEMENT - CONTINUE READING BELOW
Yvette Ilagan, 48, Entrepreneur
"Choose quality. Choose pieces that will last, that looks good on you. Shop items that are on sale. Know your style. Don't let the brand be your style but it is nice to mix branded, high-end, designer, and mainstream brands. Buy local when you travel. Nice to wear what isn't available here."
Ingrid Chua, 44, Lifestyle journalist and content producer
"I would tell my 20-year-old self to dress for myself and for no one else. I'd probably also choose better quality and timeless pieces than trendy ones. Less is more, and quality is better than quantity."
Janina Dizon Hoschka, Jewelry designer for JANINA for Jul Dizon
"Don't buy everything just because it's on sale. The amount of clothes and shoes I bought that was only used once or never just because it was reduced is a waste. Buy quality instead of quantity. Hard to follow when you're young but an overstuffed closet is not the key to have an organized mind.
ADVERTISEMENT - CONTINUE READING BELOW
"Always think twice about purchasing trendy items. It may look good now, but that red pleather dress was only worn once and never to be seen again."
Tweetie de Leon-Gonzalez, 52, Supermodel, designer, and health advocate
"Invest in quality classics that your budget can afford. After all, you would be able to wear them well into your 40s and 50s and still look quite put-together. But do go ahead and treat yourself to a mix of inexpensive, trendy pieces to create a look that's fun and updated."
Hindy Weber, 46, Fashion designer, biodynamic farmer, holistic living educator, and advocate for People & Planet
"Zero. I went with the flow of the early '90s and had so much fun exploring my style vis-à-vis the magazine trends. Imagine all the '90s supermodels. I spent so much on magazines. Kate Spade, Marc Jacobs, Urban Outfitters, a fresh new Chanel, Versace, Ralph Lauren, Gaultier, Tom Ford. This was during the time of hip-hop, designer jeans, tube tops, designer backpacks, ultra low-waisted jeans, and beanies. My only advice to myself would probably be not to max out my credit cards, but then what fun would that be for a 20-year-old?! I think I may have spent too much on fashion, and too little on pursuits such as music or art. But I am what I am, and there's no room for regret. I think it's incredibly important for the young to have the experience of loving something with total abandon. I think it feeds dreams and sets the tone for a more individual sense of style later in life."
ADVERTISEMENT - CONTINUE READING BELOW
Related Stories from Preview.ph
Hey, Preview readers! Follow us on Facebook, Instagram, YouTube, Tiktok, and Twitter to stay up to speed on all things trendy and creative. We'll curate the most stylish feed for you!