Michael Cinco is a household name, and really needs no introduction. Known for for his uninhbitedly regal, opulent haute couture gowns, the Filipino designer has dressed an extensive list of Hollywood celebrities for awards shows, television, music videos, and films, and is ubiquitous in local showbiz. At this point, Michael Cinco is not just a Filipino designer who has happened to make waves abroad–he is incontestably a highly sought-after international creator.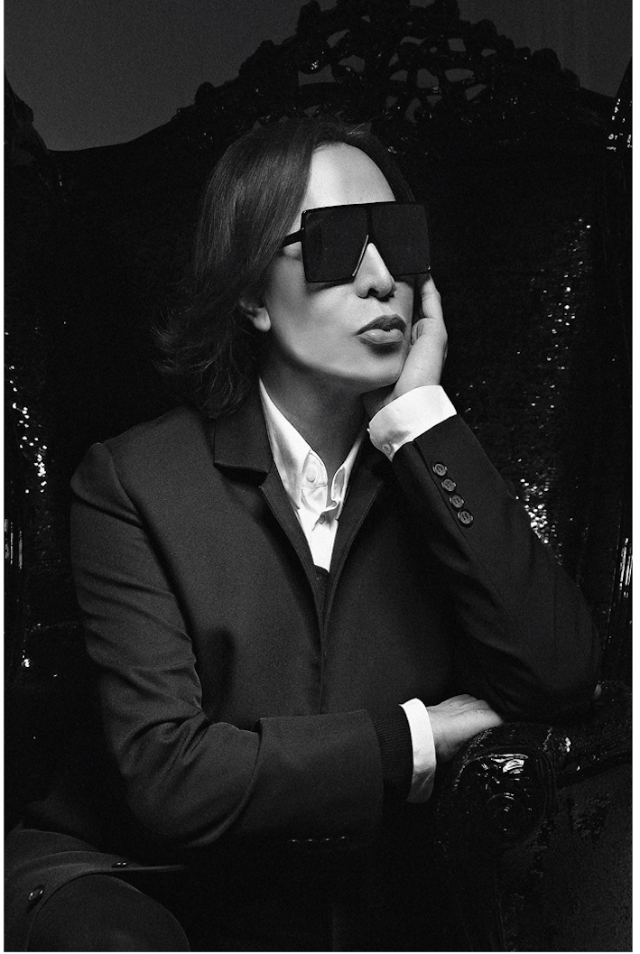 ADVERTISEMENT - CONTINUE READING BELOW
Who is Michael Cinco?
Born in 1971, Michael grew up on the island of Samar. He famously loved black-and-white Hollywood films, and was mesmerized by the costumes and great glamour of the starlets. As early as then, he knew he wanted to be a fashion designer. It's apparent that his gift is innate–athough he was initially inspired by costumes that danced on a grayscale television, his current creations demonstrate such a masterful command of color.
After studying fashion design, Michael trained with a prominent fashion designer in the Philippines, and subsequently received an offer to work in Dubai. "It was a big leap for my career because I had never been [to] any other countries in the world," Michael said in an interview with IN Magazine.
But that was only the beginning. Michael studied at the esteemed Central Saint Martins College of Arts and Design in London, where notable alumni include the likes of Stella McCartney, John Galliano, and Alexander McQueen. He went on to start his label MICHAEL CINCO in Dubai in 2003, and has since put out numerous dazzling collections, developed an A-list clientele, and accumulated presitigious awards. He is now an elite member of the Asian Couture Federation, a recipient of the Presidential Award for Outstanding Filipinos Overseas by President Benigno Aquino Jr., and a 2020 People of the Year awardee.
Michael Cinco's Work
"I always envision women to attend a ball in a palace. And then, [she] will enter–everyone will stop, and she's the only one who's walking into the ballroom. And everyone will just be mesmerized by the outfit she's wearing," Michael said in the same interview.
"I always love to give drama to the women, and they have to stand out," he added.
ADVERTISEMENT - CONTINUE READING BELOW
"Show-stopping" is definitely an apt word to describe the Michael Cinco standard of crafstmanship. Each fresh release from his atelier in Dubai would look right at home in a fashion museum. His silhouettes are unapologetically princessy. The intricacy of his designs seem to emerge from within the pieces themselves, as if the Swarovski constellations, dramatic beadwork, and luxe lace layers arose unstoppably and organically, as opposed to just having been stacked on for effect.
Case in point: His Autumn-Winter 2015 collection played with light, and featured hand-painted, crystal-embellished designs that mimicked stained glass windows.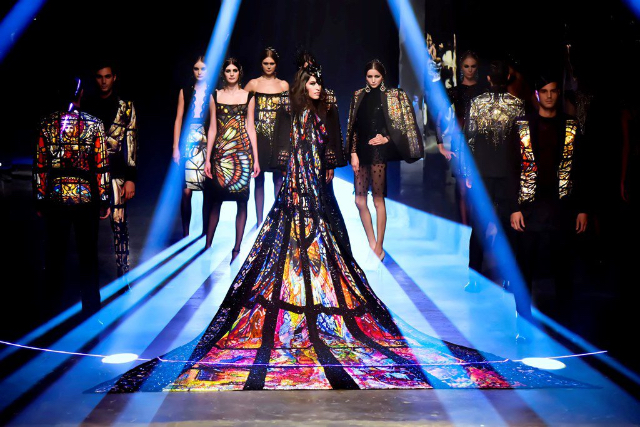 ADVERTISEMENT - CONTINUE READING BELOW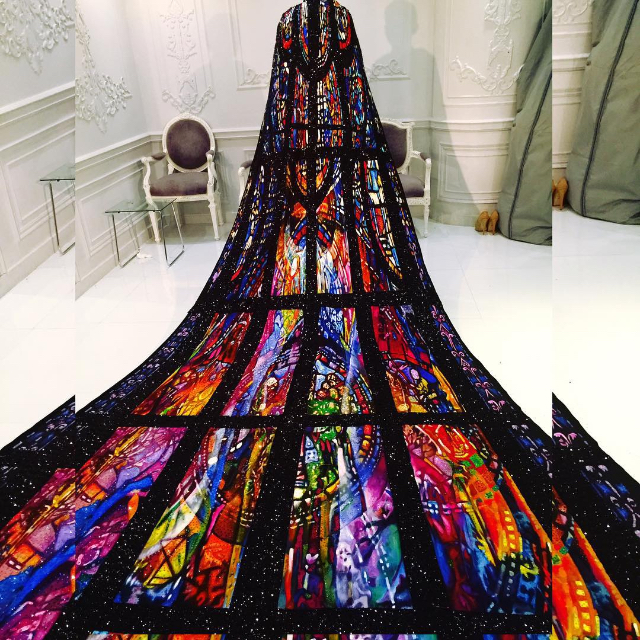 International Celebrities Who Wore Michael Cinco
Jennifer Lopez in Michael Cinco
This magnificent quality of Michael's work has drawn in stylists worldwide, evidenced by the range of superstars who have donned his gowns. First off, Jennifer Lopez wore the same stained glass-inspired gown for her 2016 performance of "Love Make the World Go Round" on The Tonight Show Starring Jimmy Fallon, which was dedicated to the victims of the tragic Orlando nightclub shooting. Jennifer seems to be a fan of Michael's work, as she's been spotted wearing him on numerous occasions.
ADVERTISEMENT - CONTINUE READING BELOW
Rihanna in Michael Cinco
Rihanna wore a heavily beaded, ebony second-skin dress for the cover of Harper's Bazaar Arabia in 2014.
Kris Aquino in Michael Cinco
Kris Aquino wore a bright yellow handmade gown with a three-meter train for the film Crazy Rich Asians, where she played a Malay princess. Michael Cinco used calado embroidery on the gown, which is a traditional Filipino technique for creating lace patterns.
ADVERTISEMENT - CONTINUE READING BELOW
Beyoncé in Michael Cinco
For the music video for "Haunted", Beyoncé herself wore a sultry black lace robe by the designer.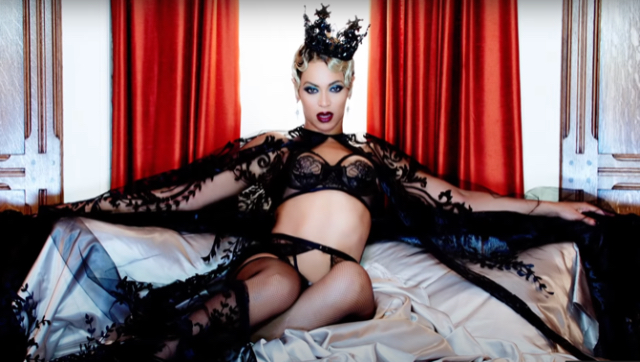 Carrie Underwood in Michael Cinco
At the 2019 Country Music Awards, Carrie Underwood was hailed among the best dressed by People Magazine in a nude couture dress by Michael Cinco.
ADVERTISEMENT - CONTINUE READING BELOW
Britney Spears in Michael Cinco
In the music video for the iconic "Scream & Shout" by will.i.am, Britney Spears wore a black pencil skirt and crop top.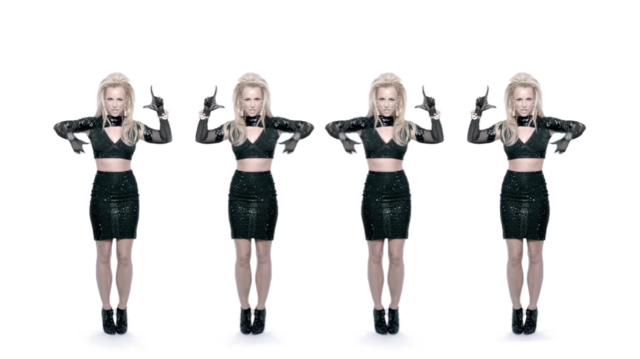 Aishwarya Rai in Michael Cinco
Bollywood superstar Aishwarya Rai wore a Cinderella-esque gown to the 2017 Cannes Film Festival.
ADVERTISEMENT - CONTINUE READING BELOW
Other celebrities who have been spotted wearing Michael Cinco include Nick Jonas, Lady Gaga, Tyra Bangs, Sofia Vergara, Nicole Scherzinger, Kylie Minogue, Christina Aguilera, Heidi Klum, Fergie, Paris Hilton, Mariah Carey, Mila Kunis, and many more.
The designer is mostly known for his haute couture gowns, but his label also produces menswear, including underwear, knitwear, and innovative suits.
Michael Cinco's Miss Universe Gowns
No mention of Michael Cinco would be complete without including a catalogue of the work he has done for the pageant-verse, and most notably Miss Universe. Many beauty queens have worn lavish creations by the designer. Take a look below:
Miss Universe Canada 2020 Nova Stevens and Miss Universe Romania 2020 Bianca Tirsin
For her campaign for the upcoming Miss Universe 2020 pageant, Miss Canada Nova Stevens wore three Michael Cinco gowns, with one in each primary color. Nova won't be the only one wearing the designer for the May 17 competition, though: Miss Romania Bianca Tirsin also said that she will be wearing an unseen blue creation by Michael.
ADVERTISEMENT - CONTINUE READING BELOW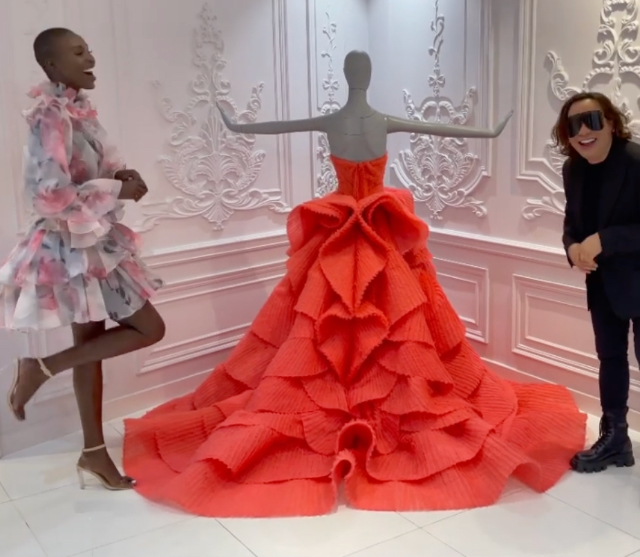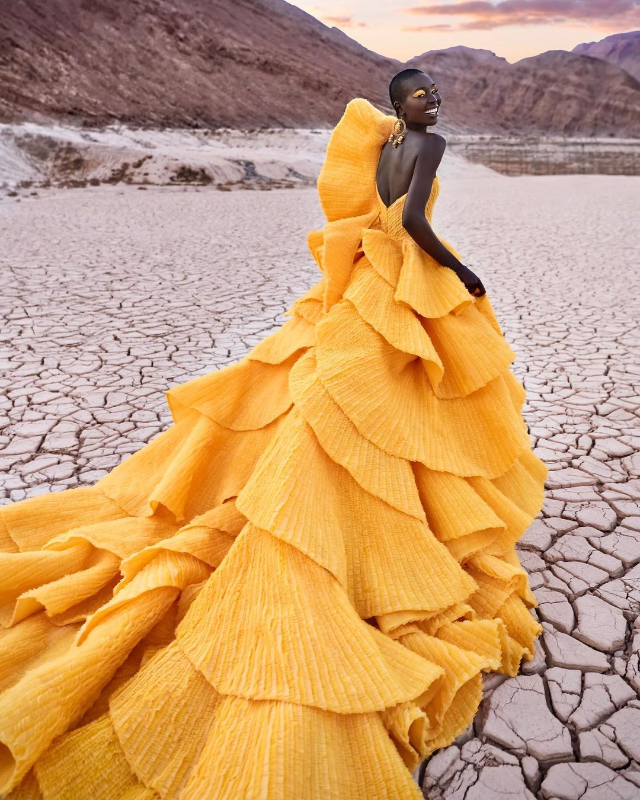 ADVERTISEMENT - CONTINUE READING BELOW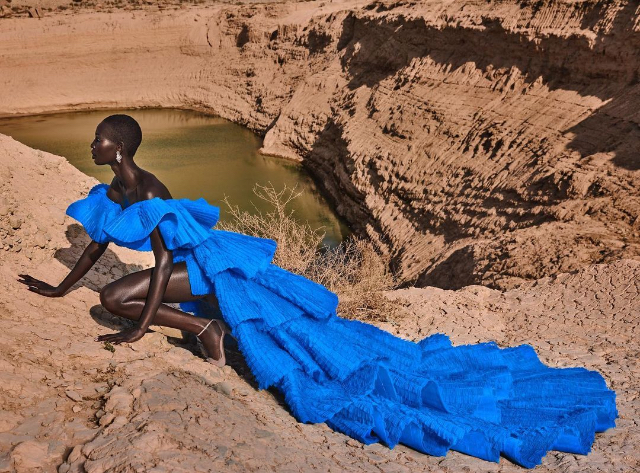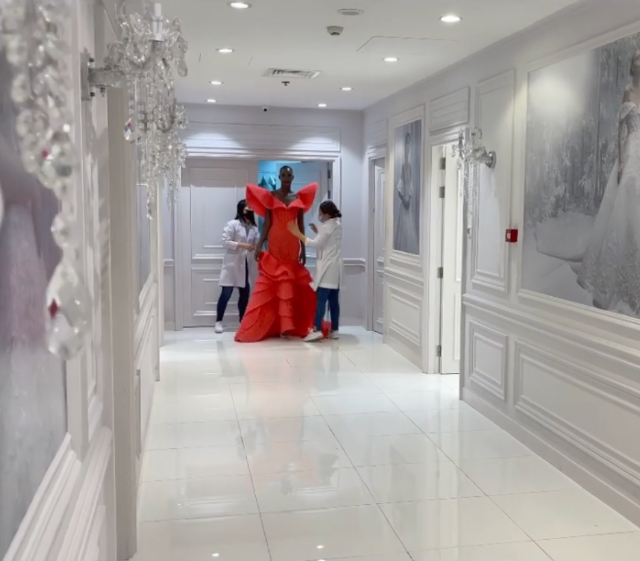 ADVERTISEMENT - CONTINUE READING BELOW
Miss Universe 2015 Pia Wurtzbach
For her final walk as Miss Universe 2015, Pia wore a dazzling ultramarine ball gown by the designer.
Miss Universe 2016 Iris Mittenaere
Speaking of final walks, Miss Universe 2016 Iris Mittenaere wore a blinding red gown with a sweetheart neckline.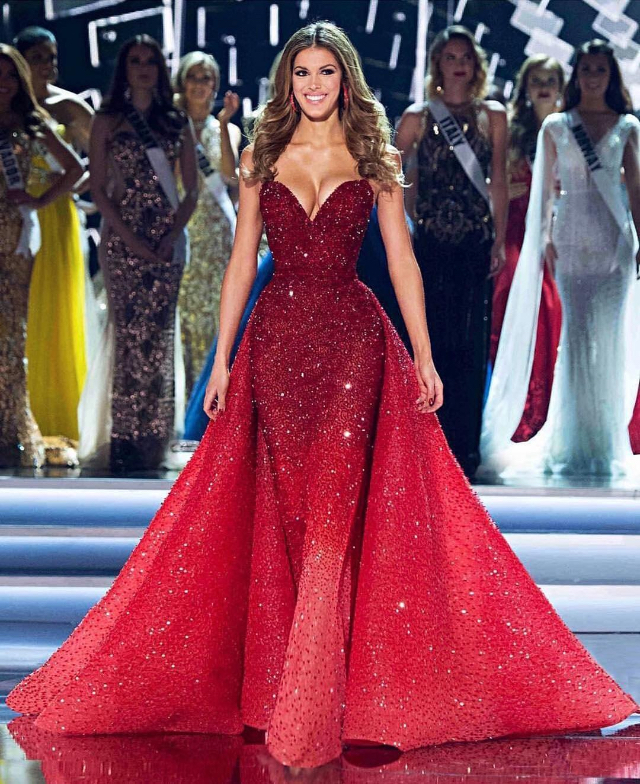 ADVERTISEMENT - CONTINUE READING BELOW
Miss Universe Canada 2018 Marta Magdalena Stępień
Marta flew all the way to Dubai for a fitting with Michael and later on walked on the Miss Universe competition clad in a gorgeous sculptural nude tulle gown fit for royalty!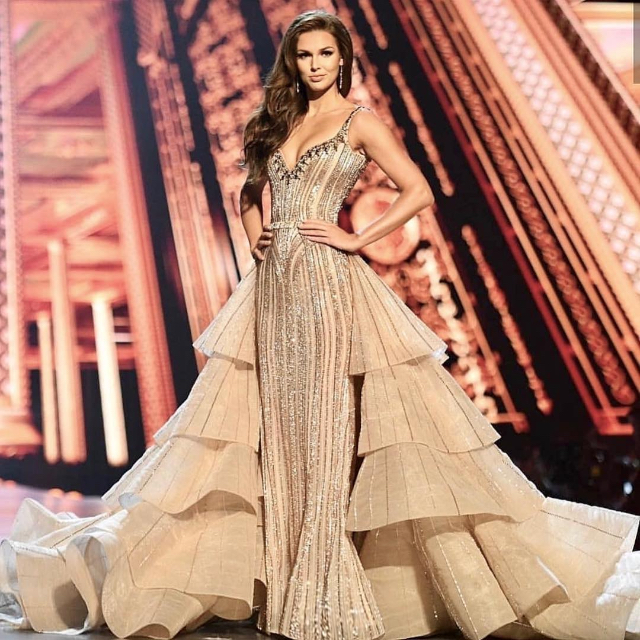 How much are Michael Cinco gowns and are they worth the price?
In candor, Michael himself says, "A Michael Cinco woman is moneyed. She may not be born into royalty but she better be married into one. My clothes appear seamless. They look heavy and yet they float. They look expensive simply because they are."
ADVERTISEMENT - CONTINUE READING BELOW
And if you do know the value of couture pieces, you wouldn't think twice in writing that check with many zeroes, nor feel guilty in spending that much. After all, Michael's creations aren't manufactured out of a factory, rather it comer from a talent that comes by just once or twice in a generation. Not to mention, multiple skilled artisans bring his visions to life. So, if you'd ever be lucky to get a custom-made Michael Cinco creation, consider yourself extremely blessed. You're wearing fine art—almost invaluable, one-of-a-kind, and as Michael would say, impalpable.
Related Stories from Preview.ph
Hey, Preview readers! Follow us on Facebook, Instagram, YouTube, Tiktok, and Twitter to stay up to speed on all things trendy and creative. We'll curate the most stylish feed for you!