When was the last time you did something for the first time? Ask Vince Uy that question and he'll know exactly what to answer—and with enough details to spare!
In this exclusive interview with our creative director, he tells the backstory of his very first appearance in drag that got the interwebs double-tapping and his celebrity friends gushing. As he shares how he was able lock down his look, he also credits the entire village he tapped to make Vivi, his alter ego, happen, and the life lessons he picked up along the way. And oh, the magic of living your wildest fantasies! Read on below.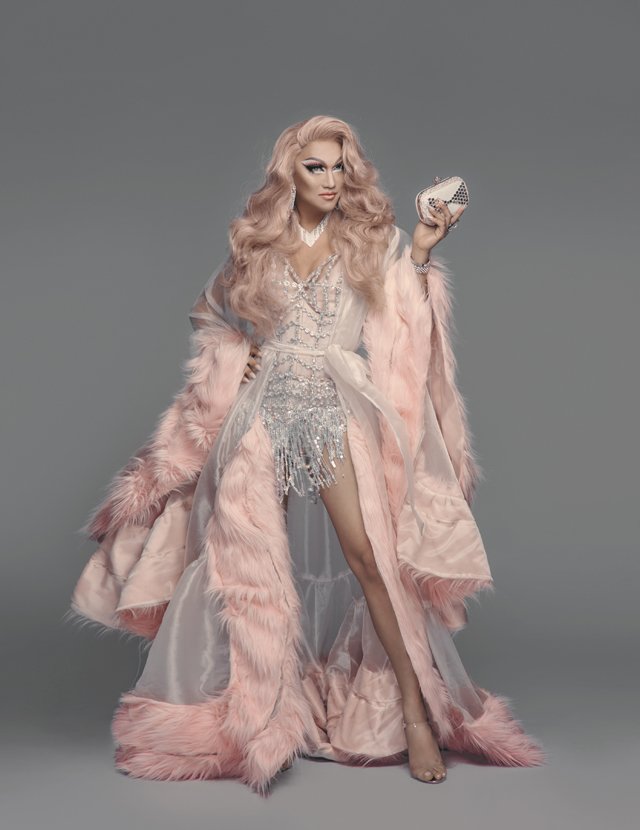 ADVERTISEMENT - CONTINUE READING BELOW
IMAGE BJ Pascual
Why dress up in drag and why only now?
"I never ever entertained the thought of dressing up in drag because I knew what it entailed in so many aspects; but my close barkada organizes themed annual Christmas parties. And for the last one, the theme was 'Drag Cartel' and we required everyone to come dressed representing a drag persona. We just wanted to have fun. Most of us have not done it yet!"
What drag persona did you take on?
"I've always been a fan of showgirls. There is a certain glamour and excitement to the showgirl image that I used it as a base image—a takeoff point. And who does not love anything feathery, shiny and glittery?"
What kind of showgirl were you?
"I based my look on old circus showgirls [shows Google search results of vintage photos]. So many popstars have taken on that theme through the years: Kylie Minogue has done it, Madonna has done it, Christina Aguilera has done it. Britney has done it, too."
CONTINUE READING BELOW
Recommended Videos
But you're not wearing an actual showgirl costume. It reminds me of Britney Spears' "Lucky" lounging in the bedroom. Even Meryl Streep in Death Becomes Her!
"Yes. I wanted a laid-back version of a showgirl. It's like I was a showgirl inside a boudoir resting before a show. Maybe even after."
What tips did you get from the drag performers and LGBT members you know and what can you say about how they dress up?
"I have such big respect for women, the LGBT community and drag performers—so much that I never really considered doing drag before that Christmas party. What they do and how they do it takes a lot of work!"
You were proud to credit the entire village that helped you nail the look but what stood out was the way Georgina (Wilson) helped you because Liz couldn't. What was that about?
"I originally thought of borrowing heels from Liz but since my feet don't fit any of her shoes, I asked for help from Georgina. She comes back to me with a text saying, 'I hope you're borrowing shoes from me because I have great style and not because I have big feet!' I replied by saying, 'I am borrowing from you because of your style but it really helps that we're the same size.' [laughs]
ADVERTISEMENT - CONTINUE READING BELOW
"I've worn heels before trying them on for fun but it was my first time to commit to wearing heels the whole night. I had them on for hours and would take heel breaks every two to three hours."
What were your firsts?
"It was my first time to wear a wig, shave my legs and the patches of hair on my fingers, and put on acrylic nails.
"It was my first time to put on contact lenses, too. I was always afraid to touch my eyes so I never considered contact lenses until I saw my partner, Niño, being made up. When I saw him with his contacts on, I realized how another eye color could soften my features and change my overall look!
"I also wore a corset for the first time. It was so painful and uncomfortable that it hurt my back."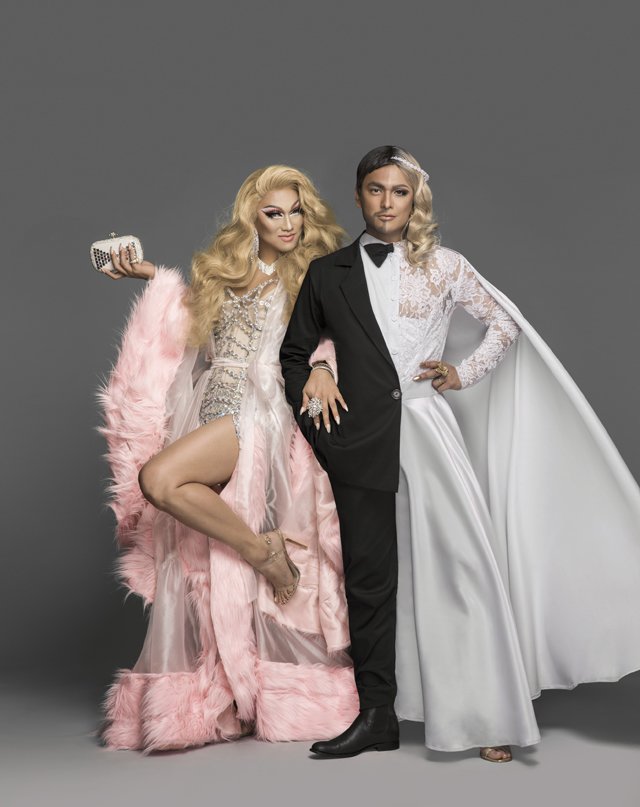 ADVERTISEMENT - CONTINUE READING BELOW
IMAGE BJ Pascual
Did your siblings Liz and Laureen have any input about your look?
"Liz said that I should not wear pumps especially since this is my first time to commit to wearing heels. And that my feet will thank me for strappy heels. I originally wanted to wear jewel-encrusted pumps but she said, 'Good luck. Mamamatay paa mo.' But thank God, I wore strappies instead. Laureen, on other hand, was just being makulit, wanting to see the final look."
As a creative director, you can get models and celebrities to wear clothes and strike poses that fall according to your vision even if it means they are doing something that is not comfortable for them. How did it feel having tables turned?
"For me, it was now or never. And like how I would motivate these men and women in photo or video shoots, I just had to go all out. Also, the entire exercise reaffirmed what I know: There are things you have to sacrifice, certain discomforts you need to undergo, in order to achieve something. It relates to life, you know. Eh, I wanted to win Best in Costume that night, which I did. [laughs]
ADVERTISEMENT - CONTINUE READING BELOW
"When I posted on social media, Dawn (Zulueta) commented to which I replied to the effect of, 'Ang hirap palang maging babae.' She answered saying something like, 'Now you know how it feels to be wearing 5-inch heels and needing to project an image and doing multiple things at the same time.'
"Right before I attended the party, BJ Pascual took photos of Niño and myself. And that was where I felt it all for myself. I ran, jumped, knelt, sat and projected in heels! But that also means that in my future shoots, I can tell my subjects that they can't complain to me because I have done it all myself!" [Laughs.]
Would you do it again?
"Yes, given the chance but I'll try a different look. Now, we're thinking of making our annual parties into annual drag events. It's liberating. And, you get to enjoy the fantasy."
ADVERTISEMENT - CONTINUE READING BELOW
What was the best advice anyone gave you about dressing up in drag?
"Brigiding, the O Bar drag queen who also moonlights as a makeup artist, told me when I was doubtful of taking on my drag persona, 'Starting right now, you have to feel the fantasy and you have to believe it.' I guess that's the whole point of drag."
What name do you go by?
"Call me Vivi."
Related Stories from Preview.ph
Hey, Preview readers! Follow us on Facebook, Instagram, YouTube, Tiktok, and Twitter to stay up to speed on all things trendy and creative. We'll curate the most stylish feed for you!