You don't need to be a keen observer to notice that early 2000s fashion has made a comeback. From halter tops, baby tees, micro sunglasses, to baguette bags, it seems like the early aughts is coming around so soon—and yet here we are.
Among the arm candy that has been revived is Prada's nylon shoulder bags. Aptly renamed "Re-Edition," the piece has been seen on celebrities like Bella Hadid, Dua Lipa, and Kendall Jenner. Here's we dissect just what makes Prada's Re-Edition bag so cool (again).
What is the Prada Re-Edition Bag?
"Re-Edition," as the name suggests, refers to Prada's reissued bags. This means that these bags have been released in the past and are now being launched again. Prada has reissued a few shoulder bags from the years 2000, 2005, and 2006. What's most popular are the classic mini shoulder bags, but there are baguette bags and top handle ones, too. The bags are still made in the brand's iconic nylon, and then some—it now comes in new materials such as Saffiano leather and ruched nylon.
Who designed the Prada Re-Edition Bag?
Miuccia Prada has been working for the family business since 1978 and is responsible for the brand's creative direction. It was under her watchful eye and sartorial taste that the nylon mini shoulder bags were born.
If you think about it, the mini shoulder bag encapsulates the Italian brand's sartorial DNA: A proclivity for wearability (as seen in the bag's nylon material and timeless shape), as well as a penchant for playfulness (as seen in the bag's bevy of colors). So simple yet so good. That's what distinguished Prada from other brands like Fendi and Dior during that time, who were known for their more glamorous tendencies.
ADVERTISEMENT - CONTINUE READING BELOW
What are the different kinds of Prada Re-Edition Bags?
As mentioned, Prada released refreshed versions of the vintage shoulder bags from 2000, 2005, and 2006. All designs are similar to its predecessors save for a few details. The new versions have leather keyholders that read "Prada Re-Edition 2000/2005/2006." The triangle enamel logo is now lined with Saffiano leather.
What's great is that the whole range comes in a variety of wearable colors like black, beige, powder blue, sorbet pink, and pineapple yellow. Timeless neutrals and pastels.
Not all Re-Edition bags are made equal. They each feature small yet distinguishing traits that are crucial to know if you're looking to invest in one: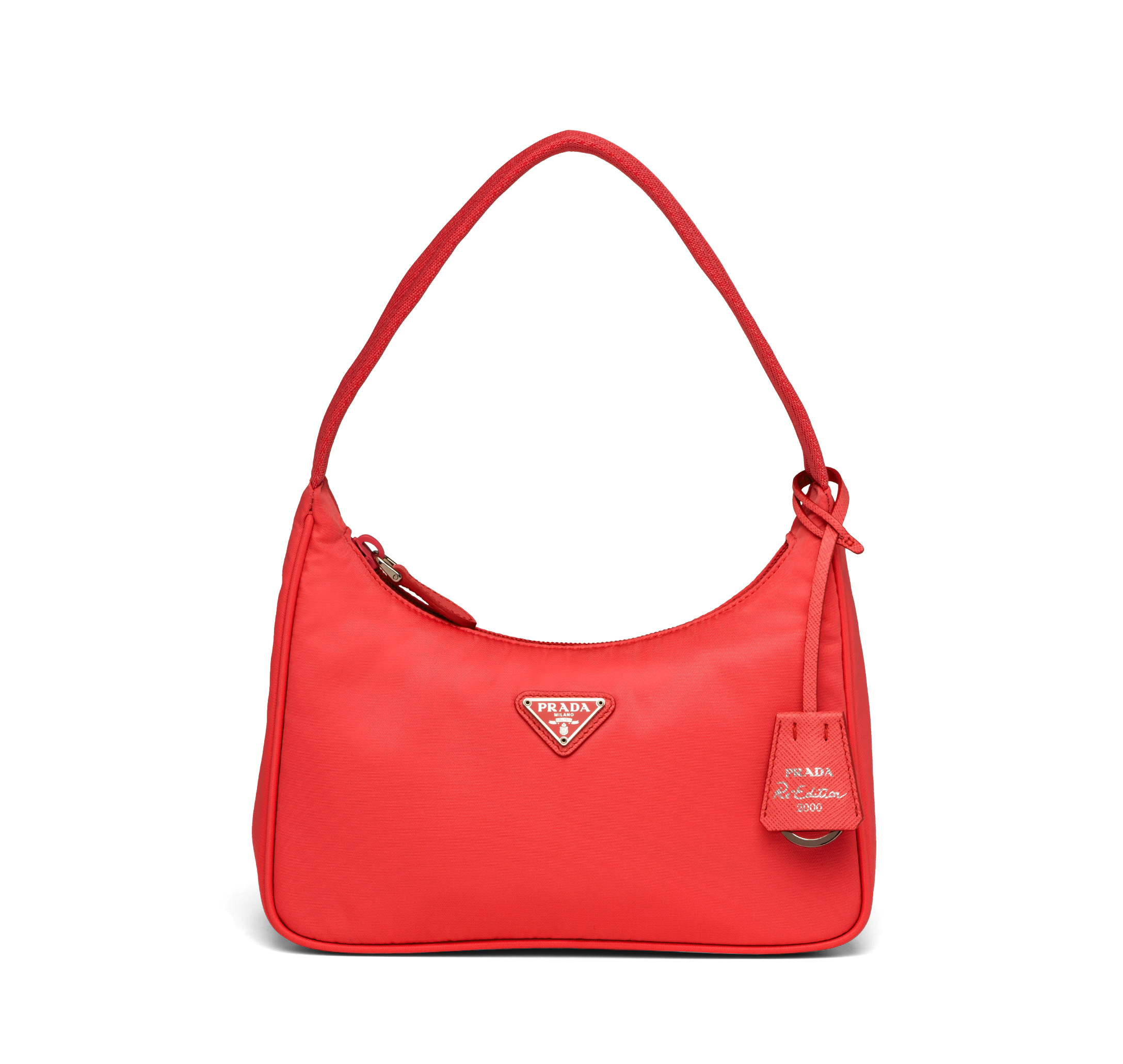 Re-Edition 2000 Nylon Mini Bag, $795 (approximately P38,642), PRADA, prada.com
Prada Re-Edition 2000
The reissued version of the 2000 shoulder bag is what comes to mind when you hear "2000s Prada baguette." It's got that sloping rectangular shape and seamless handle, which is made with woven fabric. Another reissued bag is a sporty crossbody bag with a removable pouch.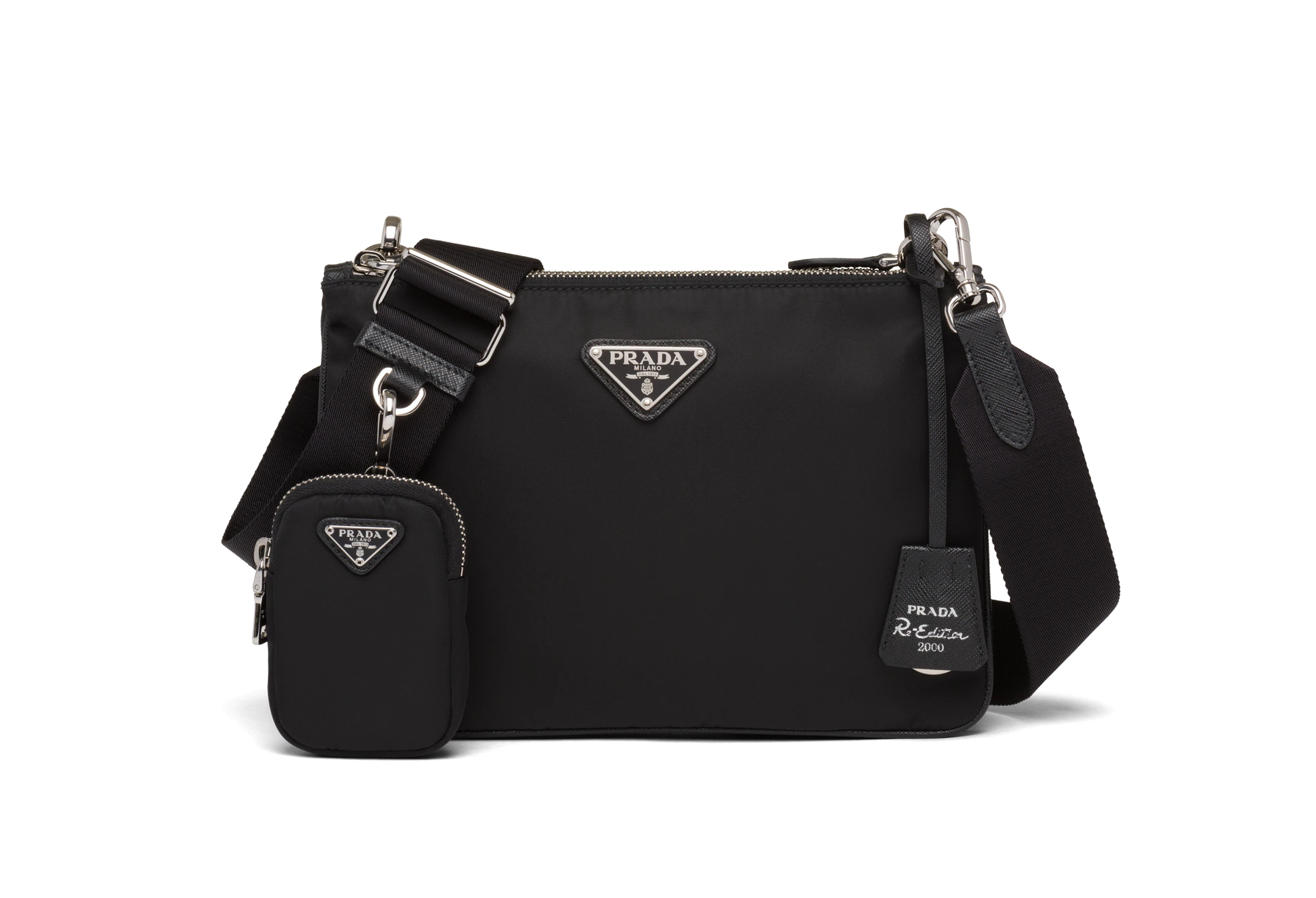 Nylon Re-Edition Shoulder Bag, $1390 (approximately P67,562), PRADA, prada.com
Prada Re-Edition 2005
The difference between the 2000 and the 2005 is that the latter has a leather handle. Plus, the 2005 bags come in a wider range of materials and shapes. For example the mini shoulder bag has versions in nylon, Saffiano leather, and even ostrich leather.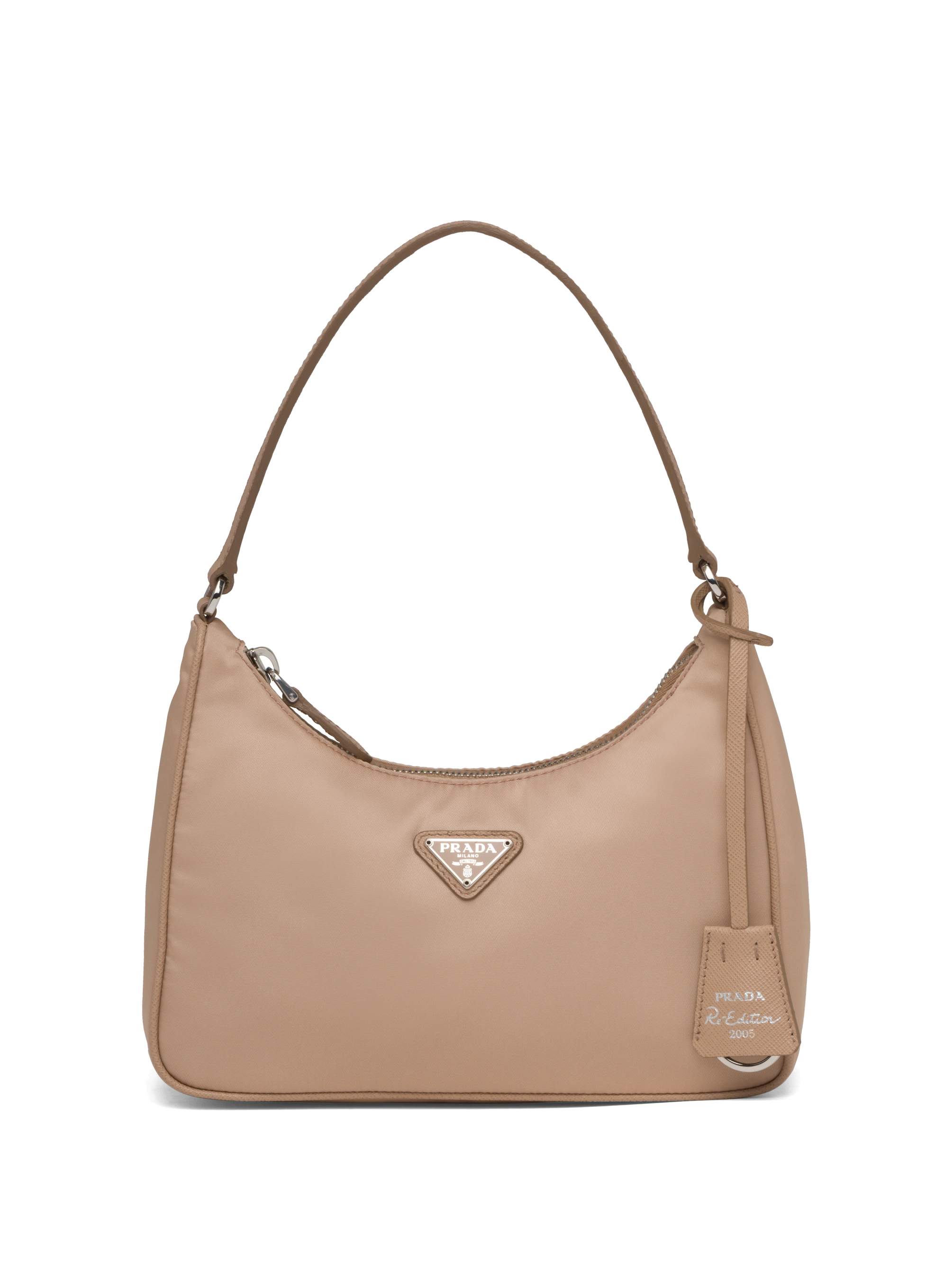 ADVERTISEMENT - CONTINUE READING BELOW
Re-Edition 2005 Nylon Mini Bag, $875 (approximately P42,530), PRADA, prada.com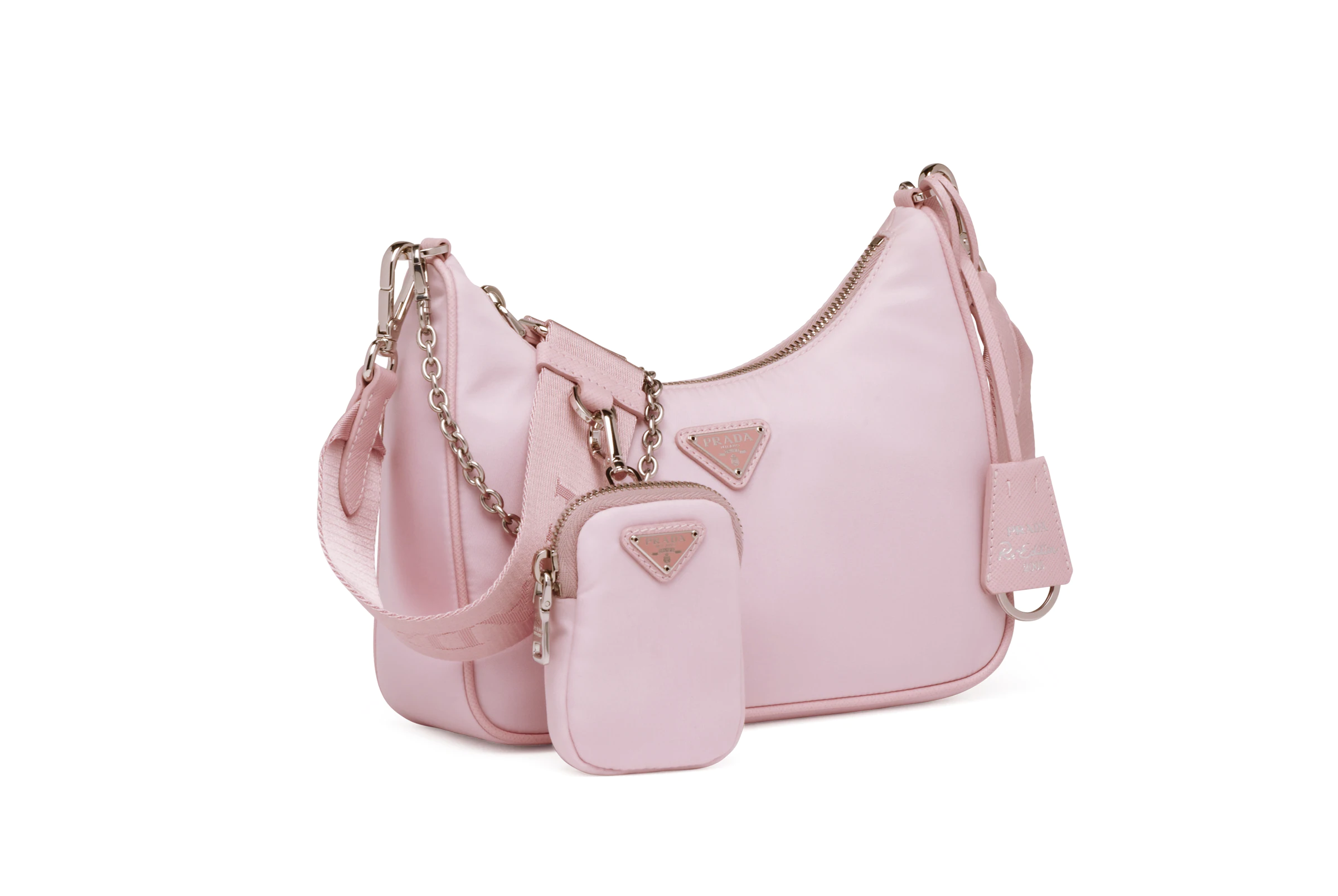 Pink pic Re-Edition 2005 Re-Nylon Bag, $1390 (approximately P67,562), PRADA, prada.com
There's also a version inspired by the Bandoleria Tessuto from yesteryears. It's basically the mini shoulder bag but with a detachable shoulder strap, a chain strap, and a removable zipper case, kind of like Louis Vuitton's Multi Pochette. New versions feature Prada's Re-Nylon, an innovative nylon material produced from recycled, purified plastic trash collected from the ocean.
Prada Re-Edition 2006
The 2006 version is a quirkier take on the iconic shoulder bag. The body bends upwards (like a croissant) and is held in place by a hook. The typical fabric/leather strap is replaced by a detachable long chain shoulder strap that elevates the design's playful femininity.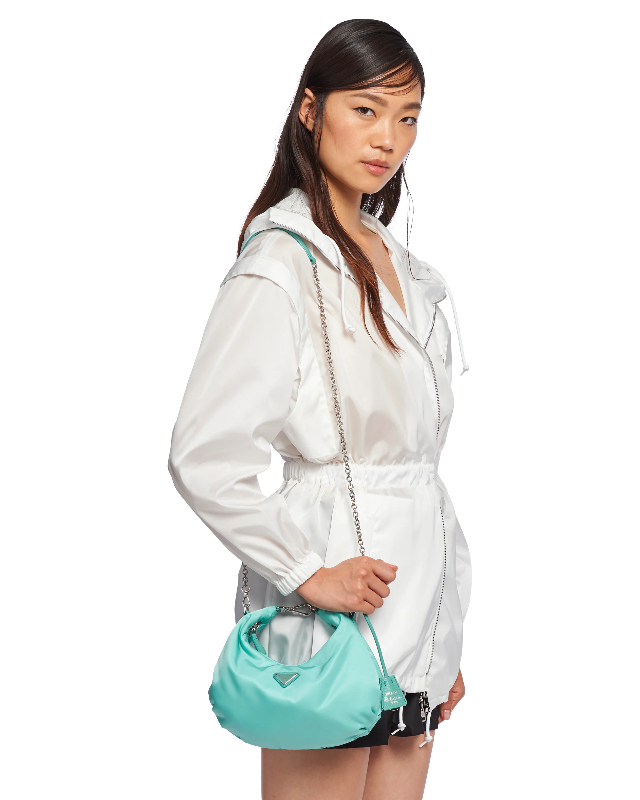 Re-Edition 2006 Nylon Bag, $1270 (approximately P61,730), PRADA, prada.com
How much is the Prada Re-Edition Bag?
Prada Re-Edition bags vary according to its material. The cheapest ones are made from nylon, while the leather ones are the most expensive. Check out the prices listed below:
Prada Re-Edition 2000
Prada Re-Edition 2005
Prada Re-Edition 2006
ADVERTISEMENT - CONTINUE READING BELOW
Re-Edition 2005 Leather Saffiano Bag, $1990 (approximately P96,726), PRADA, prada.com
Why is it so expensive?
Actually, given their small size and nylon material, Prada Re-Edition bags are relatively cheaper than the brand's other famous pieces that make use of Saffiano leather.
For example, if you're looking into getting a mini shoulder bag ($795, approximately P38,642), it's cheaper than getting say, a Galleria ($2690, approximately P130,690) or a Double Bag ($3250, approximately P157,898). Of course, if you're interested in the leather Re-Edition bags, that'll cost you more than $1000. But with the generally lower price range, it's safe to say that the Re-Edition bags are a good entry-level purchase if you want an iconic Prada piece.
Is the Prada Re-Edition Bag worth it?
As with all luxury purchases, to gauge a bag's "worth" and "utility" is relative. Again, if you're looking for a starter piece to get your designer bag collection going, then yes, the Re-Edition is something to consider. It's also a good option if you're looking for a versatile everyday purse, or if you're simply looking to satiate your 2000s fashion cravings.
Generally though, what makes the Re-Edition bags a great investment is its nylon material. Unlike leather, nylon is durable, water-resistant, and easy to clean. You don't have to stress about staining it all the time, making it a perfect travel companion (especially with those detachable straps!).
How do celebrities wear the Prada Re-Edition Bag?
1. Kathryn Bernardo wears her ruched mini bag with her signature baggy jeans for a casual day off.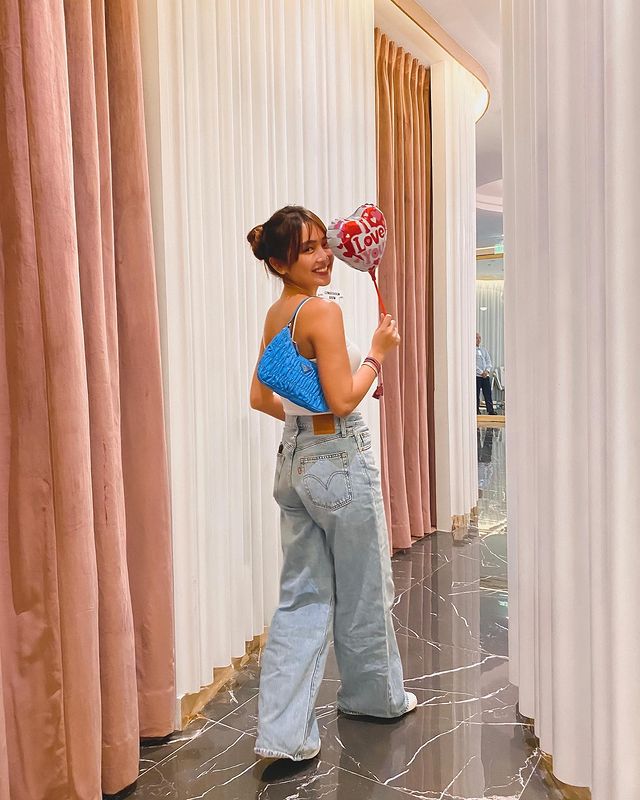 2. Elisse Joson gives her fresh prairie dress a modern touch with a pineapple yellow Re-Edition bag—proof that the purse even works with flirty feminine style.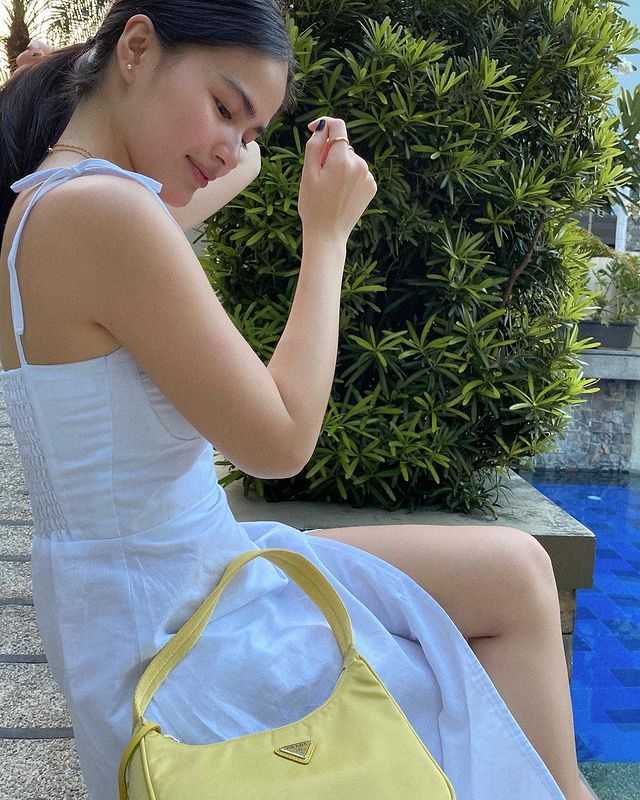 3. Dua Lipa keeps it youthful in a ribbed playsuit, whose baby blue hues matched her cute Re-Edition arm candy.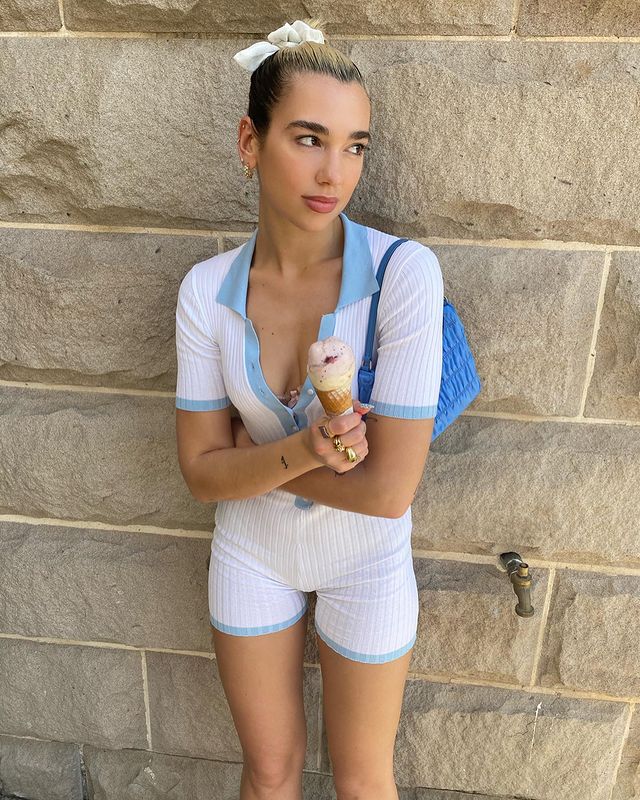 ADVERTISEMENT - CONTINUE READING BELOW
4. Kaia Gerber balances her chic oversized blazer with street-ready essentials: dad sneakers and her trusty beige Re-Edition.
5. Bella Hadid brings '90s grunge to the new millennium by mixing prints with sporty basics like her chunky kicks and her black Re-Edition.
Related Stories from Preview.ph
Hey, Preview readers! Follow us on Facebook, Instagram, YouTube, Tiktok, and Twitter to stay up to speed on all things trendy and creative. We'll curate the most stylish feed for you!