Who said you should only throw on a barong during weddings or debuts? Definitely not us. Times have changed, and so have the designs and materials of this iconic Filipino top. At Kultura, the barong has evolved into more silhouettes than one: think boxy, androgynous, and even volumized. So whether you're feeling nationalistic or simply trying to be stylishly artisanal, here are new ways to wear this top without feeling like you're attending a baptism:
WORK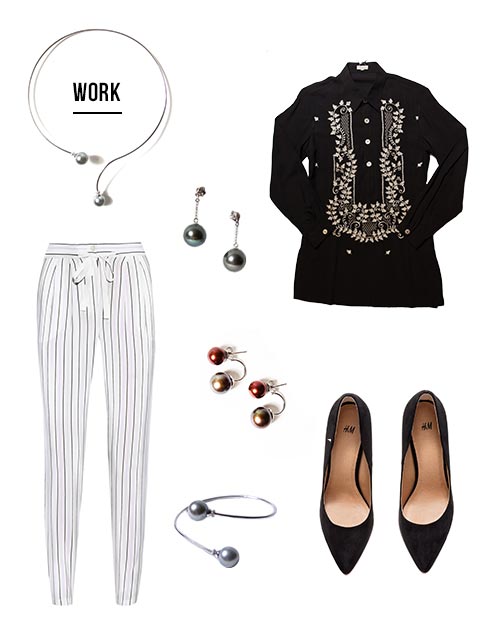 ADVERTISEMENT - CONTINUE READING BELOW
Black barong Php2,499.00, pearl necklace Php 13,999.00, earrings Php19,999.00, double ear studs, and bracelet Php9,999.00, all from Kultura; black flats
The barong of yesteryear would've been a sweatfest to wear to work. But this rayon version from Kultura is as cool as it feels. Paired with modern pearls and statement trousers, this look is chicly contemporary.
CONTINUE READING BELOW
Recommended Videos
SUNDAY LUNCHEONS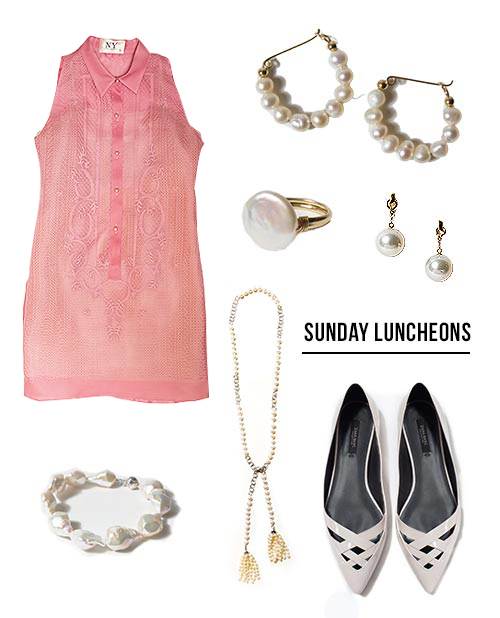 ADVERTISEMENT - CONTINUE READING BELOW
Pink tunic barong Php9,999.00, pearl necklace, earrings Php14,999.00, bracelet Php999.00, and ring Php899.00, all from Kultura; white flats
Out with the family? Your go-to shift dress could be a barong. Kultura's latest barong innovation is for all the ladylike ladies who love a great dress. Opt for dainty pearl earrings and bracelets—then you're ready to wow your friends and fam from lunch to dinner.
FORGET-ME-NOT DATE NIGHTS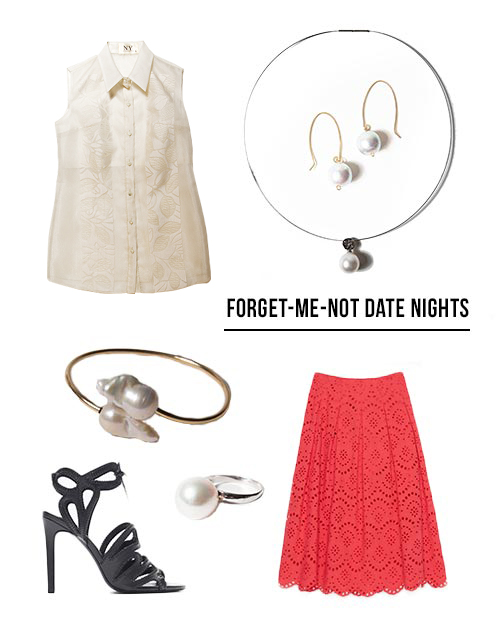 ADVERTISEMENT - CONTINUE READING BELOW
White sleeveless barong Php 2,899.00, pearl necklace Php 9,999.00, earrings Php1,199.00, bracelet Php1,999.00, and ring Php 14,999.00, all from Kultura; Pink Zara skirt, Php2,995.00; black, strappy heels
An important date deserves a well-remembered outfit. Victoria Beckham kept her "first date dress" with David, so why throw on something forgettable? Tucked under a skirt and worn with understated pearl accents, this sleeveless barong is sheer enough to show some skin without being overtly sexy.
WEEKEND GETAWAYS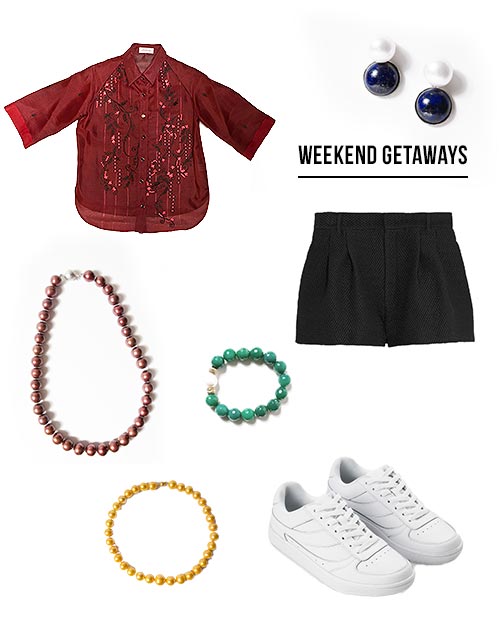 ADVERTISEMENT - CONTINUE READING BELOW
Red barong blouse Php2,499.00, colored pearl necklace Php19,999.00, bracelet Php 499.00, and earrings Php 9,999.00, all from Kultura; Red Valentino Net-a-porter shorts; white sneakers
This boxy barong in this year's color -marsala- is perfect for those sudden out-of-town trips that require stylish #OOTDs. But don't look like you're trying too hard and dress your barong with tailored cutoffs and colored pearl accessories instead of a flowy skirt. Remember, think casual not communion.
Snap your own pearl jewelry, barongs, and other fashion essentials from Kultura stores at the 3rd Level of SM Aura Premiere and 2nd Level of SM Makati. visit Kultura's website, like them on Facebook, and follow them on Instagram.