Bench made sure its 30th anniversary show, Bench Under the Stars, would be talked about for weeks, months perhaps—heck, even in the years to come. That said, we don't want anyone left behind. So in case you missed, scroll down for the highlights from the fashion spectacle.
1. A film by Bruce Weber from NYFW
When we saw Ben Chan post a photo with iconic fashion photographer Bruce Weber on Instagram a few weeks ago, we've been dying to know what they were up to. In the evening of #BenchUnderTheStars, it was revealed that the collab is for Bench's 2018 underwear calendar.
2. Trevor Signorino opens the show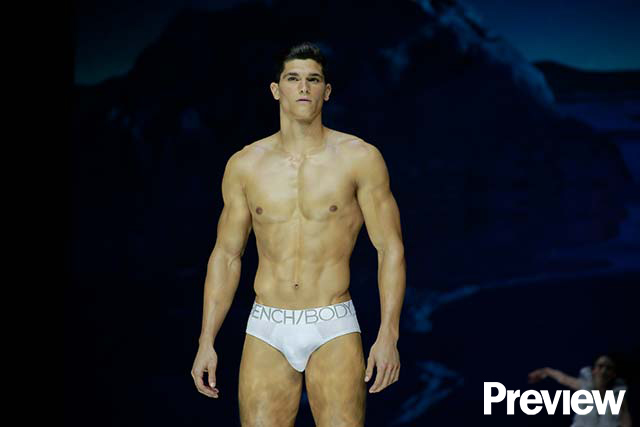 IMAGE Karlo Torio
Trevor, who once starred in Versace's perfume campaign in 2016 with Gigi Hadid, is also one of the international faces of Bench, alongside top model Ivo Buchta and Pietro Boselli.
3. #GabRu reunited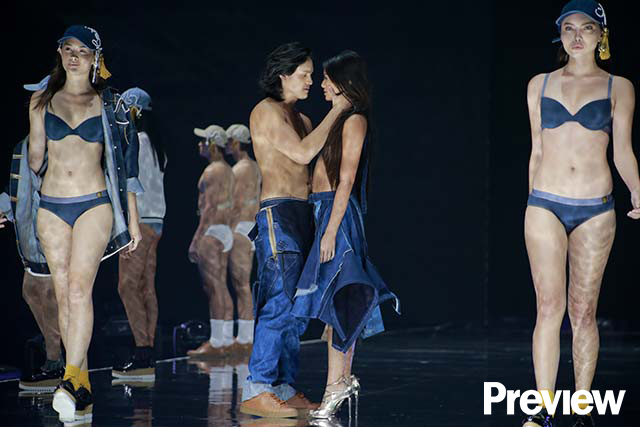 ADVERTISEMENT - CONTINUE READING BELOW
IMAGE Karlo Torio
Fans of this love team got a special treat as Gabbi Garcia and Ruru Madrid took the stage for their sizzling hot reunion. The two shared a sexy-sweet moment when Ruru planted a kiss on Gabbi's forehead, leaving the audience gasping for more air.
4. Solenn's acrobatic performance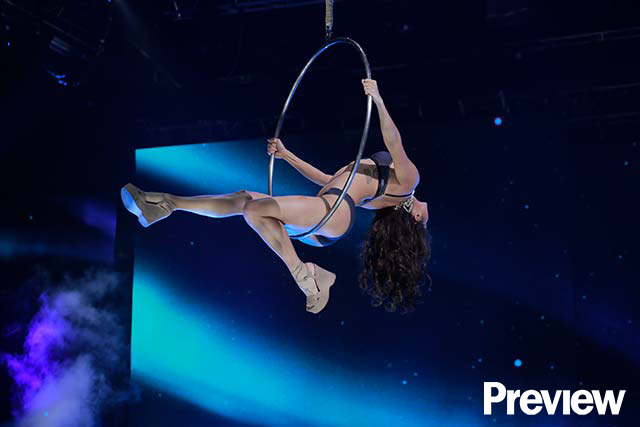 IMAGE Karlo Torio
There was a lot to take in during the show, but Solenn had full command of the audience's attention as soon as she strutted down the runway. Like a ringleader, she called the shots and all eyes fell on her as she showed off her perfectly toned physique high up on an acrobatic ring. Is there anything this woman can't do?
5. Winwyn Marquez did a pasarela on stage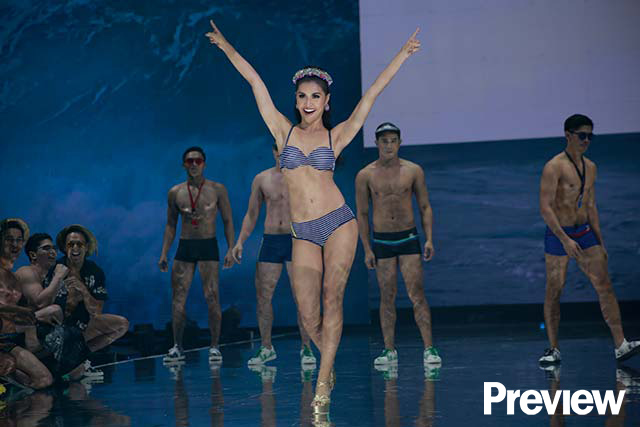 ADVERTISEMENT - CONTINUE READING BELOW
IMAGE Karlo Torio
The Reina Hispanoamericana 2017 winner made quite the entrance with a lively and commanding walk. She circled around male models before making it to the center of the stage and raising her hands up to the crowd—and that's when the cheers were deafening.
6. The 7 Fingers off the wall, and on the floor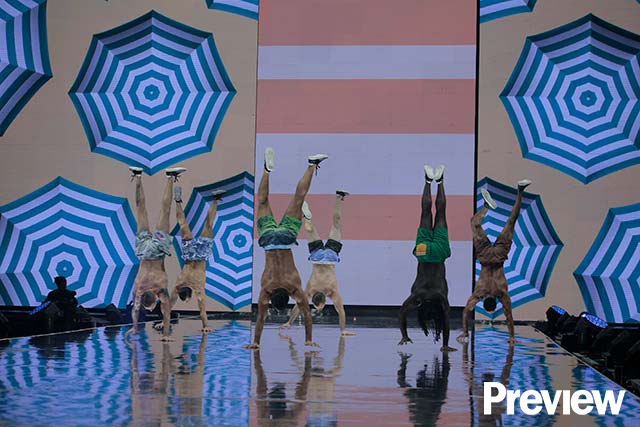 IMAGE Karlo Torio
The people in the audience held their breaths as The 7 Fingers flawlessy executed their team stunts, which included a lot of cartwheels and jumping around the stage, clad only in board shorts.
7. Richard-Maine moment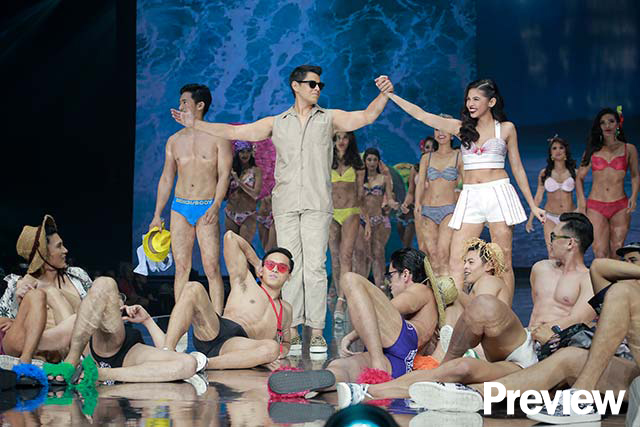 IMAGE Karlo Torio
At the end of the segment, both Maine Mendoza and Richard Gutierrez walked in. Richard kindly extended his hand towards Maine so they could take a bow together. The young actress and comedienne immediately gushed and happily took Richard's hand as the audience went wild. It was a surreal moment that was surely everyone's favorite surprise of the night.
ADVERTISEMENT - CONTINUE READING BELOW
8. Kim Domingo's ethereal entrance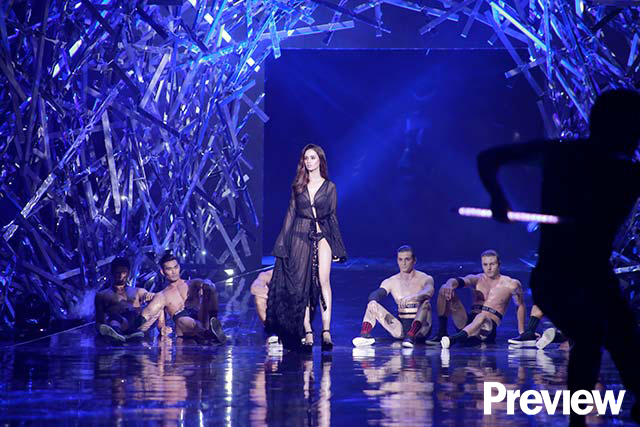 IMAGE Karlo Torio
Suddenly it was quite dark and pretty quiet, then walking slowly towards the middle of the runway was Bench's newest face (or rather body), Kim Domingo in a sheer and feathery hemmed robe. But instead of doing the typical bronzed out bombshell, Kim channeled a white and rosy glow. Now, that's a strong introduction.
9. Markki Stroem was that masked man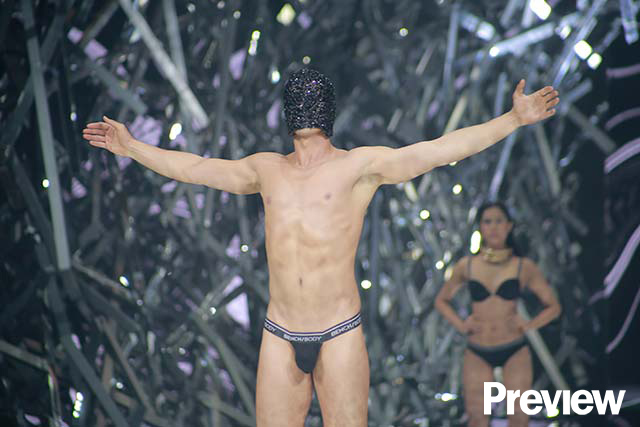 IMAGE Karlo Torio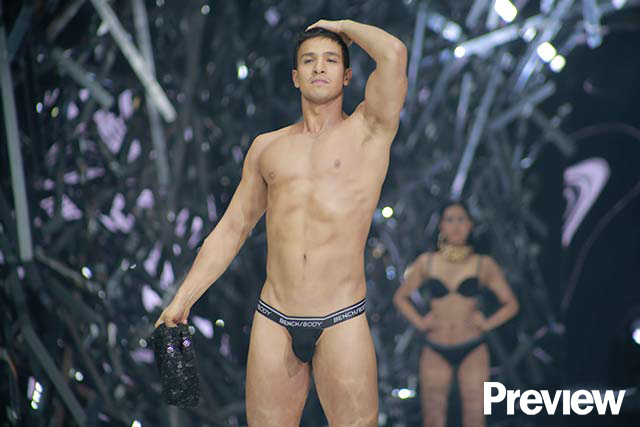 ADVERTISEMENT - CONTINUE READING BELOW
IMAGE Karlo Torio
Walking down the runway in a thong that left nothing to the imagination was a demi-god-like man wearing a glittery mask over his head. Slowly, the hunk in question took off his mask and it was Markki Stroem, delighting the crowd in an uninhibited display of his manly glory. His cheeky display was met with thunderous applause from the entire arena.
10. Max Collins and Pancho Magno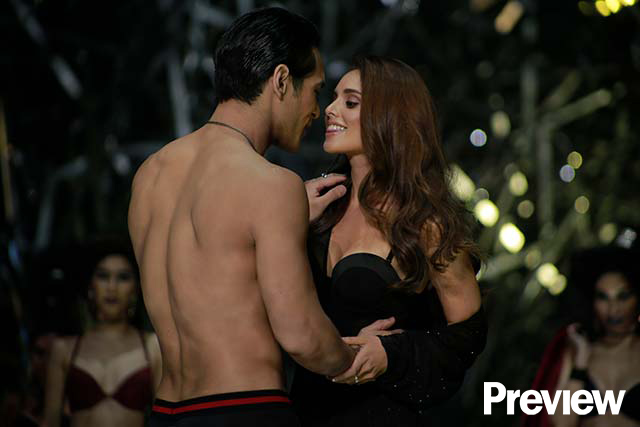 IMAGE Karlo Torio
Max Collins did her second Bench Underwear show in the most revealing outfit she's had to wear onstage: a sheer paneled bodysuit and a thin glittering robe. She wasn't alone onstage though as her fiance, Pancho Magno, joined her in a red velvet robe, which he then took off at the end of the stage. But what really brought about the kilig was that moment where the two lovers almost kissed.
11. Kim Chiu pulling off an Alma Moreno move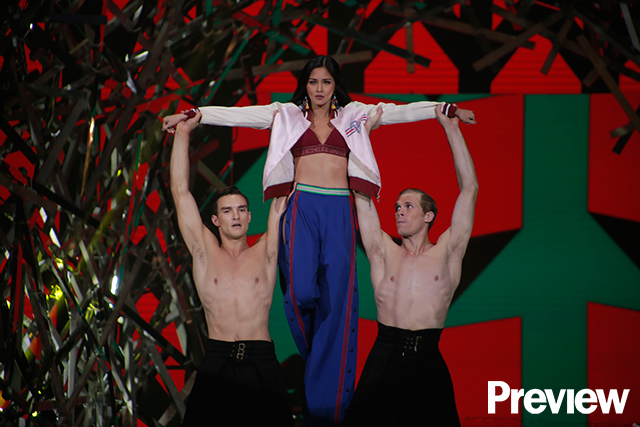 ADVERTISEMENT - CONTINUE READING BELOW
IMAGE Karlo Torio
Kim Chiu steps up her atheleisure game as she commanded the Bench runway clad in a triangle-cut sports bra, wide-leg side snap track pants, and white bomber jacket. Our takeaway from her look? Don't be afraid to wear color!
12. The Barcode Trio's amazing acrobatics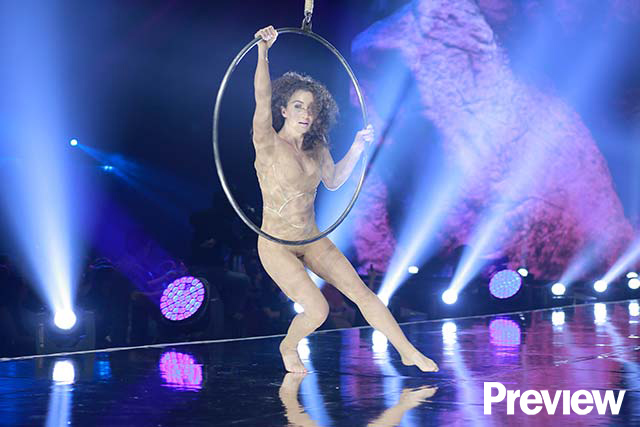 IMAGE Karlo Torio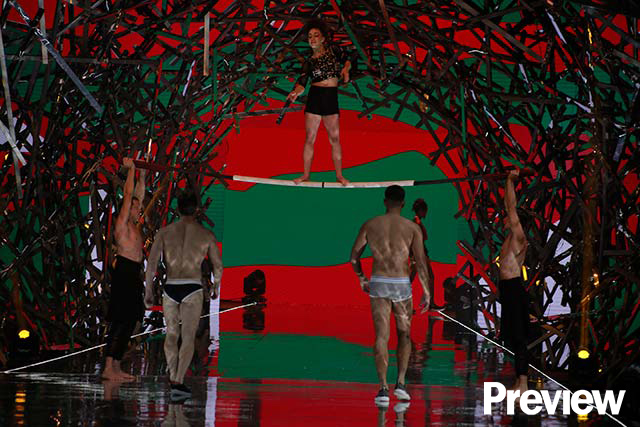 IMAGE Karlo Torio
We heard everyone gasping, ooh-ing, and ahh-ing as the trio did acrobatic stunts that seemed impossible to do!
13. The night's best-dressed couple: KathNiel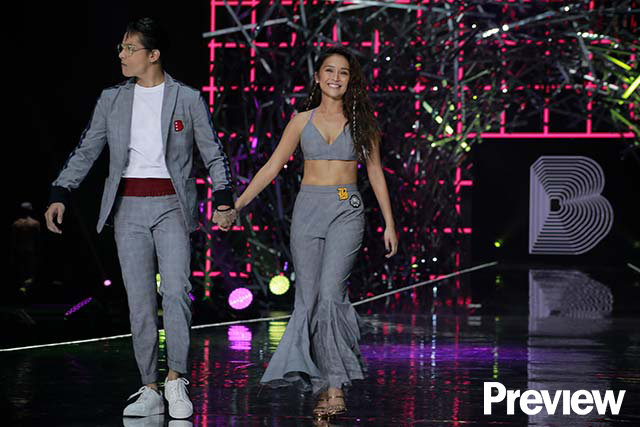 ADVERTISEMENT - CONTINUE READING BELOW
IMAGE Karlo Torio
Kathryn Bernardo and Daniel Padilla shared a sweet moment as they walked down the runway hand-in-hand with a kiss at the end, making the audience breathe out a collective sigh. Not only was that moment sweet, it was also a notable fashion moment: Daniel looked exceedingly dashing in a plaid suit ensemble that perfectly complements Kathryn's sexy coordinates. Credits to this power couple look goes to designer Joey Samson.
14. Totally crushing on Michelle Dee's outfit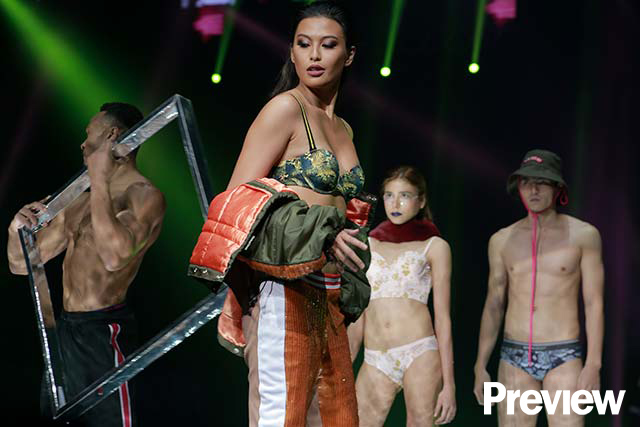 IMAGE Karlo Torio
Strutting down the stage wearing designs by Yves Camingue, the very statuesque Michelle Dee gave us some serious outfit envy in a green bomber jacket, a pair of orange sequined joggers, and a tropical-print bra from Bench. The green-tangerine color combo worked so well together during the athleisure segment. Of course, Michelle leveled up the look with her confident walk and her undeniable appeal.
15. Pietro Boselli livened up the crowd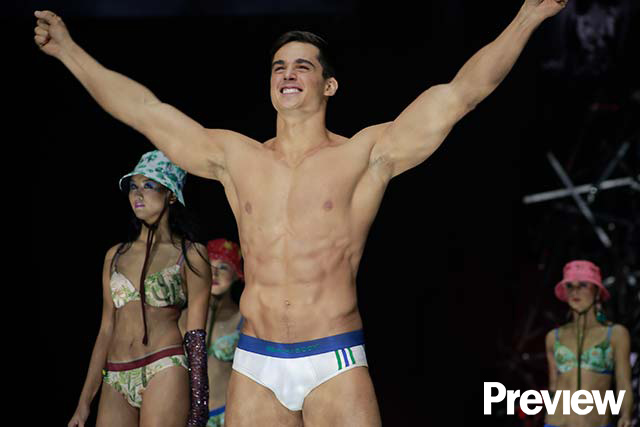 ADVERTISEMENT - CONTINUE READING BELOW
IMAGE Karlo Torio
Pietro made his return to the country and heated up the Bench stage in all his chiseled glory. The Italian model connected with the crowd as he flexed and smiled for the runway—suddenly, we're all in dire need of a Math tutor.
Watch the highlights below!