Once again, PEFTA alumnus Ken Samudio is making headway on the international fashion scene after participating in one of Milan's most prestigious womenswear and accessories exhibits, Pitti Super.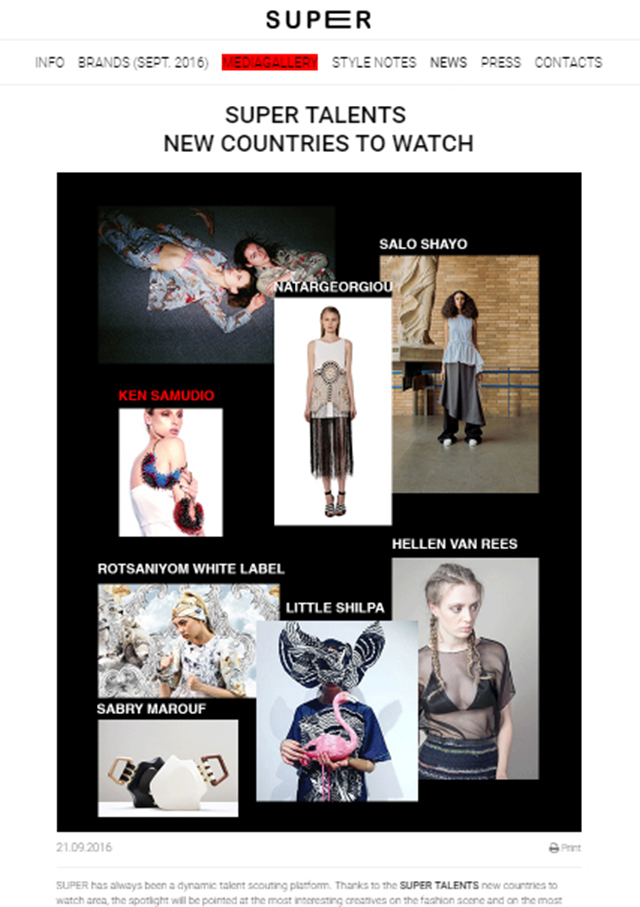 IMAGE Pittimmagine.com
Ken was picked by Vogue Italia's Senior Fashion Head and Vogue Talent's head Sara Maino to be one of the 12 designers from around the globe to be part of Super Talents, which is a scouting platform that puts the spotlight on "the most interesting creatives" from "emerging scenarios and from new, unexpected contemporary fashion destinations."
Ken met Sara a few years ago when he joined the International Fashion Showcase in London where the designer made quite an impression among editors and buyers from around the world. Since then, his work has been featured in several international publications and exhibitions and has even earned space at luxury retailers like Luisaviaroma.com, Thecorner.com, Harvey Nichols, Moda Operandi, and Barney's New York.
ADVERTISEMENT - CONTINUE READING BELOW
Related Stories from Preview.ph
We caught up with Ken and asked him what the experience has been like. Read on!
How's everything so far? What's in your heart and mind at the moment?
"That I should seize the moment. That I am in a way helping the local industry—the attention it deserves. It's not every day that big influential people call you on a first name basis. I guess I need that influence to push [me to push others.] I mentor one designer now, Agustin Bagasao, and I help him with the business side of fashion. Now he is scheduled to show at Tokyo Fashion Week come October."
IMAGE Ken Samudio
That's amazing! You are indeed helping the industry. Speaking of shows, what did you showcase in Pitti?
"My underwater-inspired accessories, which has become my signature design. I just change the color palette depending on the season. For this exhibit, I incorporated new techniques using indigenous fiber and textiles but with modern materials as well, so it won't look too ethnic.
I realized I cannot compete in the global market where others are already good at leather goods, for example. So, I started utilizing what is endemic and indigenous to our country and the techniques we are good at. My being a Filipino designer is my edge actually. I try to show what we are already good at."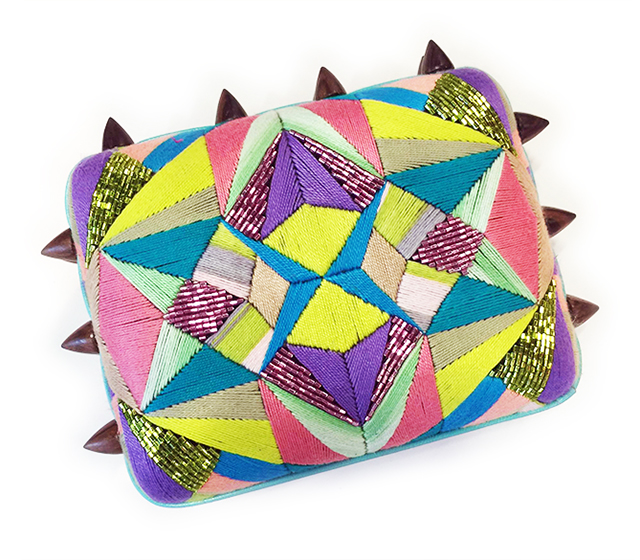 ADVERTISEMENT - CONTINUE READING BELOW
IMAGE Ken Samudio
How was the reception?
"Honestly, the reception was so great! They said they haven't seen anything as original in a long while. And I was able to get interviews with WWD and Vogue Accessories. And soon my pieces will be sold in boutiques in Venice, Milan and Amalfi Coast."
How do you usually introduce yourself to the international editors and buyers?
"I say I'm an accessories designer from the Philippines. Then I continue to describe my work—that I am inspired by my country's rich natural beauty, especially the underwater, since it's composed of 7,000 plus islands."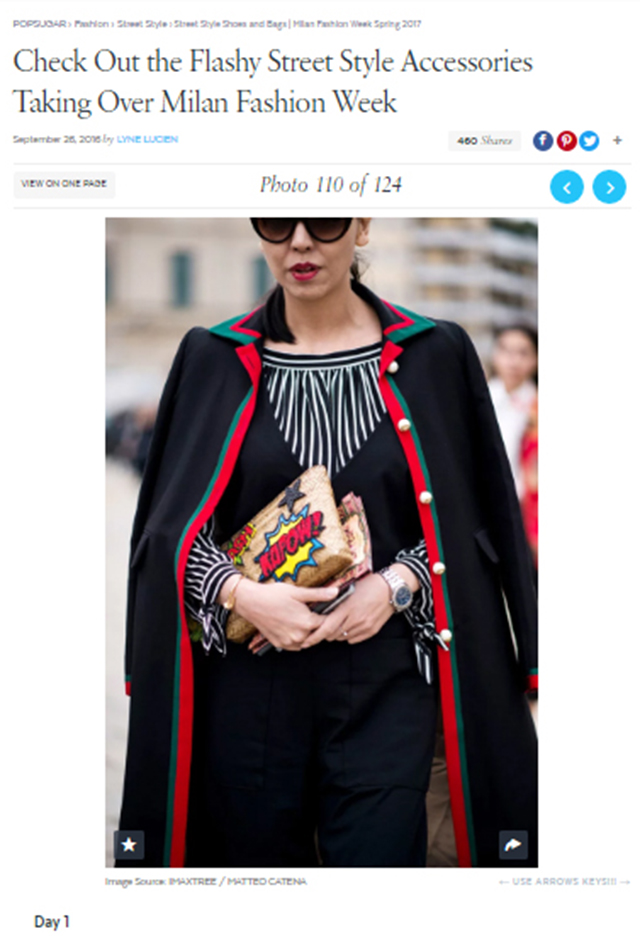 ADVERTISEMENT - CONTINUE READING BELOW
IMAGE Popsugar.com
The Bag Hag toting one of Ken's creations around Milan Fashion Week, as seen in Popsugar.com
Did you encounter any challenges during this trip in particular?
"I had to carry all 40 kilos of luggage by myself! You should have seen my struggle at subway stairs. They barely have elevators and escalators here. That's why when I got to the hotel, I fell asleep instantly. But I'm not complaining!"
Did you have any packing strategy?
"Yes, I put the small stuff like the earrings inside the bags. I also put some of my clothes inside the bags. And then I wrapped the bags using my pants and jackets."
Did you have to retouch any of the items?
"Luckily, no. Also because I make sure the pieces are made well. I actually throw it on the floor before it gets packed as a quality control. 'Pag may natanggal na part, it means 'di siya pang-export and my workers will have to make them again from scratch. So to prevent that, they make sure it's well made right from the very start. International buyers kasi are so mabusisi to the last thread."
ADVERTISEMENT - CONTINUE READING BELOW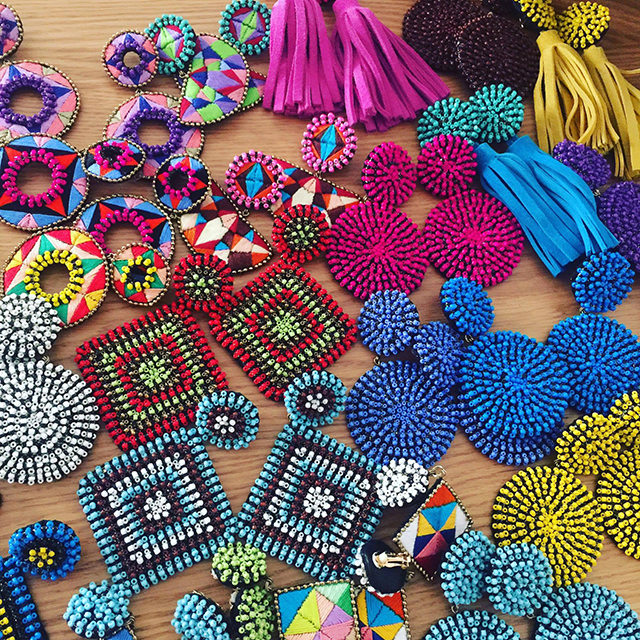 IMAGE Ken Samudio
We've seen your perseverance and hard work since day one, but is there any other key player to your success?
"Aside from my mom whom I owe everything to, there's Pauline Juan. She inspired me so much and made me realize that fashion is not just all creativity but a business as well. When she picked me as part of PEFTA 2011 from obscurity, I knew at that moment that my path is being paved for me. And when I got picked to join IFS in Lodon, she helped me sell my stuff in her Nail Spa and even went from table to table in the Summit office to force her staff to buy because I did not have funds to buy a plane ticket back then. I still get emotional every time I remember counting the money I got after in the taxi. I made P140,000 that day—enough to cover my fare and accommodations."
ADVERTISEMENT - CONTINUE READING BELOW
What's next for Ken Samudio?
"I plan to reach out to more buyers and have my brand in the right boutiques. Locally, I need to strengthen my visibility and availability because local sales are like my fuel—to help me afford going international. Internationally, I want Ken Samudio to have strong brand equity of cool, tropical-inspired accessories. I want to have a distinct Filipino brand that is respected in the global platform."
Do you have plans of branching out from accessories?
"Yes, I do. I want to do womenswear, as well, in the future. But I want to study and immerse myself in it more first. I want to be able to make a dress all by myself first, so that I will have a full understanding of its complexity. I need to be challenged para ma-squeeze out my artistry in something. And I'm taking notes here, from all my international exposure, to study what will and will not work. Then 'pag ready na ako then yun na, laban ulit!"
ADVERTISEMENT - CONTINUE READING BELOW
Any tips for new designers?
"Please stick to your original vision. When I started making my underwater-inspired collection, everybody was skeptical about it. Wala daw magsusuot. But I believed in it and it got me to where I am now. Your original vision, no matter how crazy it is—actually the crazier the better—will make you unique from everybody else."
Hey, Preview readers! Follow us on Facebook, Instagram, YouTube, Tiktok, and Twitter to stay up to speed on all things trendy and creative. We'll curate the most stylish feed for you!