Did you know that a Filipino fashion designer recently showed in Paris Fashion Week?
Victor Baguilat Jr., founder of sustainable enterprise Kandama Collective, debuted his Fiesta Filipiniana collection to a global audience at a runway show for International Indigenous Fashion Week. It was held at the Gustave Eiffel Salon, an events area located on the first floor of the Eiffel Tower.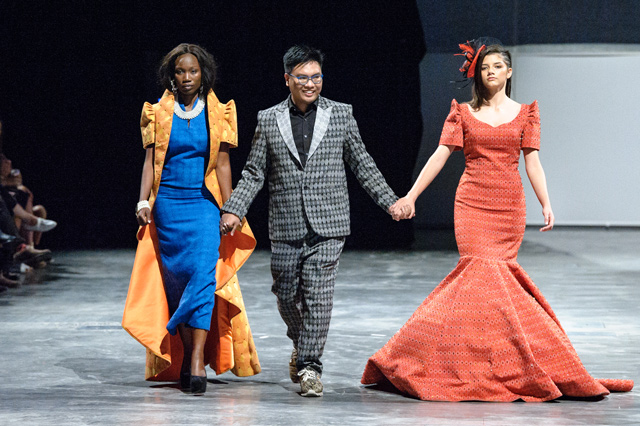 ADVERTISEMENT - CONTINUE READING BELOW
The show marks a huge leap for the Kandama, which was born in 2016 through the Young Social Entrepreneurs Program of the Singapore International Foundation with the support of McKinsey & Company. This is Kandama's first collection featuring pieces made entirely of indigenous textiles.
Victor is a multi-disciplinary creative who also founded Kami, an entertainment digital platform. He took classes in fashion construction at SoFA. Prior to his Paris debut, he has already brought Kandama to various runway shows and trunk shows here in Manila, as well as in Hong Kong and Australia.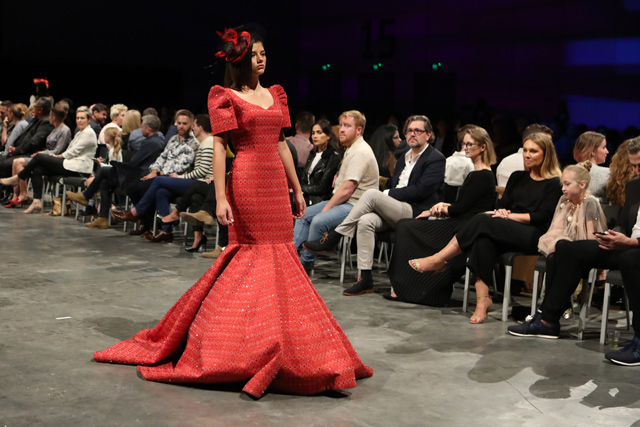 CONTINUE READING BELOW
Recommended Videos
Victor works closely with the women of Julongan village in Kiangan, Ifugao. He helped them start their organization of weavers, donating looms, finding work spaces, and enrolling them in training classes at the Department of Trade and Industry. To date, Kandama has established two temporary weaving centers and four weaving workshops in Kiangan, helping them earn stable income to provide for the needs of their families.
Below, Victor fills us in on his Paris experience, how he got started as a designer, and his thoughts on the intersection of fashion and sustainable business.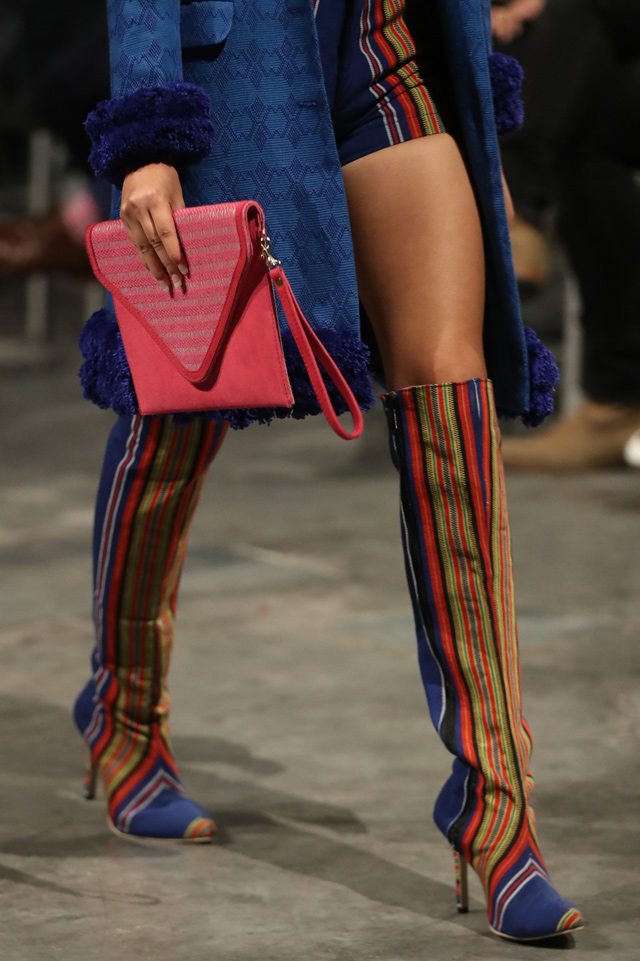 ADVERTISEMENT - CONTINUE READING BELOW
Before founding Kandama you were a law student and a high school teacher. How did you end up in fashion design?
"I was in law school for four years, and then I got really depressed and lost. I felt like I wasn't living my own dreams. So I told myself, OK, I'll go on leave in law school, and if I there's nothing out there for me, then I'll come back.
"I joined a competition (The Young Social Entrepreneurs' Programme in the Singapore International Foundation—ed.). I got in, and when I started, I collaborated with designers, such as Jon Rufo and Christine Ordinario. The first collection I designed by myself was the one for Virgin Australia Melbourne Fashion Week in 2018.
"[With design], I feel like this is a part of my brain which I haven't really fully explored yet. In college, I was doing left-brain activities, like debating, writing and so on. In law school, it was all about the logical side of the brain, too. I feel like I was doing that because being in a family of lawyers, that's highly celebrated.
ADVERTISEMENT - CONTINUE READING BELOW
"But fashion is at the intersection of all the things that I love to do. Culture, heritage, the arts, helping other people. It's not simply about making money. Though, the prospect of making money is also something that makes me happy, because with it, you can scale and help more… which is what a social enterprise is all about."
Why do you describe Kandama as a social enterprise?
"It's important for me to start with the fact that I have indigenous heritage. My dad's from Ifugao, I frequently go to Ifugao, I visit the community often, my tita's based there, she's like the community development executive there. In Julongan we started with five to six weavers who originally knew how to do backstrap weaving, but they're not well acquainted with upright loom weaving, which is more efficient. We trained them, and they just get to produce more with that. So the profit is also better.
ADVERTISEMENT - CONTINUE READING BELOW
"From five we have trained 29 weavers so far, and we have 18 active weavers. We even have two male weavers already. If it's a lean season, they're waiting for harvest, the men are not doing anything. [With Kandama] at least they're weaving.
"Aside from providing economic empowerment, we also have an environmental impact. In Kiangan they also do commercial gardening, which involves kaingin (slash and burn), which affects the rice terraces and has negative repercussions to the environment. This is an alternative for them."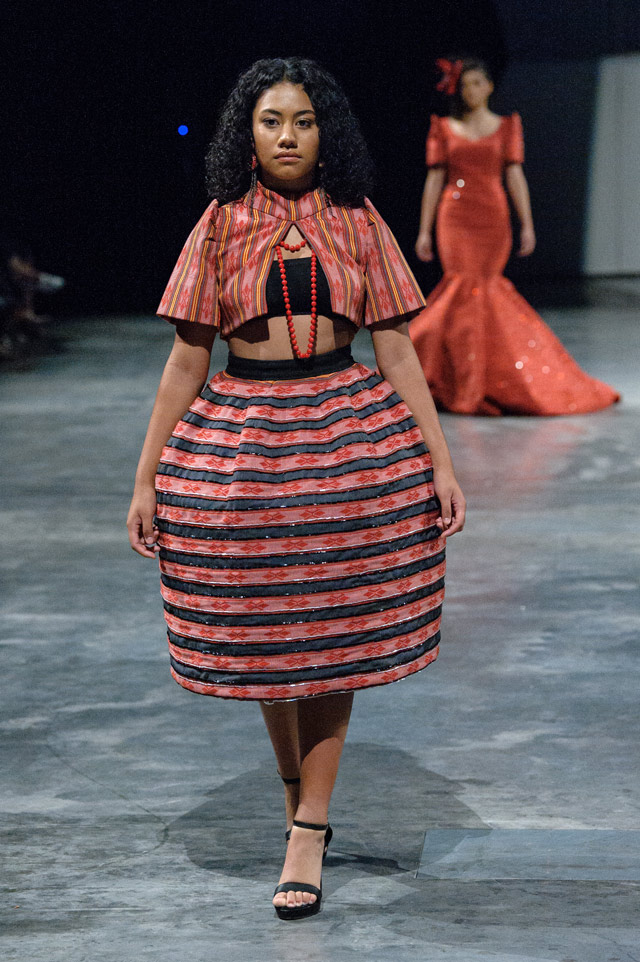 ADVERTISEMENT - CONTINUE READING BELOW
What was the inspiration behind your most recent collection?
"When it came to the textiles for this collection, I didn't have any control over that. it's completely the community designing and making the fabrics.
"And the fabrics that came in, they were all very colorful, very vibrant. So I thought of doing something festive. We have a lot of fiestas in the Philippines, we have a very colorful spirit. So I came up with Fiesta Filipiniana.
"It was also customer demand. I noticed that a lot of people who come to us were people who wanted to attend official functions like the SONA, galas, graduations, but then they don't have anything to wear. They wanted something different. Before we weren't really creating these ternos and all these things, but they were the ones coming to us. So we just created these pieces specifically because of that consumer insight. We wanted to be an alternative to existing shops, where people can have options for their Filipiniana needs."
ADVERTISEMENT - CONTINUE READING BELOW
How was Kandama's reception in Paris?
"In Paris we got a lot of orders from individuals. Largely because of the publicity generated by the media. We also got a lot of inquiries from here in Manila. If anything, there was validation that there's a market for indigenous fabrics overseas. For example, when we went to Australia, we were walking around and we were just stopped by people asking where we bought the Ikat jacket I was wearing. So there's really a market."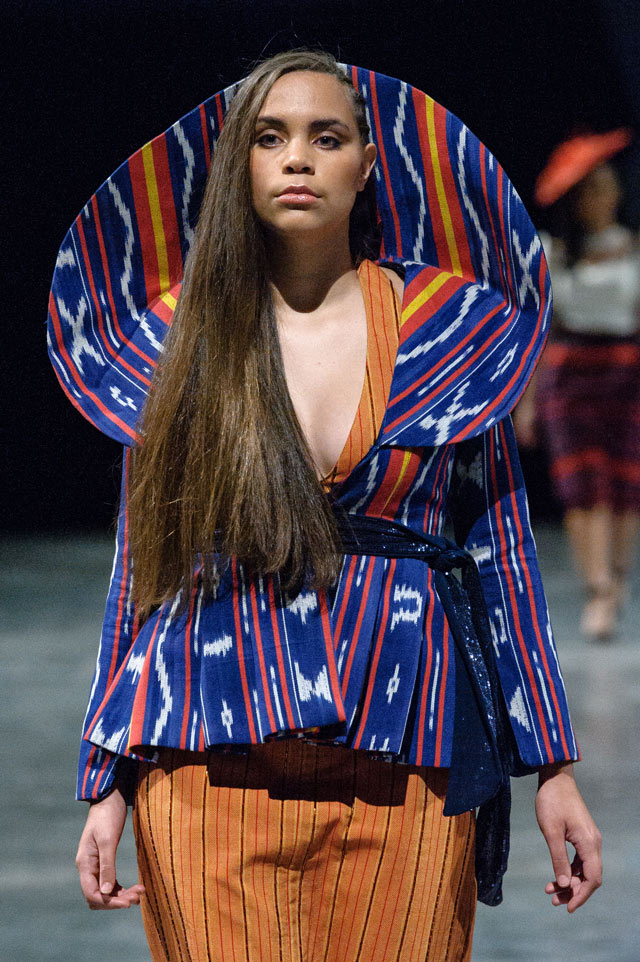 ADVERTISEMENT - CONTINUE READING BELOW
Do you think that the mainstream market is ready for indigenous weaves?
"I think there is a growing trend of consumers wanting to buy items that are sustainable. The rise of slow fashion is there.
"Whether or not it's niche, it's getting bigger. There's also a reason why big fashion houses now do indigenous prints... it's because there's a demand for indigenous items."
How do you think Kandama sets itself apart from other brands using indigenous fabric?
"What we're offering is authenticity, that this piece actually came from the community. It also benefits the community, so we're very particular about social appropriation. We wanna be sensitive. At the end of the day, it's a social enterprise. That's what we are trying to communicate to our consumers."
How would you describe a Kandama woman or man?
"A Kandama customer is someone socially conscious and stylish. This is someone who wants to stand out. They're willing to spend more on a garment that is more expensive than fast fashion, because they know that it has positive impact on the community they're buying from.
ADVERTISEMENT - CONTINUE READING BELOW
"They're also empowered. The meaning of kandama is "power" in the local dialect of Tuwali. We wanted to facilitate the empowerement of women who are weaving; at the same time, the women who wear it, we wanted them to feel their power."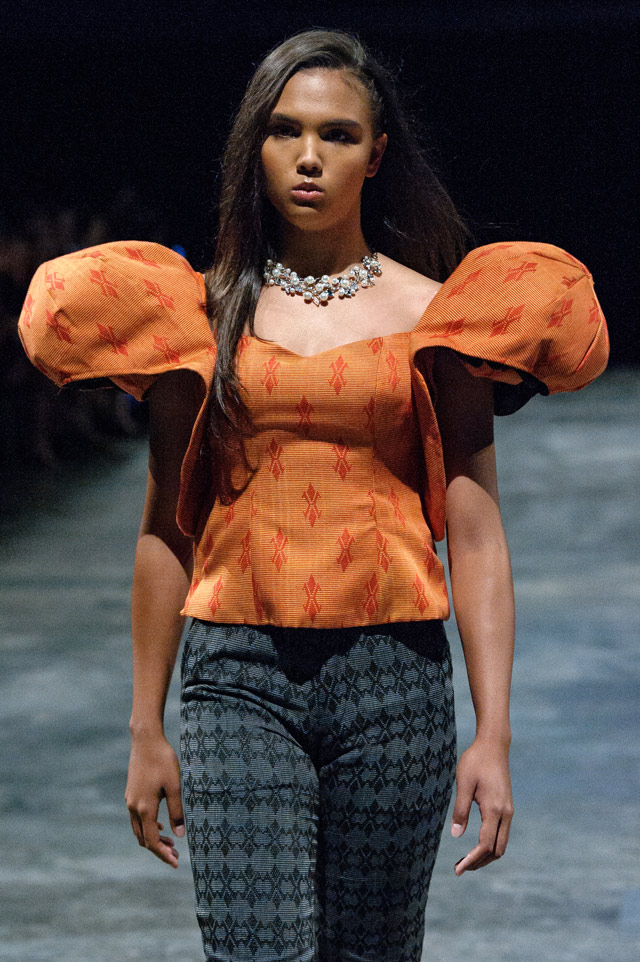 As a fashion entrepreneur, what is your advice for other aspiring designers?
"It's important for you to find the right network. Find a very supportive community who has your back, because they also believe in you and your work.
ADVERTISEMENT - CONTINUE READING BELOW
"Have a mentality of abundance, that there's always something for everyone, that there will always be a demand for your work. The key to abundance is gratitude and generosity. Help others, and then just be grateful for the things that you have."
What's next for Kandama?
"Our next show will be in London. What's next for me as a designer is really bringing the atelier to the next level. Working on the competencies of the bead workers, so collaborating with different communities, to prepare for scaling. I also want to take classes in fashion business in Milan."
Related Stories from Preview.ph
Hey, Preview readers! Follow us on Facebook, Instagram, YouTube, Tiktok, and Twitter to stay up to speed on all things trendy and creative. We'll curate the most stylish feed for you!