Vice-President Leni Robredo finds herself in the middle of yet another controversy by allegedly wearing an Ifugao death blanket while leading the Rizal Day rites in Luneta Park last December 30, 2018.
Facebook page Luminous by Trixie Cruz-Angeles & Ahmed Paglinawan posted a photo of the Vice President wearing a terno by JC Buendia that bears indigenous weaves. They write, "Wait. I hope that is not an Ifugao death blanket the Vice President is wearing. Or Isinai. In the second picture below is one of the oldest Ifugao funerary blankets in the National Museum's collection. Look familiar? The third one is an Isinai shroud. In any case, the VP isn't wearing Codilleran traditional attire." They even question whether or not the VP Leni knew about the fabric she was wearing.
ADVERTISEMENT - CONTINUE READING BELOW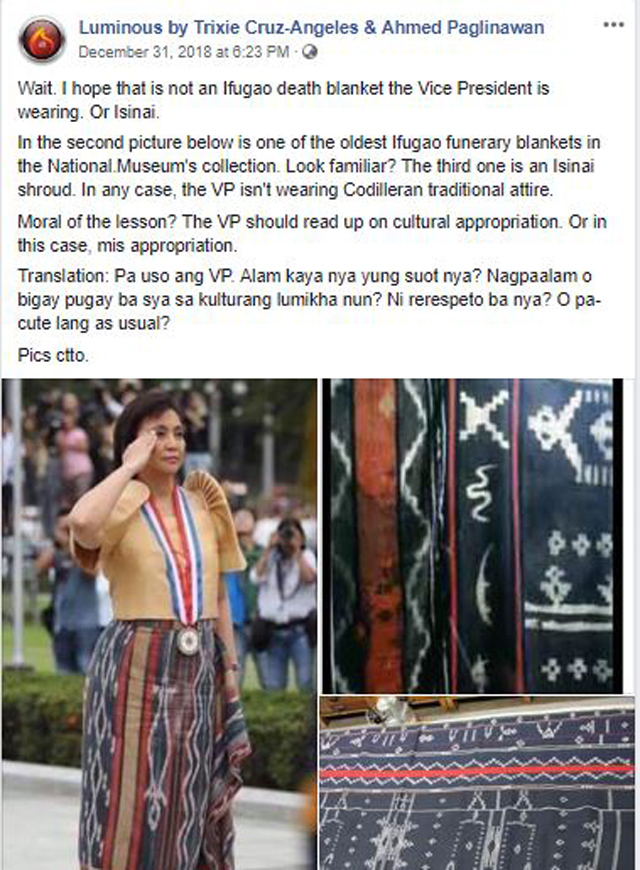 Meanwhile, award-winning Filipino playwright and director Floy Quintos divulges in a Facebook post that the designer, JC Buendia, came to him for advice and asked "if there was any ritual meaning behind this textile, as he did not want to misuse the fabric."
CONTINUE READING BELOW
Recommended Videos
In an interview, JC tells Preview that "the fabric was originally from VP Leni. She wanted to have something similar to what I did for TernoCon."
Related Stories from Preview.ph
He also shared that he took the necessary precautions to ensure he won't be misusing the fabric. "Working with indigenous fabrics, I've learned that some patterns have certain meanings so whenever I have doubts, I ask my good friend Floy Quintos about it. He's not only a brilliant writer-director, he also has expert knowledge of Philippine history and ethnic tribes," he said.
ADVERTISEMENT - CONTINUE READING BELOW
Additionally, Facebook page Ifugao Nation headed by Marlon Martin who is also the chief of Save the Ifugao Terraces Movement and founder of Ifugao Heritage School, confirms that the Vice President did not indeed wear a funerary blanket.
Related Stories from Preview.ph
He also clarifies the issue with Preview and said in an interview, "The VP's skirt is a mix of traditional patterns arranged in such a way to appeal to contemporary fashion. The whole fabric doesn't have cultural context."
ADVERTISEMENT - CONTINUE READING BELOW
Related Stories from Preview.ph
What does he mean by cultural context? By essence, the Ifugao funerary blanket has very specific symbols, colors, and arrangement that distinguish it from the rest of the weaves being sold on the market. "Traditional textiles have more or less fixed designs. Thread count, patterns and colors have to be consistent. Any variation will affect it's cultural context," he adds. Marlon further concretizes this by citing an example: "If I get a funerary blanket and change the red colors to violet, then it loses it's cultural meaning because red is the color of the war deities whom the Ifugaos are paying homage to in the creation of these textiles."
This also applies when changing patterns of figures in the cloth. "Say I turn the serpent into a dragon, then the textile loses its meaning because we don't have customary dragon designs, i.e. it doesn't mean anything to the Ifugao." He also shares that the "entire thing originally as a shawl but repurposed by the VP's designer into a skirt."
ADVERTISEMENT - CONTINUE READING BELOW
Lastly, Marlon reminds us that local Ifugao "weavers can weave any design these days." While they still "weave traditional fabrics but don't [produce] traditional table runners or gowns or barongs," he assures us that they "can weave the cloth to come up with these items. The weaving process is still traditional but we need to modify the designs to suit contemporary utility."
Related Stories from Preview.ph
Hey, Preview readers! Follow us on Facebook, Instagram, YouTube, Tiktok, and Twitter to stay up to speed on all things trendy and creative. We'll curate the most stylish feed for you!