Taking into heart the sanctity of luxe style, Vero (Italian for "genuine") has been creating fine jewelry for 10 years. A brainchild of Cebuano interior designer-turned-jewelry maker Gladys Young, the brand continuously expanded through the years by placing premium on the concept of producing one-of-a-kind investment pieces that can be passed on for generations.
This season, Gladys is proud to introduce her newest collection that mirrors the intrigue of life underwater. Tagged "Under the Sea," the collection is composed of fine jewelry infused with sea elements such as corals, anemones, and oyster shells. Read on to know more about the designer and learn a thing or two about her design process.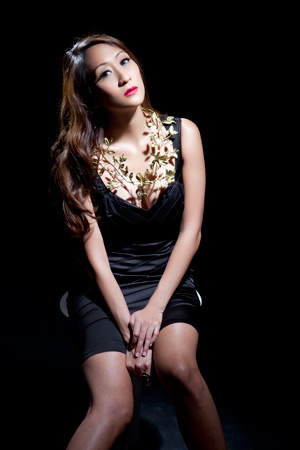 ADVERTISEMENT - CONTINUE READING BELOW
What made you transition into jewelry from an interior design background?
I took up interior design but I never really practiced; I did a few rooms for friends for free just for the sake of doing it. I don't want commitment in terms of interior design so I never pursued that. Then I went into jewelry which I've done for the past 10 years, and I plan to do this all my life.
Was it something that you planned all along, or did it come by accident?
No, I never planned it. It all started with my collection of gems. When I like something I indulge in it, so my collection grew overtime. I just can't seem to get enough, so I tend to buy some more. Because I already had so much, I started to design and make jewelry out of it. Then through word of mouth, it spread around. I just love it when I see people beaming with happiness after seeing my work. If they're happy, I'm happy too. I never stopped making since then.
CONTINUE READING BELOW
Recommended Videos
Did you study jewelry making?
Just self-study. I bought books, Googled, and thoroughly [did my research on] gemstones. I challenged myself to always make something that stands out, so through the years I was able to hone my skills.
From where do you get your inspiration?
For me, my pieces are products of my emotion. If I don't feel so well today, it shows in my design. It basically depends on my certain mood. But then I also get inspiration from the extraordinary things I see every day. For instance, I saw a mug when I went to CDO over the Holy Week. I took a picture of it and thought the shape of the handle could be a pair earrings. I tend to see unusual stuff in a different perspective.
How often do you produce collections?
Twice a year. I'm starting my Fall/Winter collection now because that's my feel of the moment. I've done two sketches already, and then I'm going to add some more and probably start on it sometime in August.
ADVERTISEMENT - CONTINUE READING BELOW
Do you also do custom-made?
Most of my items are actually custom-made. My forte is redesigning old unusable jewelry and making it contemporary, wearable, and something you'd like to keep.
What's the biggest challenge in jewelry making?
Time. I'm going up against myself; the challenge is within me. Sometimes I get a bit worried seeing fancy accessories, doing the stuff we do. Some people just don't know [its] value anymore; they just want to wear accessories without knowing the value behind every piece. But I'm glad there's still a huge number of people who appreciate fine jewelry and would never want to wear anything fake.
When you go to a party, it really feels different when you wear something real or designer. Along with that is the designer's hard work and sweat, so each piece is unique. I really spend so much time on making these pieces from scratch, so it's sad when you see other people copying it. It's not healthy.
ADVERTISEMENT - CONTINUE READING BELOW
If you are to wear just one piece of jewelry, what would it be?
I want to be different from everyone else so I'd wear a chunky statement ring. The ring says it all and only a few can pull it off.
Do you have plans of exporting abroad?
I've been exporting to friends and people I know in the States and in Japan. I've spoken to a friend in the States who wants to market the pieces there.
What's in store for your loyal clients in the coming years?
We're opening a showroom in Marriott Cebu about a month from now. Finally, we'll have a formal office where I can showcase everything and I don't have to keep bringing the stuff to my clients' homes— although they want it that way, as Cebuanos are more private. But the showroom will allow me to cater to a bigger market. Aside from ready-made pieces, they can also bring in their old jewelry so I can rework it.
ADVERTISEMENT - CONTINUE READING BELOW
Cebuano designers like Cary Santiago, Vania Romoff, and Jun Escario are really hitting it big in the fashion industry. What do you think sets a Cebuano designer apart from others?
I guess it all boils down to drive and passion. To me, it's not just work. It's not about the sales. It's the fulfillment I get after creating the piece. I guess Cebuanos are the type who always want to challenge themselves to make things better, bigger, and bolder every time.
What's your advice to budding jewelry designers?
Focus. A lot of people want to be this and that, but they don't have the foundation. Some just want to do it for the sake of doing it. There must be passion behind it; if you don't have that, then you'll just falter fast. But if you have a goal or an objective, that will push you to never give up.
ADVERTISEMENT - CONTINUE READING BELOW
Click on the gallery below to check out Vero's Spring/Summer 2013 collection.
Click here for the Designer Directory.
Hey, Preview readers! Follow us on Facebook, Instagram, YouTube, Tiktok, and Twitter to stay up to speed on all things trendy and creative. We'll curate the most stylish feed for you!
ADVERTISEMENT - CONTINUE READING BELOW
CONTINUE READING BELOW
Recommended Videos
Hey, Preview readers! Follow us on Facebook, Instagram, YouTube, Tiktok, and Twitter to stay up to speed on all things trendy and creative. We'll curate the most stylish feed for you!