Perhaps I should start with a disclaimer (just to prevent word getting to my mother that her daughter is fitting wedding gowns with neither her knowledge nor her blessing): I am not a bride-to-be nor do I have a rock on my finger. Walking down the aisle was not on my mind when I agreed to write a story on Vera Wang's latest bridal gown collection, although it may have been curiosity (or just plain vanity) that prompted me to try on a few gorgeous dresses that I won't be needing anytime soon.
But now that I've done it myself, I don't envy the women who go for a bridal fitting because they're actually getting married. While choosing a wedding gown can be a thrilling experience, it can also be a very confusing and stressful endeavor. Not to mention all sorts of emotional.
The thing is, I didn't go to the Vera Wang Manila boutique just to fit pretty dresses and feel good about myself; I came to find out for myself what the fuss is all about and, along the way, managed to pick up some tips for the ideal bridal shopping experience.
ADVERTISEMENT - CONTINUE READING BELOW
Consider RTW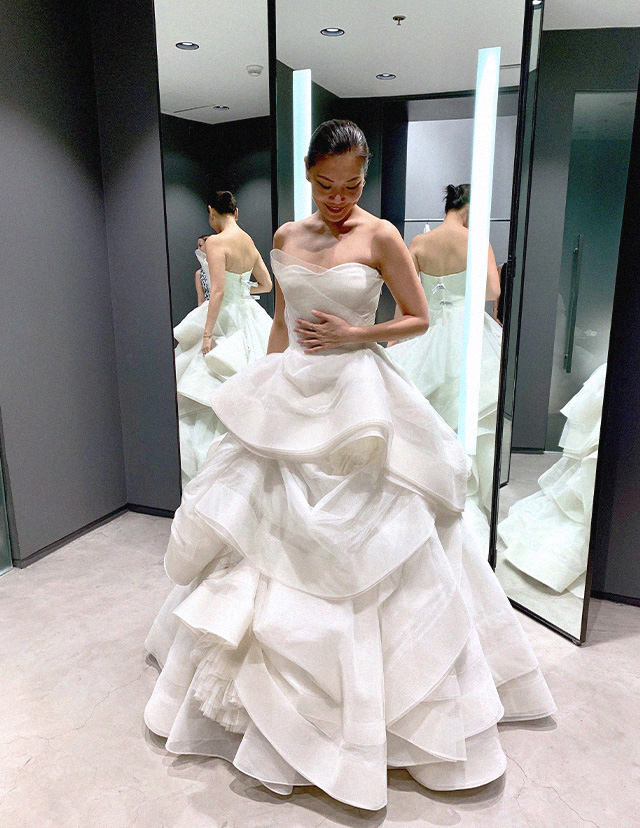 No one else but Vera Wang can create this beautifully layered structured gown from the label's Iconic Collection.
These days, no one would think you a slacker if you opt to go RTW instead of a custom-made dress for your wedding. There's much to be said for the ready-to-wear option, but this would be the most important: there are no surprises when it comes to ready-made. You know how the gown looks on you from the start (i.e., it does not make you look like an over-frosted cupcake), and you won't have to quibble with a designer over the price because the original fabric was not available.
ADVERTISEMENT - CONTINUE READING BELOW
Recommended Videos
And if you fear ending up with the same gown as an acquaintance on Facebook, don't. The Vera Wang Manila team (they're also the same people who run the local Rosa Clara franchise) claim that, in the many years they've been providing ready-made gowns, no two dresses have looked alike. Even with RTW, a bride still has the option to style a dress according to their personality and make it completely their own.
Go to a bridal specialist
ADVERTISEMENT - CONTINUE READING BELOW
Going to a bridal specialist with a team of experts is half the battle. These are Bridal Specialist Michi Calica-Sotto and Managing Partner Vicki Villar Zayco are part of the Vera Wang Gang that can help you.
Choosing RTW doesn't mean going into a dress shop and pulling out every single white dress on display. It's best to go to a store that actually caters to brides and that can help make your journey to finding "The Dress" even more pleasurable. Vera Wang Manila has a set-up that would wow even the most impervious of brides: three-way full-length mirrors, a sitting room where your entourage can gather, a robe to wear while lounging in between fittings, and racks with stunning dresses that feature every desirable bridal flounce and fashioning. Vera Wang has also recently enlisted the services of Michi Calica; brides can now consult with the veteran designer on the best gown to choose for their big day.
ADVERTISEMENT - CONTINUE READING BELOW
Go at least 10 months before your wedding
The uber attentive team at the boutique will ensure your gown fits you to a T and will help you customize it to your liking.
According to the folks at Vera Wang, brides would need to go around 9 to 12 months prior to their wedding date for their initial fitting. The gown you fit at the shop is not necessarily the gown that you will wear down the aisle. Your actual gown will be made in Vera Wang's New York headquarters in your size and based on any tweaks that you want made to the dress (more beading, a longer train, less bodice). It will take six months to make the gown and get it to Manila, and maybe a couple more months and a few fittings to make any necessary alterations, which will be done by the Manila store's in-house seamstress.
ADVERTISEMENT - CONTINUE READING BELOW
Those who don't believe in long engagements can also purchase a gown from Vera Wang Manila but will have to choose from one of the dresses already available in the shop.
Know what you want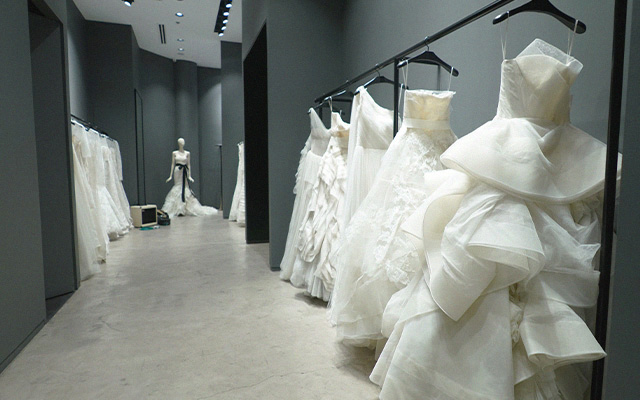 Racks filled with gowns in varying silhouettes for you to select from.
ADVERTISEMENT - CONTINUE READING BELOW
Be one of those brides that constantly trawls Pinterest to get ideas for their wedding dress. This will give you an idea on which silhouette best appeals to you or which shade of white to go for (you may not even decide to wear white). Vera Wang also helps you along the way by sending a questionnaire prior to your fitting that rounds up all the things you need to consider when choosing a gown.
Budget should also be a foremost consideration when shopping for your wedding gown. At Vera Wang, gowns cost from about P350,000 to a little under a million. This includes alterations, delivery and assistance on the day itself.
But keep your mind open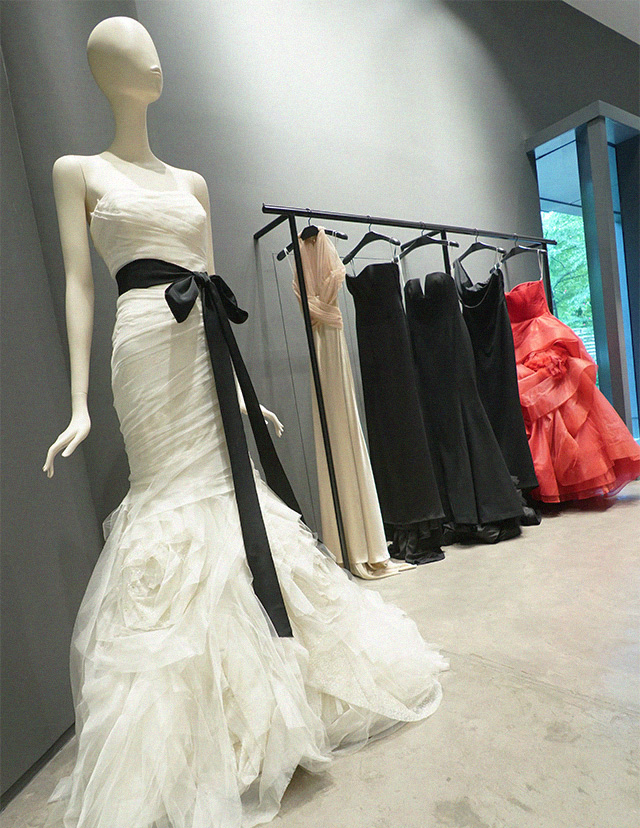 ADVERTISEMENT - CONTINUE READING BELOW
Not feeling ivory for your big day? No need to shy away from color with these dress options.
Then again, you'll never really know what you're looking for until you've actually fit and compared a few dresses. As Valerie Villar-Zayco, managing director of Vera Wang Manila, says, sometimes the dress will choose you. Many a minimalist-minded miss end up with a luscious, fully-beaded ballgown because it either fit their body type best or spoke to them the most.
Bear in mind the location of your wedding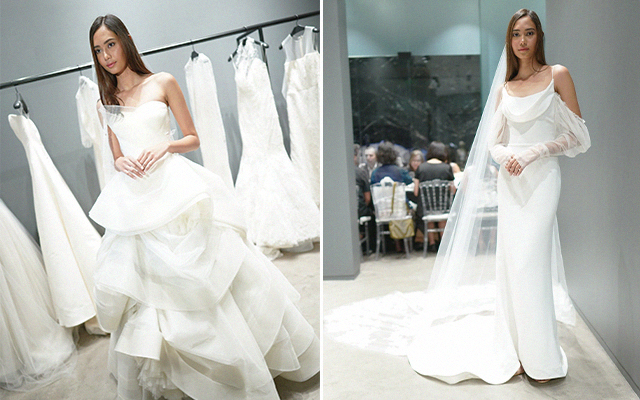 ADVERTISEMENT - CONTINUE READING BELOW
Will you be walking down the church aisle in a ball skirt or a sandy walkway in a slim number?
A gown with a sweeping train may just be the thing for a cathedral wedding, but it will be downright impractical for a beach wedding. Similarly, a filmy, decolletage-baring gown will be perfect for an ocean-backed setting, but may be inappropriate for a wedding in a church with strict dress codes.
Don't go alone, but don't bring your entire crew, either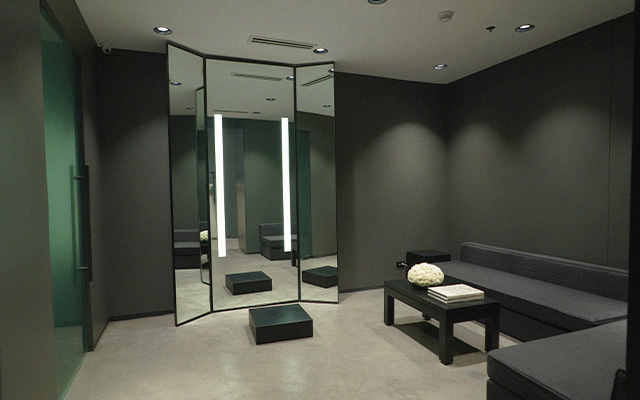 ADVERTISEMENT - CONTINUE READING BELOW
The fitting room at the Vera Wang boutique can easily accomodate the gals you'd like to have with you as you try on various gowns.
Shopping is always fun with your best gal pals, and it follows suit when you're buying a dress for one of the biggest days of your life. Having friends and family around can help calm nerves and make the experience even more exciting. But limit your retinue to just a few people who know you best; sometimes, too many opinions can spoil the special moment.
Bring the necessary accessories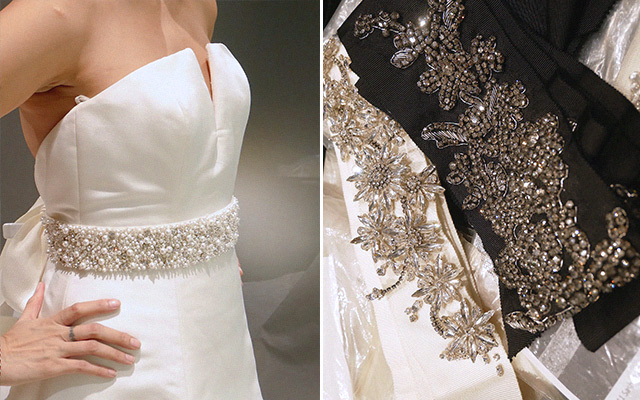 ADVERTISEMENT - CONTINUE READING BELOW
Even a sash can make a world of a difference.
The shoes you plan to wear (if you already have them) or heels in your preferred height, the heirloom necklace every bride in your family wore, the chintzy tiara you've been holding on to since you were 12 and swore will be part of your bridal ensemble—have them all with you during the fitting as even the smallest add-on can alter how a dress looks or fits on you. Wearing the right underwear is also crucial. The Vera Wang peeps suggest nude seamless underthings or even the shaping underwear you'd like to have on during the wedding.
Wear makeup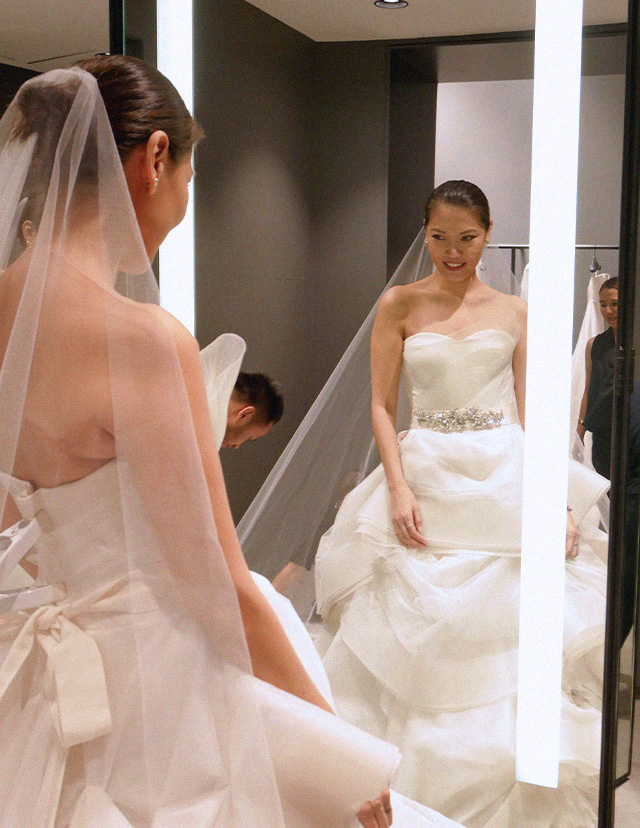 ADVERTISEMENT - CONTINUE READING BELOW
Apart from bringing the shoes, jewelry, and other accoutrements to your dress fitting, wearing makeup will also help you get into a bridal mood.
Going to a dress fitting with a bare face is akin to going to a Halloween party without a costume. It may not be necessary, but you'll miss out on all the fun.
You don't have to wear white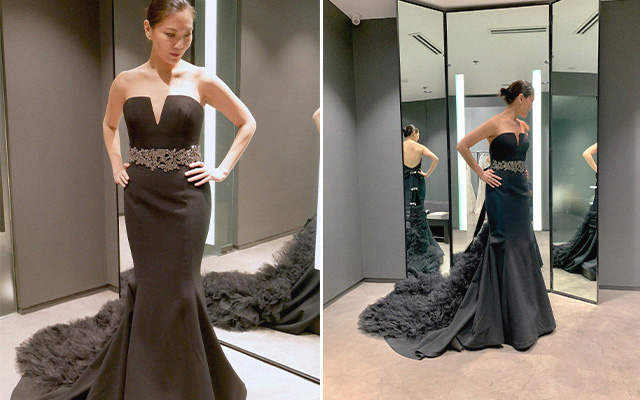 ADVERTISEMENT - CONTINUE READING BELOW
Non-traditional brides can opt for this stunning fishtail gown, or opt to wear it during the reception. The dress also comes in red and ivory.
You shouldn't have to wear a white dress if it makes your skin look pasty when black—or brilliant red—looks really, really, really good on you.
Beware the veil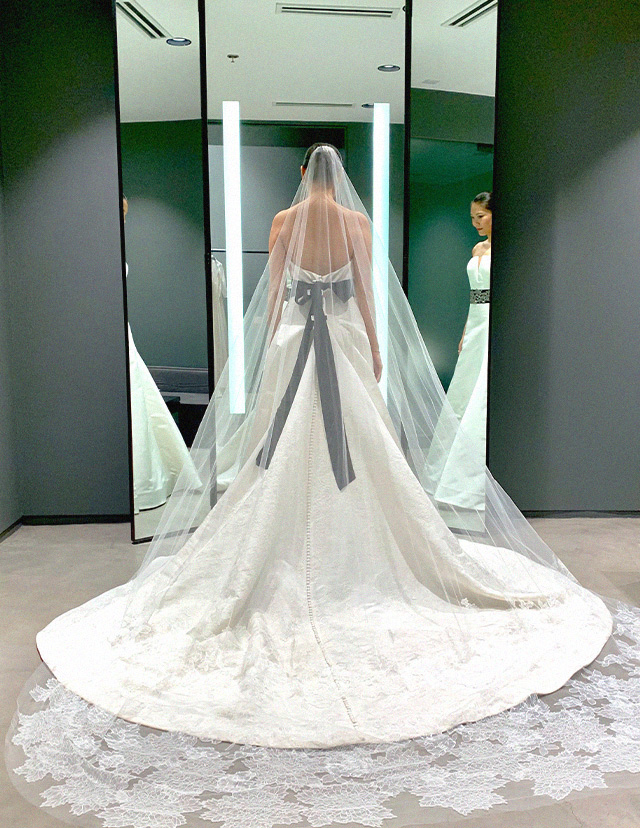 ADVERTISEMENT - CONTINUE READING BELOW
At Vera Wang Manila, you can't help but say yes to the dress
So you're wearing this gown that just takes your breath away. They tie an embellished sash around your waist to give the dress extra oomph. Then it's swapped for a similarly studded sash, but in black, just in case you're looking for something less traditional. Then someone attaches a veil to your hair, draping it around your shoulders and down your back. And before you know it, you're standing in front of the mirror in full bridal regalia, trying not to bawl your eyes out and struggling to remember why marrying Mr. Right in the perfect dress is not in your list of life priorities.
So if you want this whole wedding thing to get all the more real, then go ahead and wear the veil. Don't say we didn't warn you.
ADVERTISEMENT - CONTINUE READING BELOW
You don't have to make a final decision on your first fitting.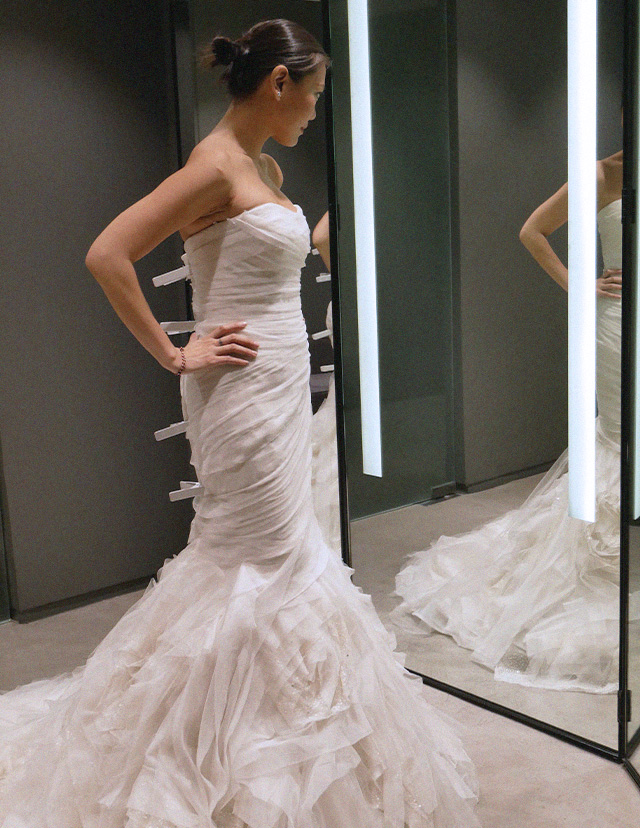 A frothy number from Vera Wang's latest collection. Clips sold separately.
Choosing your dream wedding gown is an entire process that does not have to end with the first fitting. The Vera Wang Gang suggests whittling down your options to two or three dresses and then taking a few days—or weeks—to mull over your decision. After all, what's a few more days when it comes to picking the dress that you've been fantasizing about for years?
ADVERTISEMENT - CONTINUE READING BELOW
Vera Wang Manila is located at 8 Rockwell Center, Plaza Dr., Makati, Metro Manila. For appointments and queries, message philippines@verawang.com or call tel. no. 804 5071
Hey, Preview readers! Follow us on Facebook, Instagram, YouTube, Tiktok, and Twitter to stay up to speed on all things trendy and creative. We'll curate the most stylish feed for you!