Vania Romoff is a brand synonymous to all things romantic. With the designer's prowess on handling bows and flounces translated into expert fabric manipulation, Vania is able to come up with pieces that highlight the woman's body with utmost elegance and grace.
Now, Vania is back with a collection that does not only accentuate femininity but also revels in it. Together with Ayala Land Premier and The Edition, the renowned local designer presents her latest Fall/Winter 2017 collection as modeled by actress Janine Gutierrez and lensed by BJ Pascual.
Where did the inspiration for this collection come from? Please walk us through your creative process.
"This was a really an exciting collection for me to put together, particularly because I haven't done one since Spring/Summer 2016, which was over a year ago. So you could imagine, I had so much ideas that were just sitting there and this made it a bit overwhelming. A lot of editing out had to be done and what was left was really the idea of celebration. After all, I find myself celebrating motherhood, my upcoming wedding, and finally coming back to my career since I took a step back after my daughter's birth.
IMAGE JL Javier
ADVERTISEMENT - CONTINUE READING BELOW
"A lot of images from my mood board were of women at parties. Big smiles, champagne in hand, balloons, cake and beautiful dresses.
"Luxurious fabrication was also key when I created this collection. I made use of lots of brocade, silks, and tulle."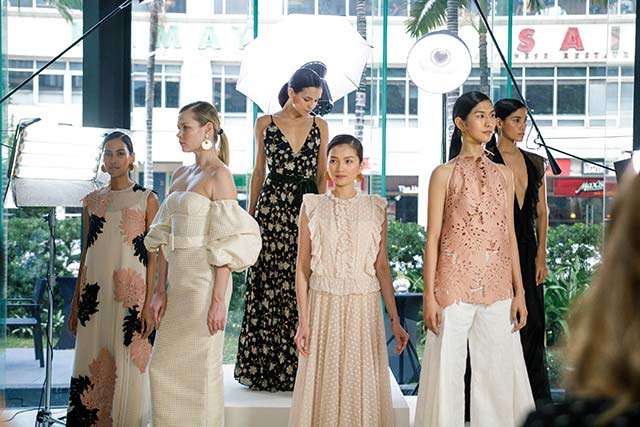 IMAGE JL Javier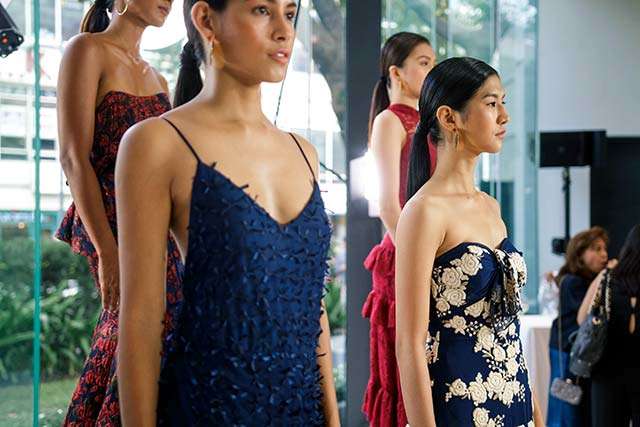 IMAGE JL Javier
IMAGE Courtesy of Vania Romoff
How many pieces are in the collection? Do you have a favorite?
"I think 36? It's hard to pick one!"

IMAGE JL Javier
What are the key elements of the collection?
"Just hyper feminine silhouettes made in beautiful fabrics. A lot of my favorite elements are evident like bows, flounce, and florals."

ADVERTISEMENT - CONTINUE READING BELOW
IMAGE Courtesy of Vania Romoff
Was there a specific girl you had in mind while designing the collection?
"Whenever I create collections, I always imagine a certain woman wearing the pieces. It helps me curate the looks better. This season, I was drawn towards the festive stylings of Lauren Santo Domingo, Plum Sykes, Alice Leyland, and Elle Fanning."
IMAGE JL Javier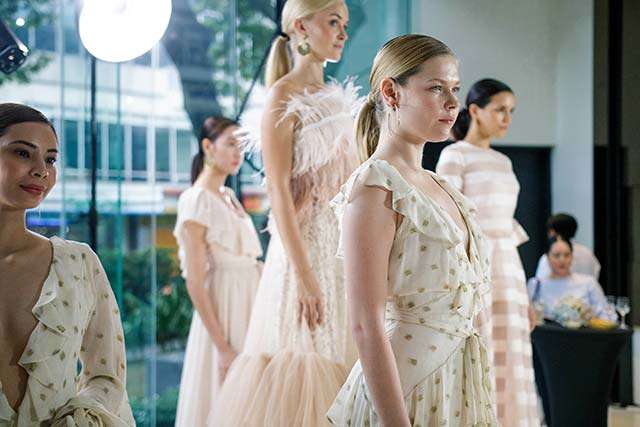 IMAGE JL Javier
How is this collection different from your previous ones?
"I explored color for this collection—bright colors, which I would normally stay away from.
"Also, this is my first solo presentation, which Ayala Land Premier has so generously sponsored. This just gave me the opportunity to really call the shots in terms of presentation direction and all other details. It's all very exciting for me."

IMAGE Courtesy of Vania Romoff
What were the challenges you encountered while putting together this collection?
"Restrain. I wanted to make more! But I guess 36 is a lot. [It's] my biggest collection to date."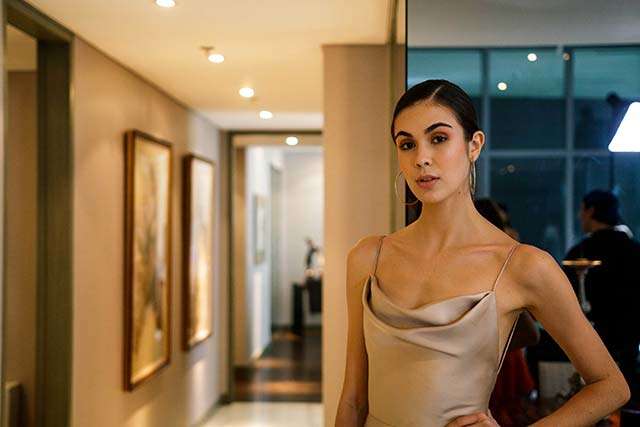 IMAGE JL Javier
ADVERTISEMENT - CONTINUE READING BELOW
To what occasions/events are these pieces best worn?
"Just because it's my first collection in a while, I went all out. Most pieces are gowns. These pieces are best worn to celebrate."

IMAGE Courtesy of Vania Romoff
Could you describe the lifestyle that fits the Vania Romoff philosophy?
"The woman who wears Vania Romoff wants to look beautiful. She's self assured and is not afraid of her femininity. She doesn't try to be cool. She's modest but is adventurous. She is positive and celebrates life!"

IMAGE Courtesy of Vania Romoff
9. Who do you dream of wearing your pieces?
"The muses I mentioned above! Haha!"

IMAGE Courtesy of Vania Romoff
How has your brand evolved since you started?
"Aesthetic wise, we've always been consistent. We stick to what we know we do best, which is romanticism. Designs, mood, and muses always change every season but the essence is the same.
"Our team has grown as well and we have ventured into e-commerce, bridal, and now we're stepping into retail really soon. Oh, and also, a baby line!"
Hey, Preview readers! Follow us on Facebook, Instagram, YouTube, Tiktok, and Twitter to stay up to speed on all things trendy and creative. We'll curate the most stylish feed for you!