Whoever said workwear was boring has clearly never come across Vanessa Dingcong. Formerly in charge of shopper marketing and engagement planning for award-winning advertising agency TBWA Santiago Mangada Puno, Vanessa may have her hands full ("Meetings, meetings, meetings— sometimes I even meet with myself. Haha!"), but she confesses that taking the time to dress well has always been ingrained in her, even as a child.
"My dad's my biggest influence. I grew up in a home where dressing well is important. It is part of good manners. Dressing properly and appropriately is a must. I remember even when I was little, my dad would always remind me to dress well. He would tell me that putting in effort is a form of respect to people you will encounter," she says.
With a job in the advertising industry, Vanessa's got a lot of room to experiment with fashion, but she takes the leeway with a grain of salt: As much as she believes in dressing for herself, she makes sure to base her outfit choices on the clients she will be facing. "That's probably the best part of advertising—you can pretty much wear whatever you want. Depending on what I feel like and what my day will be like, I can be very casual. But if I have client meetings, I have to be dressed appropriately. Appropriately means considering who I would be meeting: If they're stylish, then be stylish. If they're simple, be simple."
ADVERTISEMENT - CONTINUE READING BELOW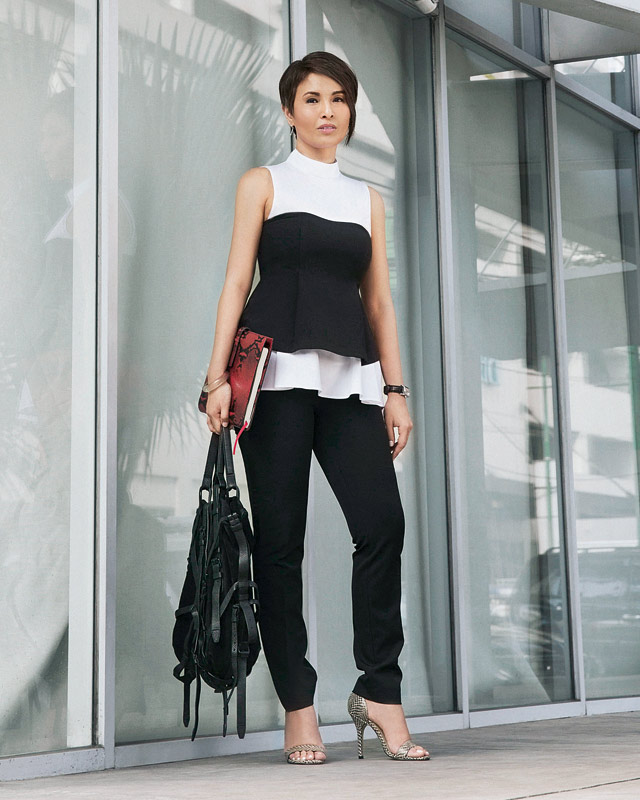 Vanessa aces office style in a high-neck top, bustier and trousers from Zara, plus sandals from Neiman Marcus and an Alexander Wang tote.
Sure as she is of her current aesthetic, Vanessa's style evolution was a gradual one. "I was a bit boyish, living in V-neck T-shirts, low-waist pants, large belts, and Doc Martens. I studied in UP, so I pretty much embraced the freedom—as long as I thought I looked cool!" Entering the advertising industry fresh after college, Vanessa eventually came to realize that being trendy wasn't the priority.
"It's all about what looks good on you and what you're comfortable in. The thing is, clothes can help you connect with or disconnect from people. Sometimes, if what you wear is funny, people warm up to you more." Vanessa admits that it's easy to get overwhelmed by the stress of work, but that some of her fashion choices have always served as a remedy. "I have my share of being joked at and that's fine. It makes me less serious and that's good for the most part."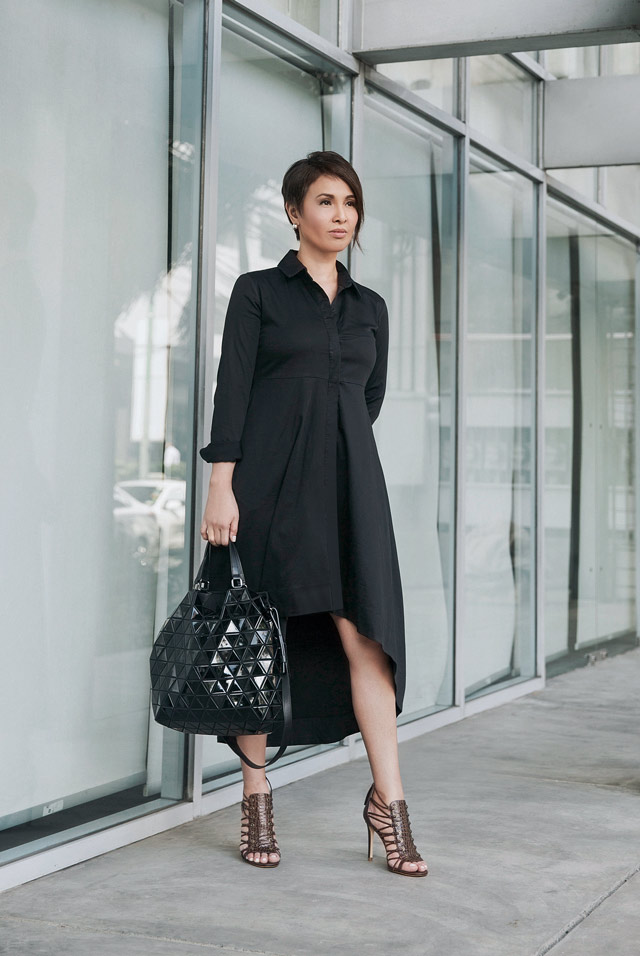 ADVERTISEMENT - CONTINUE READING BELOW
She keeps things polished in a Mosaic buttondown dress and an Issey Miyake Bao Bao.
Below, we ask Vanessa more questions about creatively dressing for the office.
How far can one go with creative workwear?
"As long as it does not make others feel uncomfortable and it fits your personality. I have this one top that people say makes me look like a hospital patient, but I think it's very Jil Sander, which I love. It's become a statement because of its effect on those who bother to make fun of me. I don't care, I'm wearing this even if you guys have something to say about it!"
How can you upgrade your workwear outfit from day to night?
"My formula for day-to-night dressing is to go for anything black and structured. Just dress it up for the evening—accessorize!"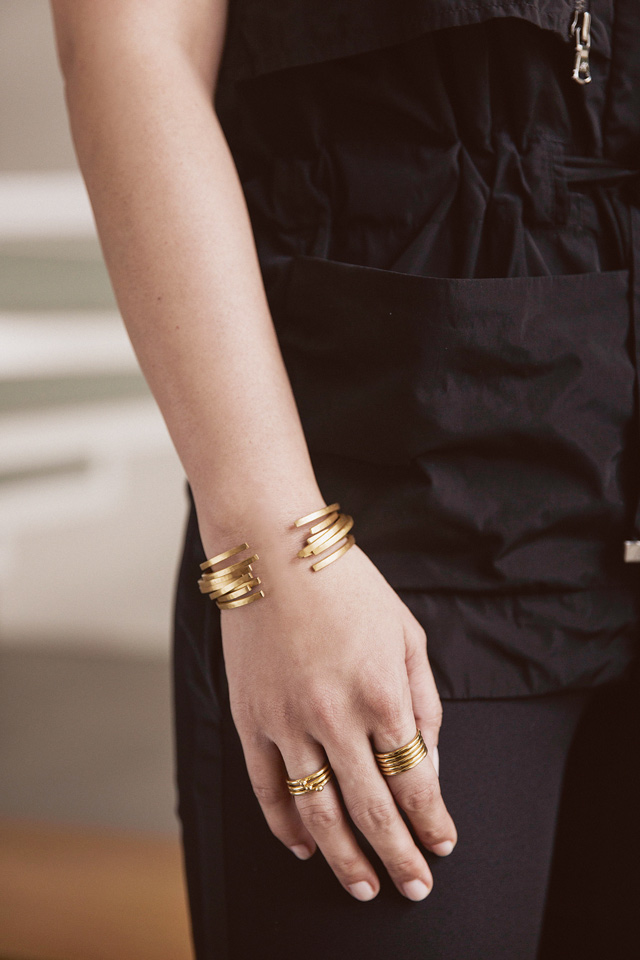 ADVERTISEMENT - CONTINUE READING BELOW
What are your office dressing dos and don'ts?
1. "Don't wear something you're not comfortable in."
2. "Always look presentable and respectable."
3. "Dress according to your body type. No one is perfect. The best dressers are the ones who work with their imperfections."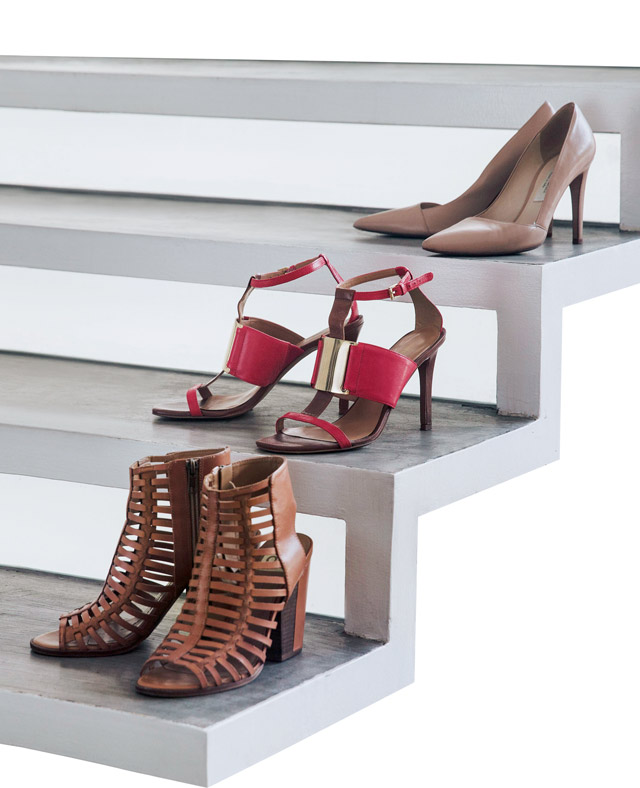 4. "Have some knowledge of your own fashion sense and aesthetic."
ADVERTISEMENT - CONTINUE READING BELOW
5. "Wear something that really looks good on you, not something you just think looks good on you. This is where true, honest friends come in, I guess." [Laughs.]
Produced by Yanna Lopez
Photographed by Koji Arboleda
Makeup by Kayla Go
Hair by Cats Del Rosario
Shot on location at TBWA Santiago Mangada Puno
*This article was originally published in Preview Magazine's November 2015 issue.
Related Stories from Preview.ph
Hey, Preview readers! Follow us on Facebook, Instagram, YouTube, Tiktok, and Twitter to stay up to speed on all things trendy and creative. We'll curate the most stylish feed for you!