Sexy styles are still at the forefront of fashion but Holiday 2011 has nixed the overt appeal of bodycon dresses and cutouts in favor of a more sultry approach. The word at play is seduction and whether you play coy beneath a veil of mesh or take the plunge at the decolette there's something ready for any woman to employ.
Mind you, baring some flesh isn't as easy as simply wearing less. You need to be keen on choosing the right styles (operant adjective is classy not trashy) and poised to pull it off. Taking care of your skin should come well before picking out the right dress. The supple, youthful glow of healthy skin will give you the right amount of confidence to carry any revealing garment with panache.
Read on to see our top 3 styles from Fashion Watch 2011 that will let you show off amazing skin!
Click on the photo gallery to see all the runway looks!
ADVERTISEMENT - CONTINUE READING BELOW
UNDER COVER

CONTINUE READING BELOW
Recommended Videos
WHAT: Tulle, mesh and lace have become the tool of choice for almost showing a lot of skin this season. Bare arms, a low back, or a dipped neckline are lovingly swathed in sheer fabric to let your skin shine from beneath.
WHY: See-through garments are subtle but still ultra sexy. It's a fabulous way to show skin without having to let it all hang out.
ADVERTISEMENT - CONTINUE READING BELOW
HOW: Play with textures by pairing these delicate pieces with more robust trousers, fuller skirts, and stiff jackets.
TIP: A deep moisturizing soap like Olay Age Defying Body Bar will help keep your skin younger looking and free of imperfections. After all, you want to stand proud with nothing to hide despite being under cover.
IN DEEP

ADVERTISEMENT - CONTINUE READING BELOW
WHAT: Necklines have taken the plunge quite literally and our sights are set on the deep Vs and scoops. Perfectly placed to only show the decolette and a hint of cleavage, the fronts of dresses and blouses have opened down to the waist in a still elegant manner.
WHY: It magically elongates and slims the torso, drawing the eye up to your face. Before you hesitate, note that showing this area of skin is actually flattering on, yes, every frame!
HOW: Have the confidence to simply wear it as is with a dusting of shimmer on your collarbones. If you're still mustering up some courage, wear it with a nude bustier bodysuit to keep it sexy with the right amount of coverage.
TIP: Keep your chest and shoulders show-worthy by giving your skin some extra love and attention. Extend your moisturizer to the neck area and a bit below; it will definitely go a long way! Try Olay's Total Effects Touch of Foundation; a tinted moisturizer that smooths away the appearance of wrinkles and evens out the skin tone.
ADVERTISEMENT - CONTINUE READING BELOW
THE SPLITS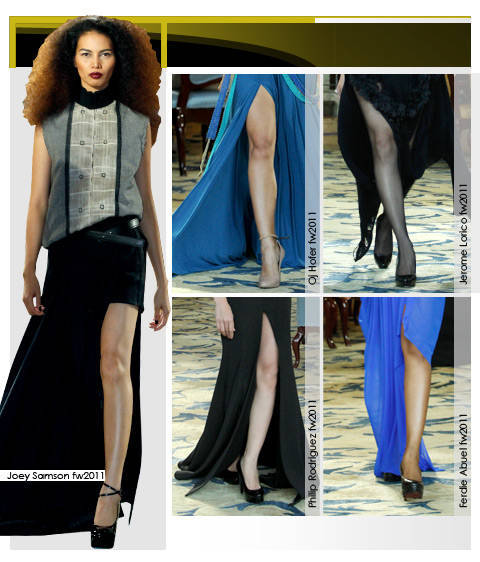 WHAT: Slits on gowns and long skirts are less demure these days rising as high as the upper thigh for some major leg action.
WHY: The illusion of length meets the drama of skin in this trend giving it two thumbs up in our book.
ADVERTISEMENT - CONTINUE READING BELOW
HOW: Lather on some shimmer lotion or leg foundation to make sure your gams are ready to be put on display. Pick out some fabulous footwear and you're ready to steal the show!
TIP: Keeping your legs in top form doesn't just involve a solid work out. Dark knees and spot imperfections could dampen the display. Treat your legs with care; the Olay Age Defying Body Bar will help you start moisturizing while you're in the shower to help achieve visibly younger looking skin!