Just recently, our very own Fashion Week Correspondent Nicole Andersson caught up with Tommy Hilfiger in Milan, Italy for Fashion Week. She got the chance to interview the designer and they chatted about what inspires him, the resurgence of logomania, and why the sporty look is cool now. Read on and learn a thing or two!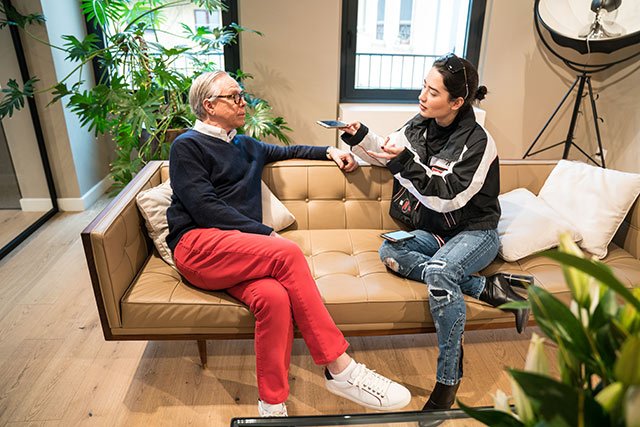 ADVERTISEMENT - CONTINUE READING BELOW
IMAGE Nicole Andersson
Nicole: How did you come up with your current collection? Did a particular person, incident, or idea serve as an inspiration to you? How does this translate through your clothes?
Tommy: "Gigi always inspires us and collaborated with the design, and so that was the starting point. However, this season we decided to use speed racing as the theme and we recently engaged in a sponsorship with Mercedes Benz F1 racing."
N: Did the collaboration with Mercedes Benz come before the speed racing idea?
T: "We were working on the Mercedes Benz idea for a while, while we were designing this collection. So we thought, okay since we're doing the sponsorship and doing the speed racing collection, which is very sporty, very active, it'll all coincide and harmonize together."
N: So it all fell into place?
T: "Exactly."
CONTINUE READING BELOW
Recommended Videos
N: If you could only wear one outfit for the rest of your life, what would it be?
T: "I would have to say, comfort has to be the most important aspect. And the rest of my life...well, maybe a sweatsuit? [Laughs] Some kind of a tracksuit?"
N: With logomania resurfacing from the '90s, how are you reinterpreting your pieces to fit the modern aesthetic? What's different this time around?
T:"Well, we went back to our archives, and we brought back a lot of the logomania from what we had done in the '90s but we modernized everything.
"Some of the font is more modern, some of it, I would say, is more simplistic. Some of it is a little edgier, depending on the item and depending on where the logo is placed. But we also incorporate logos into the themes. Like, a lot of the patches we're using now for speed racing is based on the inspiration of racing. So maybe you'll see some checked flags, maybe you'll see some logos that are, 'on the move,' so to speak."
ADVERTISEMENT - CONTINUE READING BELOW
N: With the cyclical nature of fashion, how do you spot a trend that has the potential to be resurrected years later?
T: "I think it's the mood that is almost in the air. Sometimes we think that we should do something specific and timing is everything, so if it's the wrong time, we have to sort of bank it and wait until the right time.
ADVERTISEMENT - CONTINUE READING BELOW
"We've been forcasting this oversized trend to come back but doing it at the right time is really important. If we did it two years ago, it would have flopped."
N: Is it more of an instinct? Is there a lot of research involved? How do you find a balance between market research and your gut feeling?
T: "I think it more has to do with what's going on in the streets. And in certain places, like L.A., you sometimes sense a trend coming about. Or maybe if you see something in Tokyo on the streets or if you see something in a certain area on a certain type of person, you think, 'Well, okay, here's a trend that's about to happen.' And I think that the second some of the cool brands do something really cool, a lot of the other brands tend to follow.
"If you look at some of the fast fashion people, they're watching every runway show and they jump on the trends faster than anyone else. But prior to that there is something in the air that is sometimes cyclical, sometimes every seven years something comes back like the rugby shirt or the carpenter jean or something we might reintroduce. And it is instinctual sometimes but the confirmation comes from seeing it on real people."
ADVERTISEMENT - CONTINUE READING BELOW
N: Sportswear is currently having a moment in fashion. Why do you think the resurgence of sportswear is happening and how has the brand's aesthetic evolved to suit this generation's taste for athletic-inclined gear?
T: "Well, let's start with the fact that sports are cool. Whether you're looking at soccer, skiing, or tennis, there's something very appealing about people who are engaged in sports. The activity, whether it's on the field or court, everyone wants to look sporty. Whether they're really sportspeople or not. People want to at least look like they're going to the gym. There's a comfort factor to it and there's a tactical factor to it. A lot of the sports uniforms are made with tactical fabrics to give it the stretch and the wicking factor, breathable, waterproof, I mean, all sorts of things. So I think there's a real meaning behind sports-inspired clothing used for casualwear. And the meaning is people want to look cool, look like their active and engaged, and there is some sort of aspiration behind it."
ADVERTISEMENT - CONTINUE READING BELOW
N: Do you adjust the fabric or material you use to go with that?
T: "We're always looking at new materials and looking at ways to incorporate something technical. Whether its something as simple as stretch or something reflective, we're always looking at how we can incorporate something with meaning, with function, into fashion."
ADVERTISEMENT - CONTINUE READING BELOW
N: Our readers always want to know about on-trend outfit combinations and your brand is all about that cool all-American vibe. What's the easiest way to look cool now?
T:"I think what is cool is the right color combination. Some people have a sense for putting together the right combinations, some people don't. But I think that if you're looking at being on-trend or being current, I think color is key. I also think fit is very important, because if you have something that is really cool but doesn't fit well, it sort of loses the vibe.
"So we have color, fit, obviously, style, and quality. If something is made with great quality, it stands out. You can see it right away."
N: After working with pop culture bigwigs like Gigi Hadid and the Chainsmokers, who's next? Should we expect another collab coming up?
T: "I think you can expect surprises coming from us in the future, but we really cannot really reveal any of the next collaborators. But if you look at some of the casting in our show we have some really cool people. We have Hailey Baldwin, we have Winnie Harlow, we have Puff Daddy's son Christian [Combs], we have Snoop Dogg's son [Cordell Broadus], some very cool people in the show."
ADVERTISEMENT - CONTINUE READING BELOW
N: Who is the Tommy Girl today?
T: "Gigi Hadid, to me. But if you look at our new campaign you've got Hailey Baldwin, she's definitely a Tommy girl, has been from the minute she started modeling. Winnie Harlow, we think is incredible. She stands for someone who is full of confidence. Bella Hadid also, Gigi's sister, she's been in quite a few of our shoots."
ADVERTISEMENT - CONTINUE READING BELOW
Related Stories from Preview.ph
Hey, Preview readers! Follow us on Facebook, Instagram, YouTube, Tiktok, and Twitter to stay up to speed on all things trendy and creative. We'll curate the most stylish feed for you!