Preview Managing Editor Jacqui Salonga tells us all about her trip to Tokyo to meet Michael Kors as he opens his flagship store on the bustling streets of Ginza.
November 19, 2015
Getting ready to leave for Tokyo has been exciting and anxious for me—exciting because I get the opportunity to meet one of the great American designers, anxious, well – just because it was APEC week and I didn't want to be one of the many, many victims of traffic and unexpected flight delays or, even worse, cancellations.
ADVERTISEMENT - CONTINUE READING BELOW
Getting ready to taxi out of Manila at 2:00 AM.
Thankfully, Japan Airlines gave us a good heads up about the change in flight schedule (I was supposed to leave at 9:00 AM later that morning) so I didn't have to stay at the airport for long.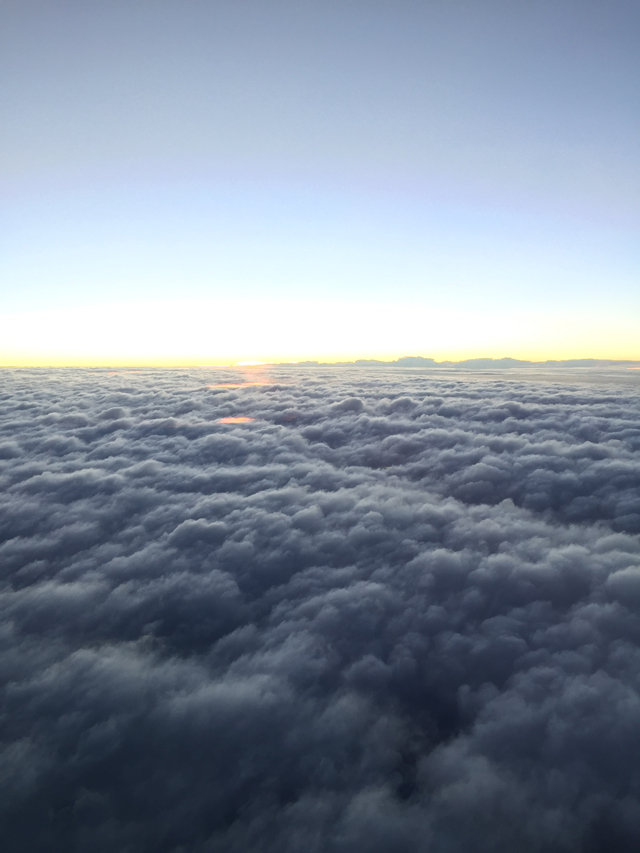 Waking up to the marvelous Japanese sunrise.
CONTINUE READING BELOW
Recommended Videos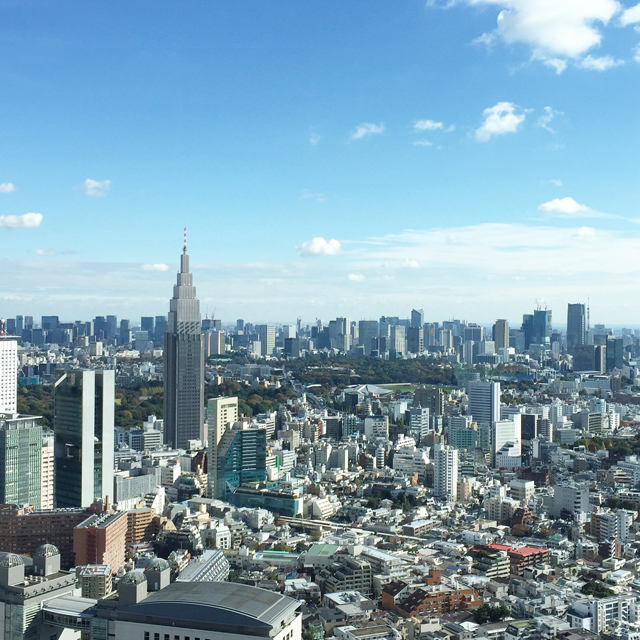 Good morning, Tokyo! This was one of the many views from the Park Hyatt Tokyo, nestled in the heart of Shinjuku.
ADVERTISEMENT - CONTINUE READING BELOW
Having a good cup of coffee while I get settled in. I also found a little welcome kit waiting for me in my hotel room from the Michael Kors team.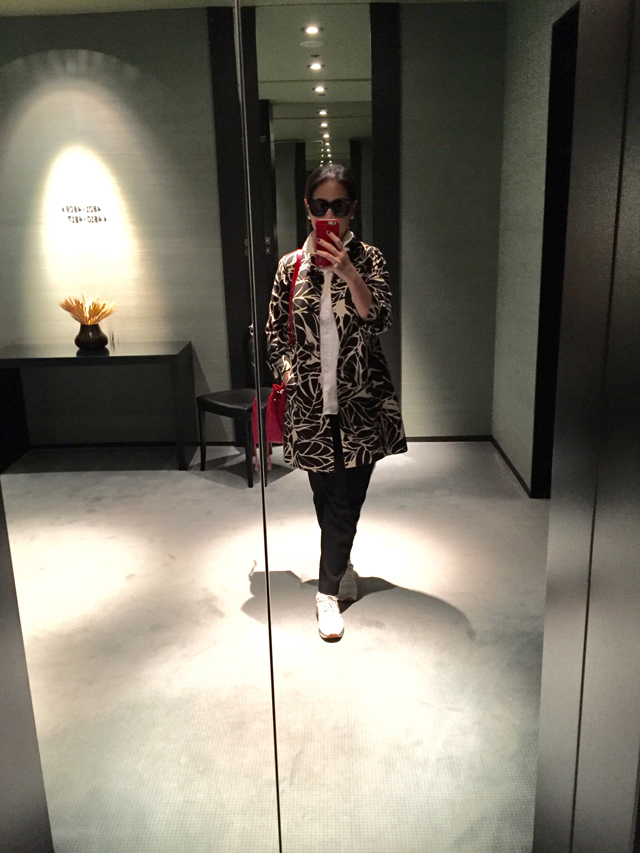 Sneaking in an #OOTD before heading out into the city. Please forgive me, a #selfienewbie here!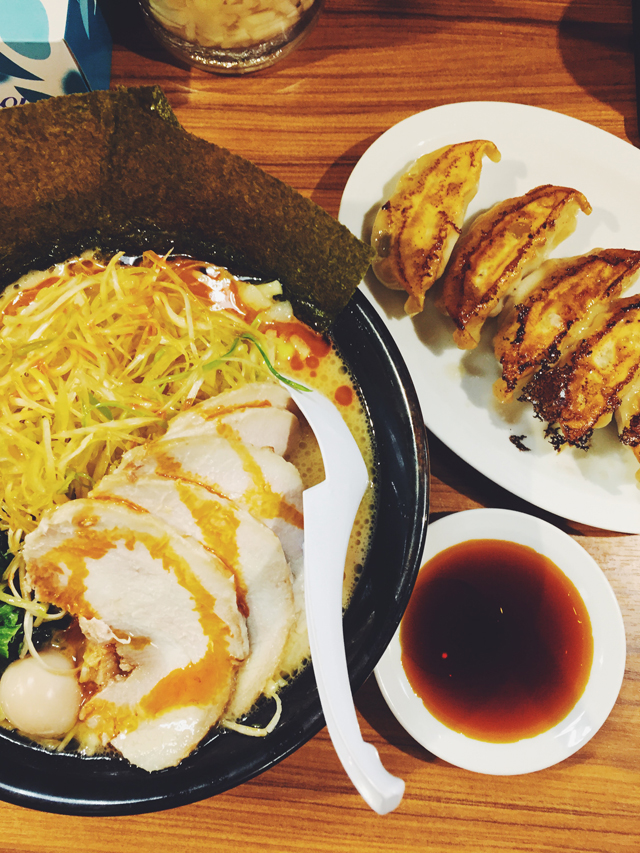 ADVERTISEMENT - CONTINUE READING BELOW
Took the subway back to Shinjuku to look around and stumbled upon this hole in the wall ramen place. No English menu, but the waitress was kind enough to help me with my order. Some Negi ramen with a side of gyoza! Yummeh.
All that walking had me check my health stats and I didn't realize that I clocked in about 23,000 steps! Time to sleep and get ready for the big day!
November 20, 2015
Woke up a little later than I hoped, I guess the lack of sleep kind of caught up. I wasn't able to have a hearty breakfast at the café, so I decided to load up with a cup of coffee instead as I went through my notes before the interview.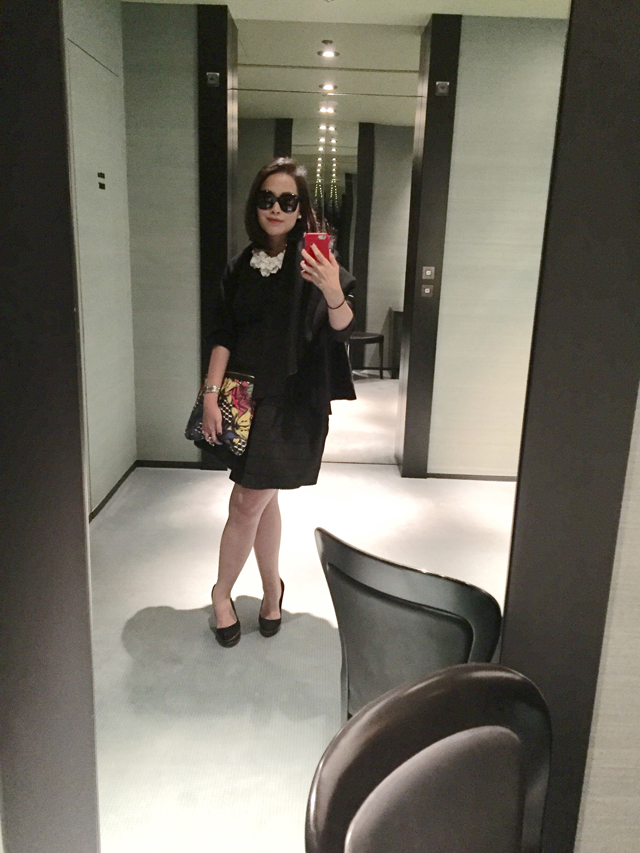 ADVERTISEMENT - CONTINUE READING BELOW
Here's a simple shot of the outfit I wore that morning. Going foolproof with an all black ensemble worn with a printed clutch and a floral resin neckpiece from Ken Samudio. I really have to learn how to take better selfies though. LOL.
Jessica Chan, the PR Manager from the Michael Kors US team, came to meet and brief me as to what was going to happen—they were taking me along with a couple of Korean journalists for our interview with Michael. She was saying that he just arrived that morning from Beijing, where they also opened a new flagship store.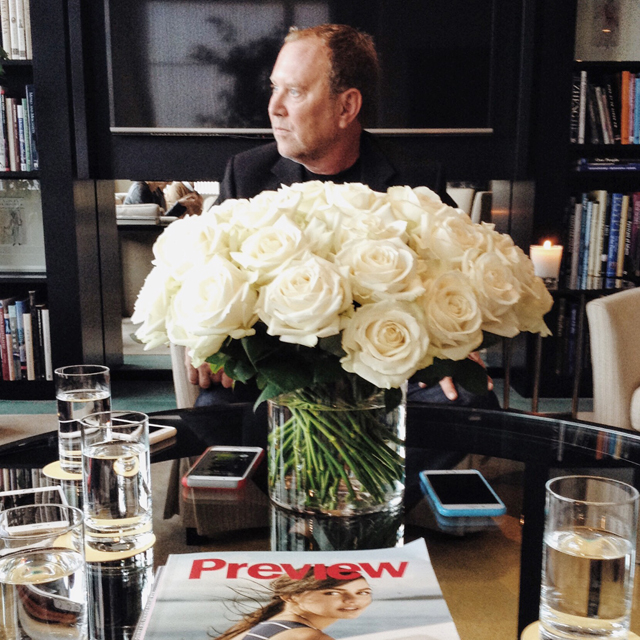 ADVERTISEMENT - CONTINUE READING BELOW
Getting ready for our interview with Michael Kors.
I made sure to bring a couple of Preview issues including the one with Janine Gutierrez on the cover because we dressed her in his SS15 pieces during #PreviewinPalawan (PS. He loved all the photos and is excited to visit the Philippines this month!)
As I listened to him talk about Asia, its influence on his designs, his travels and career which has spanned 35 years, it was great to see how he still gets excited about what's next. The interview went so well; the minutes just flew by! Of course, you'll have to wait a little longer for what's coming to Preview's pages. *wink*
Later that evening, we were waiting for everyone to come down as we rode off to the Ginza store opening. I was informed that Poppy Delevingne and Dakota Johnson would make an appearance at the event. While we got into a bit of traffic (Friday night madness!), I was able to talk a bit with the other press people who were from Hong Kong, Taiwan and Korea while we were in the car.
ADVERTISEMENT - CONTINUE READING BELOW
As we stepped into the store, we were greeted by flutes of champagne, mini-sized donuts and a little keepsake for every person who would walk in.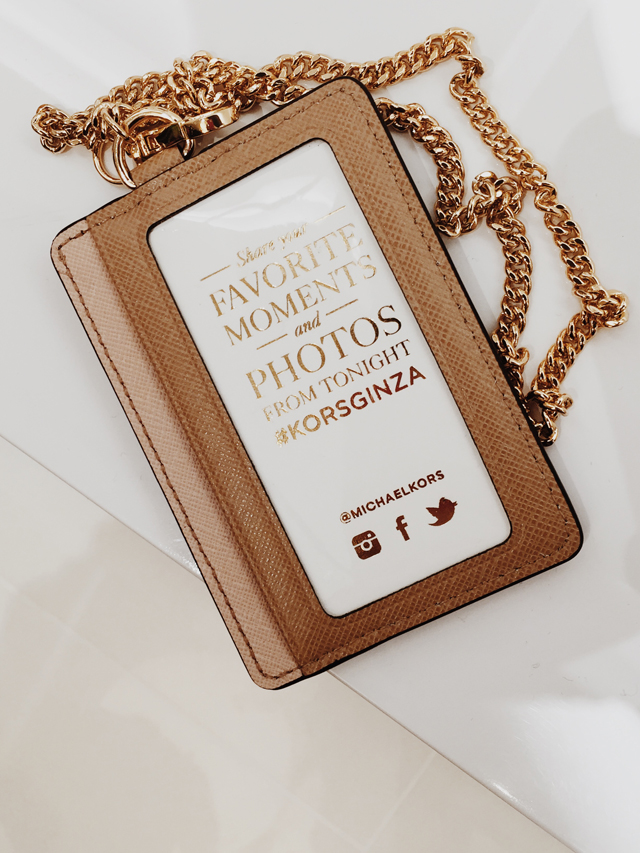 A little case with a pocket for cards and photos welcomed each guest.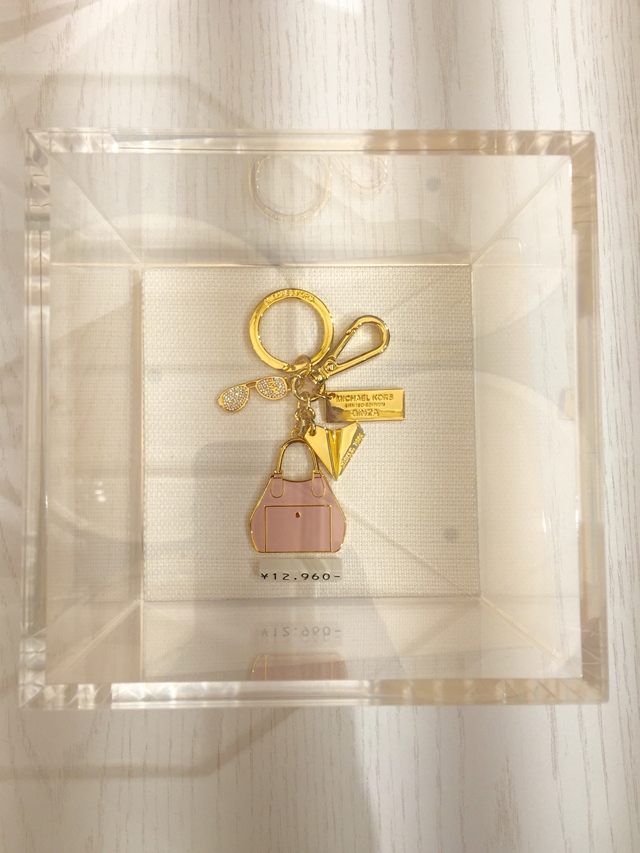 ADVERTISEMENT - CONTINUE READING BELOW
This limited edition keychain was one of the special items made especially for the Ginza boutique opening.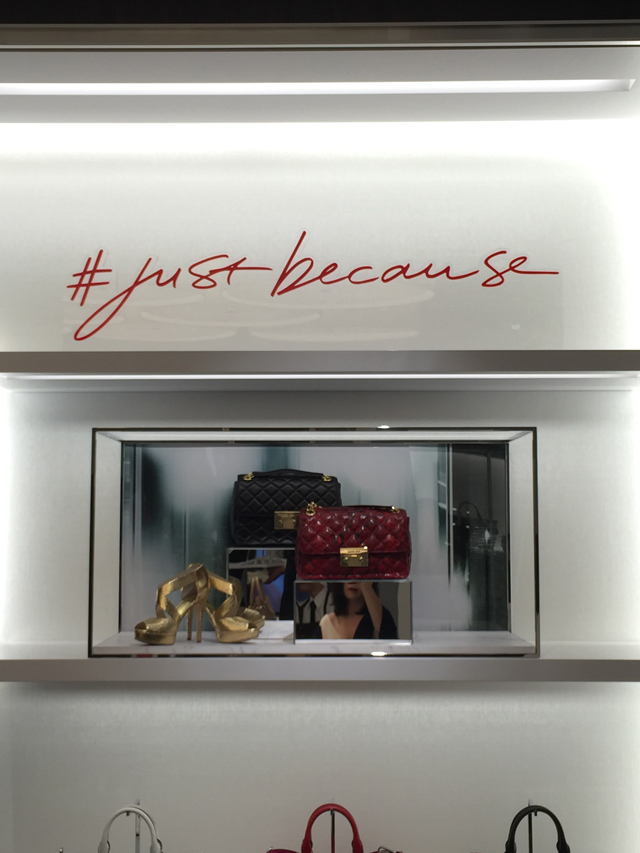 One of Michael Kors' signature hashtags – #JustBecause – was perfectly placed above a few of his many bag designs.
Another huge reason why the opening of this store was so special was because not only was this the biggest store in Tokyo, but this is the first Michael Kors boutique that would carry his entire line, including menswear.
ADVERTISEMENT - CONTINUE READING BELOW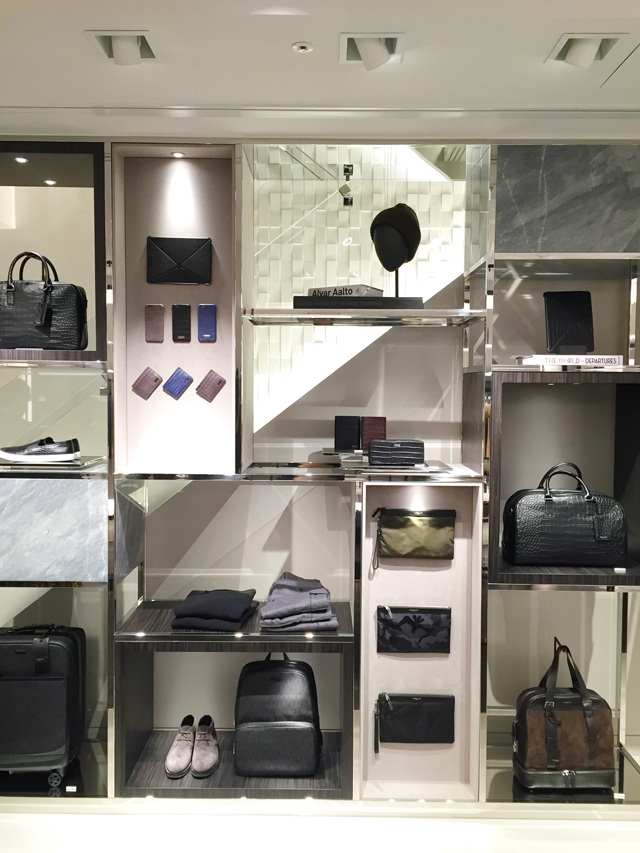 Here's the accessory wall in the menswear section located in the basement. I was so close to getting that black and gray camouflage zip clutch.
After looking through the men's section, we made our way up to the second floor, which carried the brand's timepieces, accessories, shoes, and apparel.
ADVERTISEMENT - CONTINUE READING BELOW
The area was packed with photographers and shoppers, I was lucky to have snapped a cute photo of Poppy Delevigne and Harley Newton, who was spinning some fun tracks that night. She also was the DJ at the store opening in Beijing a few days back.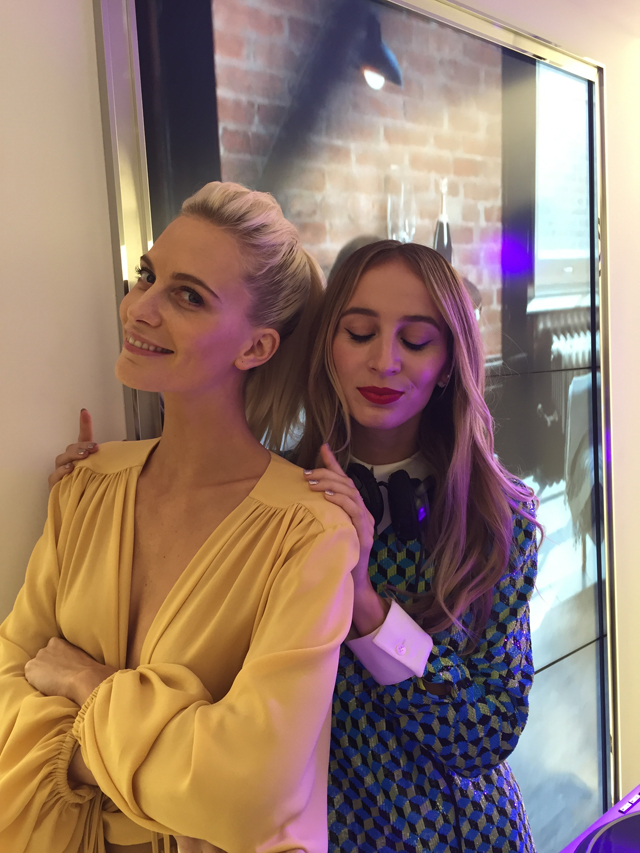 Poppy and Harley strike a cute pose together.
ADVERTISEMENT - CONTINUE READING BELOW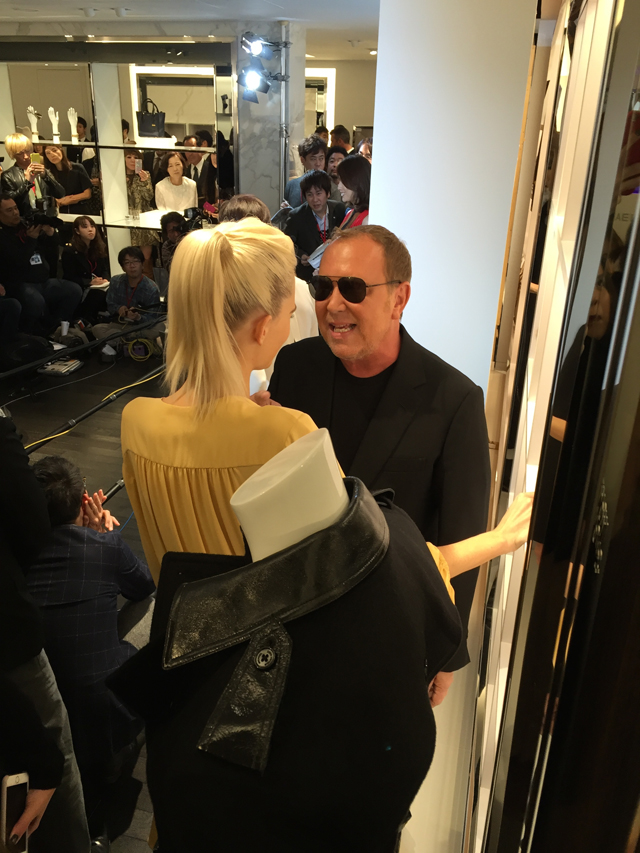 Michael makes his way into the store and shares a moment with Poppy as the photographers snap away.
The press people and I were told to proceed to the hotel after the event and weren't able to catch Dakota Johnson, whom I was told, arrived about a few minutes after we left. We all met at the New York Grill of the Park Hyatt in Tokyo for dinner with Michael and other special guests.
ADVERTISEMENT - CONTINUE READING BELOW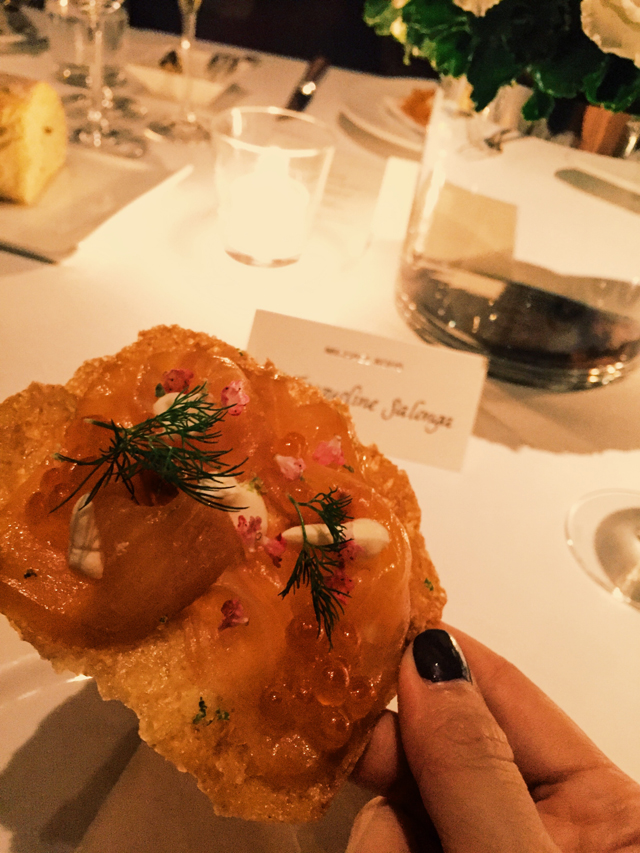 This has got to be my favorite dish that night – Smoked Salmon and salmon roe topped with sour cream and Shiso flowers resting on a crispy sourdough crust. YUM.
Dinner ended a little quick as everyone seemed tired. A little sad I wasn't able to take more photos of the celebrities, as they wanted to head up and retire for the night.
ADVERTISEMENT - CONTINUE READING BELOW
November 21, 2015
Now getting ready to fly back to Manila where my little family was waiting. Just one more stop before heading home!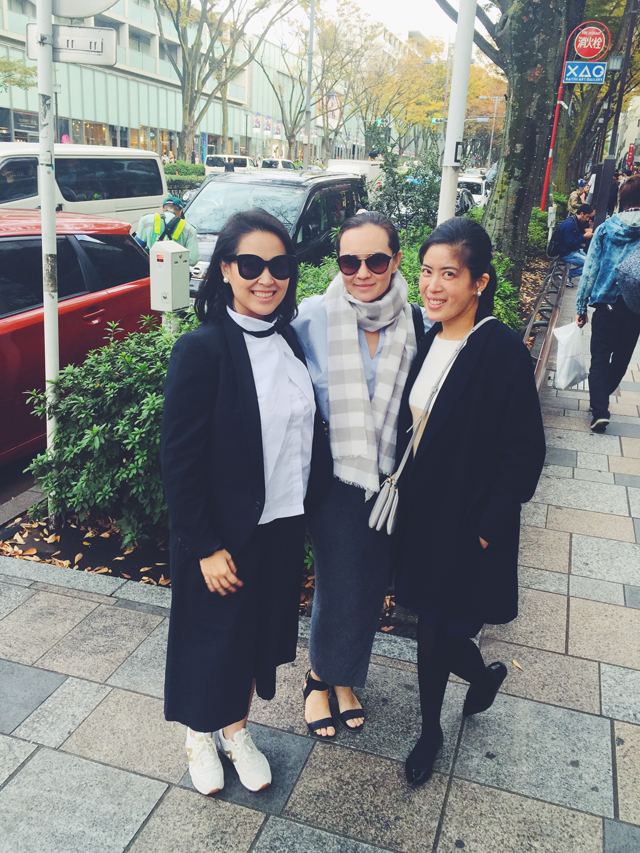 Met up with jewelry designer Nicole Whisenhunt and one of my best friends, Monica, who both happened to be in Tokyo at the same time I was! Here we are on the streets of Omotesando before I headed to the airport.
ADVERTISEMENT - CONTINUE READING BELOW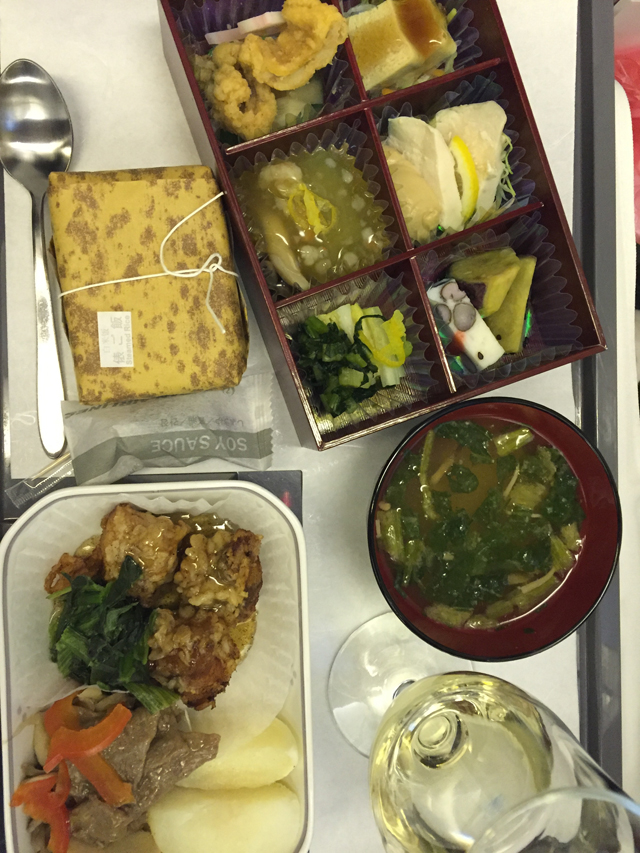 Last meal onboard! Went for the Japanese meal, of course.
What a great experience it was—meeting a fashion great and attending a milestone event for the Michael Kors brand, all while walking the amazing streets of Tokyo and getting to eat equally amazing food. Sayonara for now, Japan, I'll definitely be back!
ADVERTISEMENT - CONTINUE READING BELOW
Hey, Preview readers! Follow us on Facebook, Instagram, YouTube, Tiktok, and Twitter to stay up to speed on all things trendy and creative. We'll curate the most stylish feed for you!