Out of almost a hundred women vying for Miss Universe every year, only one is hailed as the most beautiful woman across the world and only one gets to wear the crown symbolizing the organization's advocacies. Now we zoom in on the crowns that the past Miss Universe winners have worn throughout the years. Scroll down to see all the crowns, plus just how much they're worth as well.
Does the Miss Universe winner get to keep the crown?
Some Miss Universe winners in the past got to keep their crowns and one of them is our very own Miss Universe 1973 Margie Moran. Though it wasn't the original crown given when she won—because hers got crushed in her flight to New York during her reign—she was given a replacement, which was good as the original. In more recent years, the Miss Universe winners have passed on the crown to their successors. They were, however, given replicas or tiaras as part of their prize package.
ADVERTISEMENT - CONTINUE READING BELOW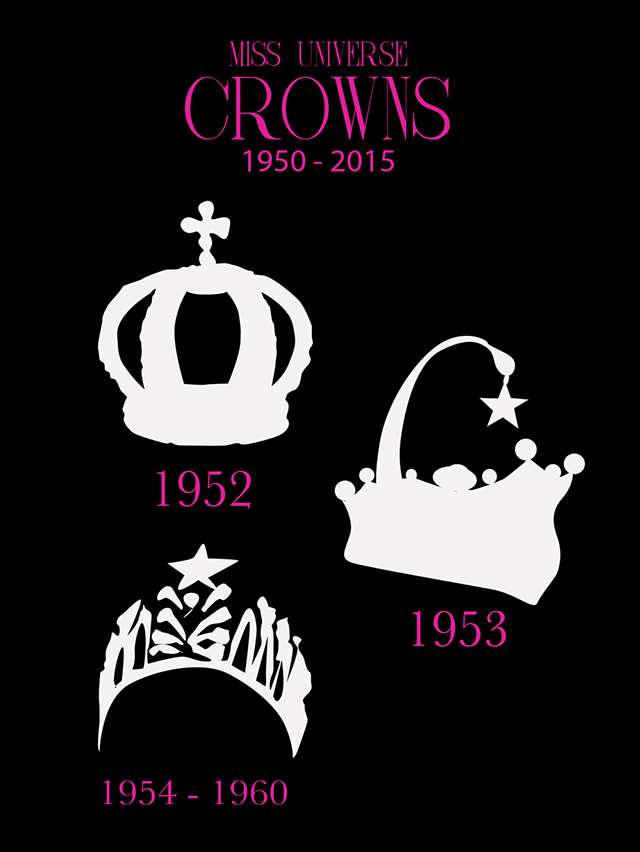 1952
The crown: The very first Miss Universe crown was the Romanoff crown previously owned by a Russian czar. It contains 1,529 flawless diamonds weighing 300 karats. It is insured for $500, 000.
Who wore it: Armi Kuusela (Finland)
1953
The crown: In 1953, the organization chose a bigger crown. It was fashioned in metallic bronze. The design was very simple, but unique in its own way.
ADVERTISEMENT - CONTINUE READING BELOW
Recommended Videos
Who wore it: Christiane Martel (France)
1954-1960
The crown: Called the Star of the Universe, the crown has an actual star as its centerpiece. Given to the winners from 1954-1960, it is valued at $500,000. The crown consists of approximately 1,000 oriental cultured black pearls set in its solid gold and platinum frame weighing 1.25 pounds. They weren't allowed to keep the crowns so the winners only wore the crowns on their coronation and their successor's coronation during their reign. When the crown was worn, the titleholder was always shadowed by a bodyguard.
Who wore it: Miriam Stevenson (USA), 1954; Hillevi Rombin (Sweden), 1955; Carol Morris (USA), 1956; Gladys Zender (Peru), 1957; Luz Marina Zuluaga (Colombia), 1958, Akiko Kojima, 1958 (Japan); Linda Berndt, 1960 (USA)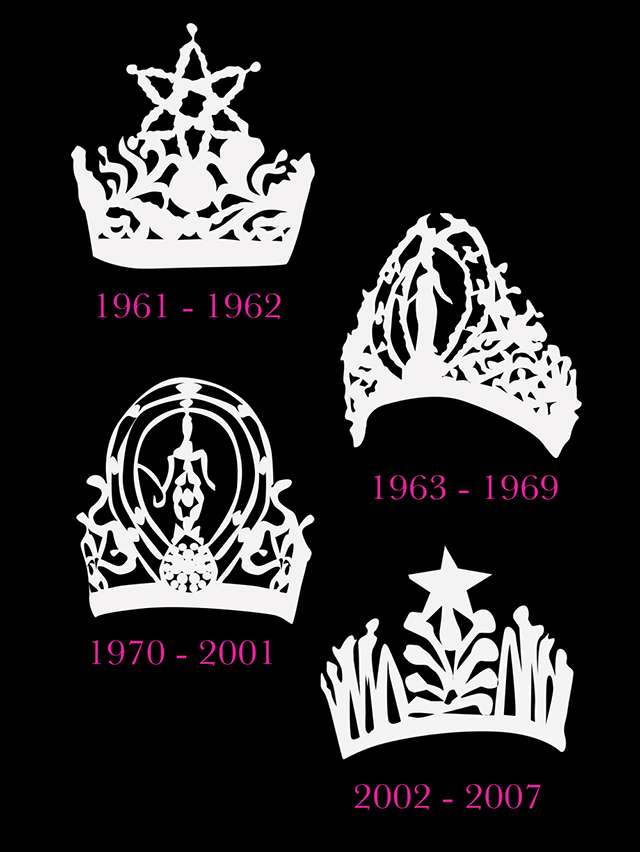 ADVERTISEMENT - CONTINUE READING BELOW
1961-1962
The crown: Miss Universe 1961 saw the first rhinestone crown of the pageant.
Who wore it: Marlene Schmidt, 1961 (Germany); Norma Nolan, 1962 (Argentina)
1963-1969
The crown: The most famous crown of the Miss Universe Beauty Pageant was the Miss Crown. Also known as the Lady Crown, its centerpiece is a crowned lady holding a scepter. The crown was used until 1969 and was never given to the winner.
Who wore it: Ieda Mara Vaga, 1963 (Brazil); Corinna Tsopei, (1964); Apasra Hongsakula, 1965 (Thailand); Margareta Arvidsson, 1966 (Sweden); Sylvia Hitchcock, 1968 (USA); Martha Vasconcellos, 1968 (Brazil); Gloria Diaz, 1969 (Philippines)
1970-2001
The crown: In 1970 the organization designed a new crown with a slightly different design—the Miss Universe crown had extended wings. It was made by one of America's most renowned jewelry makers Sarah Coventry. It had become the symbol of Miss Universe for almost 30 years. Miss Universe 1974 Amparo Munoz of Spain was the first titleholder to wear this crown. In the late 1980's, the crowns were made by International Gem and Jewelry Show, Inc. Miss Universe 2001 Denise Quinones of Puerto Rico was the last winner who wore this crown.
ADVERTISEMENT - CONTINUE READING BELOW
Who wore it: Marisol Malaret, 1970 (Puerto Rico); Georgina Rizk, 1971 (Lebanon); Kerry Anne Wells, 1972 (Australia); Margarita Moran, 1973 (Philippines); Amparo Muñoz, 1974 (Spain); Anne Marie Pohtamo, 1975 (Finland); Rina Messinger, 1976 (Israel); Janelle Commission, 1977 (Trinidad & Tobago); Margaret Gardiner, 1978 (South Africa); Maritza Sayalero, 1979 (Venezuela); Shawn Weatherly, 1980 (USA); Irene Saez, 1981 (Venezuela); Karen Dianne Baldwin, 1982 (Canada); Lorraine Downes, 1983 (New Zeland); Yvonne Ryding, 1984 (Sweden); Deborah Carthy-Deu, 1985 (Puerto Rico); Barbara Palacios, 1986 (Venezuela); Cecilia Bolocco, 1987 (Chile); Portnip Nakhirunkanok, 1988 (Thailand); Angela Visser, 1989 (Netherlands); Mona Grudt, 1990 (Norway); Lupita Jones, 1991 (Mexico); Michelle McLean, 1992 (Namibia); Dayanara Torres, 1993 (Puerto Rico); Sushmita Sen, 1994 (India); Chelsi Smith, 1995 (USA); Alicia Machado, 1996 (Venezuela); Brook Lee, 1997 (USA); Wendy Fitzwilliam, 1998 (Trinidad & Tobago); Mpule Kwelagobe, 1999 (Botswana); Lara Dutta, 2000 (India); Denise Quiñones, 2001 (Puerto Rico)
2002-2007
The crown: The Miss Universe crown used from 2002–2007 was designed by Mikimoto and depicted the phoenix rising, signifying status, power, and beauty. The crown has 500 diamonds of almost 30 carats, 120 South Sea and Akoya pearls, ranging in size from three to 18 mm diameter and is valued at $250,000. The Crown was designed specifically for the pageant on Mikimoto Pearl Island in Japan. The crown has an also comes with a tiara which the winner can keep after her reign.
ADVERTISEMENT - CONTINUE READING BELOW
Who wore it: Oxana Fedorova, 2002 (Russia); Amelia Vega, 2003 (Dominican Republic); Jennifer Hawkins, 2004 (Australia); Natalie Glebova, 2005 (Canada); Zuleyka Rivera, 2006 (Puerto Rico), Riyo Mori, 2007 (Japan); Catriona Gray, 2018 (Philippines)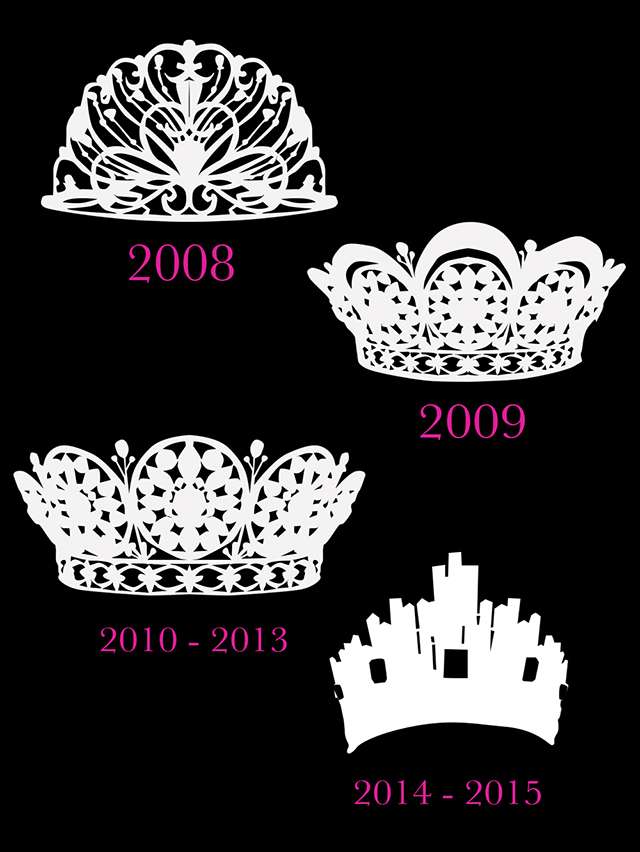 2008
The crown: A new crown was introduced in 2008. The white and yellow gold crown was designed by CAO Fine Jewelry specifically for the year. With over 1,000 precious stones, including 44 carats of diamonds, it is valued at $120,000. The design of the crown is highly symbolic, so it is called the Vietnamese crown symbolizing Vitenam's healthy economy, the crane, with represents the spirit and culture of the country. The other colors stand for inspiration, while the heart is meant to reflect faith, hope, and unity. The curved patterns of the stones are a tribute to every country, reflecting growth.
ADVERTISEMENT - CONTINUE READING BELOW
Who wore it:Dayana Mendoza, 2008 (Venezuela)
2009
The crown: Known as the Peace Crown, Miss Universe 2009, Stefania Fernandez of Venezuela was the first to wear it. The Diamond Nexus Labs made the crown with 1, 371 gemstones, weighing a total of 416 carats. It is an alloy that contains 14k and 18k white gold as well as platinum. But before the name Peace Crown became official, there was an online voting system in 2009 for Miss Universe fans all over the globe. They were given three options which were: The Unity Crown, the Hope Crown, and the Peace Crown.
Who wore it: Stefania Fernandez, 2009 (Venezuela)
2010-2013
The crown: The crown bears a similar design as the previous year (2009). Designed by the Diamond Nexus Labs, this is the first ever eco-friendly crown with synthetic rubies symbolizing the pageant's advocacy for HIV/AIDS awareness and education.
Who wore it: Ximena Navarrete, 2010 (Mexico); Leila Lopes, 2011 (Angola); Olovia Culpo, 2012 (USA); Gabriel Isler, 2013 (Venezuela)
ADVERTISEMENT - CONTINUE READING BELOW
2014-2015
The crown: For 2014, the crown's design was inspired by the D.I.C.'s Czech roots and the Miss Universe Organization's home base, New York City. It is made up of 33 Bohemian crystals, five blue topaz stones, 198 blue sapphires, and 311 diamonds. It took over 3,000 hours to make and is valued at $300,000. The crown symbolizes "the beauty, stability, and confidence of women around the world."
Who wore it: Paulina Vega, 2014 (Colombia), Pia Wurtzbach, 2015 (Philippines)
Related Stories from Preview.ph
READ MORE STORIES ON MISS UNIVERSE 2018 HERE:
The Complete Transcript of the Miss Universe 2018 Q&A Portion
Catriona Gray is Miss Universe 2018!
Catriona Gray's Miss Universe 2018 Evening Gown Was Inspired by Lava
Here Are All the Highlights From Miss Universe 2018
All the Signature Walks of Filipina Beauty Queens Over the Years
7 Miss Universe 2018 Candidates Wore Gowns by Filipino Designers to the Prelims
Here's Catriona Gray's Signature Look for Miss Universe 2018
You Have to See Catriona Gray's Lava Walk at Miss Universe 2018
ADVERTISEMENT - CONTINUE READING BELOW
Catriona Gray's National Costume Will Be Exhibited in Multiple Museums
You Have to See Catriona Gray's Preliminary Interview Outfit
Filipino Designer Monique Lhuillier to Judge Miss Universe 2018
All the Jaw-Dropping National Costumes From Miss Universe 2018
All the Looks Catriona Gray Wore in Thailand for Miss Universe
All the Details of Catriona Gray's National Costume for Miss Universe
FYI, Catriona Gray's Latest Miss Universe OOTD Has a Symbolic Meaning
Here's Your First Look at Catriona Gray's Miss Universe Walk
This Is How Catriona Gray Is Preparing for Miss Universe 2018
Hey, Preview readers! Follow us on Facebook, Instagram, YouTube, Tiktok, and Twitter to stay up to speed on all things trendy and creative. We'll curate the most stylish feed for you!