It's true, pop culture permeates the everyday lives of many—from art to music to fashion. Its dynamic imagery breaks into the choices we make: what to write, what to listen to, what to wear. And in the popular world of fashion, style is all about how you put together pieces you love.
ADVERTISEMENT - CONTINUE READING BELOW
This is exactly the perspective you get once you enter the recently-launched Thomas Sabo store in Power Plant Mall. There's a flash of fun anywhere you look; bright and pretty young things overflowing with such intensity.
Thomas Sabo is a German-based company that carries a wide selection of accessories: Sterling Silver charms, timepiece, bags and eyewear. Moreover, the lifestyle brand is known for its striking and provocatively tongue-in-cheek designs—with loads of irony and parody, sometimes loud and brash, but all in all fun and particularly attention-grabbing.
CONTINUE READING BELOW
Recommended Videos
I can't even begin to tell you what you can fill your hands with the moment you enter the store. The pink and yellow walls automatically swallow you into its bright and colorful, kitsch-meets-classic world. You will be charmed (pun intended) with trinkets in all shapes, sizes, and colors. Some of the popular designs include skulls, shoes, punky robots, winged hearts and enamelled lightning bolts.
ADVERTISEMENT - CONTINUE READING BELOW
Thomas Sabo releases three capsule collections for Spring/Summer 2011. There's Rebel at Heart, which picks up on the '80s—neon colors, disco, sparkles, and glamour with rebellious hints. The Seasonal collection is all about oversized shapes with a play on bright colors and decidedly daring accents. And finally, the Classic collection consists of updated graphic shapes given a fashionable makeover with softer edges and cut zirconia.
ADVERTISEMENT - CONTINUE READING BELOW
I spotted Heart Evangelista trying on cocktail rings and pendants of ripped disco gear and skulls with enamelled horns. Carla Abellana was also seen donning a number of pieces from the Seasonal collection. Even Preview's Daryl Chang was also piqued by a number of pieces.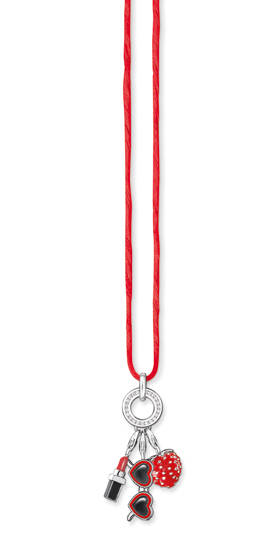 "I liked the Rock 'n' Roll skeleton girl pendants and the heels and mini lippie charms; although, what made my heart skip a beat was the collection of sharks. They're my weakness. I bought a ring that was designed to wound around the finger, complete with evil grin, fins and tail. So cool!" shares Daryl of the ring we spotted her wearing at Philippine Fashion Week.
ADVERTISEMENT - CONTINUE READING BELOW
"It's always fun to have small trinkets that you can build up to reflect what you're into. Their Charm Club has all these mini replicas of obsessions: heels, bags. You know, usual girly things that we all collect in real life," Daryl adds.
There's a whole mishmash of lovable items to choose from. You're only problem is deciding on which one to pick. You can start by clicking on the photo gallery. But we're warning you; that's not even a smidgen of what's in store!
Thomas Sabo is located at the Second Floor of Power Plant Mall.