Marlon Rivera could be likened to a local Karl Lagerfeld. Although he doesn't have a cat named Choupette, he was once a creative director, fashion designer, university professor, makeup artist, film director, and florist all at the same time. Personally, I was a witness to his genius as his former advertising student in Univerity of the Philippines, having assisted him during his fashion designer phase. And did you know he even managed to land the top spot on Preview's Top Ten Best Collections of Philippine Fashion Week back in 2011? Yes, he did.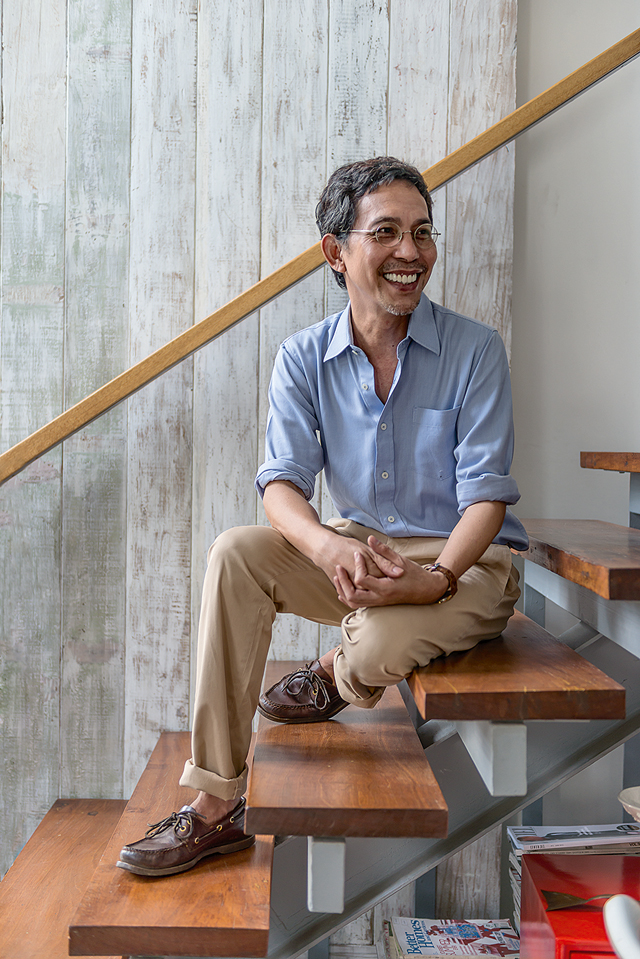 ADVERTISEMENT - CONTINUE READING BELOW
Sir Marlon lounging on the steps in his home down south.
CONTINUE READING BELOW
Recommended Videos
He's frankly one of the smartest, wittiest, kindest, and most impeccably stylish people I've ever met—and if you follow him on Facebook, he's got the funniest but well-written rants about the traffic here in the metro (he tags them #trafficthoughts). Nowadays, he freelances as a creative consultant, does makeup from time to time, and arranges bouquets for Blue Barn. This month, he walks us through his dream home, which he's built through years of thrift shopping and hoarding knick-knacks here and there.
"My house is called Casa Moda. I like the whole pretend play thing. But the funny thing is, I'm also very practical."

"I have a lot of rustic pieces because I like thrift shopping. I would just buy, and buy, and buy. I have more than 16 beds! I either buy them from Evangelista or I have them made by this guy who salvages old houses and makes furniture."

ADVERTISEMENT - CONTINUE READING BELOW

>

"At work, people are talking all the time. When I come home, I just want it to be quiet.">
Read the rest of our feature on Marlon Rivera in our September issue here. >>