Gian Reyes at Cannes (photo via Gian Reyes)
Based out of Australia, Filipino menswear blogger Gian Reyes got to cover the first ever Cannes Fashion Festival in France. Style Bible asked him how he scored the invite - and packed for the world's chicest film fest. (Sorry, MMFF.)
Congrats! How'd you score this cool stint?
"Late one night I received an email from a UK based PR company asking me to apply to become an official blogger for the first ever Cannes Fashion Festival, which was happening right across the Film Festival at The Majestic. It wasn't until some months later that I got an email from Marc Ziegler, Cannes Fashion Festival's media director, that they confirmed that I had been chosen as an official blogger. There were over 900 applicants from all over the world and I was one of twenty chosen and the only one in Australasia.
ADVERTISEMENT - CONTINUE READING BELOW
As an official blogger, we were given full media accreditation, which gave us access to the models and designers. We also acted as judges to the designers and models for the end of festival award ceremony."
Your menswear blog is called Wayward Son - based in Australia, yes?
"We are based in Australia but I really cover a lot of men's interests, not strictly men's fashion. Modern men are multi-faceted now, they want to be better informed.
I started Wayward Son only last September after a trip to Germany. I was looking for a magazine to read and found that there was nothing there for me. GQ was too aspirational and magazines like Ralph and Maxim seemed to lack substance. I was after a more practical lifestyle guide, so I decided to start Wayward Son – it's fresh and a little bit rebellious and focuses on what I like to call attainable luxury."
CONTINUE READING BELOW
Recommended Videos
I imagine you had to distill your travel wardrobe to a few basic pieces. What did you bring to Cannes?
"Three suits, different shirt options, ties, dark denim jeans, a couple of knits, a few tees and of course a couple of pairs of sunglasses. It's true ladies, guys have it easier, make sure to let your man know when he's being impatient with your packing."
Did you end up doing a lot of walking? What shoe did you use the most?
"Apart from attending shows, I also love to explore cities and find amazing hidden places. You can also save a lot of money, walking just 15 minutes away from tourist hubs and get more of an authentic experience.
I picked up this pair of driving moccasins from a local Sydney designer Eve & Kane, they were comfortable to walk in and a godsend for the 26-hour commute getting to and from Cannes. (Always support local designers and small family owned businesses!) They were suede and penny loafer style so they didn't look out of place with a suit."
ADVERTISEMENT - CONTINUE READING BELOW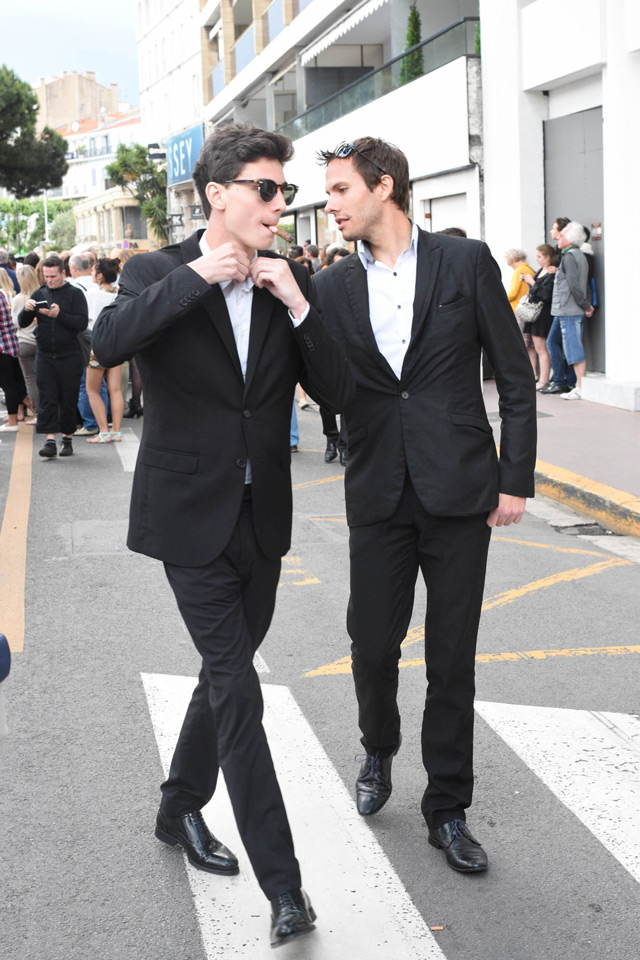 On the street: The suits at Cannes.
Are you always in suits?
"Leaving the corporate world, it's rare to see me in a suit these days, but I do enjoy wearing them, I think all men should feel comfortable in a suit – I must admit I do get a lot more looks from the ladies when I wear a suit."
ADVERTISEMENT - CONTINUE READING BELOW
So what's your personal style like?
"My personal style can be described as workwear prep, I like the masculinity of workwear and then pairing the items with traditionally preppy items, like denim shirts with a suit and knitted tie, or wearing my skinny jeans tucked into boots. I'm a bit playful with my accessories, I don't own a pair of plain colored socks, colorful pocket squares, wooden bead bracelets. For me it's all about a focus on details. Fashion should be fun, the fashion rules are more like guidelines anyway."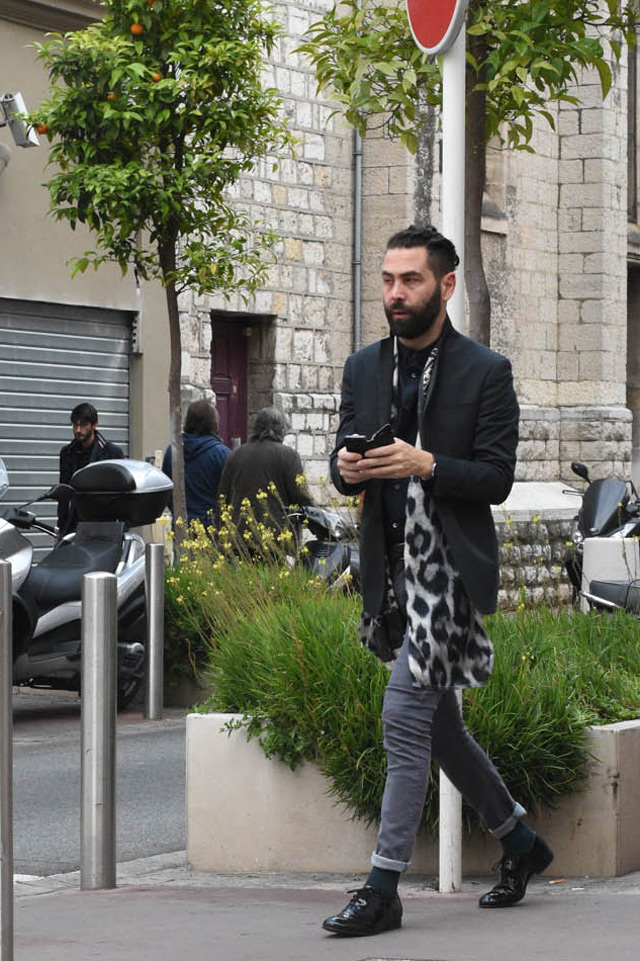 ADVERTISEMENT - CONTINUE READING BELOW
On the street: Men in prints.
What photo equipment did you bring?
"I brought a new toy to Cannes actually, a Nikon D7200, it's got this new feature that lets you download the photos to your phone, so I was able to share things real time. I consider myself a blogger but I do love photography, I'm not the best at it yet but hopefully I'm improving every day. I usually like shooting with a 50mm but I took a 35mm lens with me to Cannes, I was able to'shoot like a ninja' at the stylish people rushing to their events."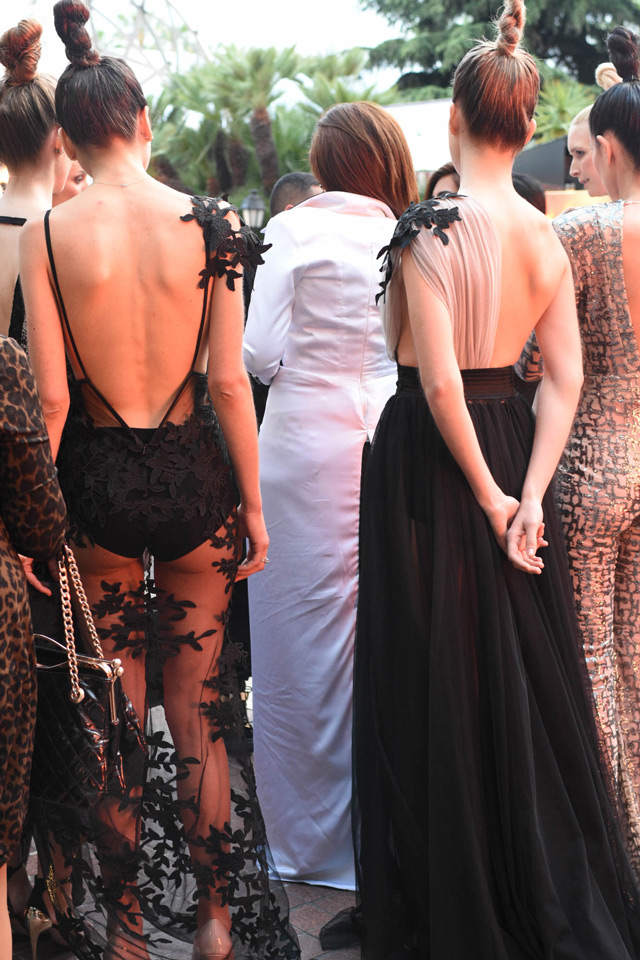 ADVERTISEMENT - CONTINUE READING BELOW
I see France... at Michael Costello's show at the Cannes Fashion Festival
So what trends did you spot?
"In both men and women's fashion I'm seeing a lot more monochromatic looks emerging. This look is perfected by the mixing of textures and fabrics, but then fashionistas are also throwing in playful silhouettes and architectural elements.
I think men in general are finally embracing prints, it's great to see. To get into this look, I suggest getting one key piece at first. Once you're comfortable with print proportions then start mixing it up. Conversely, I'm also seeing the rise of the gentleman look – subtlety with a focus on tailoring.
For women, I'm seeing an array of materials at play from feathers to leather. Without sounding sleazy, I'm also really liking the transparency trend, with sheer fabrics being used to cover up, without really covering up."
ADVERTISEMENT - CONTINUE READING BELOW
On the street: Transparent tunic over pants.
This interview has been condensed and edited.
See Cate Blanchett, Emma Stone and Emily Blunt at Cannes Film Festival 2015.
Find more Cannes street style on Wayward Son.
Photographed by Gian Reyes
Hey, Preview readers! Follow us on Facebook, Instagram, YouTube, Tiktok, and Twitter to stay up to speed on all things trendy and creative. We'll curate the most stylish feed for you!