In this month's issue, Preview took us on a journey to a mystical world in its fashion editorial, Spirited Away. Much like the Studio Ghibli cult classic animated movie, the shots look breathtaking and otherworldly. You might've asked yourself while browsing through the photos, "How and where did they shoot this?" We talk to the team behind it all: Preview contributing stylist Andre Chang, adventure-seeker photographer Roy Macam, makeup artist Omar Ermita, hair stylist Mong Amado, and Style Bible deputy associate editor and shoot producer Janey Aniban.
1. What was the story behind the shoot?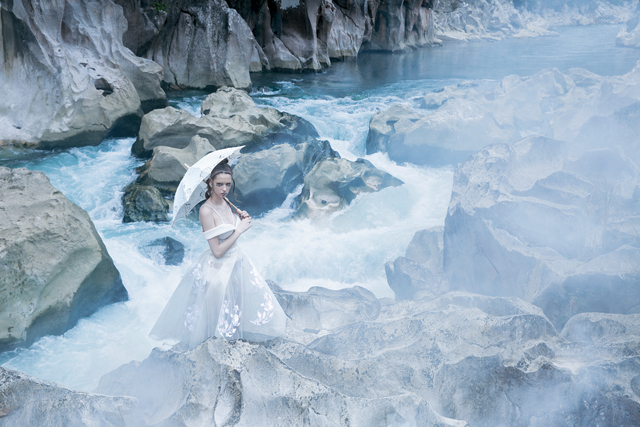 ADVERTISEMENT - CONTINUE READING BELOW
Andre: In a nutshell, it's a couture swimsuit story. But usually I like to combine several backstories inspirations and juxtapose them. Here, you see the trends such as romanticism like lace and ruffles, but you also see goth and tribal trends fused together. It's pretty but not dainty. The model/ character looks like a queen who knows how to kick ass.
For the makeup, what was the inspiration behind this look?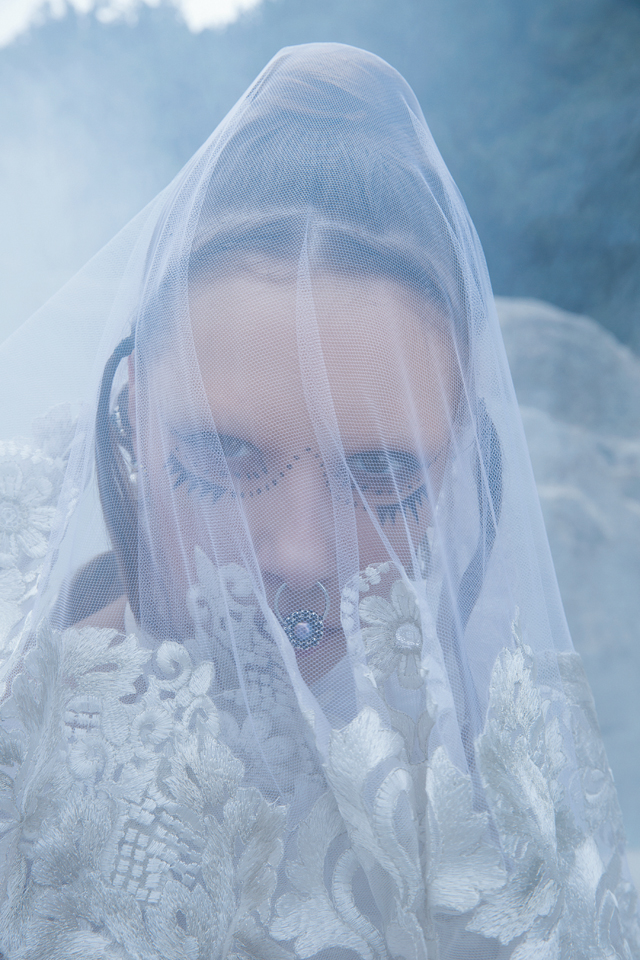 CONTINUE READING BELOW
Recommended Videos
Omar: Alienesque tribal nymph.
How about the hairstyling? Tell us something about the look you created. How would you describe it?
Mong: The hair I did was inspired from oriental and tribal pegs, [we] mixed everything together, and tah-dah! Masterpiece!
What made you decide to shoot on location, and why Daraitan river?
Andre: I wanted a very unreal location where there are a lot of surface/ textures. You'd normally never associate a river for a swimsuit story but that's the reason why I wanted to shoot there. It's unexpected. What's stunning about those rocky structures is that they look like glacier rocks and the high walls of the mountains behind were this cool bleached colour which allowed the clothes to pop.
Janey: Andre wanted a location with white rock formations and Isha Valles, Preview's EIC, suggested we get in contact with the folks at Jungle Base. I got in touch with them and after sending pictures back and forth they suggested we take a trip to Daraitan River.
ADVERTISEMENT - CONTINUE READING BELOW
Now this is a story we'd love to hear: How did you get to the venue? And was it difficult?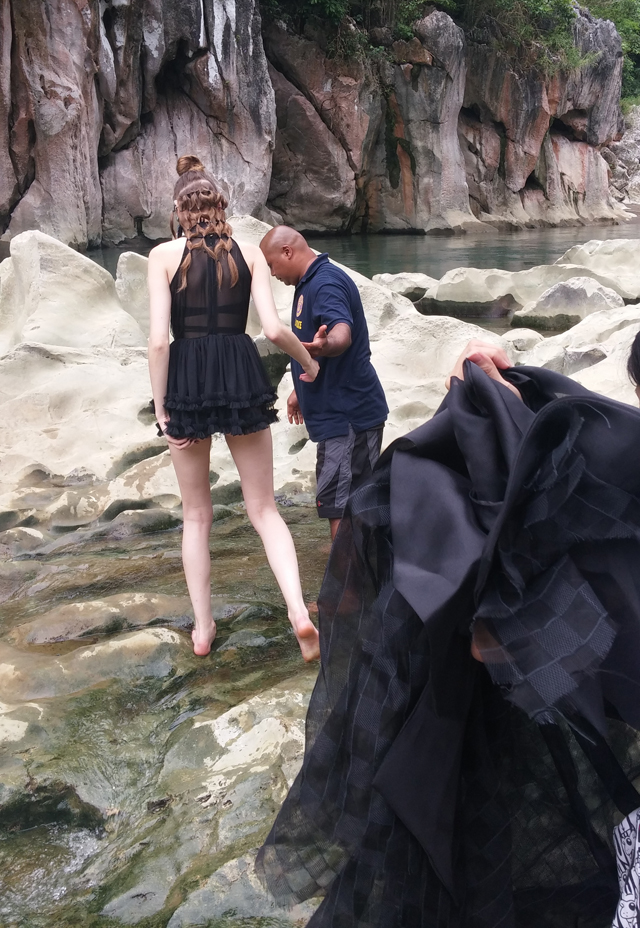 Janey: Before the shoot, Andre and I went to the site to see the lay of the land. The trip going there was quite an adventure! After three hours of driving we ended up at a fork in the road. The Google map I was following told me to go left up a hill, and so we did.
ADVERTISEMENT - CONTINUE READING BELOW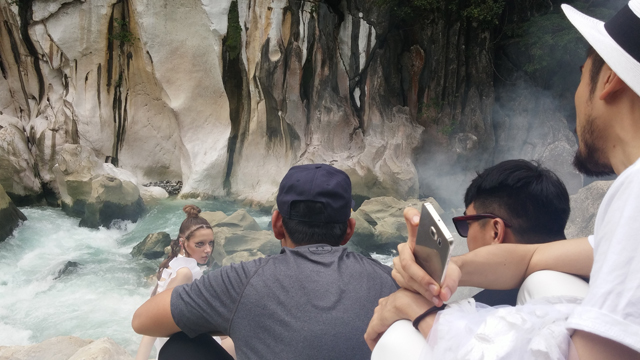 We went off road. Our driver was complaining, saying he didn't know the trip would be so rough on his car. We had to go really slow because the road was full of rocks, haphazardly strewn about and ready to receive us if ever our car went tumbling. When we got to our destination, it was a singular hut with a very puzzled woman. She asked us what we were doing here with a car that clearly wasn't made for the journey. I told her we were looking for the river and she told me what I was already dreading, "Nasa baba yung ilog. Dapat kumanan kayo." Dodging the evil stares coming from our driver (and his string of curses, too!), I called up my contact and asked for the right directions. We met up and our real journey began from there.
ADVERTISEMENT - CONTINUE READING BELOW
First off, let me say I wasn't dressed for a hike. My chunky white sneakers, ripped jeans and sleeveless top combo didn't work in my favor. We walked through winding paths and climbed over a few rocks, we even climbed down a slippery bamboo ladder to get near the rock formations!
The shoot looked effortless but at the same time complex. How was it like behind the scenes? Was it effortlessly easy?
Andre: Oh heck no. Majority of the team are not even adventure seekers nor trekkers except for our photographer Roy Macam (who recently came from Mount Everest). When I did the ocular prior to the shoot, I realized how challenging it was to go to the site. It's a 3 hour land trip, an almost 2 hour trek to uneven terrain involving scaling up and down on rocks, streams, and trees. I briefed the team to be ready for it. Surprisingly, our model Alexa was so game. All the while we were worried she'd back out or pass out during the trek. Also that day, the weather was so erratic. One minute it's overcast, the next sunny, then the next it's raining. We just had to adjust.
ADVERTISEMENT - CONTINUE READING BELOW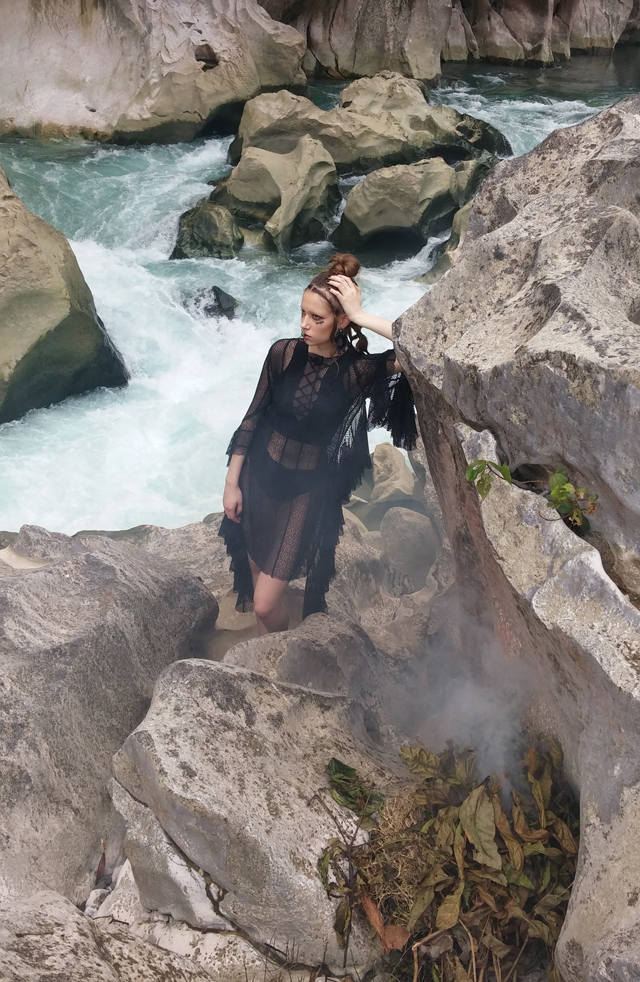 Lastly, that smoke/fog you see in the photos? That was man-made. Originally we brought a smoke machine with us complete with car batteries, but when we got to the location, it wouldn't work! It became frustrating because the photos wouldn't look that compelling without the smoke. That's when I realised why not use the leaves from the surrounding areas to build like a burning bush. Luckily our local guides were there and they built those bushes for us. But after all was said and done, when you get to the location, you seem to drop everything because the place leaves you breathless.
ADVERTISEMENT - CONTINUE READING BELOW
With the shoot having been done near a river, where did you do her hair and makeup?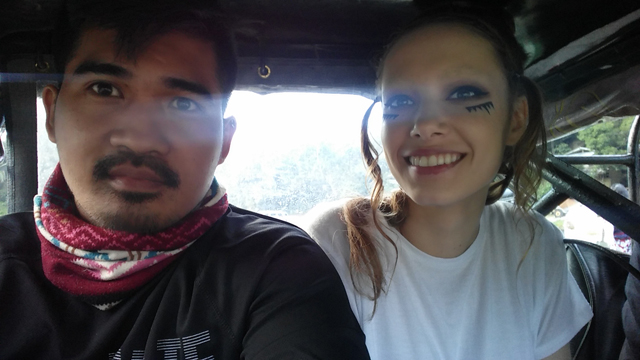 Mong and model Alexa en route to the shoot location. Hair and makeup prep started at 2 a.m.
Mong: We started doing her hair and makeup around 2 a.m. at the Summit Media head office in Pioneer. The following retouching was made at our camp near the river.
ADVERTISEMENT - CONTINUE READING BELOW
Andre mentioned the weather was unpredictable that day. How did that affect the way you did her look?
Omar: The weather is also something you have to take account for when doing an outdoor shoot, so the make-up was weather-proofed as well. We even submerged her in the river and her makeup survived!
How was it like doing the model's look outdoors?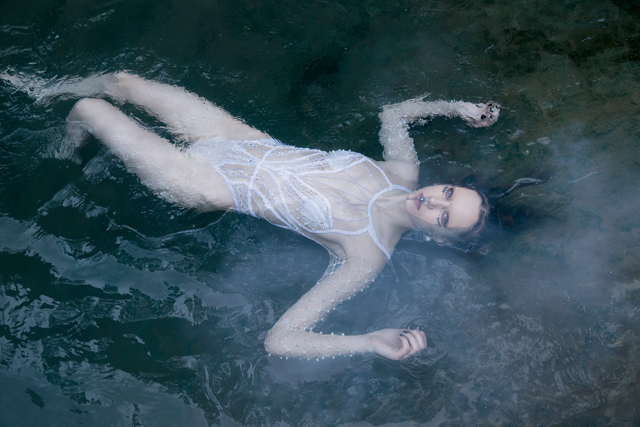 ADVERTISEMENT - CONTINUE READING BELOW
Omar: We were briefed that it was going to be an outdoor shoot with trekking involved so I had to make sure that her makeup would be able to survive the travel, sweat, sun, and water.
Mong: It was a great experience. Thanks to Andre Chang for choosing and deciding for us to have a certain look where curling iron and blow dryer won't be needed.
Roy, your shots really did look like they were taken out of a scene from Spirited Away. How was it like shooting this editorial?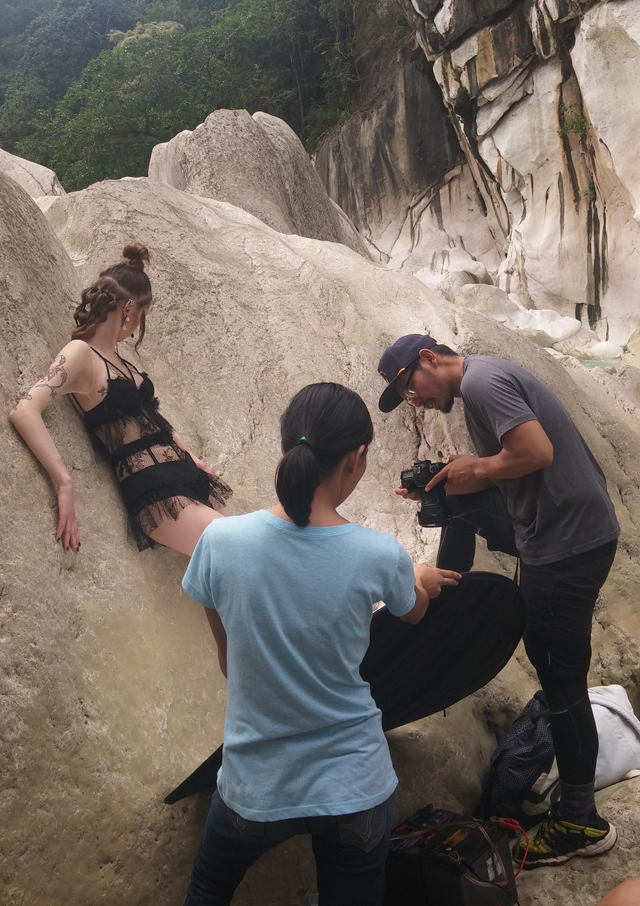 ADVERTISEMENT - CONTINUE READING BELOW
Roy: Definitely had a blast shooting the editorial. From the beautiful location to the whole team, it felt like we were just having fun like we were in a trekking trip.
Having the shoot done at rivers and rocky formations, how were you able to bring your equipment to the location?
Roy: I made sure to bring just the right equipment for the shoot because we were going to trek before we get to the location. Also, we were assisted by local porters so we didn't have a hard time bringing our stuff to the actual location.
Being an outdoor enthusiast (Andre mentioned you just came from a hike to Mt. Everest), what was your favorite experience from this shoot? Did you encounter any challenges along the way?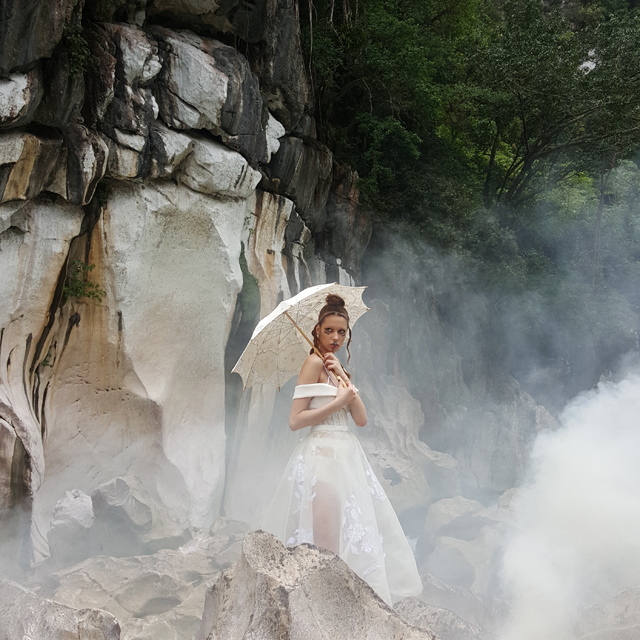 ADVERTISEMENT - CONTINUE READING BELOW
Roy: Favorite part of course was enjoying the beautiful scenic view of the place and enjoying it with friends. Maybe the most challenging part of the whole experience was when our battery pack for the smoke machine didn't work. It played a crucial role for the shoot. Good thing the locals who helped us with our stuff made a natural smoke machine made out of twigs/branches.
Janey, how was this one different from the other shoots you have produced before?
Janey: I've never shot on location, so doing the planning for this one was a new experience. Also, when we got to the venue I realized the importance of visiting the location before shooting. After leaving the car, we had to take a small raft across the river, take a 15-minute trike ride, and then hike 45 minutes to the rock formations. Imagine doing that while carrying loads of clothes, shoes and equipment!
ADVERTISEMENT - CONTINUE READING BELOW
Andre, would you want to go back there to shoot?
Andre: Hmm. I'll do anything for Preview. But if it weren't for Preview, I would never bother to go there. Lol.
See the full fashion editorial when you download our March issue here.
Hey, Preview readers! Follow us on Facebook, Instagram, YouTube, Tiktok, and Twitter to stay up to speed on all things trendy and creative. We'll curate the most stylish feed for you!