Today, we're looking outside of our usual suspects (the LBDs, the sequined tops, fringed dresses, and ruffled skirts) for what to wear to make a statement. It seems suits are offering some tough competition, thanks to Masanting Sastreria, which is breaking out of the rigid line of the power suit and making bespoke tailoring so much more fun for us. Founders Mark and Carin Aguas have made it their mission, not only to help preserve the dying art of bespoke tailoring, but also to enliven the experience of having a suit—once synonymous to stiff—crafted especially for you.
We sat down with the husband and wife tandem to talk about how Masanting Sastreria started and what we can look forward to with the brand. Read on!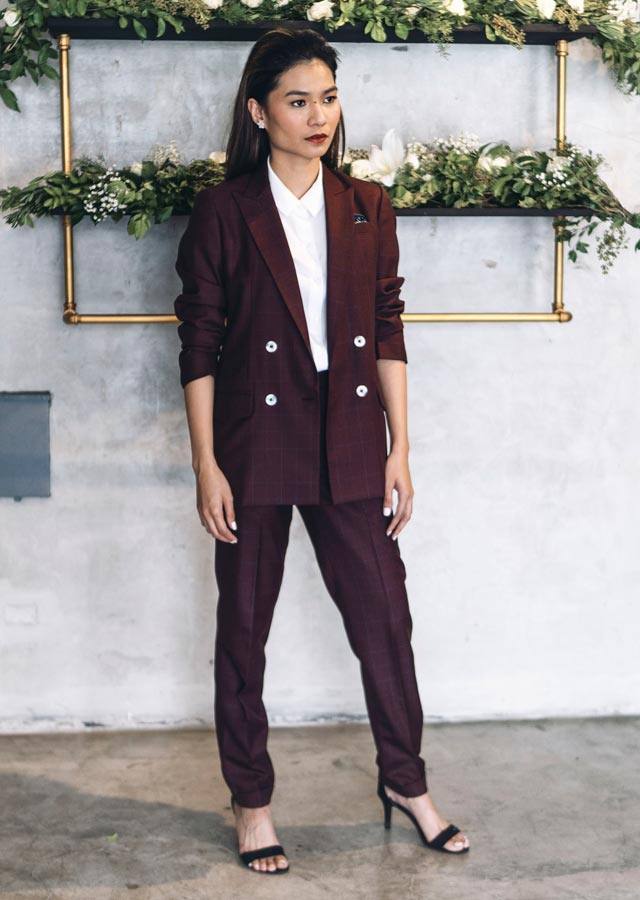 IMAGE Daniel Evangelista
Masanting Sastreria's Carin Aguas
How did you get started?
"I used to live in New York and my background is really in accounting and finance. Growing up, my mom would always tell me, 'You don't wear clothes to show off; you dress up to show respect to the people that you meet in your day.' So it always stuck with us.
"I had my first internship—of course I had to look nice, right?—nothing really fit me at that time because there weren't a lot of Asian sizes available in New York. So for my internship, I just had something done here. Then one of my colleagues inquired about my suit and for some reason, he thought I made it myself so he insisted that I make one for him, too."
So did you?
"He insisted and so we tried. I brought it up with Carin and she looked for a tailor in Manila. That's how we started—we coordinated everything via Skype. I would invite our first clients to my apartment then Carin and the tailor would be on the other end. I would take the measurements with their guidance and they would show fabrics for our clients to choose from.
ADVERTISEMENT - CONTINUE READING BELOW
"I guess, since Carin and I were in a long-distance relationship at that time, we needed an activity together and this became it."
How long were you guys in a long-distance relationship?
"Around seven years. So from there, it came to a point when I would visit Manila with an empty luggage then fill it up with orders going back to New York. For minor adjustments, I just had them done by a tailor in New York referred by my sister who lives there.
"We fell in love with the experience."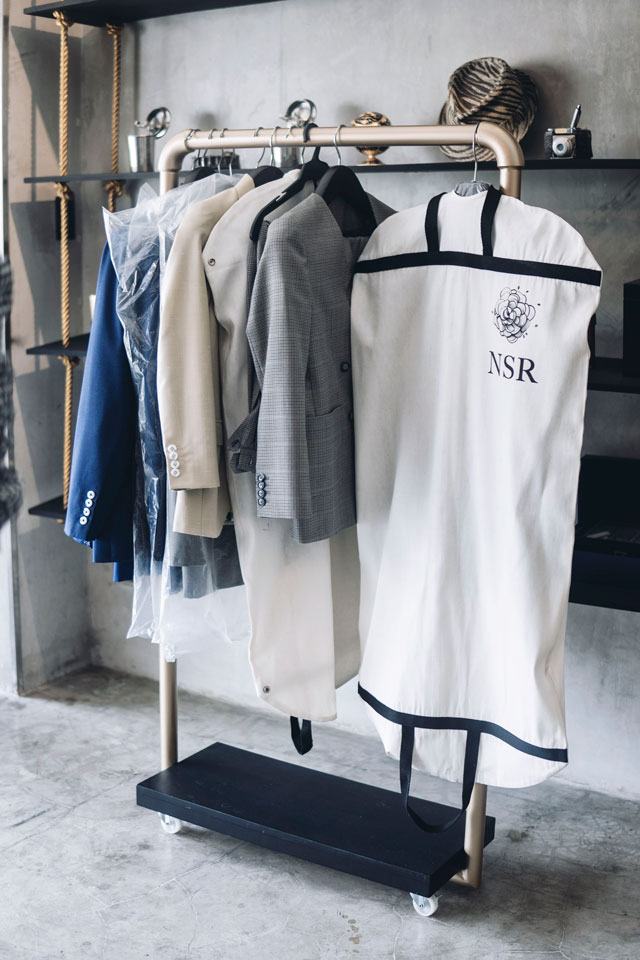 IMAGE Daniel Evangelista
So that's when you finally decided to go home?
"One time, I was window shopping at Brooks Brothers—that's what I do when I get stressed—when a random guy approached me and asked if I worked there. Usually, some people would take that as an insult, but for me, it meant he thinks I'm wearing something nice. Eventually, he asked me about my suit, so I told him the story of our hobby. And then he went on to say, 'I want you to dress my whole firm.' Apparently, he owns a hedge fund with around a hundred people working for him. I gasped. Mejo serious na 'to. So I brought it up with Carin and she was like, 'You gotta go home.' So that was one of the reasons I finally decided to go home, other than the fact that Carin and I have been a way from each other for too long."
ADVERTISEMENT - CONTINUE READING BELOW
So how did you get started in Manila?
"When I got home, there was a big typhoon that hit Tacloban where our master tailor was from. He had to go home so I let him. Everything was put on hold. Then one of our suppliers asked why we stopped ordering. I told him that we didn't have enough tailors at that time and we were also trying to structure the business better. They offered to help us find tailors and that's how we finally met our current master tailor, Larry."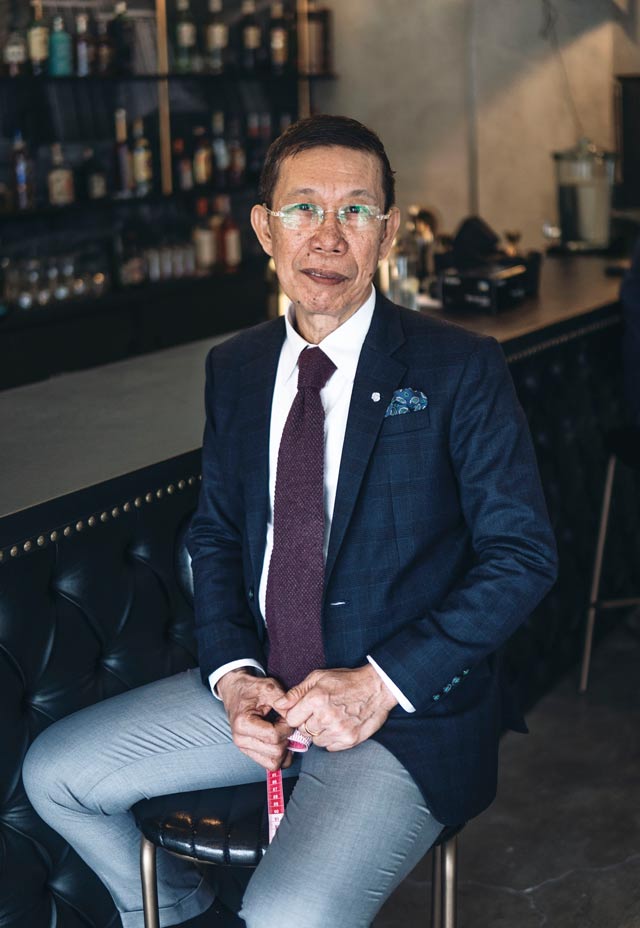 ADVERTISEMENT - CONTINUE READING BELOW
IMAGE Daniel Evangelista
Masanting Sastreria's master tailor, Mang Larry
How long did it take you to establish the business here?
"It probably took us close to a year getting things right. What I love about the old tailors is that they're really good. The only problem with them was that they didn't get to update the style because they were used to making the old-fashion silhouette. It took us maybe another year to break boundaries for them. Of course, there was a lot of back and forth until we were able to set standards. Example, he would say, 'Sir, sa X store and Y store, ganyan yan eh.' And I would argue that we're not trying to do that."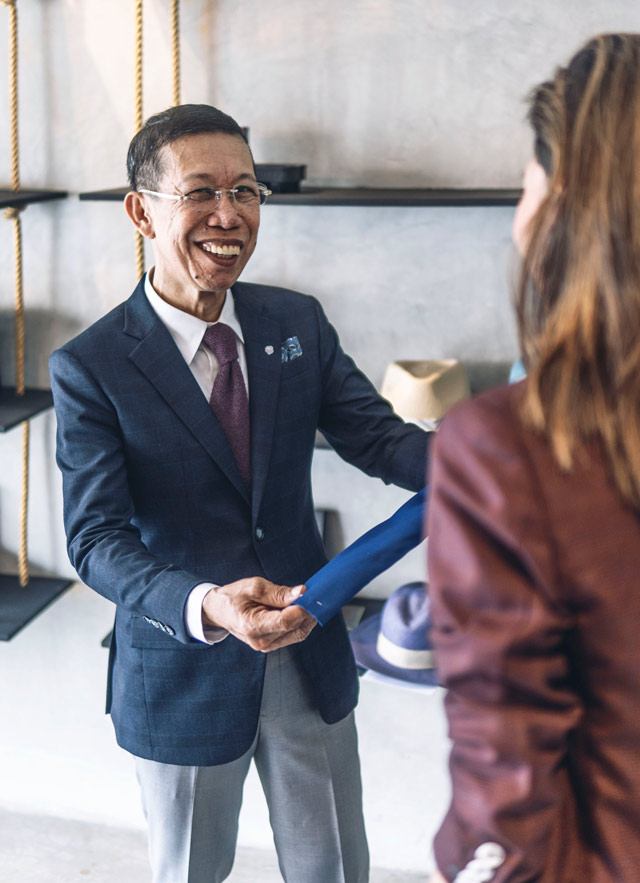 ADVERTISEMENT - CONTINUE READING BELOW
IMAGE Daniel Evangelista
How did you start selling?
"We worked with our friends who were brokers so that we could borrow spaces and have that apartment-feel setup. That's how the pop-up concept came about. We would invite clients—if you're a morning client, we serve you coffee then for afternoon or evening session, inuman na yan. [Laughs]"
How did you expand from there?
"We created that experience first then we eventually added a wedding package. We invite couples and pitch a look book that Carin creates for them. If they like it, they book us. Then we schedule a 'measuring party.' We invite the whole entourage even if we're just making for the groomsmen. It's like a pre-wedding party so that they're able to get to know each other na din rather than meeting for the first time on the day of the wedding. We also offer add-on services like being present on the day of the wedding to dress them up. That way also, we are able to help the photographers create stunning visuals featuring the suits. It helps that Carin is also in the wedding industry.
ADVERTISEMENT - CONTINUE READING BELOW
"We also introduced corporate pop-ups. We would get invited to offices and set up in conference rooms and have sort of a merienda there."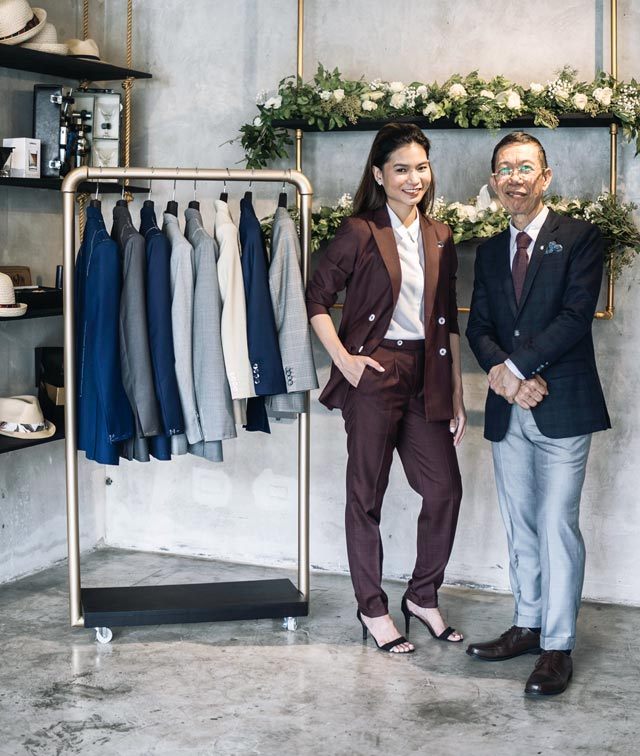 IMAGE Daniel Evangelista
You also recently launched your partnership with The Refined Grooming Lounge for Men.
"We are the official suit and clothiers of The Refined. The Refined is an upscale place where gentlemen can treat themselves to a variety of lifestyle services such as grooming (shave, haircut, mani/pedi, facial), massage (Mandala is the partner for this), cleaning and buying bespoke shoes, drinks, networking, and co-working space. It's currently open to walk-ins but is on a membership model, too. We are also offering bespoke shirts, made-to-measure suits, and pocket squares on top of our current bespoke suit offering now."
ADVERTISEMENT - CONTINUE READING BELOW
Why Masanting Sastreria and why that logo?
"My parents are kapampangan and 'masanting' means handsome. What a lot of people don't know is that the kapampangan love to dress up, aside from cook and entertain. We picked the Sampaguita as our logo because aside from it being the national flower, we love its smell and how clean it is but if you look closer into it, it actually has this beautifully complex petal pattern—much like our suits. You'd think it's simple, light, but if you look into it, marami kaming details na pinapasok, not just in the suit, but the whole experience. We always start with, 'What's the journey going to be like for this guy?'"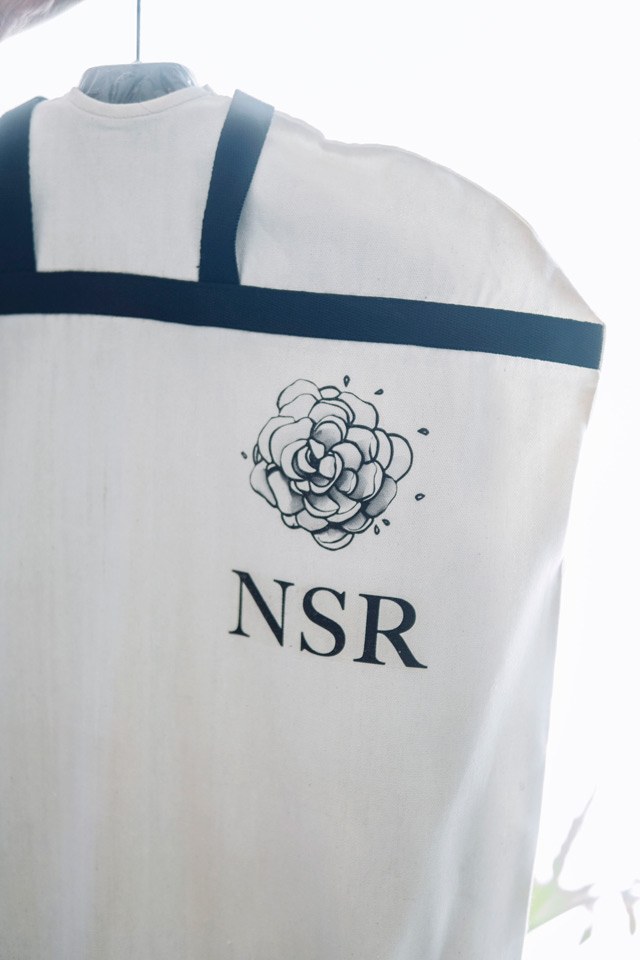 ADVERTISEMENT - CONTINUE READING BELOW
IMAGE Daniel Evangelista
Masanting Sastreria personalizes even the garment bag.
Could you take us through the process of having a suit made?
"Most of your clients come in and say, 'I'm looking to have a grey suit made.' Then we lay down the fabrics they could choose from and show them the possibilities beyond just a grey suit. Like the different checks and plaids. We sort of create a roadmap for them so it becomes more of a collaboration. We do have a check list but we're very much open to suggestions, experimentation.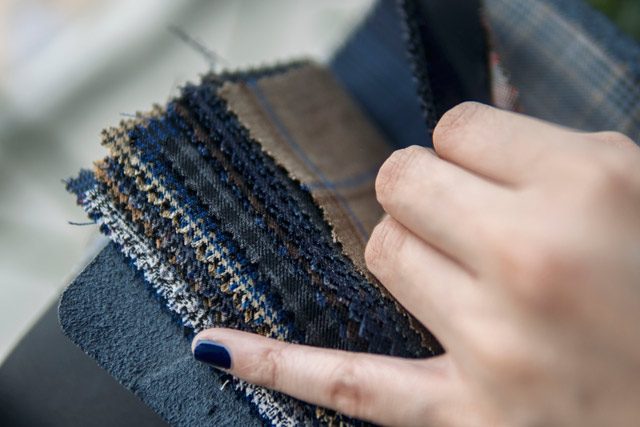 ADVERTISEMENT - CONTINUE READING BELOW
IMAGE Daniel Evangelista
"We're really happy that even if we're not mass marketed, we get to really take care of our clients. We have this small group na talagang every other month kukuha yan. Usuaully, for the first appointment, they're always like, 'Bahala na kayo.' Then when it comes to the second and third, they're like, 'Oh, I want something like this,' or 'Can we add this?' They already know the terms used in tailoring and the parts of the suit. So it really becomes more personalized. The best part is that we become part of their style evolution."
Have you made a suit for any Filipino personalities?
"There's this story we always like to look back to. One time, a friend of ours asked if we would like to make a suit for Pia Wurtzbach. And why not, right? So we headed to Conrad where then Miss Universe was staying. We popped in there and we were like, 'Oh my gosh, we're making a suit for Pia!'
ADVERTISEMENT - CONTINUE READING BELOW
"So we made her a suit, which she wore to an event on her last day as Miss Universe, and the best part was when we learned that the rest of the delegates decided to wear suits to the next event because they all got inspired by Pia. Sobrang nag-melt yung heart ng master tailor namin. That was quite an experience. We were so humbled. That's also when we started to establish our market for women. We know a lot of women who like to wear suits but there just aren't many options for them. They are not the target market for most of the tailoring houses here."
How did your collaboration with Filipino artists come about?
"One day, we were just browsing on IG checking out Italian suits when we spotted, believe it or not, Manny Pacquiao wearing this suit with a lining that had this illustration of him knocking out Hatton. It was so cool. That's when we realized we should make ours fun, too. So we started sourcing patterns—and our lining has never been plain, we've never done black.
ADVERTISEMENT - CONTINUE READING BELOW
"We stumbled upon Feanne (Mauricio)'s IG account and asked to meet with her. When we met, we were wearing suits and she was wearing a kimono with her art printed on it, and the rest is history. So that's how it started. We have more in the lineup and we want to explore creating patterns with Filipino flavor like kalesas, vintas, sorbetero, and the like. We are inspired by Paul Smith and how he makes his brand fun. We want to reflect that but in the Filipino way."
ADVERTISEMENT - CONTINUE READING BELOW
Will you be introducing other products?
"That's how we're expanding the business also—we're experimenting on ties, custom-made shirts, and even shoes!"
This interview has been edited and condensed.
Produced by Nikki Santiago-Rivera
Co-Produced by Steph Sison
Photographed by Daniel Evangelista
Makeup by Nikki Duque
Hair by Cats Del Rosario
ADVERTISEMENT - CONTINUE READING BELOW
Special thanks to The Refined Grooming Lounge for Men and Il Fiore Flower Boutique.
Related Stories from Preview.ph
Hey, Preview readers! Follow us on Facebook, Instagram, YouTube, Tiktok, and Twitter to stay up to speed on all things trendy and creative. We'll curate the most stylish feed for you!