We're always on the lookout for ways to make day to day dressing easier. From no-fail outfit combos to eye-catching statement accessories, there are a few ways to amp up your outfit to make it look like you exerted a lot of effort (but really didn't).
Enter: Daily Schedule. A shoe brand that prioritizes comfort (most of their styles are mules!) and style coupled with an affordable price point. At the preview of their Spring/Summer 2018 collection, we caught up with Betina Ocampo (one third of the Daily Schedule team and owner of eponymous label, Betina) and got the lowdown on her current collection. Read on!
Related Stories from Preview.ph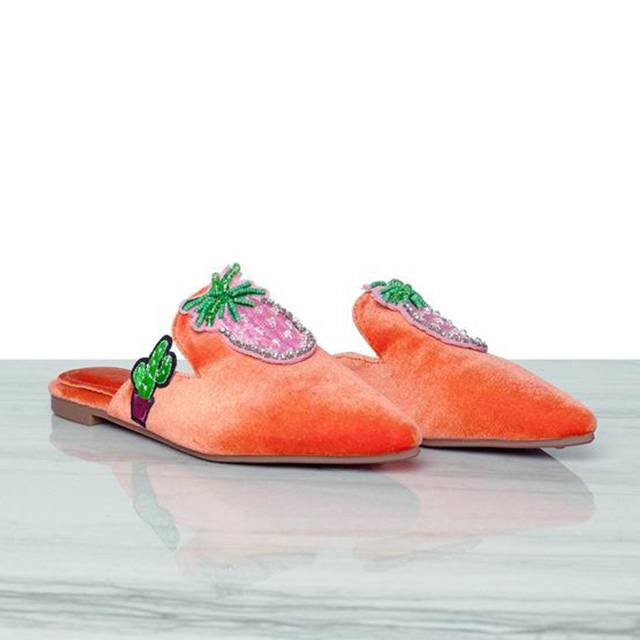 ADVERTISEMENT - CONTINUE READING BELOW
IMAGE ph.dailyschedule-ny.com
Lola Velvet Mule, P1800, DAILY SCHEDULE, ph.dailyschedule-ny.com
Why did you choose to focus on footwear versus bags or clothing?
"Embelishments and mixing different textures and patterns, that's something I'm really good at and I wanted to translate it into something that's more affordable and accessible to everyone and so this is the way I'm doing it. Its $30-39 per pair, so it encourages people to just buy more and collect. They [the designs] run out so fast so it's good you know you got that hype and people wanna buy them all at the same time.
"We were inspired by a lot of women on the go in New York. My sisters [Juliana and Selina] and I we love reading about a lot of successful women in New York and how they're just always constantly running around and keeping themselves busy and that's why we wanted shoes because it becomes so mundane, you know.
CONTINUE READING BELOW
Recommended Videos
"It's easy and we've never done it before, we've experienced working in bags and clothing. My mom had a bag line so this is kind of new territory. The idea wasn't even about design, it was about the flexibility of the shoes. Because of that we wanted to have that rubber sole signature."
Since it's a family business, how is it like working with your sister? Do you guys have clear role divisions or do you work together on every aspect?
"We all have very, very different visions so it's very hard to all be in one direction, but it's really fun 'cause were all so creative. There's so much input and the teamwork is great and were all good at different things.
My father [Ricco Ocampo], he's usually the person that helps conceptualize these ideas and then he lets us take over the operations aspect of it. He's really good at sales and marketing, my sisters are very good at coming up with ideas to market the product. That's what she's [Juliana] good for, she's in media and communications and I'm very good at the design aspect so I'm a little bit more shy but designing is what I love."
ADVERTISEMENT - CONTINUE READING BELOW
With Betina, you use local materials and artisans, is that also something you are trying with this line as well?
"This is absolutely not a locally-made brand like Betina, it's a very different form. With my clothing you'll see the whole intricacy down to the very last detail, but this is more like how I'm going to do something just as special but more accessible to everyone."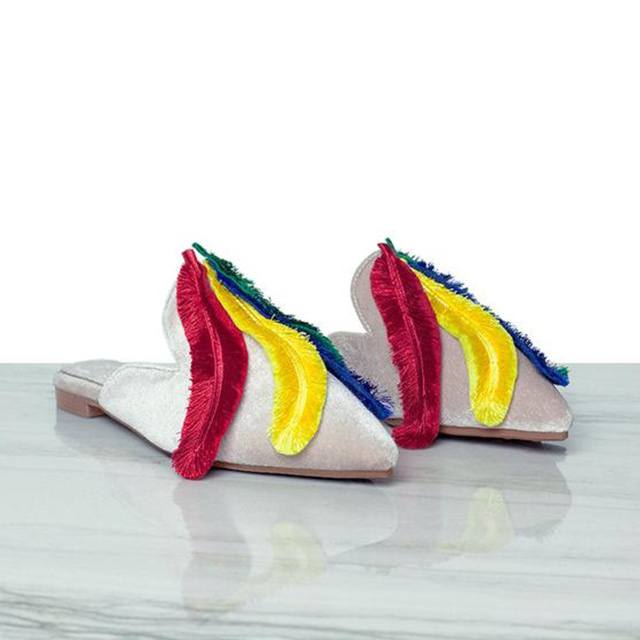 ADVERTISEMENT - CONTINUE READING BELOW
IMAGE ph.dailyschedule-ny.com
Charlie Velvet Mule in Sand, P1800, DAILY SCHEDULE, ph.dailyschedule-ny.com
Your flats are for the effortlessly cool New Yorker, what sort of Filipina do you imagine wearing your creations?
"Well, the reason why I also love this, is that it's different to Betina in that Betina is for one kind of woman. Daily Schedule is made for many different women, so you'll see a wider variety of designs and a wider variety of silhouettes. There are different shapes that serve different kinds of women. I'm not a mule person, I'm more of like a slide person. Maybe there's someone that's more minimal and someone that's just not afraid to mix and match different patterns, it's for all types and that's what I love about daily schedule.
"For Manila, this really strikes a purpose 'cause Filipina women, they're very in touch with their feminine side and these are very feminine silhouettes. Betina tends to be, if you're gonna compare, boxy and less feminine, so it doesn't attract the traditional kind of Filipina woman versus how Daily Schedule works well with that crowd. I've always wanted to target that market as well."
ADVERTISEMENT - CONTINUE READING BELOW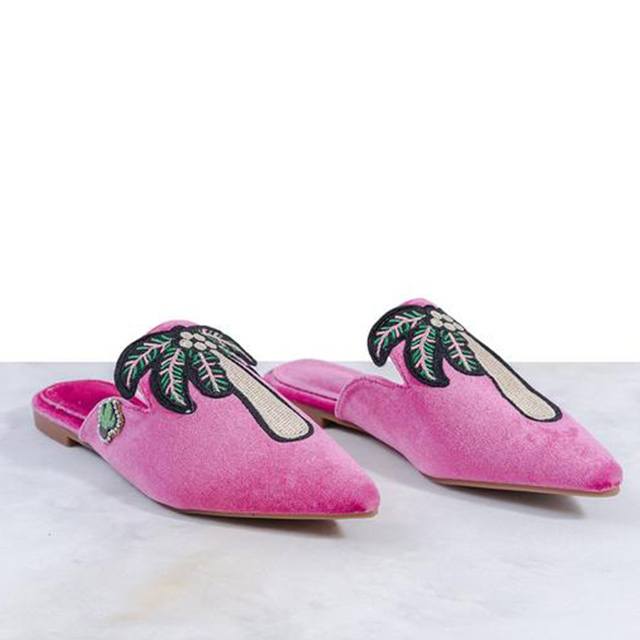 IMAGE ph.dailyschedule-ny.com
Stevie Velvet Mule, P1800, DAILY SCHEDULE, ph.dailyschedule-ny.com
What's your inspiration for this collection?
"It started with people-watching and women in New York. We started actually conceptualizing this with a writer in New York who wrote a bunch of fictional stories. So if we have 10 different designs, we named each different shoe and he kind of wrote a fictional story about who they are, where they live, how they're different from each other. You know, what their daily schedules are like? As were still building the brand, the idea is that were gonna combine all of these stories, hopefully they become real stories from real people to represent how inclusive this brand is. It's for everyone, not just one person."
ADVERTISEMENT - CONTINUE READING BELOW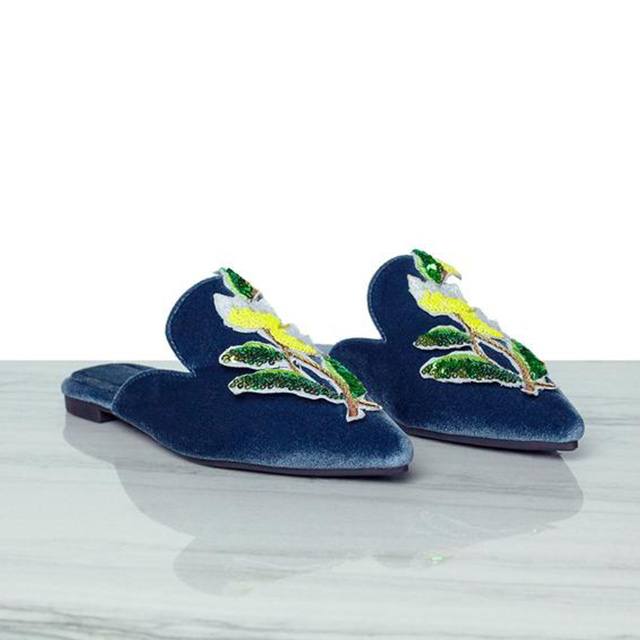 IMAGE ph.dailyschedule-ny.com
Jordan Velvet Mule, P1800, DAILY SCHEDULE, ph.dailyschedule-ny.com
The collection on your website is all about the mule. Is there any particular reason for choosing this as the base for your designs?
"Because it's easy. We wanted this to be seamless, easy. I'm a very lazy dresser, maybe sometimes I don't look like it, but I just want something very quick, on-the-go, you don't really have to think about it. Mixing colors and different textures and patterns come very naturally to me, so it's easy for me to slip on an embellished pair and just walk out. For some people, they're kind of on the safer side so they'll do something more simple and classic like one of the more plain ones."
ADVERTISEMENT - CONTINUE READING BELOW
This might be a difficult question, but which pair is your favorite?
"My favorite? That's not hard at all, the gingham ones are my favorite!"
IMAGE ph.dailyschedule-ny.com
Madison Gingham Mule, P2000, DAILY SCHEDULE, ph.dailyschedule-ny.com
Related Stories from Preview.ph



Hey, Preview readers! Follow us on Facebook, Instagram, YouTube, Tiktok, and Twitter to stay up to speed on all things trendy and creative. We'll curate the most stylish feed for you!