A movie full of lavish jewels, designer outfits, and impeccably dressed characters? Ocean's 8 has got you covered. The American comedy features eight dashing women trying to pull off a heist during the biggest fashion event of the year: the Met Gala. And in case you haven't noticed, it's also becoming the most fashionable movie of the season.
For the film production, they had to stage a fake gala that was just as grandiose, which of course required show-stopping dresses for the main cast, plus extra couture gowns for the celebrity cameos (oh, just Kim Kardashian, Heidi Klum, and Gigi Hadid—no biggie!), and an extensive number of costume changes. Seems a lot to accomplish, right? So how exactly did costume designer Sarah Edwards pull it off?
"We were kind of pulling it down from the trees, wherever we could get it from," Sarah revealed in an interview with BuzzFeed News. "There were certain things that we made, and things we bought, and things we got from vintage or archival sources. It was really all over… There are not enough clothes in the world to do that movie, for all those women."
ADVERTISEMENT - CONTINUE READING BELOW
Sarah collaborated with eight big-ticket designers to finish the costumes just for the gala scene itself, and she was very particular about her demands for each dress, emphasizing that the gowns shouldn't just be taken from the designers' collections. They had to "[ask] for a dress that would fit our story, our characters, our timeline, [and] the different actions they had to do in the film."
CONTINUE READING BELOW
Recommended Videos
Below, Sarah further revealed the story behind each of the gowns the characters wore in the movie:
Debbie Ocean in Alberta Ferreti
When The Cut asked about Sandra Bullock's character, Sarah said, "Sandra Bullock is the mastermind, so it was important for me that she be cool, calm, and collected. I wanted there to be a stillness about her." This translated to the gown she wore in the film, which included dark neutrals and a nautical theme that's symbolic to her character's last name: Ocean.
ADVERTISEMENT - CONTINUE READING BELOW
"Her clothing is very sleek and neutral, and long and lean. I wanted her to be able to go anywhere and gain entrée, but not be too attention-grabbing," Sarah explained.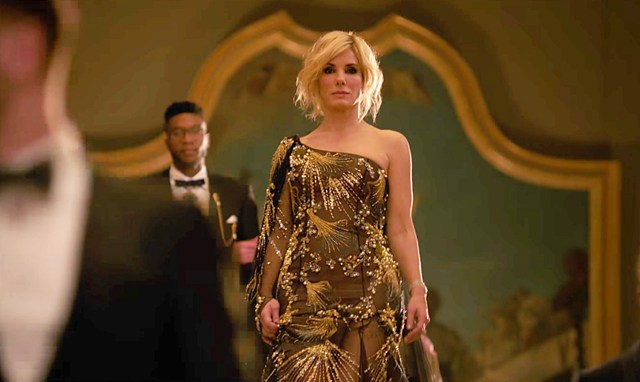 IMAGE WarnerBrosPictures/Oceans8
Lou in Givenchy
Cate Blanchett plays a club owner, and Sarah wanted that to be translated to the dress. Gary Ross, the film's director and co-writer, specifically wanted Cate's character to look "chic, confident, and unfazed."
ADVERTISEMENT - CONTINUE READING BELOW
"We wanted to reference some iconic rock 'n' roll types," Sarah said. "I even threw in pictures of male rock stars for us to look at for shapes of suits and things. I wanted her to be very strong, and in many ways, empowered."
Since Lou only wears pants in the movie, the costume team decided to pick an emerald green jumpsuit from Givenchy to fit her personality.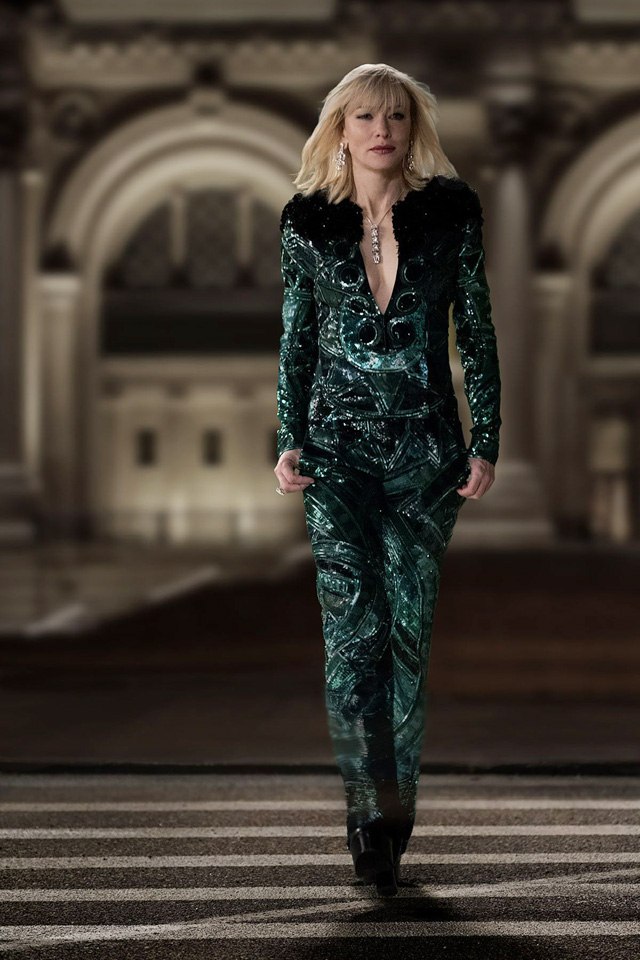 ADVERTISEMENT - CONTINUE READING BELOW
IMAGE WarnerBrosPictures/Oceans8
Rose Weil in Dolce and Gabbana
Helena Bonham Carter plays an eccentric and nearly bankrupt fashion designer who is past her prime. Rose's look was based on Vivienne Eastwood and Grace Coddington, which Sarah explained to The Hollywood Reporter. She went for a floral-inspired dress by Dolce and Gabbana, one that screams "timeless" and "playful" at the same time.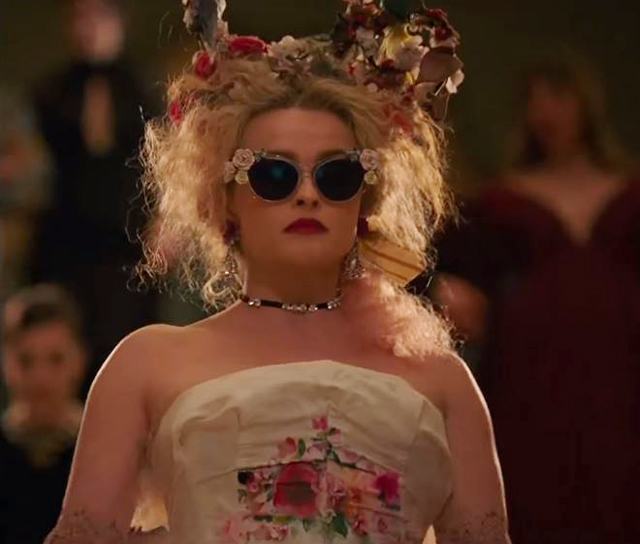 ADVERTISEMENT - CONTINUE READING BELOW
IMAGE WarnerBrosPictures/Oceans8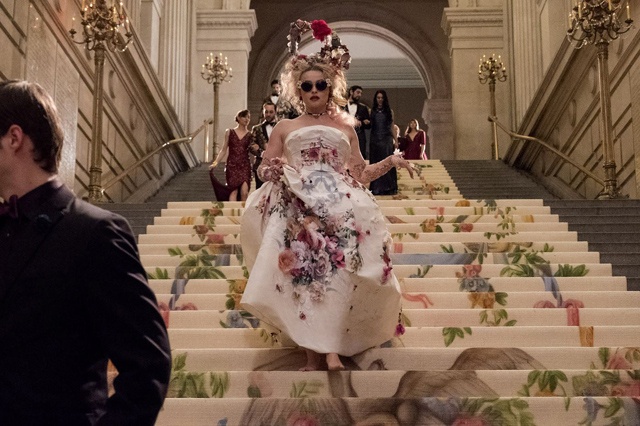 IMAGE WarnerBrosPictures/Oceans8
Amita in Naeem Khan
Mindy Kaling's character started as a conservative daughter who was still living with her parents. Sarah wanted the character development to be evident in her clothing, so in the beginning, she dressed Amita in conventional and old-fashioned outfits. She eventually transitioned to a modern lady, which was evident in her fully-beaded dress by Naeem Khan.
ADVERTISEMENT - CONTINUE READING BELOW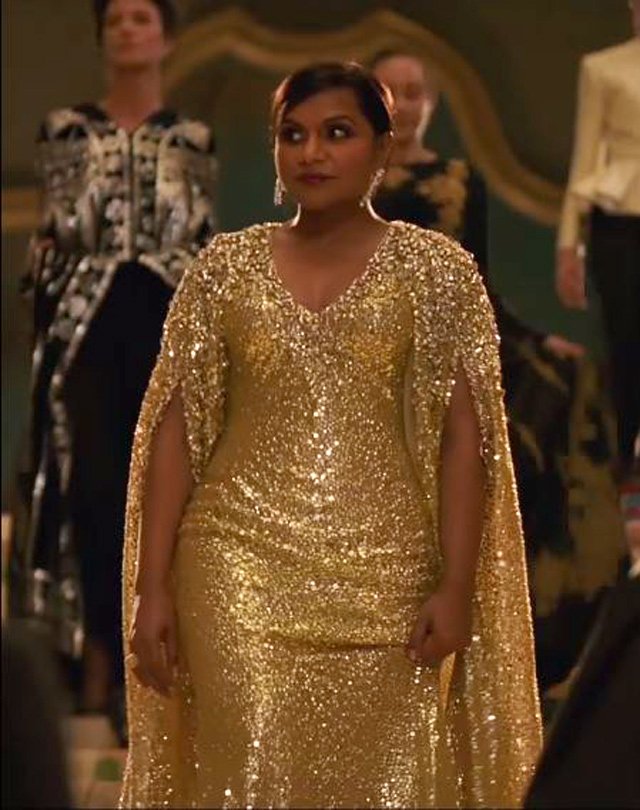 IMAGE WarnerBrosPictures/Oceans8
Nine Ball in Zac Posen
Rihanna's name is immensely acquainted to the Met Gala, so it was really a challenge for Sarah to put together a look for her. "It was really crazy, on so many levels," she said.
Her character in the movie is really different from what she's like as an artist—baggy clothes, vintage shirts, and oversized pants—that's why Gary wanted Riri's dress to be very body-conscious, "so we go from this Caribbean/Rastafarian computer hacker in army pants to this incredible, wasp-waisted, curvaceous stunner of a dress."
ADVERTISEMENT - CONTINUE READING BELOW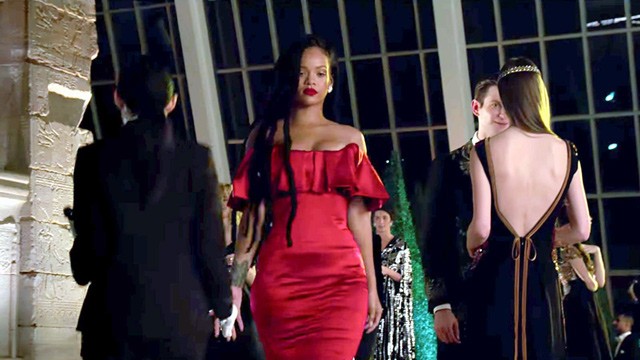 IMAGE WarnerBrosPictures/Oceans8
Constance in Jonathan Simkhai
Awkwafina's character is very street, kind of similar to Nine Ball. Sarah wanted her transformation moment to be very dramatic, from a skater girl in tracksuits to a high-fashion woman in a Jonathan Simkhai jade dress. "That was another dramatic transformation in the movie, to see her all dressed up," Sarah revealed. "She said it was the most beautiful dress she'd ever put on!"
ADVERTISEMENT - CONTINUE READING BELOW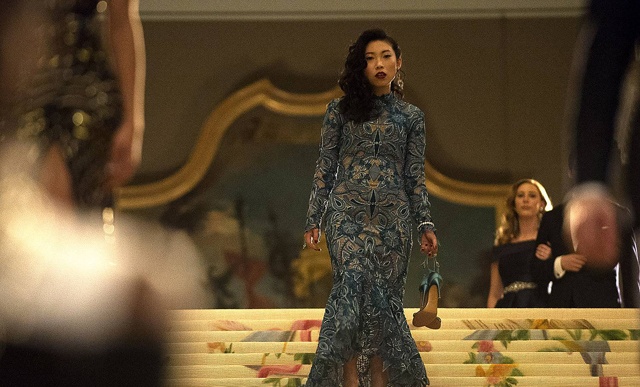 IMAGE WarnerBrosPictures/Oceans8
Tammy in Prada
Tammy, portrayed by Sarah Paulson, goes undercover at Vogue in the film, which means she'd have to dress the part. Edwards went for a simple and conservative dress by Prada, saying that "the people at Vogue who do work the event, they're all dressed in evening wear, but they're not dressed in feathers and capes and trains...We wanted her to be beautiful, but simple."
ADVERTISEMENT - CONTINUE READING BELOW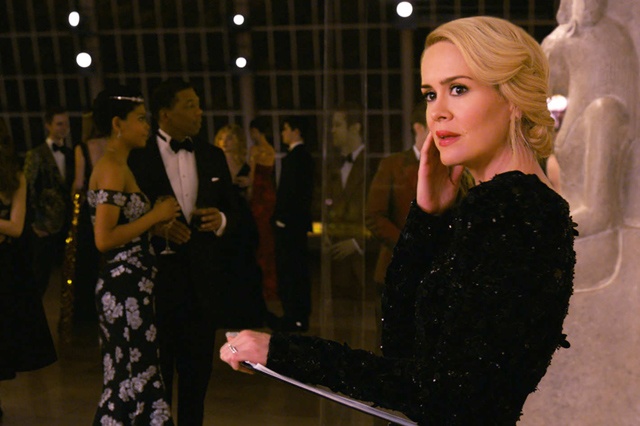 IMAGE WarnerBrosPictures/Oceans8
Daphne Kluger in Valentino
Anne Hathaway played the role of a movie star. Gary wanted her character to look like it was plucked out of an old Hollywood film, and so Sarah made her a modern version of Elizabeth Taylor or Ava Gardner. "Her clothes are very simple and beautiful but always very put together. Always jewelry. Always great shoes. Always matching bags," she explained.
ADVERTISEMENT - CONTINUE READING BELOW
Daphne Kluger was also co-chair at the movie's gala, so Valentino designed a 15-foot trail for her to make an amazing entrance in.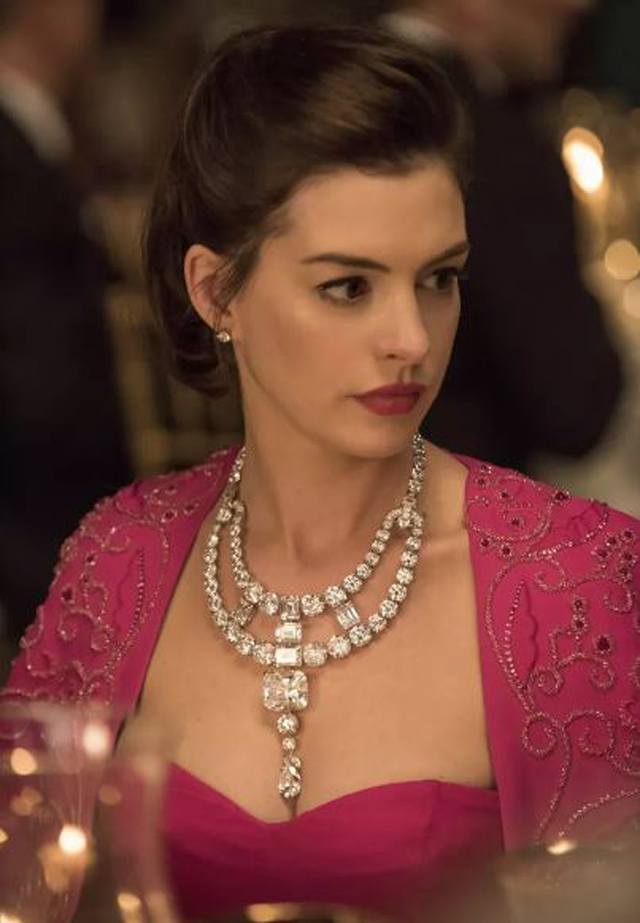 IMAGE WarnerBrosPictures/Oceans8
Related Stories from Preview.ph