Valentino Garavani, pictured with his wrinkly litter for Valentino: The Last Emperor.
After bringing her beloved pug, Nala, home five months ago, YouTube vlogger Zoella has continually updated her page with its pictures, captioning one "pug life." (Apparently a famous hashtag.) Yet despite trending hard on social media, pug-love is actually older than your great-great grandmother.
Back in 400 BC, pugs sat on the laps of Chinese Emperors of the Shang dynasty. Britain's beloved Queen Victoria kept 36 and bred them herself in the palace, while the Duke and Duchess of Windsor lavished their dozens with silver food bowls and dog collars. They themselves slept on bed sheets embroidered with their pets' impish likeness!
ADVERTISEMENT - CONTINUE READING BELOW
Famous pug owners Jessica Alba, Kelly Osbourne and Paris Hilton (via Getty and Houndbound)
What exactly makes pugs so lovable? I mean, they're pretty ugly. In fact, they're famous for being "ugly cute," which is when something is so ugly that it somehow becomes cute. (The same has been proven of men.) They've got big beady eyes, wrinkly pushed in faces and fat folds around their body. Not to mention the fact that they breathe really loudly, like they're experiencing a permanent asthma attack. I should know because I live with one.
Biggie-Smalls, our pug at home which my brother named after the late rapper, packs in so much personality into a small package that you forget how tiny she really is – and believe me, she forgets it, too. When our Labrador, who is five times her size, refuses to play, Biggie will run up to her, bark at her and jump on her, totally ignoring the fact that our Lab's mouth is the size of her entire body. She is not afraid to pick a fight. She's also extraverted, bouncing from one person's lap to the next and possessing a constant desire to cuddle. My brother, who's been obsessed since he met one as a child, once told me, "Pugs are hard not to love."
CONTINUE READING BELOW
Recommended Videos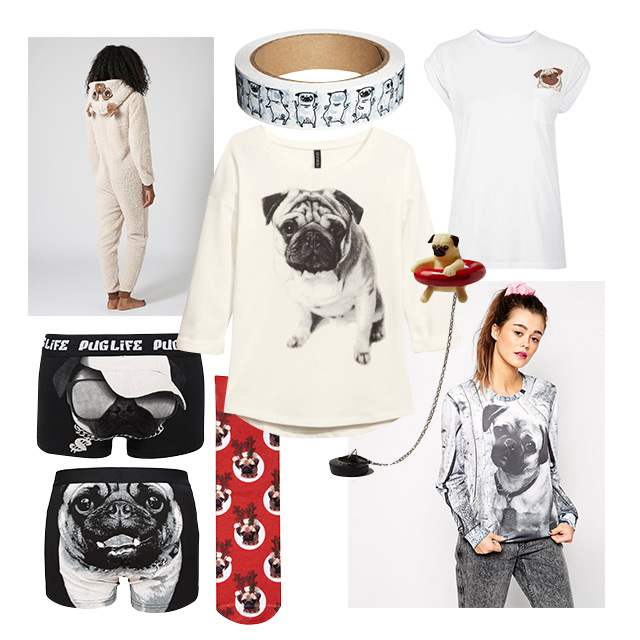 Clockwise from top left: Topshop onesie, ASOS washi tape, Topshop pocket tee, Mr. Gugu & Miss Go sweatshirt, Topshop bath plug, H&M sweater, Topshop ankle socks, ASOS trunks, ASOS hipster boxers
Today, the world's adoration for pugs has only grown stronger with pug-themed paraphernalia, from t-shirts to bath plugs. It sure takes a lot of self control to resist buying – how do you say no to baby dog eyes on a sweatshirt begging, "Wear me! Buy me!" Followed by that permanent pout.
ADVERTISEMENT - CONTINUE READING BELOW
Too much? I didn't choose the pug life. The pug life chose me.
Hey, Preview readers! Follow us on Facebook, Instagram, YouTube, Tiktok, and Twitter to stay up to speed on all things trendy and creative. We'll curate the most stylish feed for you!