For whatever reason, the marriage between fashion and music has always been represented by the coupling of models and musicians. They may never be a scientific explanation to this amorous magnetic field but one thing we're sure of is that it gives us a handful of style pegs for our significant others.
Fashion and music go together like peanut butter and jelly. Time and time again, both have served as muses to each other (i.e. Tommy Hilfiger's Beatles inspired collection for Spring 2015 and Madonna's Vogue.) Although, nothing has represented the marriage between both better than the stereotypical coupling of models and rock stars. Despite coming from two very different worlds, both seem to complement the other perfectly. But what is it about rock stars exactly that girls like us find so attractive? Here, we break down the anatomy of a rock star's outfit and explain what we fashion girls love about them—or their style, that is.
ADVERTISEMENT - CONTINUE READING BELOW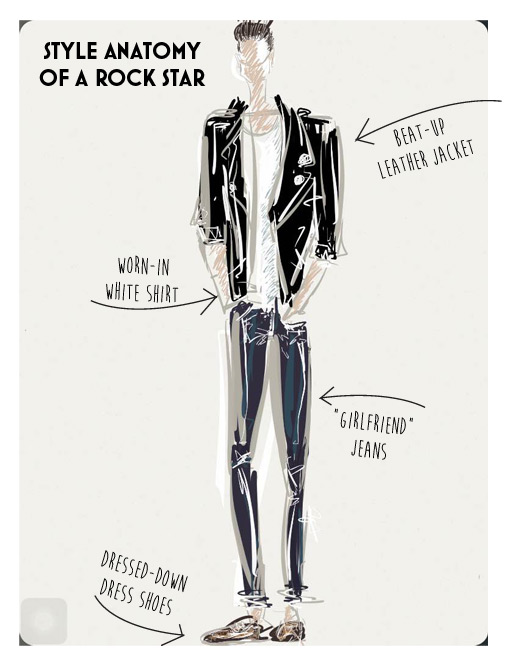 THE BEAT UP LEATHER JACKET
WHY HE WEARS IT: A distressed leather jacket is a great way to bulk up his upper bod considering that he may have a lanky or lean frame.
WHY WE LOVE IT: Lettermen jackets can be a bit too juvenile for a "boyfriend" jacket. The creases and scratches add to its character, too.
ADVERTISEMENT - CONTINUE READING BELOW
THE WORN-IN WHITE SHIRT
WHY HE WEARS IT: White shirts are easy to wear and are very versatile.
WHY WE LOVE IT: A good quality white tee is like fine wine—it only gets better with age. This, too, is an item we could steal from his closet.
THE "GIRLFRIEND" JEANS
WHY HE WEARS IT: He understands the need of finding a pair of jeans that fit perfectly, even if this means having to cross over to the ladies section.
WHY WE LOVE IT: The fact that he understands the need for finding the perfect pair shows that he has good taste.
THE DRESSED-DOWN DRESS SHOES
WHY HE WEARS IT: A clear indication that he pays attention to the smallest of details
WHY WE LOVE IT: The simple fact that he opts to wear something more formal as opposed to sneakers shows that he cares about his looks just as we do.
ADVERTISEMENT - CONTINUE READING BELOW
Head over to the photo gallery and check out some of our favorite model-and-rock-star couplings of all time.