Don't be confused. Peter Pilotto is both the designer and the brand. However, Peter Pilotto the brand is composed of two equally talented designers: half-Austrian, half-Italian Peter Pilotto and half-Belgian, half-Peruvian Christopher De Vos. (Ed's Note: Peter Pilotto the designer explains this further in our interview below.) The London-based label is known for its highly detailed prints and sculptural pieces.
ADVERTISEMENT - CONTINUE READING BELOW
Style Bible was fortunate to have witnessed the brand's show at the Audi Fashion Festival in Singapore last May 2013. The Autumn/Winter 2013 collection embraces new perspectives on womenswear without watering down its signature aesthetics. Kaleidoscopic patterns on innovatively cut shapes have been explored with a focus on feminine and masculine contrast­. Apart from harnessing digital technology, the brand has also ventured into traditional craftsmanship like embroidery and weaving. The result? A visual treat that's arresting, compelling , and overall superb.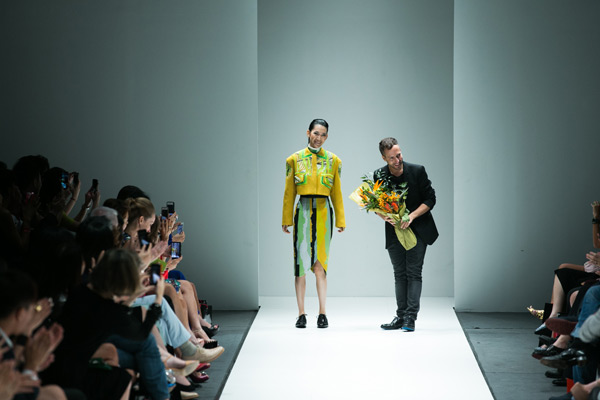 CONTINUE READING BELOW
Recommended Videos
We're also delighted to have been able to sit down with the designer himself. Read on to know more about about the brand, the latest collection, and the design duo.
COULD YOU TELL US YOUR STORY?
Christopher and I met in 2000 met in the academy in Antwerp. We were in the same class and we became friends immediately. We found each other's work inspiring and it encouraged us to push harder. It was a healthy kind of competition and it was very stimulating. We valued each other's opinion. Then I graduated in 2004 and started the brand right then, which is Peter Pilotto. Christopher graduated in 2005. In 2007, Christopher decided to join me but we've decided to keep the brand name because we were already in a couple of good stores and we didn't want to confuse our clients. We always just had to explain that there are two of us in the brand.
ADVERTISEMENT - CONTINUE READING BELOW
Before entering the academy, Christopher was choosing between studying architecture and fashion, while I was deciding between graphic design and fashion. Of course, we both ended up in fashion and that's our common denominator. Now you see how our preferences back then actually determined the kind of work relationship we have now. I usually work on the prints while Christopher creates the shapes. We work on everything together and when things fall apart, it's always just a dialogue anyway.
YOU PLAY WITH LOTS OF COLORS ND PRINTS IN YOUR COLLECTIONS. DO YOU BELIEVE IN DRESSING UP A CERTAIN WAY AS YOU AGE?
Sure, but it's quite funny because our customers come from different age brackets. It's interesting because at the beginning, our retailers would always tell us that they find it unusual how a new brand attracts so many different types of customers. So, we kind of liked that. With imagination and creativity, I think our pieces can look great on every age. I guess the good thing about our pieces is that you can be playful with them. You can either wear the complete look or break it down and mix a piece or two with your other clothes.
ADVERTISEMENT - CONTINUE READING BELOW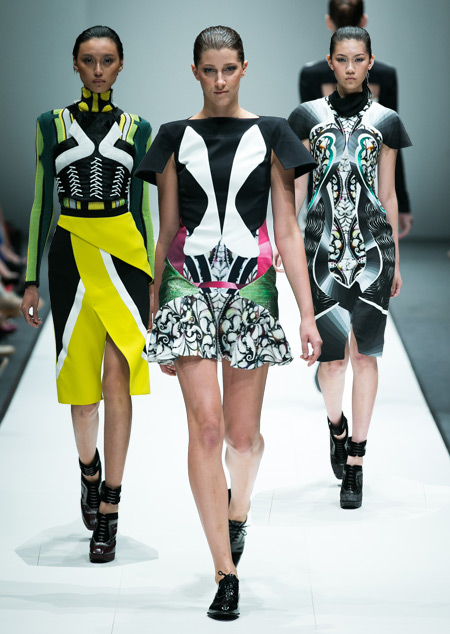 WHAT'S YOUR FAVORITE SILHOUETTE ON A WOMAN?
It's what you see in our collections. So I guess it could be different every season. We like to explore. This season for example, the dresses are very feminine and then you have a boxy coat as contrast to the silhouette. I like to play with masculine and feminine elements. It's nice to have opposites in a silhouette.
ADVERTISEMENT - CONTINUE READING BELOW
WHAT'S YOUR MOST MEMORABLE SHOW SO FAR?
Our show in Florence. When we went there, the organizers allowed us to decide on every aspect of the show. So Christopher and I decided to hold it at this beautiful palazzo. We had our prints printed on a huge carpet. It was beautiful. It was so nice to see the prints enlarged, we were left impressed. That was really great—to be able to express our vision in different ways.
WHAT'S YOUR INSPIRATION FOR YOUR A/W 2013 COLLECTION?
We mostly get inspired by our travels. One key image that holds this collection together is this painting we saw by Spanish artist El Greco. It was so beautiful. It was stark and dark, dramatic and glowing all at the same time. There was something glowing in the image and we like that illumination.
Our digital print is one of our signature designs but we also did a lot of embroidery for this collection. So it's exciting to add a new category. The colors are vivid, too. But in between the colors and knit work, embroidery and weaving, we threw in some solid colors, too. We have 220 stores in 50 countries so we'd like to be able to cater to the different preferences of our customers. It's exciting to see our collections grow and how they figure differently with every store.
ADVERTISEMENT - CONTINUE READING BELOW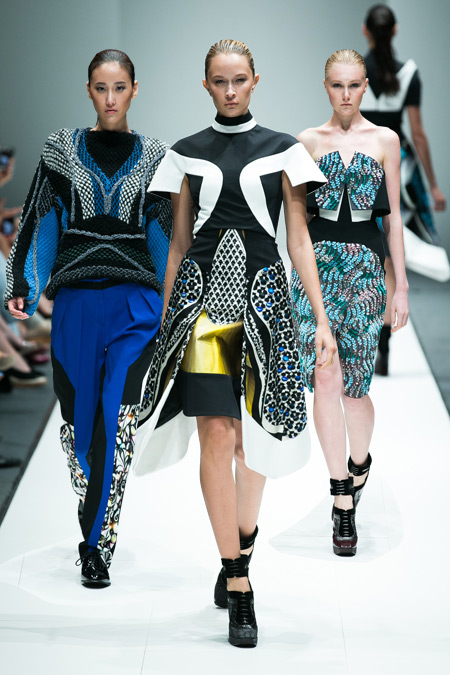 HOW DO YOU THINK MODERN TIMES HAVE AFFECTED THE WAY YOU DESIGN YOUR CLOTHES?
The computer nowadays does a lot of the work, really. But we still like to use it as a tool that we can control. It's dangerous when you rely on the computer. You cannot let the thinking be done by the computer. Although thanks to the new technology, the biggest chunk of our sales comes from online.
ADVERTISEMENT - CONTINUE READING BELOW
CAN YOU DESCRIBE THE PETER PILOTTO WOMAN?
She's ageless and playful.
Click here to view the Peter Pilotto A/W 2013 collection.
Hey, Preview readers! Follow us on Facebook, Instagram, YouTube, Tiktok, and Twitter to stay up to speed on all things trendy and creative. We'll curate the most stylish feed for you!