Forget slaving away at an internship. People are now being hired based on likes and follows. When videographer Judd Figuerres was booked to shoot for a retail campaign, the brand's loose-tongued PR rep said they were looking for people with lots of friends—on Instagram. With the same aplomb as Romy and Michele claimed Post-Its, the fashion world is owning and professionalizing Instagram's visual stream of 512-by-512-pixel images—from editors snapping runway looks to plebes posting their careering outfit-of-the-day (OOTD). Even bloggers, who pioneered the OOTD in the first place, attest to its allure enough to migrate to it. "It's the best response to how people consume media now," said Izzy Tuason of The Dandy Project. "Quickly and on their phones."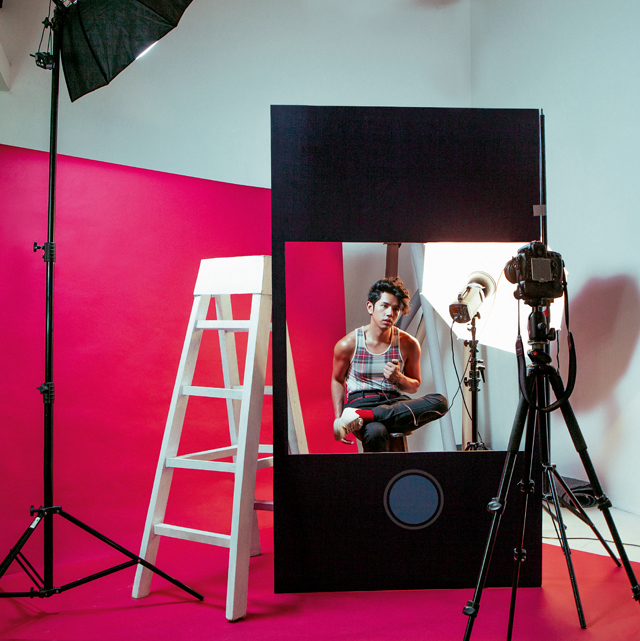 ADVERTISEMENT - CONTINUE READING BELOW
BJ Pascual photographs himself in his studio.
Judd said that companies trawl the medium when they're hiring models, photographers and talents. "They really want someone with a following," he said. "Because when they post about the shoot, it will add a following to the brand."
In fact, specific platforms have been created just to measure clout on Instagram. IG-analytics platform TOTEMS ranked the most popular brands on the medium and found that 52 of the top 100 were for apparel or accessories. Business news site Quartz, for their part, analyzed 1.8 million accounts of models, editors, photographers, designers and fashion folk to find out who were most followed by people in the industry and out.
Perhaps it has something to do with the ease by which one can project their own personal brands on the medium. Imagine being able to cut to a day-lit shot of one's avocado toast in the morning, perhaps with a Vogue Living and the shadow of a Drew bag in the background. (Not your ugly curtains, because you've been meaning to change that.) Within each cropped and filtered square, it's easy to distill a message about a product or persona. Perhaps enough to get a travel or clothing company to associate themselves with you. As Judd observed, "IG is, like, the peak of curatorship."
CONTINUE READING BELOW
Recommended Videos
PORTABLE PORTFOLIO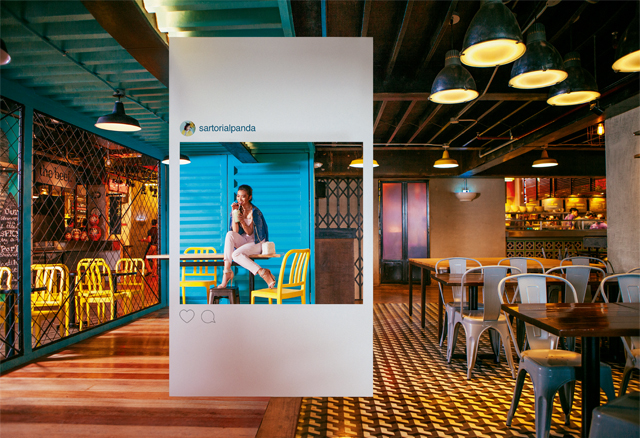 Melissa Gatchalian enjoying a drink at Hole In The Wall.
Hiring off Instagram isn't just for freelance gigs.
Graphic designer Melissa Gatchalian (@sartorialpanda), 22, twice-named Instagram's suggested user, has maintained an immaculate yet complex feed since joining three years ago. Her colorful snaps of daisies against a white wall, peopled landscapes or tableaux of, say, red-and-cream Breton shirt, crimson pump and vermilion bric-a-brac, likely helped her score her current job, helming creative content at IG-savvy sunglass brand, Sunnies Studio.
ADVERTISEMENT - CONTINUE READING BELOW
"I think it helped that they could see my personal aesthetics and what I could contribute right away, just from checking my IG," said Melissa, who has almost 35,000 followers and an average of 1000 likes per photo. "Before, I would only post fashion and everyday things, but then I saw how amazing other people's feeds were and I realized some people look at Instagram as some sort of a portfolio."
In the same way that New York-based magazine editors trawl Twitter for writers who are funny or smart, retailers check Instagram to see whose style lines up with their brand. Sunnies, headed up by self-confessed "Instahoes" like Martine Cajucom, had a natural affinity for Melissa's sun-drenched vistas and love of pink ice cream. Scrolling through both employer and employee's feeds call to mind an endless, and yes, sunglass-shielded summer.
X AND Y
Sometimes, however, the IG-watching is a little more quantitative—and it's not just a simple tally of followers or likes, either. French company Iconosquare, for example, tells users what their most popular posts are, what filter they use, the dreaded unfollows, whom they followed but didn't follow them back, even the time when posts got the most likes—basically the blueprint for an all-out IG strategy. (Or a 21st-century grudge match.)
ADVERTISEMENT - CONTINUE READING BELOW
In Quartz's study of influential IG users, a resulting "map of the fashion Instagram universe" plotted accounts based on their total number of followers on the X-axis versus their followers from within the industry on the Y-axis. An upward-sloping line drawn through the graph then separated these influencers into two groups. To the right were those with mainstream appeal: Forever 21, Italian blogger Chiara Ferragni, Vogue and Queen Bey (read: those followed by "faneys"), as well as less obvious ones such as Chicago-based photographer Paul Octavious. (He once turned a night of martinis—all scattered lemons and jiggers—into a top shot worthy of a GQ spread.)
On the other hand, the accounts to the left had a higher proportion of fashion network followers: designer Jonathan Saunders, editrix Carine Roitfeld, photographer Willy Vanderperre and various other under-the-radars.
To understand the difference between the two kinds of influencers, it might be helpful to think of a local pair: Human Black's new faces BJ Pascual (@bjpascual) and Sam Lee (@givemesam). Featured in a billboard along Guadalupe, BJ is a fashion photog whose selfies make 111,000 people want to kiss their iPhone screens (household name), while Sam, his good friend and a filmmaker, has 7000 followers who sometimes depend on her for their fashion choices. ("Ano po 'yung sando niyo?" Under-the-radar.)
ADVERTISEMENT - CONTINUE READING BELOW
Asked how she got the Human gig, Sam exclaimed, "It was all because of BJ! They wanted to shoot him." That said, her IG engages industry insiders: Bianca Gonzalez keeps gushing over her captions, while celebrity stylist Liz Uy has admired her flowers. So maybe Sam wasn't caught completely unawares.
"BJ and I have been trying to come up with a hashtag for the longest time," she said. "When people would take photos of the billboard, we never know what to use."
INSTA-FAMOUS? HERE'S WHAT YOU WIN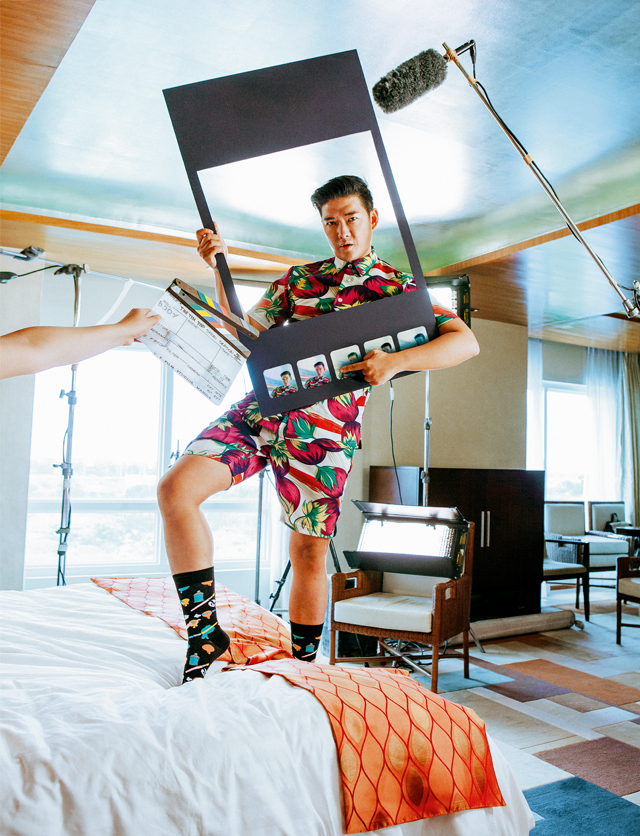 ADVERTISEMENT - CONTINUE READING BELOW
Tim Yap on set of his show.
Just as famous tweeters of the pre-IG era could earn a peso per follower for every brand-sponsored tweet, today's Instagram stars have a lot to gain— from status to swag to $$$.
Liz Uy (she's a celeb, she's a stylist, she's a celebrity stylist), with almost 1 million followers, became a "digital curator" for a Singaporean fashion mag. The role has since seen her cover New York Fashion Week, with seats at Alexander Wang and Hugo Boss. In contrast, a lesser social media princess who posts a picture of, say, some local brand of sunscreen or a dress by an online retailer could receive 1000 to 10,000 pesos—the rate of her "endorsement."
Thibaut Davoult, content director at the now-defunct TOTEMS, said reposting from influencers works well for brands. "I've never seen audiences reacting negatively to a brand post featuring an influencer," he said. "If anything, it motivates aspiring Instagrammers to keep working on their craft and building an audience in the hope to become the next Paul Octavious, or Chiara Ferragni."
ADVERTISEMENT - CONTINUE READING BELOW
Melissa, who has about another half a million to go before she hits Paul's follower count, said she doesn't really care about the numbers. "I try not to pay attention to the stats because I feel like it would decrease the quality of my posts."
Judd concurred, but for a slight confession. "I won't deny that I try to make it look good for other people," he said. "Nagpapansin pa rin ako."
Published in Preview July 2015.
Hey, Preview readers! Follow us on Facebook, Instagram, YouTube, Tiktok, and Twitter to stay up to speed on all things trendy and creative. We'll curate the most stylish feed for you!