Illustrations by Mano Gonzales
I arrived in New York just as summer was swarming into the city. Still in my small Manila dresses and Doc Martens, writing furiously, pretending I was still a poet, sweating in a pretty boy's room. "Tall tree," I called him, "my dove," he said to me. He lifted my thick curtain of hair and kissed me there; we wrestled silently in bed as his roommates murmured to each other through the paper-thin walls. Summer was Bloody Marys every other morning, and then walking to the park to nap in the good green grass, patting dogs we didn't own.
"I need the love of a dog," he said to me, tossing a stick across the baseball field for a border collie to chase. He would repeat the statement months later, sitting on my couch surrounded by my distant relatives, our Scottish terrier on his lap. Their dark beards matched each other, their liquid brown eyes. I thought about how my love was not that of a dog's. My love was more of a library, where you could check out only one book at a time. Late at night I'd watch him, the drone programmer, write code, and wonder if he bothered to read me at all.
ADVERTISEMENT - CONTINUE READING BELOW
That summer, so unlike me, I did no reading. He was enjoying his break from grad school, enjoying me, while I let my library books pile up beside his bed. I learned him from head to toe, let him tell me all his stories until he began to repeat himself. He had grown up on the West Coast, where it was sunshine all year round. My own country had seasons of rain, great typhoons that I carried within me but couldn't explain. They would storm to the surface, and he would get lost, a strong swimmer bewildered at the changing world. A girl he couldn't understand when she was sad.
Shopping for a hook by which to hang a guitar in his room. I'm examining the instruments and he's talking shop with the man behind the counter, who looks fondly at us and says, "You look like you're working on music together. Are you in a band?" My boy answers too quickly, and for me: "No, she doesn't make music. She just writes." I hide my hurt and buy a ukelele on impulse, as if I could prove anything. Later that night I wrote him a song, titled it "Insignificant Other," and it hurt him right back. He put it in a drawer and it was never set to music.
ADVERTISEMENT - CONTINUE READING BELOW
Recommended Videos
"Why can't it be warmth and fun all the time," he'd whisper to me, during one of the bad nights, me crying on the subway platform as we waited for the G train to ferry us back to his apartment. "I don't think you are my friend," I told him, "You are my lover, but I don't think you are my friend." The train pulled into the station and he stepped into it. I couldn't figure out the pain. Where had the summer days gone? Our long afternoons, the river wind in his dark hair, all that sunshine pouring over us in cafes as he tried to teach me how to code. My brain, for once, illiterate, and in the language he loved above all.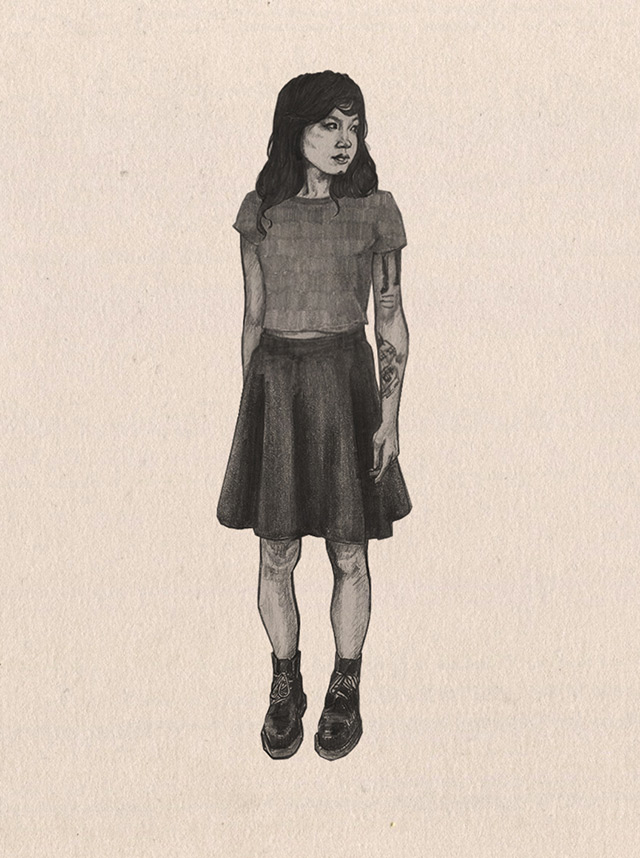 A portrait of the author in her New York uniform: dresses and Doc Martens.
ADVERTISEMENT - CONTINUE READING BELOW
"I can't read you," he said one night, holding me in his dark room. "But in this time that we've spent together, my feelings for you have grown into love." How to love someone who refused to understand, how to finish a book you can no longer read? The story slips away from you, your characters are messing up their lines. I rose from the bed, told him he wasn't supposed to talk that way. That's not in the story, I thought to myself, there's no happy ending ahead. Didn't he know summer was only a season?
I began to bring books into bed. He would lie beside me, his face lit with the blue light of his phone as he scrolled endlessly through Instagram, and I would read by the flickering candlelight. My eyes sore in the morning, but at least I was somewhere else at night. Even as he held me and drifted off to sleep, I was elsewhere. I began to put aside the difficult poems and literary theory, began to pick up popular fiction, settled for clear narratives and omnipresence. Here there were definite endings, and people who let you into their minds.
ADVERTISEMENT - CONTINUE READING BELOW
School began for him again. I saw him less and less, and even when we slept beside each other we were occupying different worlds: his filled with indecipherable code, mine of many fictional lives I didn't have to commit to. I stopped telling him my dreams in the mornings, and he began building machines. One night, well into the cold autumn, summer so dead and gone, we broke up on his street. I had tried to explain my sadness, but what he saw was an open door. "If you don't want to be with me, I'm not going to force you," he said, calmly, and my mind reeled back through everything I had said, trying to find the exact words where I had said I wanted to leave. Nothing. Where did he read that, when I never wrote it? It wasn't supposed to end this way, but he had taken the script from me and was improvising on a whim. I was finally and fully lost. He was finally and fully indecipherable.
ADVERTISEMENT - CONTINUE READING BELOW
Winter would find me with someone else, a sweet blonde boy who I caught at a friend's dinner pocketing a pie. He asked me out a week later. "What do you do," I asked him, over hot toddies. Outside the bar, the temperatures wavered near-freezing. Summer seemed like something I had only ever imagined. "I'm a playwright," he said, and when he put his hand on mine in the candlelight I saw the story stretch out in front of us, still unclear, uncontested, a rough draft, but at least we were writing it together, this time around.
Hey, Preview readers! Follow us on Facebook, Instagram, YouTube, Tiktok, and Twitter to stay up to speed on all things trendy and creative. We'll curate the most stylish feed for you!