Let's face it: Packing light means sticking to a paltry number of shoes and bags that have to serve multiple purposes, both aesthetic and practical. That also means the weight of that decision makes it 10 times harder to make! And with Christmas break fast approaching, it's one that we have to face very soon. But before you and your friends skip town, take a peek at RABEANCO, Paez and Melissa's offerings that suit any kind of fashion girl on vacay.
Below, a list of gifts for the 6 kinds of girls who travel.
The Obsessive Organizer
She has printed three copies of everything and has a separate purse for every set. Oftentimes, she plans the trip and takes charge when it comes to speaking to cab drivers, maitre d's and receptionists. This woman is most likely to be your mom or a friend with a job in accounting.
RABEANCO Julia Wallet in Dark Almond, Php 5,450; RABEANCO Multiple Card Holder in Light Grey, Php 1,650; RABEANCO Glacier Small Shoulder bag in Black, Php 11,500
Gift her with: A card case, a long wallet and a large structured bag, so she can find a place for each receipt, itinerary, travel document and memento.
The Pragmatic Packer
She is practical. She wears sensible shoes and has learned to edit the contents of her purse to fit a small crossbody that won't leave her with a backache at the end of the day. This is the type of traveler we mostly aspire to become. Because who doesn't overpack?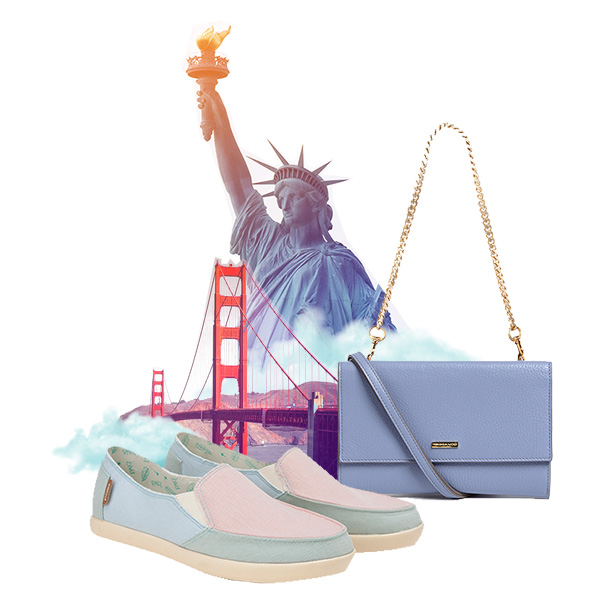 RABEANCO Cila Crossbody in Sky Blue, Php 8,650; Paez Moods Curious shoes, Php 2,150
Gift her with: A new crossbody in 2016's color of the year—Serenity—and walking shoes that won't leave her with a single blister.
The Carry-All
This type takes its name from the bag. She literally carries everything with her at all times. Need an Advil, a band-aid, hand sanitizer, a beanie, gloves and sunnies? She has them all. She might even have a bottle of water she's not going to drink somewhere in there.
RABEANCO Lava Large shoulder bag, Php 11,500; Melissa x Jason Wu Space Love Pink, Php 3,895; Paez Sauvage Carnaval shoes, Php 1,999
Gift her with: A large bucket bag. Not only is it trendy, it can also fit her whole life. Make up for its lack of color with bird feather-inspired flats that can match any OOTD.
The Picky Dame
She knows exactly what she wants, and you know it because she's written it down as a request in her hotel, airline, transfers and tour bookings. She won't hesitate to let the front desk or the shift manager know what she thinks is wrong with their service. It drives you a little mad, but you love her anyway. Your trip wouldn't have the little touches of perfection if it weren't for her.
RABEANCO Waterfall Small Crossbody in Red, Php 9,500; Melissa x Campana Barroca Gold, Php 3,250
Gift her with: Rubber flats that can easily toss into her bag for when it rains or just when she can't afford to scuff her pristine Stan Smiths. And a fringe shoulder bag—even the most discerning of shoppers can't say no to.
The Pocket Traveler
If it doesn't fit in her pockets, she's going to ditch it. Or ask if she could deposit it in your bag. She's also going to borrow your sunnies and your power bank while she's at it. It's going to make room for her stuff, she justifies.
RABEANCO Multiple Card Holder in Lilac, Php 1,650; RABEANCO Ridge Small Shoulder Bag in Dark Camel, Php 16,500; Melissa x Vivienne Westwood Scribble Black, Php 4,599
Gift her with: A card case and a structured bag, so she finally has a sensible one of her own she'll find irresistible enough to lug around.
The Photo Enthusiast
A.k.a. the Insta-hoe. She's going to take an extra 10 minutes at every wall, garden, installation and cafe, and she's going to ask you to take her #OOTD after she's composed it herself. Her outfits have been carefully planned to maximize their mileage, so she'll be wearing her jacket around her waist at noon, over her shoulders at dusk and all zipped up in the evening. That's 3 looks for 1 fashion item.
Paez Girly Pinceladas sandals Php 2,250; RABEANCO Crescent Small Satchel in Red, Php 10,500
Gift her with: A bright red handbag and sandals to match. That punchy color is exactly what she needs for her next IG post.
RABEANCO stores are located in Shangri-la East Wing, SM Aura, and Trinoma Philippines. Follow them on Facebook here.
Paez stores are located in Powerplant Mall, UP Town Center, Glorietta 4, Rustan's Alabang, Rustan's Makati. Shop online at www.paezphilippines.com, or follow them on Facebook and Instagram.
Melissa stores are located in Alabang Town Center, Centrio, Glorietta 3, Greenbelt 5, Marquee Mall, Robinsons Magnolia, Shangri-la East Wing, SM Aura, SM Megamall, SM MOA, Trinoma, UP Town Center, Rustan's Makati, Rustan's Tower and Rustan's Alabang. Shop online at www.melissaphilippines.com, or follow them on Facebook and Instagram.