Taylor Swift loves wearing red lipstick, showing off her gams, sporting oxfords, and of course, her go-to Keds. But these days, she has been upping her game with the heeled version of her lace-up favorites. Spotted strutting around post-work out, running errands, or shopping; T-Swizzle is clearly now into heeled lace-up ankle booties.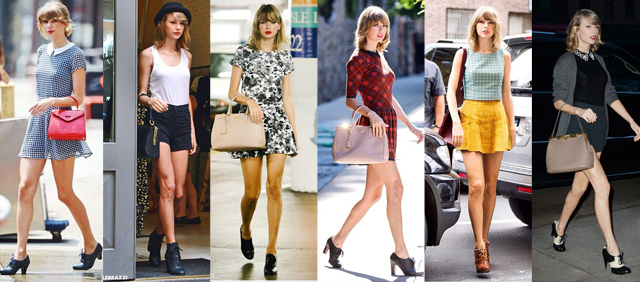 ADVERTISEMENT - CONTINUE READING BELOW
She pairs them with skirts, shorts, and dresses and we can't blame her because the booties and heeled oxfords look great with whatever. We think it might just be her latest obsession, don't you? If you love Taylor and of course her super chic style, click on the gallery to see where you can shop the lace-up beauty.
P.S. Have you seen the video of her latest hit, Shake It Off? After we heard the single, and saw her perform it live at the VMAs, it's all we've been singing. We want to share the #feels, so if you haven't seen it, here take a look:
Photo credit: Instagram @celebrazzi