Stepping into Vania Romoff's store transports you to another world. Her dresses are well known for their romantic appeal, feminine touches, and playful aura. But her retail offerings aside, how can one experience Vania Romoff's brand in a different way? Enter: Taste by Design, a cool new wedding concept by Bizu Catering Studio. It's a series of collaborations with four different bridalwear designers, including Vania Romoff, who's here to extend her brand into the realm of food for all brides-to-be to enjoy.
Bizu x Vania Romoff kicked off last June 28 at a bridal exhibition entitled Sinta, which featured other stylish brands such as The Delightful Miss Joyce confectionary, Nicole Whisenhunt accessories, Spruce Floral Designs, and Jaja Samaniego photography. The wide walkway at the new wing of Power Plant Mall was transformed into a chic fête with luxe furniture and whimsical charm. Guests were chatting over canapés and with a glass of rosé in hand.
ADVERTISEMENT - CONTINUE READING BELOW
Just a few steps away, Vania Romoff's bridal collection lined her retail store in immaculate creamy shades of white. The exclusive collection consists of over 25 pieces that each have a different appeal but are nothing short of her trademark aesthetic. It's a good mix of classic silhouettes with understated yet unique details that make the clothes very modern. When asked about her inspiration, Vania says, "I just had this bride in mind, based on the brides that come to us. You know, our brides, they have a smile on their faces—they're always so lighthearted and positive." Evidently, her clients are confident in their own skin and are not afraid to break bridal norms. Hence, the breezy tea-length skirts, the unexpected ruffles here and there, and even a daringly backless number (her favorite!).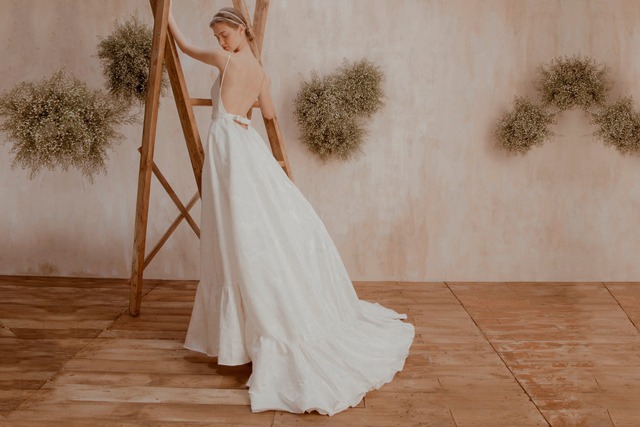 ADVERTISEMENT - CONTINUE READING BELOW
IMAGE vaniaromoff.ph
One interesting design was a sleeveless button-down dress made of jusi adorned with floral embroidery—a modern nod to Filipino fabric. Another was a two-piece French lace ensemble featuring a sweetheart-neckline dress topped with a collared bolero...because who says you can't wear coordinates down the aisle?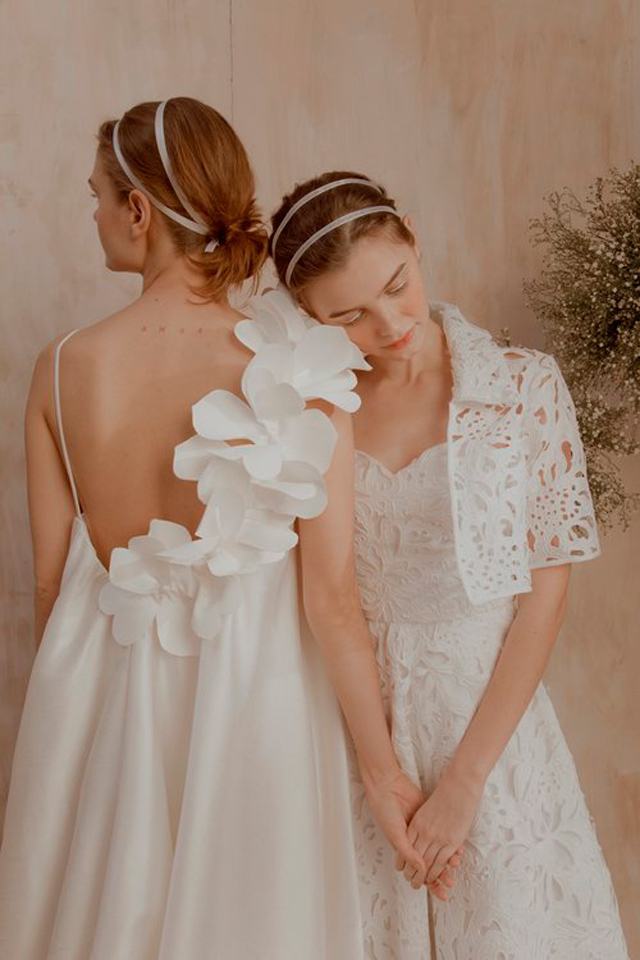 ADVERTISEMENT - CONTINUE READING BELOW
IMAGE vaniaromoff.ph
Ultimately, Vania stresses that this collection reflects the soul of her brand. "It's a reflection of our aesthetic so you'll see a lot of bows, you'll see a lot of flounces...very minimal but dainty touches of lace and beading. We have a lot of florals. We love anything that looks modest but still very playful."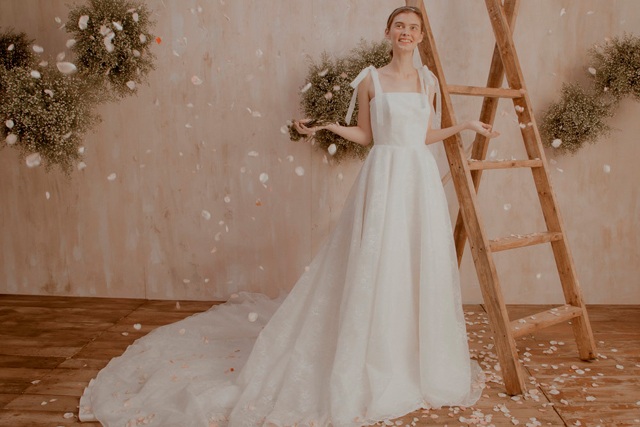 ADVERTISEMENT - CONTINUE READING BELOW
IMAGE vaniaromoff.ph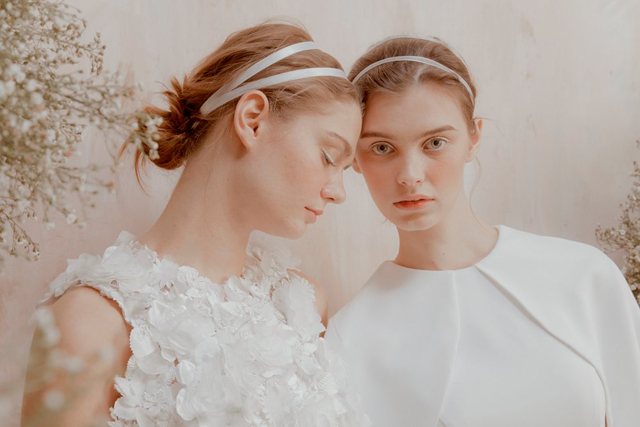 IMAGE vaniaromoff.ph
It seems like such playfulness and vivacity was evident for Audrey Tanco Uy, general manager of Bizu Catering Studio who thought of 'champagne brunch' as the theme of Vania's special menu. She explains that she wanted to inject the brand's spirit into every bite, and that translated into fresh "juxtapositions of flavor" such as watermelon with balsamic pearls.
ADVERTISEMENT - CONTINUE READING BELOW
Guests got to taste some of the sophisticated brunch items: Mini Eggs Benedict with Jamon Serrano and Parmesan Wafer, Scallop Ceviche in Red Radish Cup, Double Cheesecake with Fresh Blueberries and Strawberries. It was quite a feast. (There was even a pancake tower!) With such exciting, colorful flavors, Audrey likens the menu to a lush garden. "It's very playful, very colorful [and it] has a lot of freshness...a lot of fruits and vegetables, very few meat—[mostly] seafood. It's all about crab, zucchinis, carrots, and peas, so it's like a garden but done in an artful and unique way."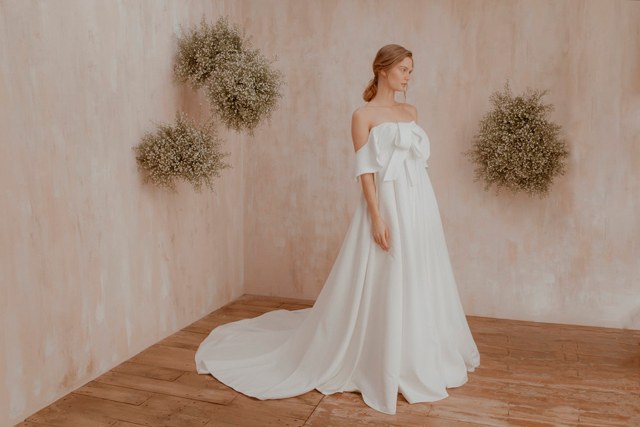 ADVERTISEMENT - CONTINUE READING BELOW
IMAGE vaniaromoff.ph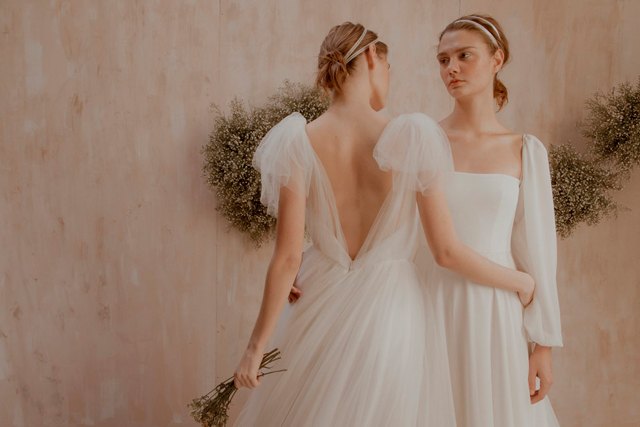 IMAGE vaniaromoff.ph
When the crowd was engaged in their respective conversations, all while enjoying what the event had to offer, one couldn't deny the power that fashion and food have in creating a synthesized experience. Given this pulse that unified clothing and cuisine, it doesn't seem so uncanny that Vania envisions her collection in an al fresco setting as well: "You could imagine our bride walking down a garden, beautiful sunlight coming in. She's just smiling and walking around in flats, sipping on a nice rosé, while probably munching on a small canapé. So, it's all in our little imaginary world where everything just kinda works together."
ADVERTISEMENT - CONTINUE READING BELOW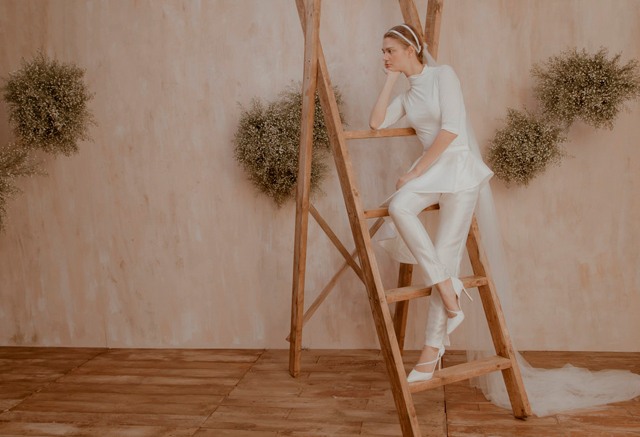 IMAGE vaniaromoff.ph
With such a world at your fingertips, one can easily get overwhelmed with all the decision-making. However, brides-to-be must remember to choose what best reflects them—and that extends to both the white dress and the right menu. For Vania, a wedding is never about outdoing one another but about staying true to your sense of style, and even sense of taste. When personality plays such a crucial role in memorable experiences, it's no wonder everyone left the event with a dreamy look in their eyes.
ADVERTISEMENT - CONTINUE READING BELOW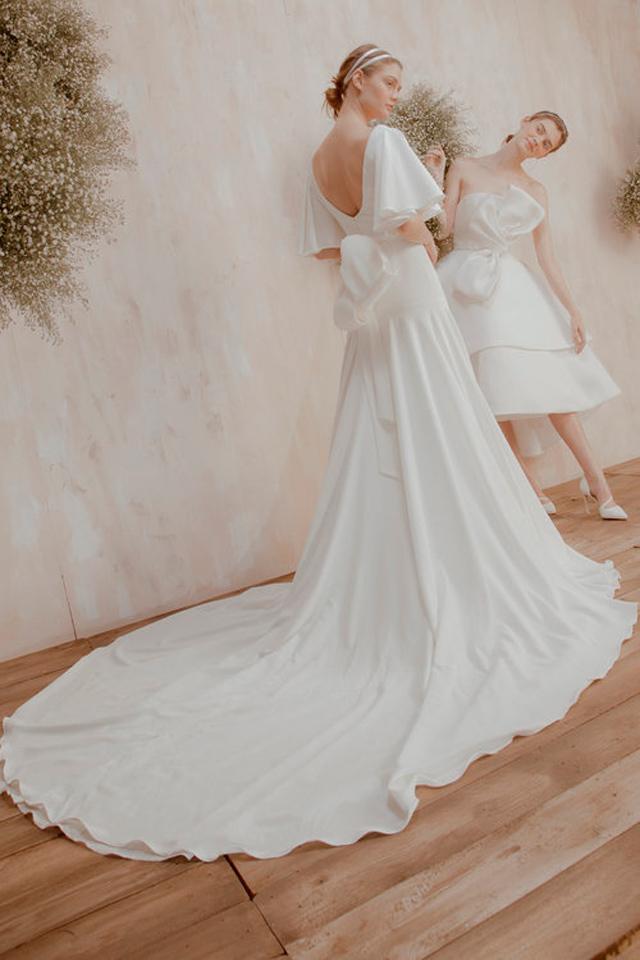 IMAGE vaniaromoff.ph
Related Stories from Preview.ph
Hey, Preview readers! Follow us on Facebook, Instagram, YouTube, Tiktok, and Twitter to stay up to speed on all things trendy and creative. We'll curate the most stylish feed for you!