Breaking in to the mighty fashion industry is a challenge itself, but for the people who work hard for their dreams, it definitely pays off. Here's something we've learned from our little chat with celebrity fashion stylist Myrrh Lao To, previously mentored by Pam Quiñones as her assistant and now out to make a name of his own in the local fashion scene. With celebrity clients like Julia Montes, Shaina Magdayao, and X Factor Philippines grand champion KZ Tandingan, we can only expect the best as he works his way to the top.
Read on and get to know more about Myrrh's journey.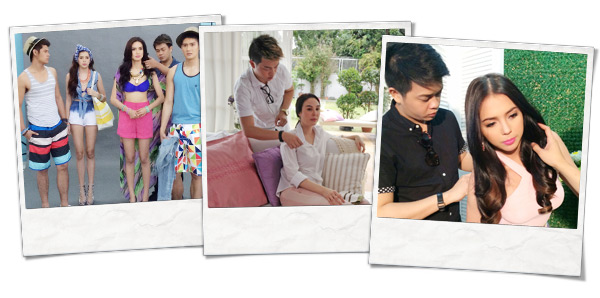 ADVERTISEMENT - CONTINUE READING BELOW
Are you looking forward to the weekend?
Definitely! Although my regular work days fall on the supposedly rest days, I get to spend time with my other stylist friends during pullouts and shoots on work weekends. Sundays, I normally do ASAP so I see my clients and get the chance to chat with them in between prods and gaps.
Speaking of ASAP, we know you've been styling celebrities every Sunday for the show, including Shaina Magdayao, Julia Montes, and KZ Tandingan. How do you manage to style all three differently? Do you have a signature look for each one of your clients?
I stick to one rule, which is to pattern their looks according to their personality. Shaina is known as a true showbiz royalty so what better way to showcase her timeless beauty than by taking the modern royalty route? I always find myself gravitating towards something grown-up and modest but at the same time would give a hint or just the right amount of skin for her.
CONTINUE READING BELOW
Recommended Videos
Julia is a young actress and a very good one at that. Her bone structure is beautiful and most, if not all, would say that she looks more mature than her age–this taken, rather than looking at it as a negative feature, we are both embracing it. Styling-wise, her look must always be young but would vary between reserved-sexy and romantic-risqué. She is a chameleon and I love that she is always willing to try out new things while taking on every look we both put together for her.
KZ is an artist and a very, very, very good singer-musician. Her default look, as people would expect, is edgy but I always inject a bit of eclectic and interesting into her looks so as to remind her audience that she is a fun-loving 22-year-old. All my clients would always have distinct looks but the common factor in them is that they all look classy, sophisticated but not trying too hard.
ADVERTISEMENT - CONTINUE READING BELOW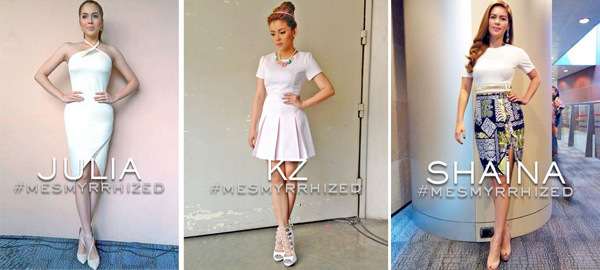 Julia Montes, KZ Tandingan, and Shaina Magdayao for ABS-CBN's Sunday musical variety show ASAP, all styled by Myrrh
We hear you used to be Pam Quiñones's style assistant. How was it like working with her? And how's your relationship with her now that you've chosen to pursue your own styling career?
ADVERTISEMENT - CONTINUE READING BELOW
Working with Pam Quiñones–and having her as my mentor–is without doubt one of the best experiences I (and every aspiring stylist) have ever had. Learning things first-hand through being immersed in different media from her while working with some of the country's top artists, photographers, prod houses, and agencies is very enriching. I still remember the things she has taught me from the fundamentals (like how to tie a proper bow) to the harder ones (presenting an effective and efficient styling deck during pre-prod meetings for advertising shoots). She's very supportive about my 'graduating' from her and some of the jobs I get booked for are because of her suggesting me to do it. It's also nice to know that though I came from Manila's top super stylist, I have somehow created a niche in the industry and a look I own up to and get booked for.
ADVERTISEMENT - CONTINUE READING BELOW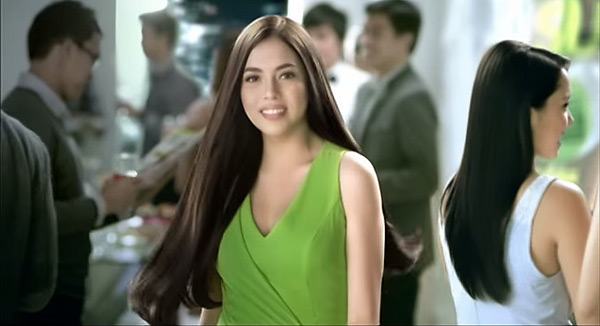 Julia Montes for Sunsilk TVC, styled by Myrrh
When did you realize that you're ready to go off on your own? How did you land your first celebrity client? Please tell us more about it.
During my stay with Pam, I was already being booked for freelance jobs, which she encouragingly allowed me to do. Realizing how demanding of my time these jobs are, Pam was very supportive of my going freelance. My first celebrity client was Shaina Magdayao. I got introduced to her by a friend in 2010 and until now, working with her is such a fun and worthwhile experience.
ADVERTISEMENT - CONTINUE READING BELOW
You're a Business Administration graduate, but instead you're working as a celebrity fashion stylist. Have you always dreamt of being in the styling industry?
When I was a kid, I already knew that I was going to work in fashion. My first dream job was to be a fashion designer. My parents are both businessmen, which is why I took up Business Administration in UST realizing that whatever career in fashion I take, being well-oriented with the business side of it is definitely an advantage. I was also once a fashion photographer but I realized that styling is my passion when I had this immense feeling of being drawn to random people who dress nicely. I'm the "resident stylist" of the family and in my group of friends, so I guess, talking about where everything started from, I would say, early on, I've seen this coming.
ADVERTISEMENT - CONTINUE READING BELOW
Julia Montes and Shaina Magdayao for Yes! Magazine's 100 Most Beautiful, both styled by Myrrh
People must be asking you for fashion advice all the time since you're a celebrity stylist. What are the most common questions they ask you and how do you respond?
The most common question is "what looks good on me?" and I would always tell that person to be aware of their body type and the areas they want to hide or pronounce. Also, investing in garments that have the perfect fit and being open to try other silhouettes are some of my go-to tips.
ADVERTISEMENT - CONTINUE READING BELOW
By the way, we love your hashtag #mesMYRRHized! It's very witty. We're just curious. How did you come up with it?
It was the height of the hashtags when I came up with it. Not many were doing it and I find it useful in documenting all of my works shown in various social media posts. My client KZ's first album's first song "Love, Love, Love" is one of my favorites and it has this line "'coz every time I look at you, I'm just mesmerized." I thought of incorporating my name into that word and "mesMYRRHized" is just perfectly inclined to my objectives when putting together a look–I want people to get mesmerized not just by the outfit my clients are wearing but more of how the person looks in it.
ADVERTISEMENT - CONTINUE READING BELOW
Gretchen Barretto for IVI print ad, styled by Myrrh
Can you name five celebrities (local or international) whose personal styles stand out to you? What makes theirs special?
Daphne Guiness, Carine Roitfeld, Kate Moss, Leandra Medine, Eva Chen, and Beyoncé. Every look by these girls is defined by their personas and not just by the clothes they wear. My viewpoint is that an outfit doesn't have to define you. It is just a way of expressing yourself and that doesn't need another person's approval.
ADVERTISEMENT - CONTINUE READING BELOW
Julia Montes for Block & White TVC, styled by Myrrh
So we already know you work even on weekends, but what do you do when you're not at work styling celebrities? Any hobbies or sports you're into? What are the things you do for fun?
I always hang out with family and friends during my days off. Eating is probably my most favorite hobby (laughs), and I cook most of the time. I also do badminton and whenever I get long days off, I travel once in a while.
So, what's next for Myrrh La To?
Next month will be the Star Magic Ball and I'm dressing up Julia and KZ. This year, we are gearing up for another exciting milestone in my career. I will keep you posted.
For booking inquiries, e-mail myrrhlaoto@gmail.com or call or send SMS at 0917.586.2309
Hey, Preview readers! Follow us on Facebook, Instagram, YouTube, Tiktok, and Twitter to stay up to speed on all things trendy and creative. We'll curate the most stylish feed for you!