Kim Jones hasn't really slept. Twenty four hours prior to Star Magic Ball, she and husby Jericho Rosales were still in Paris, savoring the last few moments of their Euro trip together. "I found out we were going while we were away. It wasn't something we planned super, super in advance," Kim confesses. The next thing she did was text Preview's Fashion Editor, Daryl Chang, to style her. "She said yes, thankfully. And we were just talking while I was abroad, and brainstorming ideas and things." But despite Ms. Jones' "lack of preparation," the end result of her SMS consultations and calls with Daryl did not look rushed at all—and even landed her the top spot at Style Bible's #8thStarMagicBall Hot Meter.
Join us as we dress up with stylish couple, Kim and Jericho Rosales, for their first big event after their wedding. We have to admit, we've never had this much fun during prep time in a while; especially if you have Jericho throwing around jokes every two minutes. Scroll down to see what we mean.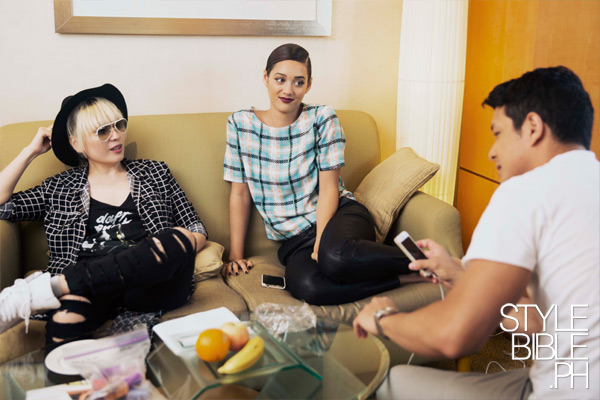 Echo was sharing some of their travel photos with Daryl when we entered the room.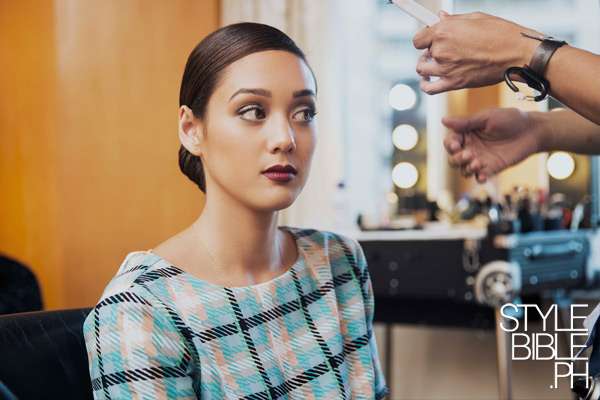 ADVERTISEMENT - CONTINUE READING BELOW
Kim lacked time to pamper herself before the ball, which led her to paint her own nails, and, get this, DO HER OWN MAKEUP (Gasp!). "I painted my nails like an hour ago. I did my own makeup."
Jericho interrupts gesturing to his makeup artist, making Kim laugh and say, "Prince over here needs a makeup artist."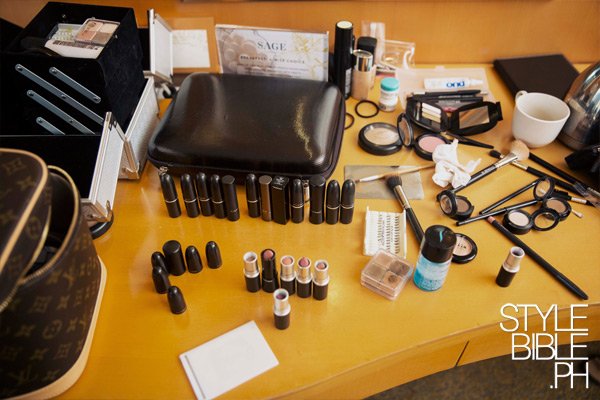 "It's very therapeutic for me. I love putting on makeup. I don't really like wearing makeup, but I love putting it on. And doing my own nails and things like that," Kim shares. "She does it every day," Echo adds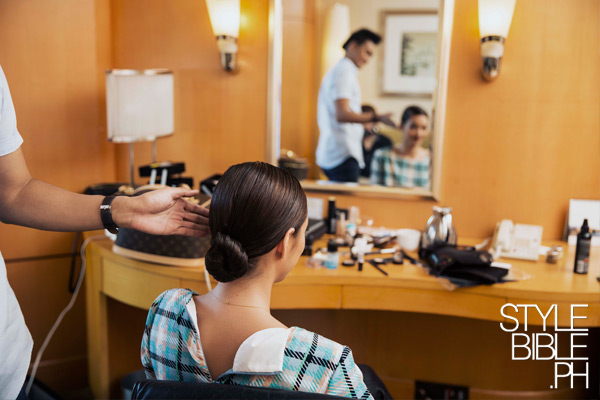 ADVERTISEMENT - CONTINUE READING BELOW
Kim asked hair stylist Mark Familara for a sleek low bun to complement her dress, "It really reflects the gown. I just wanted something minimal on my head, too."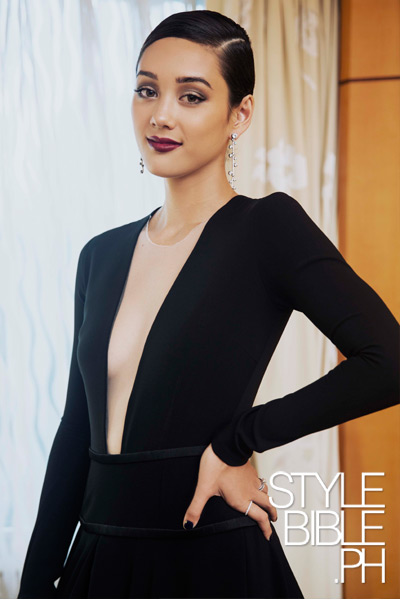 "I think the keyword when it comes to my dress is: ruffles. [laughs] No, I'm just kidding!" Kim and Daryl agreed on a look that was not so feminine, but more edgy, and something Kim hasn't really tried before.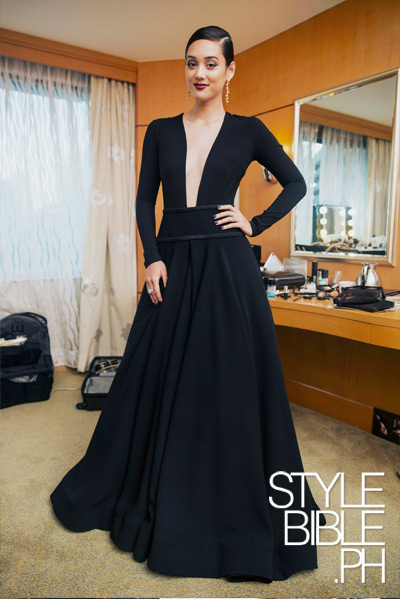 Daryl chose this minimal Jun Escario evening gown in black, with a deep neckline, that was secured in place with a mesh overlay. The bottom half of the dress was volumized, thanks to a petticoat.
ADVERTISEMENT - CONTINUE READING BELOW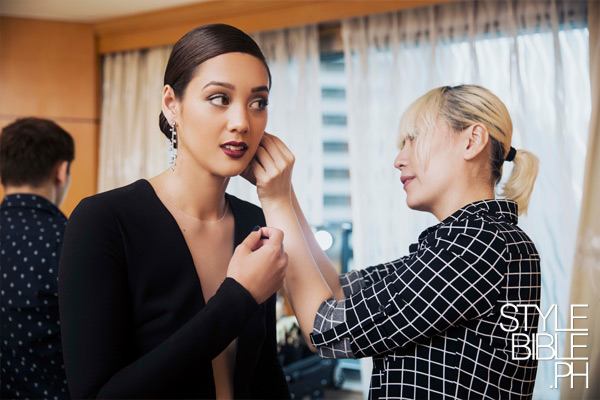 To compete her look, Kim wore blue-hued drop earrings and a classic circular ring from Janina by Jul Dizon.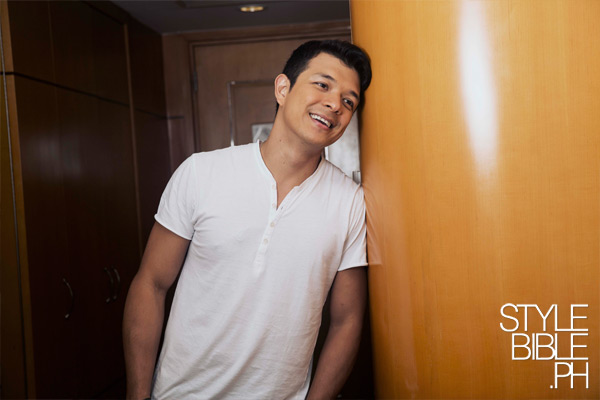 "This is my third time to go, and the first time I'm attending with a date, with the wife pa, jackpot 'di ba?" Echo tells us from across the room before he changes into his Dolce & Gabbana suit, as chosen by his stylist, Rex Atienza.
ADVERTISEMENT - CONTINUE READING BELOW
"I also have personalized cufflinks with my nickname on it."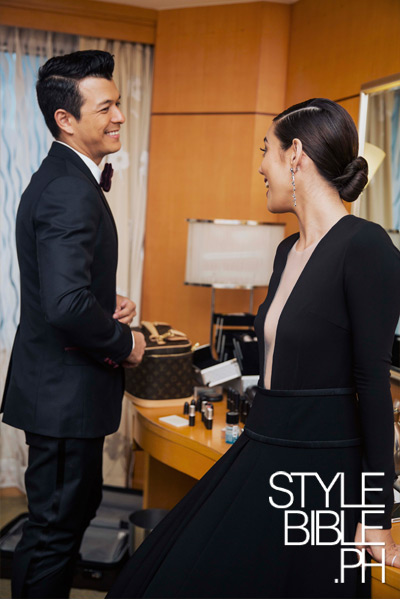 When asked if she and Echo coordinated their outfits, Kim says quite frankly and trying not to laugh, "We didn't," and admitted that they only checked if they looked good together an hour before arriving at their hotel room. "Echo had a fitting this morning. But it worked out. I think we both sort of knew what we wanted."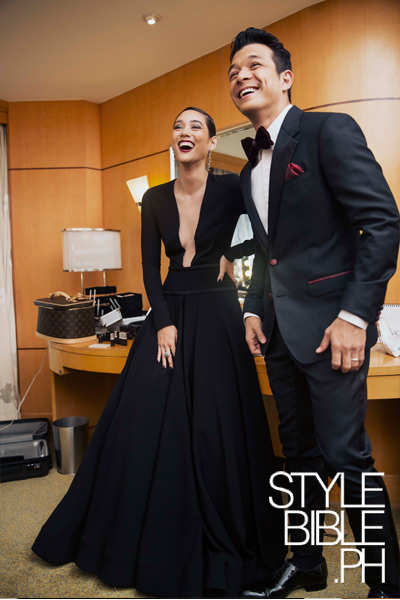 Photographed by Koji Arboleda. Click on the gallery for more photos!
See what happened when we dressed up with Heart Evangelista here.
See what happened when we dressed up with Jessy Mendiola here.
ADVERTISEMENT - CONTINUE READING BELOW
See what happened when we dressed up with Jasmine Curtis-Smith here.