Legends who make their mark in history often find themselves at the center of lunchtime conversations or being whispered about by the majority. In my college's case, it was the former valedictorian and token overachiever. She seemed to have it all—a Summa Cum Laude's report card, an active extra-curricular life, and a stellar sense of style. She went on to pursue a career in fashion and even became an Editor-In-Chief. In a not so common instance wherein her disciples, myself included, continued to talk about her in admiration, someone commented, "Ang dami niya'ng puwede'ng gawin, kaya nakakagulat na nag fashion s'ya." (She had the potential to do so many things, that's why it's shocking that she chose fashion). I felt a punch in my gut as soon as I heard those words. First, why did intelligence and fashion have to be mutually exclusive concepts? But more importantly, how was pursuing this industry a case of greatness put to waste?
ADVERTISEMENT - CONTINUE READING BELOW
It's ironic that despite living in a world dominated by multi-hyphenates, where the slogan is to pursue one's passion, an ignorant horde finds enough room to be derisive. Some people continue to ascribe to stereotypes, and the one granted to those interested in fashion has been degrading for far too long. In an effort to eradicate the stigma, we've demystified the common misconceptions of a fashionphile. We find that the labels on clothes are more significant than the labels put on people.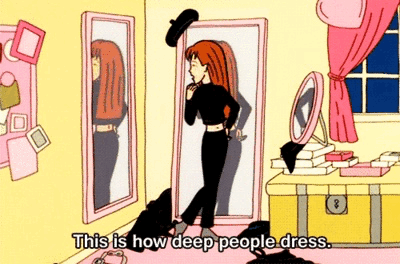 CONTINUE READING BELOW
Recommended Videos
"Fashion isn't an important industry."
Clothes aren't just wearable forms of visual communication, but also serve as a microcosm of sociopolitical issues. Designs are where art, history, and culture interconnect and direct the development of society. The 1960s for example, represented the rise of counterculture through a petition represented by clothing. It broke traditional gender norms through the rise of women wearing trousers. According to Boucher's 20,000 Years of Fashion, it was through the female race's adaptation of men's style that they had voiced their equality.
"We can't carry an intellectual conversation."
Of course, you can expect that we're knowledgeable on the personal styles of various influencers and what trends were seen sashaying down the Paris Fashion Week runways. This industry may pique our interest, but it's not to say we don't concern ourselves with anything else. Being passionate about fashion doesn't diminish our thinking capacity. We have our own insights to contribute when it comes to the scheme of politics, championing liberal arts, and current events, and can engage in intellectual discourse as much as anyone else.
ADVERTISEMENT - CONTINUE READING BELOW
"We are always on a diet and have to be skinny."
If you turn to Urban Dictionary, the digital hub for all millennial terminology, 'Fashion Girl' would conjure the generalization that being skinny is a prerequisite and that our diets are limited to lettuce and water. It can either be satirical or a false notion, but either way, it simply isn't true. Anyone can enjoy good food just as much as they can appreciate fashion. And as for the latter myth, style can be exuded by any body type or figure. Some even utilize clothing to combat their bodily insecurities by using it to accentuate their assets.
"We are slaves for trends."
Trends are documented on the social media accounts we follow and the publications we subscribe to. It's almost impossible for us not to know about them. It is important to remember that the word of a powerhouse designer is not the law. Our ensembles, however we choose to wear them, is the merit of our personal choices. One's outfit is an agent of self-expression and self-identification. In fact, fashion encourages individuality and constant disruption.
ADVERTISEMENT - CONTINUE READING BELOW
"We only read magazines."
Would it be surprising to hear that fashion magazines contain content other than fashion? They happen to have articles on pop culture, art history, beauty, lifestyle, and sometimes thought-provoking pieces on different social issues. A lot of them happen to be well-written as well, which can be a surprise to people who have never attempted to read them. We acknowledge that this periodical publication serves a different purpose than books and broadsheets. Which is why we, just like other individuals, look to other sources depending on the kind of information we're looking for. A stack of magazines doesn't exempt us from having a bookshelf and a subscription to dailies, too.
"We're all ditzy."
Not everyone who is interested in fashion is ditzy. But I don't find anything wrong with those who are. I for one have always lived by the motto, "I don't want to be the girl who flips her hair. I want to be the smart girl who flips her hair." Legally Blonde's Elle Woods has always exemplified this image for me. We can all use someone in our lives whose personality has a lot of spunk. Fashionable, yes. Ditzy, perhaps. Charismatic, of course. Intelligent, why the hell not?
ADVERTISEMENT - CONTINUE READING BELOW
To all those interested in fashion, may you continue to pursue what you love (and look good while doing it) despite the prejudice people hold against you because there isn't truth to it, anyway. After all, dressing up doesn't mean you're dumbing it down.
Related Stories from Preview.ph
Hey, Preview readers! Follow us on Facebook, Instagram, YouTube, Tiktok, and Twitter to stay up to speed on all things trendy and creative. We'll curate the most stylish feed for you!