Indie furniture store—and local cool-kid fave—Space Encounters brought out the big guns with its latest for Manila's interior design aficionados. Launched via a quirky saloon-themed barbeque last April 12, the collection took to the wild, wild West with gusto: Aptly named Space Cowboy, the "revisionist Western" pieces married the distressed, Western feel of dustbowl Americana with warm, sun-baked Mexicali shades and bold Aztec patterns. Cowboy, stallion, wood, and desert iconography mixed with the token smoking gun and touches of mid-century macabre were the linchpins of the concept, such imagery peppering pieces such as their Tavern dining table, Stardust bench, Rodeo Saddle stool, and Rider barstool.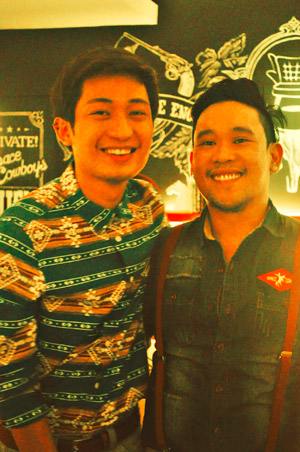 ADVERTISEMENT - CONTINUE READING BELOW
CONTINUE READING BELOW
Recommended Videos
The collection is also a hallmark for the furniture store as it marks a first-time collaboration with local artists. Designer Ziggy Savella (above left) lent his menswear proclivities to the Space Cowboy loveseat outfitted in studs, leather, and denim, as well as to the Tuxedo armchair. Graphic designer Mylo De Borja was responsible for the collection's definitive cowboy-aw-shucks words and typography, and graphic artist Kuds Cruz's weaponry stampwork on eco bags and tees provided a modern camo touch to the entire aesthetic.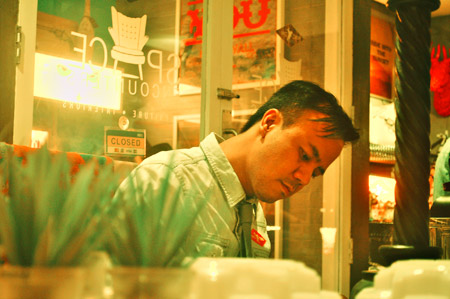 ADVERTISEMENT - CONTINUE READING BELOW
Space Encounters Creative Director Wilmer E. Lopez (above), who also launched his coffee-table tome The Present Future the same evening, says of the mix-match, "I love the distressed finish, the cowboy icons, and the look and feel of Western saloons. I thought that mixing it with mid-century modern furniture would breathe new life to both design movements." Looks like we're riding off into the sunset with this one.
Check out the gallery for photos of the pieces.
Space Encounters is at Unit B Mezzanine, Padilla Condominium Bldg., F. Ortigas Jr. Rd., Ortigas Center, Pasig. Tel. no. 910 8031. Cel. no. 0917 7956739. E-mail info@spaceencounters.net