Disclaimer: This article does not aim to tackle political issues but rather focus solely on fashion.
[UPDATED 7/29/2014 2:48 PM]
Camille Fariñas-Mathay wearing an Avel Bacudio Terno poses with some of the congressional staff.
Hon. Cheryl Deloso-Montalla joins in on the pastel trend with her powder blue Terno.
Marie Lozano and Ginger Conejero both sporting different Filipinana dresses as they report live from Batasang Pambansa.
Fille Cayetano in a midnight blue terno with her husband Congressman Lino Cayetano.
[UPDATED 7/29/2014 2:11 PM]
Joy Enverga, Tiffany Gatchalian, and Rows Mendoza all wearing Haute Lifestyle Manila.
Anne Binay joins the rest of her family wearing a pink Rhett Eala Terno.
Tootsie Angara slips into another Rajo Laurel number for the afternoon session. She pairs her Igorot-inspired gown with stud earrings and a mother of pearl minaudière.
[UPDATED 5:02 PM]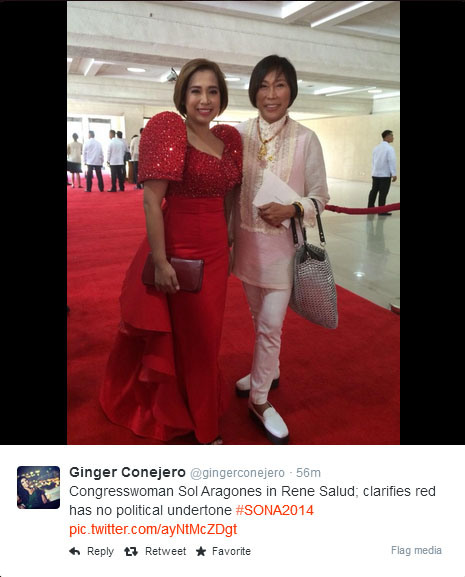 Congresswoman Sol Aragones wears a red beaded Rene Salud number as she arrives with the designer.
[UPDATED 4:31 PM]
Kris Aquino attends her brother's State of the Nation Address wearing Cary Santiago in her family's signature color.
Ilocos Norte 2nd DistrictRepresentative Imelda Marco wears a peach colored Terno as she arrives for the President's SONA.
ADVERTISEMENT - CONTINUE READING BELOW
Sen. Nancy Binay slips into a sleeker silhouette, still by Randy Ortiz, to attend the afternoon session at Batasang Pambansa.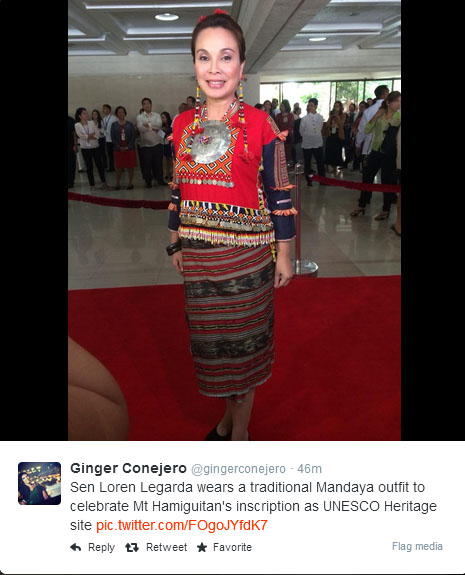 Sen. Loren Legarda, Chair of the Senate Committee on Cultural Communities, dons a traditional Mandaya outfit as a tribute to the recent inscription of the Mt. Hamiguitan Range Wildlife Sanctuary in Davao Oriental as a UNESCO World Heritage Site.
Sen. Grace Poe changes into another white number for the afternoon session.
[UPDATED 4:24 PM]
No sign of Timi Aquino's baby bump in this mint green Noel Crisostomo dress.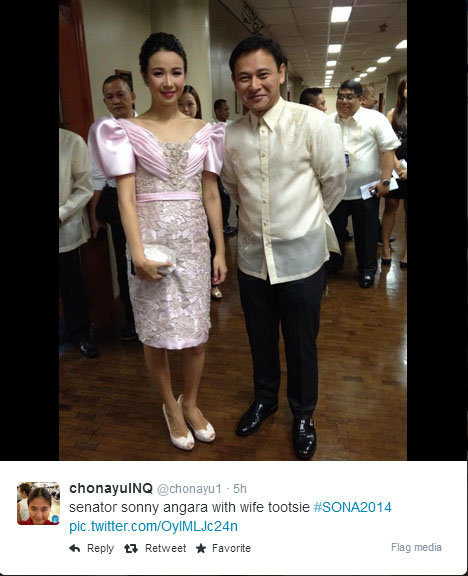 ADVERTISEMENT - CONTINUE READING BELOW
Tootsie Angara was one of the few who kept it short with her blush pink and lace Terno.
[UPDATED 4:04 PM]
Mayor Lani Cayetano keeps a part of summer with braided strands wrapped around her bun. Her Lilac dress is by Onin Pagsisihan.
Mommy Dionisia wears a tulle skirt to her first SONA red carpet.
[UPDATED 3:28 PM]
This one took us by surprise. DIWA Party-list Representative Em Aglipay sports a white Boom Sason Terno with geometic details on the bodice, skirt, and sleeves.
Rep. Lucy Torress lets her nude Randy Ortiz number shine without the help of accessories.
Assunta de Rossi stands out from the sea of sleeves by donning a more western look.
ADVERTISEMENT - CONTINUE READING BELOW
[UPDATED 3:08 PM]
Since 2009, Joey Samson's skeletal take on the Terno has been a main stay at state events with the younger generation favoring it more. Heart Evangelista goes clinical in stark white for today's SONA.
Journalist Sweeden Velado keeps it short in this eletric blue Marchie Tamayo number.
Rep. Abby Binay matches with daughter Martina with magenta details on her heather gray Ivar Aseron Terno.
Congressman Miro Quimbo's wife Stella accessorizes her black and white Terno with a large gold pendant and boxy minaudière.
[UPDATED 2:46 PM]
Enough of the sketches and the fittings. It's time we see the dresses live in action.
ADVERTISEMENT - CONTINUE READING BELOW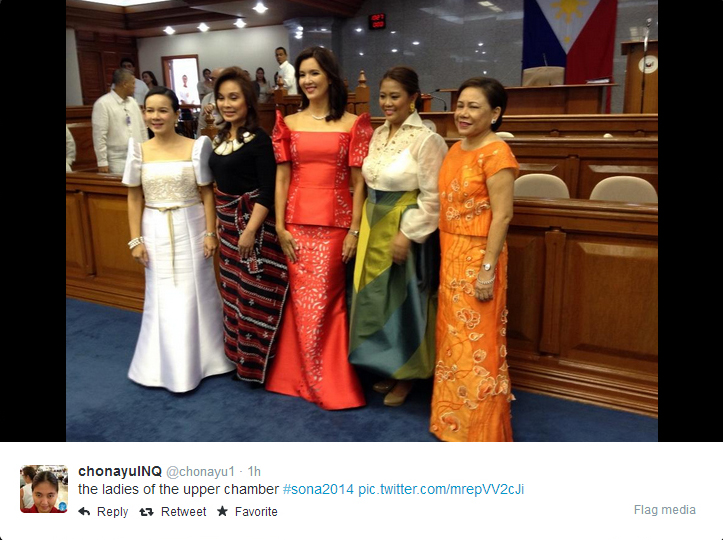 Senators Grace Poe, Loren Legarda, Pia Cayetano, Nancy Binay, and Cynthia Villar were one of the first to arrive for the morning session.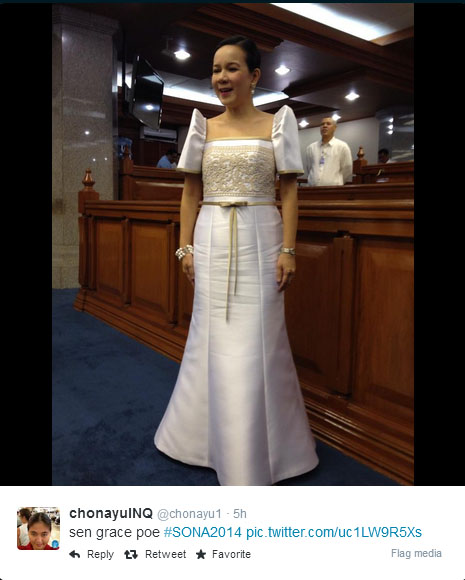 Sen. Grace Poe wears a white and gold Rajo Laurel number for the morning session.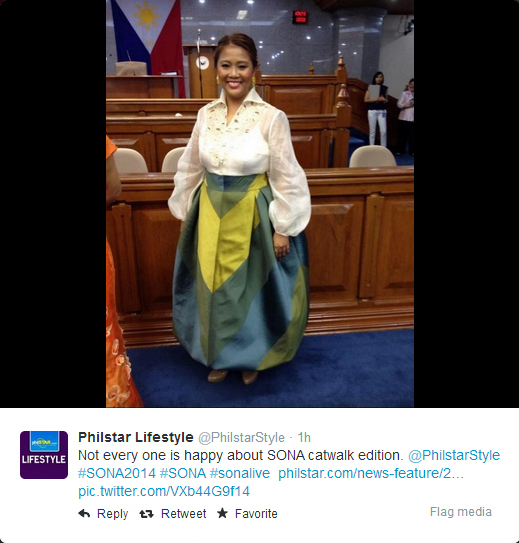 ADVERTISEMENT - CONTINUE READING BELOW
Sen. Nancy Binay wears what she calls a "blouse and skirt" combo by Randy Ortiz.
Always one to steer clear from the traditional Terno, Sen. Loren Legarda wears an Ifugao-inspired outfit.
Sen. Pia Cayetano plays up her Mia Urquico Terno with laser cut details.
[UPDATED 2:23 PM]
Before any dress hits the red carpet, designers make sure that each detail is well in place. Here are a few in a state of preparation.
Andrea Tetangco's team finishes off the hem on this blue serpentina Terno.
Vania Romoff uses peplum to modernize her take on Filipinana.
Kris Aquino's opts for a Maira Clara dress by Cary Santiago.
ADVERTISEMENT - CONTINUE READING BELOW
At 2pm today, all eyes and ears will be on President Benigno S. Aquino III as he delivers his 5th State of the Nation Address in the Session Hall of the House of Representatives. But before we allow the Batangsang Pambansa to return to its usual state as a house for legislation, let's zoom in on the only red carpet event that actually might matter this afternoon. To play along with the heightened security, we're serving up some fashion police realness as we keep tabs on the SONA's style highs and lows. Let's begin.
If you're a politician (or married to one), then you've probably prepped your #OOTD months in advance. Of course, looking your "best" is your only option when marching down the red carpet leading to the Session Hall of The House Of Representatives as you listen to the President give his speech. Preparations include phoning your favorite designer and making sure the dress fits you like a glove. Here are some of the preps we caught via social media that got us excited for today's "runway show."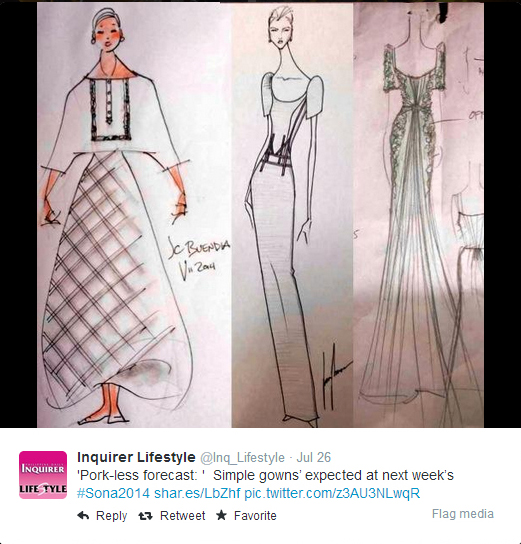 Our local designers happily give a sneek peek on what to expect from the nation's legislators.
ADVERTISEMENT - CONTINUE READING BELOW
Designer Tippi Ocampo posts this sketch of Quezon City Vice Mayor Joy Belmonte's dress on her Instagram
Here's a preview of what Kris Aqiono might be wearing today.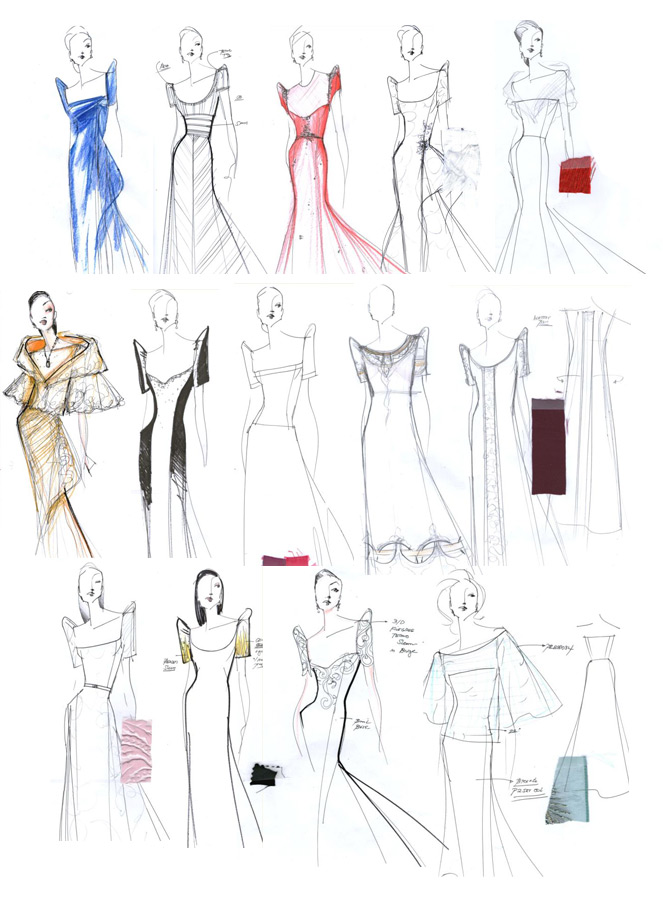 A montage of sketches of the dresses Rajo Laurel will be displaying today. This incules those of Milen Albano, Tootsy Angara, Grace Po, Monique Lagdameo, and Juliet Cortuna to name a few.
Watch this space for more updates.