As the former editor-in-chief of Preview, Pauline Juan has long established her identity as a fashion icon. In her line of work, she is able to predict fashion and through the magazine, she can even dictate fashion. Her love for the industry, and not just the clothes, but the art it espouses, crosses over to her daily life.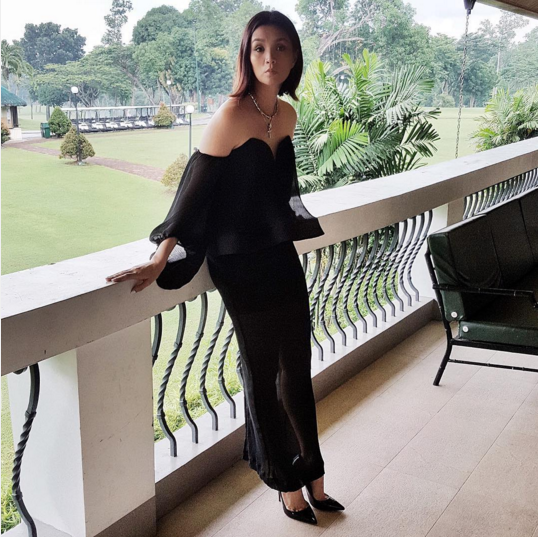 ADVERTISEMENT - CONTINUE READING BELOW
IMAGE @pauline_juan on INSTAGRAM
Pauline captions this photo, "Instagram-husband-in-the-making #hesgettingthere"
She's always thinking about the magazine; she'll wake up and immediately start WhatsApping the team, firing away ideas that seem to come to her in her dreams. When she de-stresses, she likes to mindlessly pore over page after page of shoes on Yoox.com, prompting our youngest son, Max, to joke, "Mom, you love fashion more than you love me!" It's a well-calibrated comment designed to grab her immediate and undivided attention—something he employs with increasing frequency. Pauline and Max also often repeat these lines of verbal sparring:
MAX: I love you, mom.
PAULINE: No, I love you more.
MAX: No, mom, I love you most.
PAULINE: I love you more than fashion!!! [Cue riotous laughter]
It often seems ironic that one of the country's most fashionable women is surrounded by boys at home: There's me, her husband, and sons Elias (age 12), Roque (age 8) and Max (age 5). But then again, as the lady of the house, she does get to command all the storage space. I have to constantly edit my wardrobe because the said closet space (hers is three times the size of mine, mind you) is filled to capacity.
CONTINUE READING BELOW
Recommended Videos
IMAGE @pauline_juan on INSTAGRAM
The Juans dressed to the nines.
At home, Pauline likewise commands all the attention. Elias, Roque, and Max have begun voicing their opinion on her clothes, vetoing man-repelling and hubadera ensembles. The youngest one has gone as far as asking his mom to change a pantsuit she was wearing. "I want you to wear a pretty dress," said Max to his mommy, who was invited to talk to his kindergarten class about what a fashion editor does.
ADVERTISEMENT - CONTINUE READING BELOW
I, on the other hand, have always been inclined to pay attention to what I wear. Greatly influenced by my grandfather's dapper—think Mad Men—style and my father's classic takes, I think our love for fashion brought us together. I remember wearing a lime green shirt to one of my earlier dates with Pauline. It was a weird shade of green that not too many people dared to wear at that time, and to my surprise, when I picked her up, she was wearing a column dress in the exact shade of green. I was attracted to her fashion sense; it was a relief to know that I was dating someone I didn't have to "style." She always knew the appropriate clothes for each occasion. She knew what to wear to dinners with my family or to nights out with friends.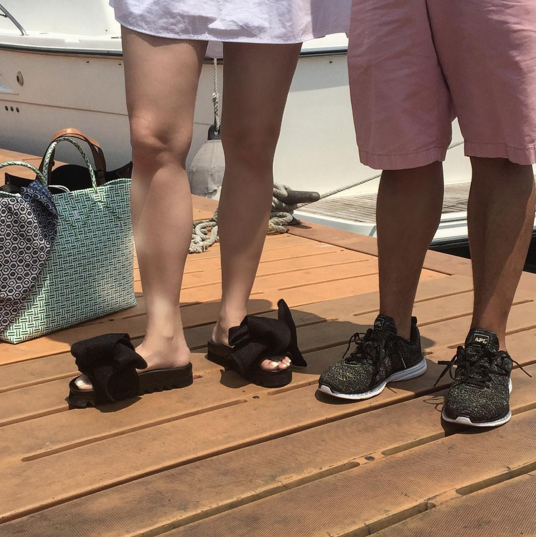 ADVERTISEMENT - CONTINUE READING BELOW
IMAGE @pauline_juan on INSTAGRAM
Pauline and Raffy take a shoefie.
Fashion is a part of our lives, at home and when we travel. We, the boys, have learned through experience that Pauline will need an hour to get dressed (especially during days she sits in front of her closet moaning that she has nothing to wear) and a couple more minutes to try on three or four pairs of shoes before she wraps up her ensemble. On some days, though, her own wardrobe is not enough. "She's worn my shark-print tee," wails Roque. Traveling as a family requires some wardrobe planning. Pauline plans daily outfits for herself, Elias, Roque and Max on Evernote. The boys are always coordinated when they travel. In Taipei, sales ladies would sometimes clap at the sight of three well-dressed boys. Of course, they find them cute, but also because having three sons is supposed to be a lucky blessing.
ADVERTISEMENT - CONTINUE READING BELOW
Maybe one is born with the beginnings of a sense of style and this is what evolves through the years. Like art, one's sense of what is beautiful, elegant or fashionable is shaped by exposure to the world and one's experiences. Then it becomes a part of you and you influence those around you. For some people, like Pauline, it becomes a passion, a way of life, something ingrained into the fiber of her being.
Related Stories from Preview.ph
Hey, Preview readers! Follow us on Facebook, Instagram, YouTube, Tiktok, and Twitter to stay up to speed on all things trendy and creative. We'll curate the most stylish feed for you!