The author's customized wedding shoes by Maco Custodio. (Photo by Jaja Samaniego)
"What's the smallest size available?" That question alone always signals my insecurity.
Having size five feet, buying shoes has always been an emotional rollercoaster ride for me. Spotting a beautiful pair of heels sends a tremble of glee up and down my spine. That feeling almost instantly shifts into apprehension the moment I would have to ask the sales assistant, and then it either goes uphill or downhill from there.
It was in high school when I became more experimental with fashion and footwear. Growing up as a young Marikina lass (the Shoe Capital of the Philippines, how cruel), I would always put together different looks and practice walking in my mom's high steppers. Come Junior Prom—an affair I was most excited about only because I could wear my own pair of heels—my mother and I, after scouring the few shopping malls around Metro Manila at that time, ended up buying a department store pair I didn't even like. But it was the only "okay" pair that this little-footed girl could fit in.
ADVERTISEMENT - CONTINUE READING BELOW
When I got older, the struggle became real. Most stores—retail, online and most designer brands—carry shoes starting at size 6. Finding the perfect pair, pumps especially, was like playing a game of detective, or Where's Waldo? I'm also guilty of stuffing my shoes with insoles, which I wouldn't really recommend, either, as I feel like it changes my gait. #Facepalm
CONTINUE READING BELOW
Recommended Videos
All this, until I found a goldmine, right where I have been living all my life. A high school friend, whose family owns one of the first shoe factories in Marikina City, offered me Made-to-Order shoes. The entire process was both simple and fun and more importantly, it didn't cost much (Php1500-2500, without a minimum order).
At the time, wedges were all the rage. I wanted some pairs that I could wear from work to errands to casual events. So I submitted some drawings that indicated the style, colors and the kind of leather and hardware I preferred. My friend also provided me with swatches to choose from. Even the height of the platform and the heel were customized to my liking. The only thing that initially turned me off was the waiting time—it took about a month for one pair of shoes. But this, I tell you, only made my exploit sweeter. It was all worth the wait. The moment I laid my eyes on my very first pair of made-to-order shoes, it sent that familiar tremble of glee up and down my spine—now, minus the feeling of apprehension.
ADVERTISEMENT - CONTINUE READING BELOW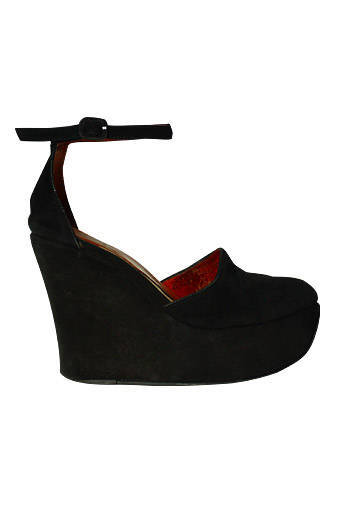 The author's first pair of made-to-order shoes by Carmelletes, which the brand mass-produced and offered to the public—with the author's permission, of course.
Shopping for size five footwear may be daunting, but I have come to realize there's a completely different thrill to it. And when you finally slip into a pair of shoes that fit perfectly, you learn to appreciate it more because you know you've worked hard to find it. It becomes special.
ADVERTISEMENT - CONTINUE READING BELOW
Support your local sapatero! Click here for a directory of shoe manufacturers in Marikina.
Reach Carmelletes at carmelletes@yahoo.com.
Hey, Preview readers! Follow us on Facebook, Instagram, YouTube, Tiktok, and Twitter to stay up to speed on all things trendy and creative. We'll curate the most stylish feed for you!