Preview alumnae editors Anna Canlas and Karen Bolilia have found their second calling: to be champions of local footwear. The two are bringing back the glory days of the Marikina shoemaking industry by reviving the archival footwear brand Josanna.
Originally founded by fourth generation shoe maker Rico Sta. Ana, Josanna returns under the creative direction of Anna and Karen. "Josanna started in the '90s as a women's shoe line by the Marikina shoemaker Rico Sta. Ana. He named it after his dad, Jose Sta. Ana, also a shoemaker whose own brand was the first in Marikina to ship shoes to the United States in the '60s, and also ended up supplying to Saks [Fifth Avenue]," Anna shares.
While the duo is set to provide a modernized take on the brand, they are determined to preserve Rico's vision on how a woman's shoe should be: "fancy-free and elongating on every type of foot and made with humble materials used exquisitely."
Below, we talk to Anna and Karen about their big plans for Josanna.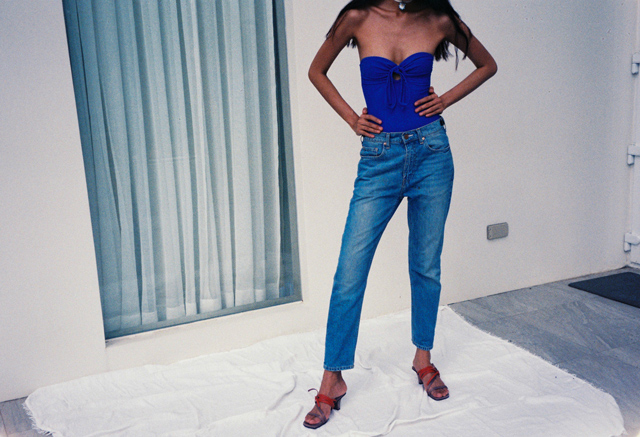 Could you describe Josanna's design aesthetic and philosophy?
Anna: "Movement-based shoes with unique character, found in a negotiated sort of beauty."
What made you decide to revive the brand? How is it different now?
Anna: "I stumbled upon the Josanna shoe archives when Sir Rico's daughter invited me to his workshop in Marikina. Dusty and worn from Ondoy and the flash flood it caused, the pairs, which were mostly from the '90s, called out to me with their square toes, block heels, and juicy colors. Very now! I was so excited that I sent pictures to Karen and we ended up visiting the workshop together soon after that."
ADVERTISEMENT - CONTINUE READING BELOW
Karen: "We found Josanna by sheer luck—Anna's sister had told her about a workshop in Marikina that had an amazing women's shoe archive, Anna sent me pictures. And that was it. We sort of jumped the gun from there and decided to keep the name as well, because it reminded us of those '80s/'90s shoe brands at the department stores.
"For now, we feel very strongly about updating the archives. There's still so much to flesh out, and so much to learn from Sir Rico and the workshop. We're barely scratching the surface. It's not really about Josanna 1.0 and Josanna 2.0; it's about moving the narrative forward, allowing the brand to re-assimilate into the landscape—to find its footing. Pun intended!"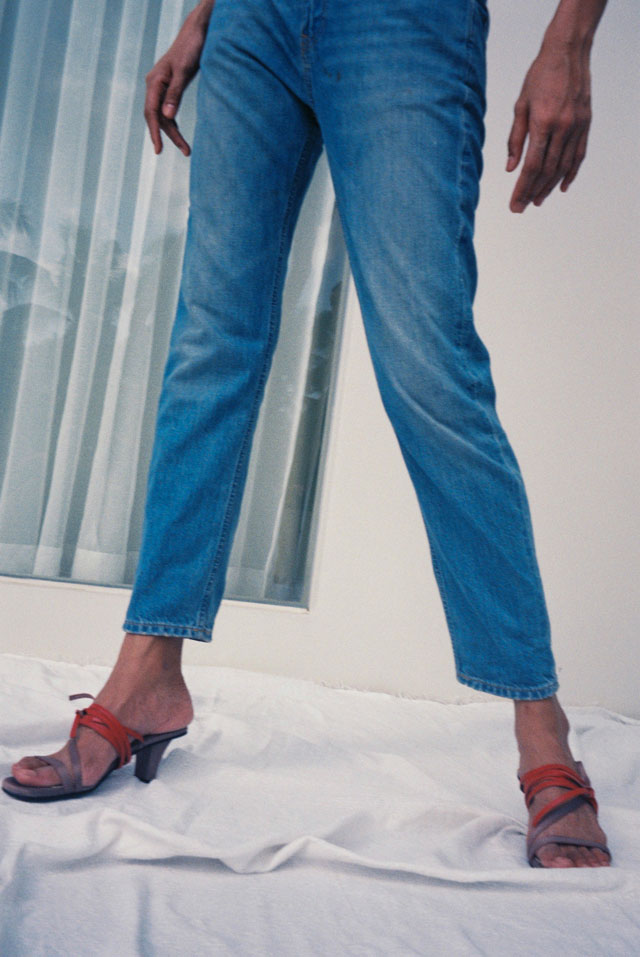 Do you have a signature design or key element evident through your shoes?
Anna: "Yes, the pronounced arch that makes any foot look longer; the ever so slightly lifted toe, which prevents your own toes from spilling out (we hate that), and the square-point toe—all signatures of Sir Rico, a really good sculptor of shoe lasts."
Karen: "The indented wooden heel, too, would be our addition to that! But I think, what's also important to translate beyond those things—and I'm speaking for myself here—are capturing states of feeling and mind: tenderness, tactility, a great pride in being a woman, subversion, hopefully even warmth and sensuality."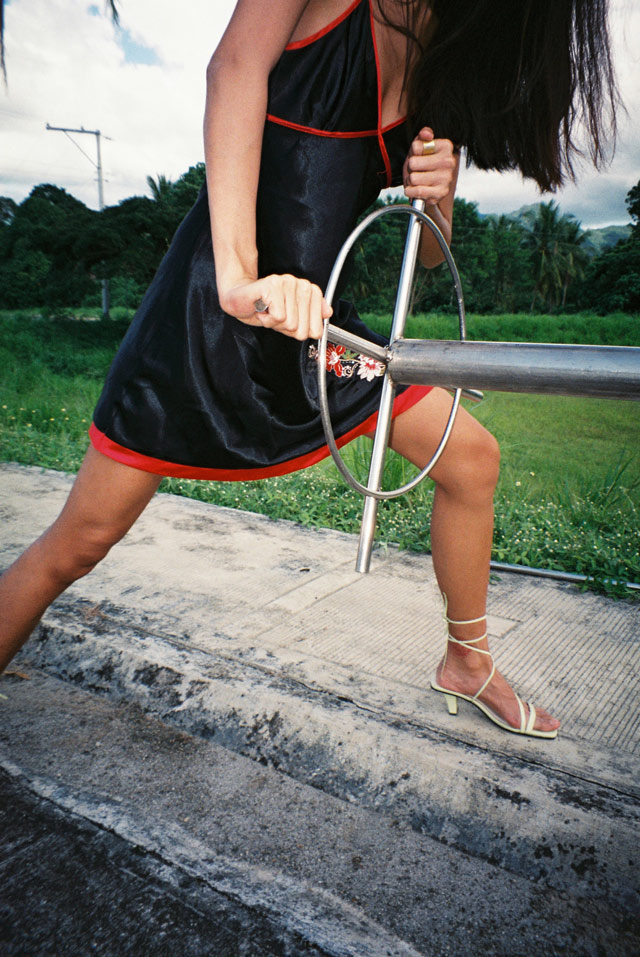 ADVERTISEMENT - CONTINUE READING BELOW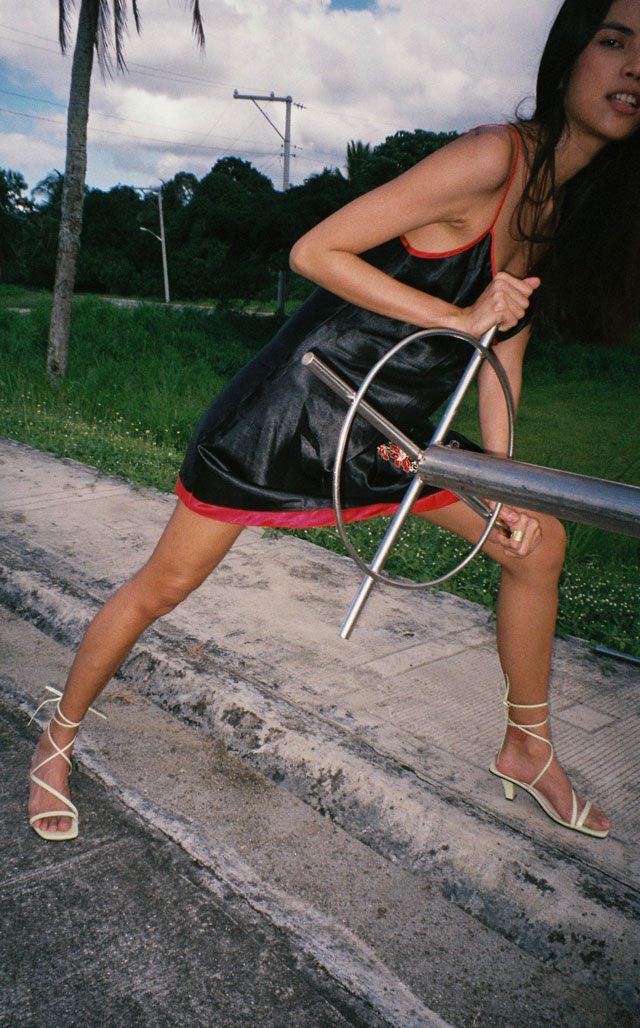 Where do you usually draw inspiration from? Can you walk us through your creative process as you make your shoes?
Anna: "For this, our first season, we started by selecting pairs from the archive, which we re-worked based on intuition. For instance, Karen dreamed about the extra-long straps for our Fettuccine sandal!"
ADVERTISEMENT - CONTINUE READING BELOW
Karen: "Neither of us are formally trained in design, so most of the work happens in 3-D. The way we approached updating these archives was mainly from a shared consciousness—years of looking, admiring, and wearing shoes, personally and professionally—and finding aesthetic/practical applications from memory. We draw a lot from instinct.
"The day we came up with the Fettuccine, I had just removed a bunch of different straps from different pairs of shoes, knotted them together, and temporarily locked them with masking tape. We try to be present just before a shoe's assembly. We really treasure that contact with the form, and also that interaction with our shoemakers. They tell us what's possible, and we try to find some wiggle room in there. It's also important for me and Anna to road test these pairs ourselves, so the first samples always come in our size. We'd go out in them, we'd wear it to work. Then we compare notes and apply it to the next iteration.
ADVERTISEMENT - CONTINUE READING BELOW
"It's a constant negotiation with the people, the material, all the moving parts—I'm very much a 'when you know, you know' person, and so communicating colors (a very specific blue on our Alat slide, for example), finish, etc. may come across as rather abstract sometimes—I'm trying to get better at that. And also learning when to let go!"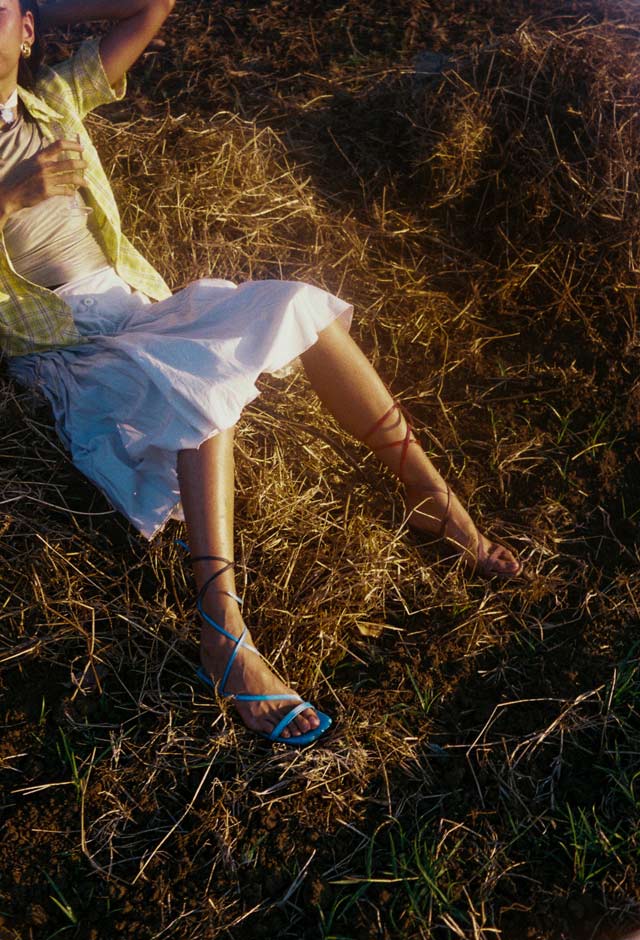 ADVERTISEMENT - CONTINUE READING BELOW

How about the production process? How long does it take for one pair to be finished?
Anna: "It could take an average of six to eight weeks for a small batch of pairs of one style to be created. This is because a) everything is made by hand, and b) we like to special order our materials in just the right quantities to prevent waste. Take our Alat slide, for example. The betilla fish skin for that comes from a local tannery who we tap when we know we are ready to construct the pairs and in what specific amounts. That alone could stretch up to three weeks. But we have come to embrace the wait."
ADVERTISEMENT - CONTINUE READING BELOW
Karen: "Totally. Slow and low."
What makes a Josanna muse? Who do you dream of wearing your designs?
Karen: "We'd like to think that a Josanna girl likes to dance. A lot. Pleasure-seeking and a joyful presence. But we don't like to project our fantasies and ambitions onto that one girl. Shoes are very democratic, it's for everyone—all the women and men and all the women in them."
Could you describe the lifestyle that fits your design philosophy?
Anna: "Movement-based…"
Karen: "Movement-based is really our core value. I also feel that Josanna always has the tropics in mind. The geography, humidity, and topography inform the attitude of the shoes. But overall, we'd just really like to be in step with you as you live your life. Hopefully we had made shoes that are sensitive to that and that could really do that with you."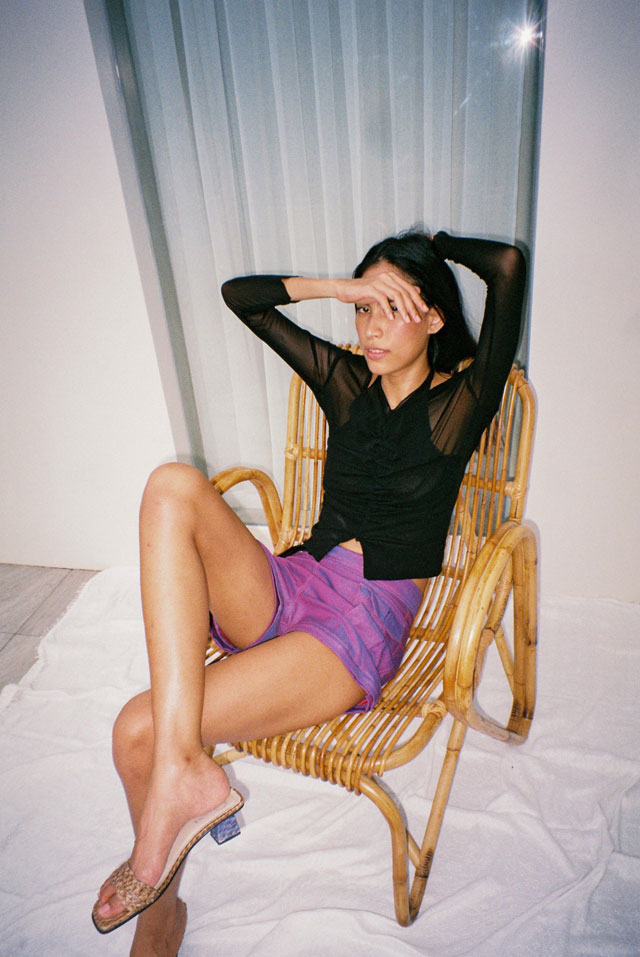 ADVERTISEMENT - CONTINUE READING BELOW
Where can we buy your pieces? What's your price range?
Karen: Currently, we are available for pre-order online but we are going to have a pop-up in December!
Anna: "Right now our price points range from USD$200 to $350."
What can we expect from your brand in the future?
Anna: "We are working on a line of accessories, which we've already kickstarted somewhat with our shoe bags that come with every pair. Designed with Carl Jan Cruz, they're meant to carry your pairs around when you travel, yes, but also even as a little purse for going out, day or night."
Karen: "We're so excited for our next shoe developments, and are so keen on working our 'signature' shoe. That and we'd really like to make some cowboy boots down the line. LOL! The first time we came into the workshop Sir Rico had started teaching himself how to make them, so that's really something to look forward to."
ADVERTISEMENT - CONTINUE READING BELOW
Related Stories from Preview.ph
Hey, Preview readers! Follow us on Facebook, Instagram, YouTube, Tiktok, and Twitter to stay up to speed on all things trendy and creative. We'll curate the most stylish feed for you!