When I arrived on set, I was flabbergasted to see Anne Curtis, Solenn Heussaff and Manila's prettiest faces getting their makeup done. I didn't know what I had stumbled into. The project was Sedo Nouli, a fashion film by designers Hindy Weber-Tantoco and Nicole Whisenhunt, directed by Paul Soriano. When I received a call from Nicole telling me about the film, I thought she wanted me to write about it, not be in it. When I agreed, I didn't think the fashion short would have an exquisite cast. But then again, I should've known: Hindy has done several fashion films, after all, and all of them are finely executed. Sedo Nouli wouldn't be any different.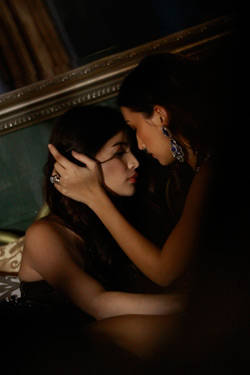 Hindy has been hot on the convergence of fashion and film in recent years (big brands the world over, from Chanel and YSL to Mango and H&M, have been supplementing their campaigns with fashion shorts, such that it has become almost de rigueur), producing cinematic eye candy that showcases her Culte Femme collections. In the local fashion scene, she has become known for this, and it was unsurprising that a fellow designer would want a collaboration. "Nicole brought up the idea of doing a video," says Hindy. "Our first ideas were very simple, straightforward fashion marketing. And then it just blossomed. When we brought Paul in, it grew even further." Shoe designer Maco Custodio also came on board.
ADVERTISEMENT - CONTINUE READING BELOW
CONTINUE READING BELOW
Recommended Videos
The short's thrust isn't just to artfully present the designers' latest designs. With the evolving collaboration among the team, the film flourished with a serious message beyond the glamorous presentation of fashion. "It became a bigger story beyond the clothes and the jewelry," says Hindy. "It became a statement about society, beauty, expression, love, and life."
Sedo Nouli is about the triumph of star-crossed lovers Anne and Solenn over Georgina and her posse of static androids. Anne and Solenn's characters are the last two human beings who revel in style, beauty, luxury, and individuality, while the androids value tedium and uniformity. I watched and participated—alongside Ornusa Cadness and Sanya Smith, and our fellow cyborgs—as Anne and Solenn triumphed over our homogeneous dystopia.
The moral of the story, according to Hindy? "True love and beauty are to be celebrated in freedom." A fitting maxim relevant not only in the world of fashion, but perhaps most valued in it, being a world that regards uniqueness and beauty above everything else.
ADVERTISEMENT - CONTINUE READING BELOW
[This article was reprinted with revisions from "Cedo Nulli," Preview December 2011.]
Click here to watch the film >>
To see the participating designers and cast members in Sedo Nouli, click on the following pages. Click on the photo gallery to view our behind-the-scenes coverage.